Power banks with pass-through charging are pretty handy since they allow you to charge your connected device and the power bank itself at the same time. Although pass-through charging is not very efficient and should be avoided if not necessary, it does provide a worry-free charging experience in some contexts.
A lot of people don't know that pass-thorough charging is not a standard feature on all power banks. They only find out after they order a new device and discover that it doesn't work as expected. This is why we created this curated list of power banks that feature pass-through charging. Not only, that but we also took into consideration other factors as well, such as the power bank's capacity, the number and type of charging ports, the charging technologies it comes with, and more.
Last but not least, all the power banks on our list have been physically handled and tested. All the images and videos on the page are original to our site.
How We Selected The Power Banks
Pass-Through Charging: The primary criterion was to ensure that all power banks on the list support active pass-through charging.
Capacity: Given that pass-through charging is relatively inefficient and results in a significant power loss, a larger capacity is beneficial.
Build Quality: The selection focused on brands known for producing reliable and long-lasting products, even if they might be more expensive than some alternatives.
Charging Technology: Preference was given to power banks equipped with modern charging technologies capable of delivering more power, thereby reducing the charging time when using pass-through charging.
1. RAVPower 20000mAh 60W PD 3.0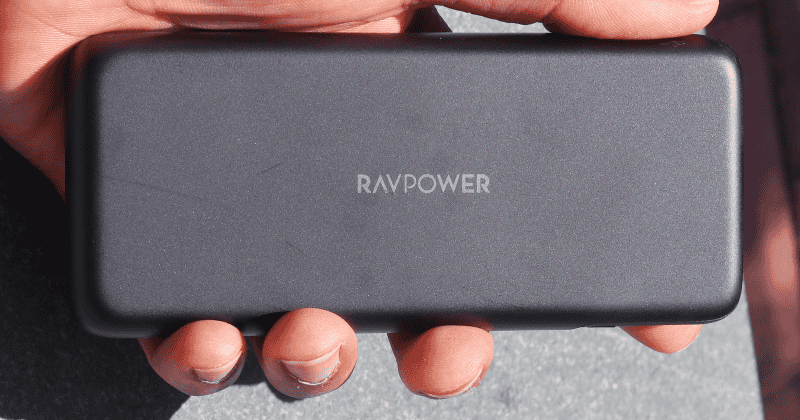 Capacity: 20000mAh
Max output: 60W
Ports: 1 USB Type C, 1 USB Type A
Charging Time: 3 hours
Passthrough Charging: Yes
Weight: 14.4 oz / 408 g
The RAVPower's 20000mAh 60W Power Bank is the flagship of the PD series that also features power banks of different capacities (10000mAh, 15000mAh, and 30000mAh). But the 20000mAh is their best seller by far. And for good reason. First of all this capacity is the most versatile, small enough to be able to fly with, but large enough so that it can charge a smartphone 3-4 times.
It features two different charging ports: one input/output USB Type C and one output USB type A. The USB-A output port supports Qualcomm Quick Charge 18W technology. Meanwhile, the bi-directional USB-C 60W PD input/output port is powerful enough to charge even a MacBook Pro if need be. When two devices are simultaneously connected, the total output can reach a max of 60W. You can recharge this power bank using the 30W PD USB-C port, which will take 3 hours. However, you will need to purchase a separate adapter to achieve this.
In terms of looks, it comes in a sleek black industrial plastic case. It's slender and has a minimalistic design approach. This power bank also comes with built-in safety features to provide protection against overcurrent and overheating.
Unboxing video
What we like about it
60W max power output
Quick to recharge
Sleek and minimal design
What we dislike about it
Only two charging ports
Full plastic casing
Read our full review of the RAVPower 20000mAh 60W
2. Crave Plus 10000mAh Quick Charge 3.0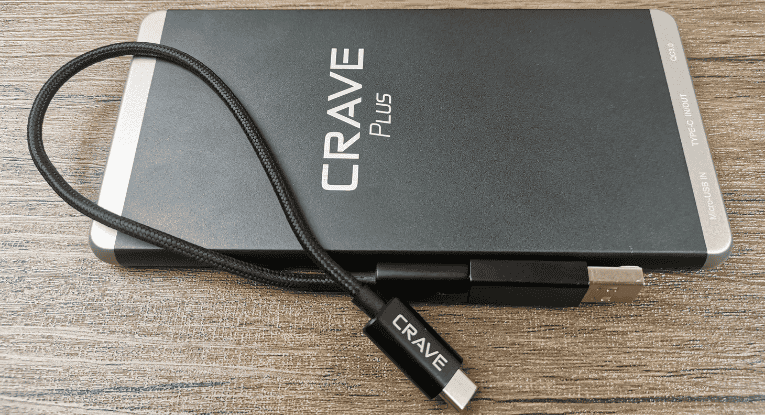 Capacity: 10000mAh
Ports: 1 USB Type C, 1 USB Type A, 1 Micro USB
Charging Time: 1-2 hours
Passthrough Charging: Yes
Weight: 9 oz/255 g
Check price on CraveDirect.com
Or buy on Amazon.com or Sears.com
Besides the fact that it offers pass-through charging, the main reason the Crave Plus 10000mAh was included in the list is its build quality. First of all, it's made out of an all-metal casing that offers it extra protection. Then, it uses a type of flat battery, which means it can be much thinner than most other power banks. Regular power banks use cylindrical batteries, but the Crave uses batteries similar to those of smartphones. That's why it even has a similar thickness to a regular phone.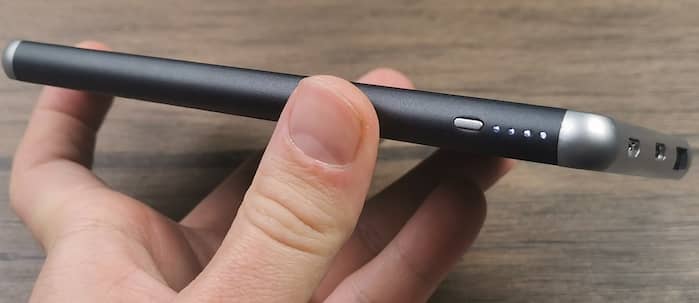 Another feature of the Crave Plus 10000mAh power bank is that the USB Type-A port supports Quick Charge 3.0, ensuring that your gadgets get the fastest possible charge. It's also compatible with all types of smartphones and tablets. The bi-directional USB-C PD 18W input/output port lets you charge any compatible USB-C device. Adding to that, it's also capable of simultaneously charging two devices. The micro-USB port can only be used to charge the power bank itself, but that takes two hours compared to one hour via the USB-C. It's also built to provide protection against overheating, short circuits, surges, and overcurrent.
Unboxing video
What we like about it
Quick charging time
Resistant metal casing
Very thin
What we dislike about it
Would have been better to have a USB type C instead of the Micro USB
Read our full review of the Crave Plus 10000mAh
3. Goal Zero Sherpa 25600mAh Power Bank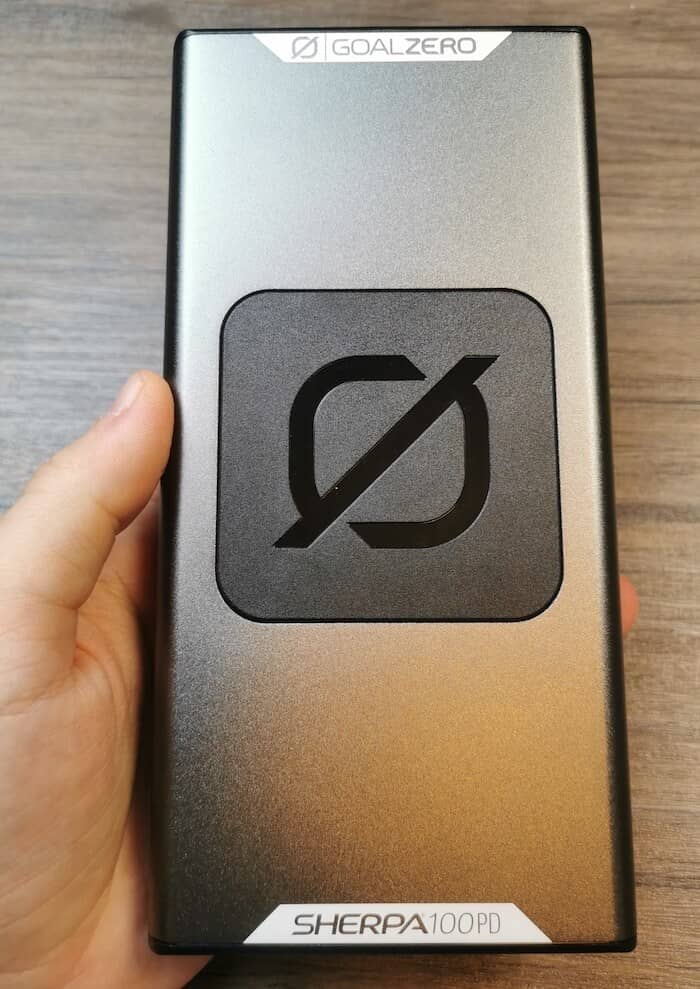 Capacity: 25600mAh
Ports: 1 USB Type C, 2 USB Type A
Charging Time: 2.5 hours
Passthrough Charging: Yes
Weight: 22.4 oz/635 g
Or buy on GoalZero.com or on BesBuy.com
Next up is the Goal Zero Sherpa 25600mAh 100PD power bank. Besides the sizable capacity and pass-through charging ability, the Sherpa brings a lot to the table. As the name suggests, this is a rugged power bank built for the outdoors. The metal casing gives it extra durability and the large capacity will enable you to have power in remote places for days at a time. Unlike most other power banks, it can be charged with direct sunlight if you plug it into a solar panel. This is a true traveler's companion since it's also very close to the maximum limit allowed on planes.

In terms of ports, it features a bi-directional 60W PD USB-C input/output port and two USB Type-A ports. You can charge your USB Type-C compatible laptop, phones, and tablets via the USB-C port. The 2.4A USB-A ports are convenient for charging a standard smartphone, fitness trackers, and GPS devices. What's even more useful is that it has a Qi charging pad, so you can use it to charge any Qi-compatible device. This method only delivers 5W of power, but that's still pretty decent for wireless charging.
You can charge up to four devices simultaneously using those techniques. The 26500mAh battery is capable of charging most laptops once. It can charge smartphones up to eight or nine times. It also supports pass-through charging, which means you'll have to use the USB-C PD port to take advantage of this feature.
Unboxing video
What we like about it
Generous capacity
Rugged and well-built
Wireless charging
Advanced display
4. Renogy 72000mAh 12V Power Bank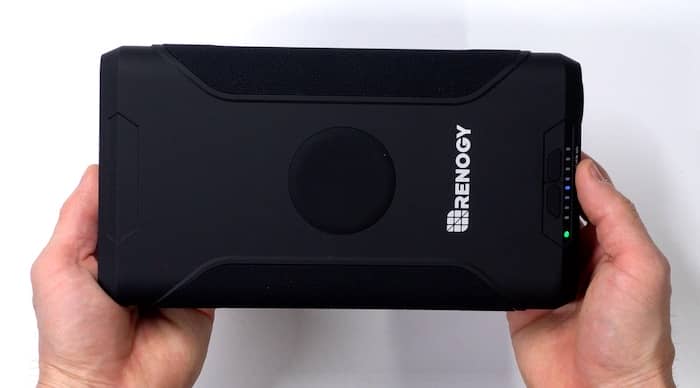 Capacity: 720000mAh
Ports: 1 USB Type-A, 2 USB Type C, 1 DC, 1 car lighter
Charging Time: 4 hours
Passthrough Charging: Yes
Weight: 52.8 oz/1496 g
Or buy on DrPrepare.com or on Newegg.com
The Renogy 72000mAh power bank is a true monster. There's no traditional power bank that even comes close to its massive capacity. This is the type of device that you can rely on for multiple days at a time. However, the large capacity also comes with a big drawback: you can't take this portable charge on flights. It's well over the maximum admitted limit, so you'll have to limit yourself to land or sea travel while carrying the Renogy with you.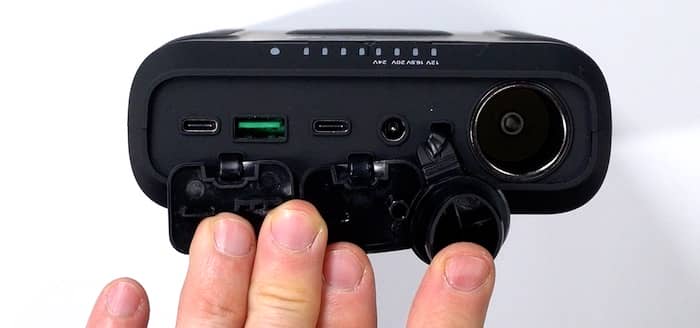 It has the ability to simultaneously charge your devices through all four methods while it's practical for camping, travel, power outages, etc. This device contains a 15W Max cigarette lighter that can power CPAP machines. With two USB Type C ports, one USB Type-A port, a cigarette lighter port, and a DC output port, the device can charge smartphones, tablets, laptops, mini-fridges, UAV batteries, CPAP medical equipment, and more. It takes about 3-4 hours to fully charge the power bank through the DC port.
Unboxing video
What we like about it
Ultra-high capacity
A multitude of charging ports
Can power laptops and CPAP machines
Durable casing
What we dislike about it
Cannot be taken on flights
Simple interface
Read our full review of the Renogy 72000mAh 12V power bank
More options
If you want to see even more options for power banks that come with pass-through charging, you can do so on our power bank review page. That's where we created a custom selection filter that allows you to choose between several important power bank features, including pass-through charging. You'll be able to find the option as per the image listed below: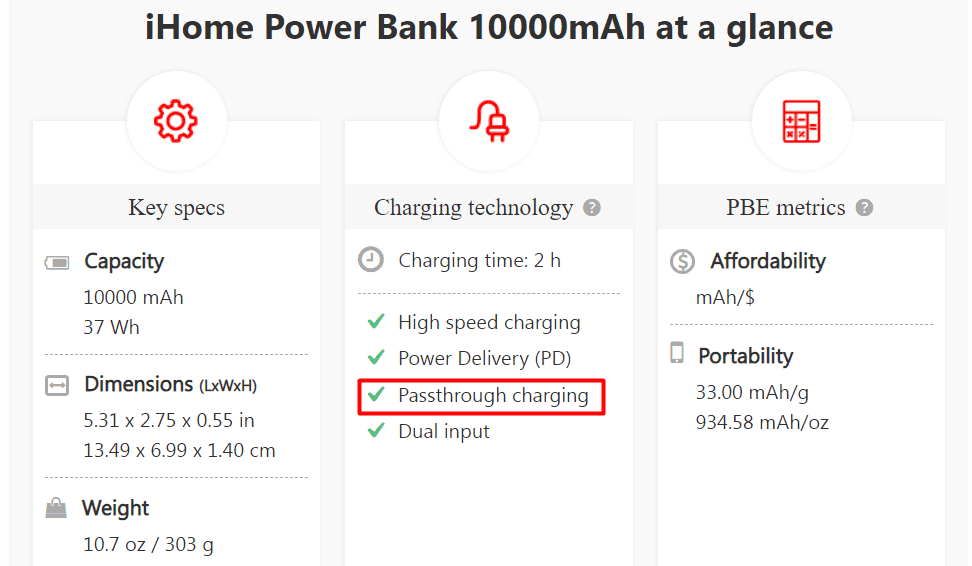 What you need to know about pass-through charging
Getting a power bank with pass-through charging and being able to charge its battery while charging one or more other devices simultaneously can be really useful in a lot of different situations. However, you should know that although practical, this charging feature is not ideal for your portable charger.
You see, in the process of charging and discharging, the flow of electrical current causes the circuitry to heat up. But during pass-through charging, the device is both charging and discharging simultaneously. This means that the heat build-up is much more intense. You'll be able to feel the power bank heat up more than usual.
The heat will increase the inner resistance of the circuitry. This means that the electrical current will flow slightly slower so it will take a longer time to reach a full charge. Both the power bank and the devices that are being charged will charge up slower than if they would be recharged in a traditional fashion.
Due to the extra heat and the prolonged charging times, the battery effectiveness is affected too. This means that if you're using the pass-through charging feature very often your power bank could have a much shorter life span than usual. Furthermore, if the power bank is from a knock-off producer that does not really pay attention to protection mechanisms (short-circuit, overcharge, over-discharge) then pass-through charging can be a potential risk factor, that can generate accidents such as fires or even explosions.
Our recommendation is to use the pass-through feature only when it's absolutely needed. By avoiding using it on a daily basis you'll prolong the life of your power bank and will avoid any type of unpleasant surprises.
Why Trust Us
At Power Bank Expert, we understand the importance of reliable and efficient power banks. Here are some reasons why you can trust our reviews and recommendations:

Hands-On Experience: Unlike many other review sites, we don't just rely on product specifications or second-hand information. We physically handle and test each power bank we review. This hands-on approach ensures that our reviews are based on actual usage and performance.
Expertise in Power Banks: Our team has extensive experience with power banks, giving us a deep understanding of what makes a good portable charger. We don't just look at the basic features; we delve into the nuances of charging technologies, build quality, and real-world performance.
Objective and Detailed Reviews: We provide detailed reviews that cover both the positives and negatives of each product. Our goal is to give you a clear picture of what to expect from each power bank, helping you make an informed decision.
Up-to-Date Information: Our reviews and guides are regularly updated to reflect the latest developments in the market. This means you get the most current advice and product recommendations.
Commitment to Quality: We focus on power banks that are not only efficient but also safe and durable. Our selection often includes products from brands known for their quality and reliability.
By combining our hands-on experience, technical expertise, and thorough testing methodology, we strive to provide reviews and recommendations that you can trust. Whether you're a frequent traveler, a digital nomad, or someone who simply needs a reliable power source on the go, Power Bank Expert is your go-to source for the best power bank advice.
Wrap-up:
Overall, these are some great power banks with pass-through charging to choose from. Depending on what your needs are, any of these devices could be of great use to you. Each one listed has its own unique and excellent features that will surely come in handy. If you have more power banks with pass-through charging that are worthy of being mentioned, feel free to let us know!