Power banks with pass-through charging are pretty handy since they allow you to charge your connected device and the power bank itself at the same time. Although pass-through charging is not very efficient and it should be avoided if not necessary, it does provide a worry-free charging experience in some contexts. Here, we've listed the top-5 power banks with pass-through charging that are worth the price.
1. RAVPower 20000mAh 60W PD 3.0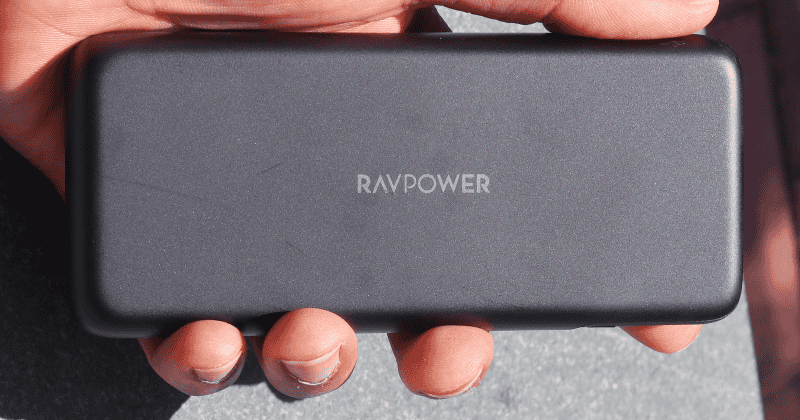 Capacity: 20000mAh
Max output: 60W
Ports: 1 USB Type C, 1 USB Type A
Charging Time: 3 hours
Passthrough Charging: Yes
Weight: 14.4 oz / 408 g
RAVPower's 20000mAh 60W Power Bank boasts a large capacity with great features. To start things off, the USB-A output port supports Qualcomm Quick Charge 18W technology. Meanwhile, the bi-directional USB-C 60W PD input/output port allows you to charge a MacBook Pro. When two devices are simultaneously connected, the total output can reach 60W. You can recharge this power bank using the 30W PD USB-C port, which will take 3 hours. However, you will need to purchase a separate adapter to achieve this. You can use RAVPower's 30W/61W USB-C PD adapter or Apple's 29W/61W/87W wall charger. This power bank also comes with built-in safety features to provide protection against overcurrent and overheating.
Overall, the 20000mAh power bank can power an iPhone 11 Pro Max 3 times, iPhone XS 4.5 times, Galaxy S10 & Note 10 3.4 times, iPad Pro 2018 1.5 times, MacBook Pro 2019 0.7 times.
Read our full review of the RAVPower 20000mAh 60W
2. Crave Plus 10000mAh Quick Charge 3.0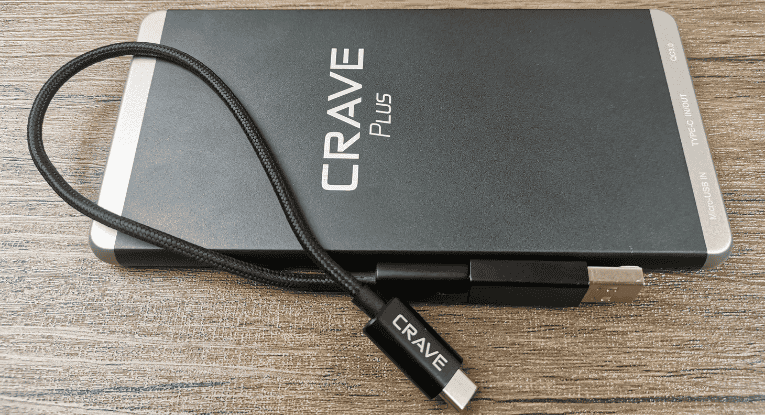 Capacity: 10000mAh
Ports: 1 USB Type C, 1 USB Type A, 1 Micro USB
Charging Time: 1-2 hours
Passthrough Charging: Yes
Weight: 9 oz/255 g
This is generally a great power bank! It's ultra-thin and lightweight, allowing you to carry it around very easily while you're on-the-go. One of the best features of Crave's Plus 10000mAh power bank is that the USB Type-A port supports Quick Charge 3.0, ensuring that your gadgets get the fastest possible charge. It's also compatible with all types of smartphones and tablets. The bi-directional USB-C PD 18W input/output port lets you charge any USB-C device on the market. Adding to that, it's also capable of simultaneously charging two devices. The micro-USB port can only be used to charge the power bank itself, but that takes two hours compared to one hour via the USB-C.
Ultimately, this portable charger has enough power to charge the iPhone XS Max 2.2 times, Google Pixel 3 2.2 times, and Samsung S10e 2.3 times. It's also built to provide protection against overheating, short circuit, surge, and overcurrent.
Read our full review of the Crave Plus 10000mAh
3. Goal Zero Sherpa 25600mAh power bank
Capacity: 25600mAh
Ports: 1 USB Type C, 2 USB Type A
Charging Time: 2.5 hours
Passthrough Charging: Yes
Weight: 22.4 oz/635 g
Next up is the Goal Zero Sherpa 25600mAh 100PD power bank. It has three charging ports, which includes a bi-directional 60W PD USB-C input/output port and two USB Type A ports. You can charge your USB-C compatible laptop, phones, and tablets via the USB-C port. The 2.4A USB-A ports are convenient for charging a standard smartphone, fitness trackers and GPS devices. What's even more useful is that is has a Qi charging pad, so you can use it to charge any Qi-compatible device. This method only delivers 5W of power, but that's still pretty decent for wireless charging.
You can charge up to four devices simultaneously using those techniques. The 26500mAh battery is capable of charging most laptops once. It can charge smartphones up to eight or nine times. It also supports pass-through charging, which means you'll have to use the USB-C PD port to take advantage of this feature.
Read our full review of the Goal Zero Sherpa 25600mAh
4. Renogy 72000mAh 12V power bank
Capacity: 720000mAh
Ports: 1 USB Type-A, 2 USB Type C, 1 DC, 1 car lighter
Charging Time: 4 hours
Passthrough Charging: Yes
Weight: 52.8 oz/1496 g
You can't go wrong with Renogy's 72000mAh power bank if you're looking for something with great capabilities. It has the ability to simultaneously charge your devices through all four methods while it's practical for camping, travel, power outages, etc. This device contains a 15W Max cigarette lighter that can power CPAP machines. With the two USB Type C ports, one USB-Type A port, cigarette lighter port, and DC output port, the device can charge smartphones, tablets, laptops, mini-fridges, UAV batteries, CPAP medical equipment, and more. However, you'll need to purchase a CPAP adapter if you wish to power a CPAP machine via the cigarette lighter. It takes about 3-4 hours to fully charge the power bank through the DC port.
The Renogy 72000mAh power bank is compatible with the Philip Dreamstation, Philip Respironics REMstar, Resmed S9, and Resmed Airsense 10. It also provides 22.0 charges to the iPhone 8 and 5.7 charges to the iPad Air 2.
Read our full review of the Renogy 72000mAh 12V power bank
More options
If you want to see even more options of power banks that come with pass-through charging, you can do so on our power bank review page. That's where we created a custom selection filter that allows you to choose between several important power bank features, including pass-through charging. You'll be able to find the option as per the image listed below: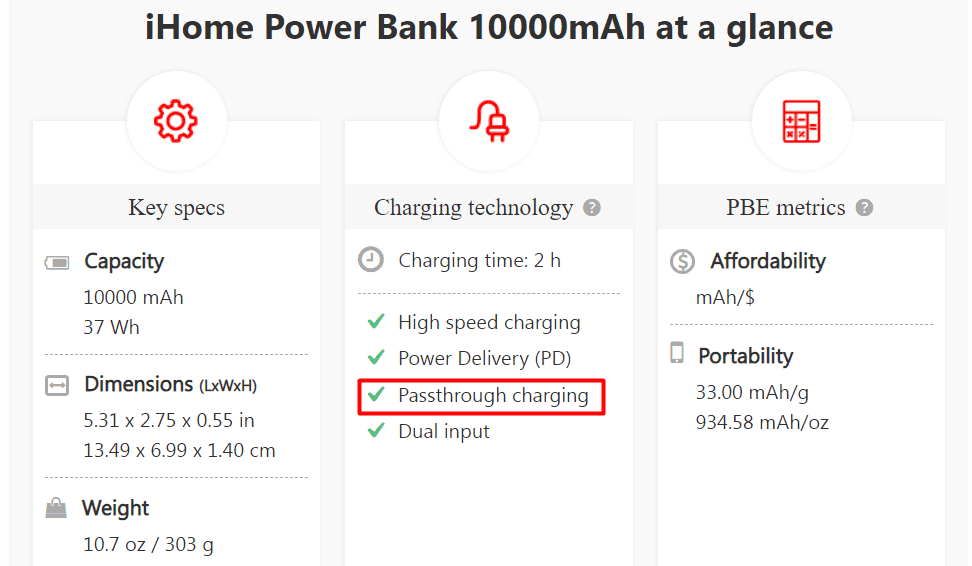 What you need to know about pass-through charging
Getting a power bank with pass-through charging and being able to charge its battery while charging one or more other devices simultaneously can be really useful in a lot of different situations. However, you should know that although practical, this charging feature is not ideal for your portable charger.
You see, in the process of charging and discharging, the flow of electrical current causes the circuitry to heat up. But during pass-through charging, the device is both charging and discharging simultaneously. This means that the heat build-up is much more intense. You'll be able to feel the power bank heat up more than usual.
The heat will increase the inner resistance of the circuitry. This means that the electrical current will flow slightly slower so it will take a longer time to reach a full charge. Both the power bank and the devices that are being charged will charge up slower than if they would be recharged in a traditional fashion.
Due to the extra heat and the prolonged charging times, the battery effectiveness is affected too. This means that if you're using the pass-through charging feature very often your power bank could have a much shorter life span than usual. Furthermore, if the power bank is from a knock-off producer that does not really pay attention to protection mechanisms (short-circuit, overcharge, over-discharge) then pass-through charging can be a potential risk factor, that can generate accidents such as fires or even explosions.
Our recommendation is to use the pass-through feature only when it's absolutely needed. By avoiding using it on a daily basis you'll prolong the life of your power bank and will avoid any type of unpleasant surprises.
Wrap-up:
Overall, these are some great power banks with pass-through charging to choose from. Depending on what your needs are, any of these devices could be of great use to you. Each one listed has its own unique and excellent features that will surely come in handy. If you have more power banks with pass-through charging that are worthy of being mentioned, feel free to let us know!