INIU BI-B42 at a glance

Key specs
Dimensions (LxWxH)
5.3 x 2.7 x 1 in
13.46 x 6.86 x 2.54 cm

Charging technology

PBE metrics
Affordability
666.89 mAh/$
Average
308.90 mAh/$
Portability
57.47 mAh/g
1626.02 mAh/oz

Ports

Output: 5V=3A, 9V=2.2A, 12V=1.5A

Output: 5V=3A

Input: 5V=3A, 9V=2.2A, 12V=1.5A
Output: 5V=3A, 9V=2.2A, 12V=1.5A

Flight status
Status: Safe
The power bank is safe to take on board. It's under the specified TSA limit of 100 Wh. Read more about taking power banks on planes.

Other features
Or buy on iniushop.com or on ebay.com

Charging capacity calculator
Use the search bar below and find out exactly how many times can the INIU BI-B42 charge your smartphone battery

INIU BI-B42 20000mAh Power Bank Review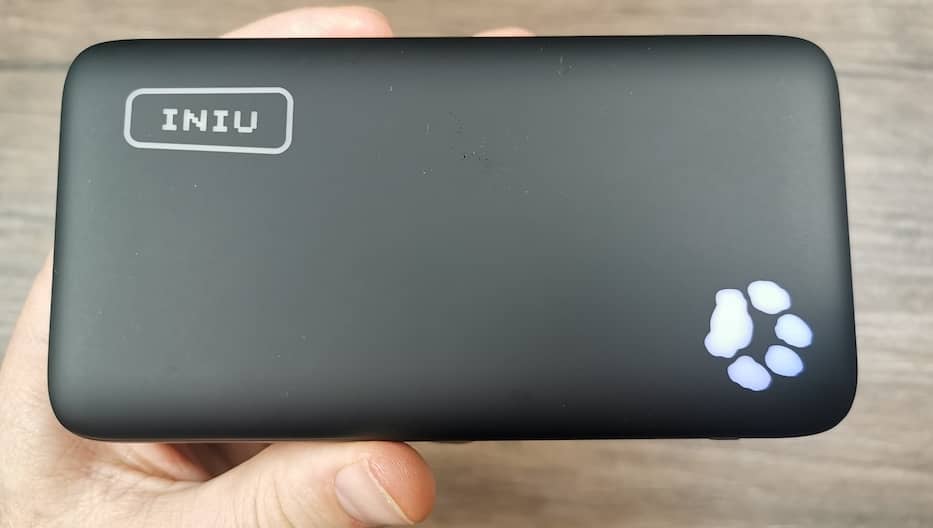 The BI-B42 power bank is a mid-rage power bank from the BI series coming from INIU. The feature that makes this portable charger stand out is the paw-print LED charging indicator. Following, we will be taking an in-depth look at the features and accessories you get along with this power bank, and questioning its viability.
Let's begin.
Unboxing video
Package Contents & First Impression
The INIU power bank comes with a micro USB to USB C cable, a mesh-style travel pouch, a user manual, and a tiny reading lamp in it as a pleasant surprise. It negates the need of making any aftermarket purchase, as you won't have to spend your time and money looking for them separately.
The BI-B42 power bank has a rugged and premium chassis, which can easily withstand waist-height drops and daily wear and tear. It has a matte-black finish, which goes well with other gadgets in terms of aesthetics. Overall, the INIU power bank creates a decent first impression and builds on it by providing thoughtful features, which we'll go over below.
Specifications
Now, let's take a look at the technical details and specifics of the BI-B42.
Input & Output Ports

You get one micro USB and one USB Type-C port for charging your devices in terms of input ports. Both these ports support simultaneous charging, but it comes at the cost of decreased charging speed. And even though micro USB cables are fading out from the market, its nice addition does provide a lot of compatibility with old devices.
INIU BI-B42 has three output ports with varied ratings ranging from 5V/3A to 12V/1.5A that can support three devices at a time. This variety offers low-current charging for devices like Airpods, smartwatches, etc. It is a thoughtful inclusion that's undoubtedly an added bonus at its price point.
Charging Technology
If your work requires you to travel a lot, and you often find yourself running low on time to keep your devices charged, INIU has got your back. The BI-B42 is fitted with the latest charging technologies, which can keep up with your pace without disappointment.
It offers QC 4.0 (quick charge), and PD 3.0 (power delivery) enabled charging, which can fully charge your smartphone or tablet within 1-2 hours.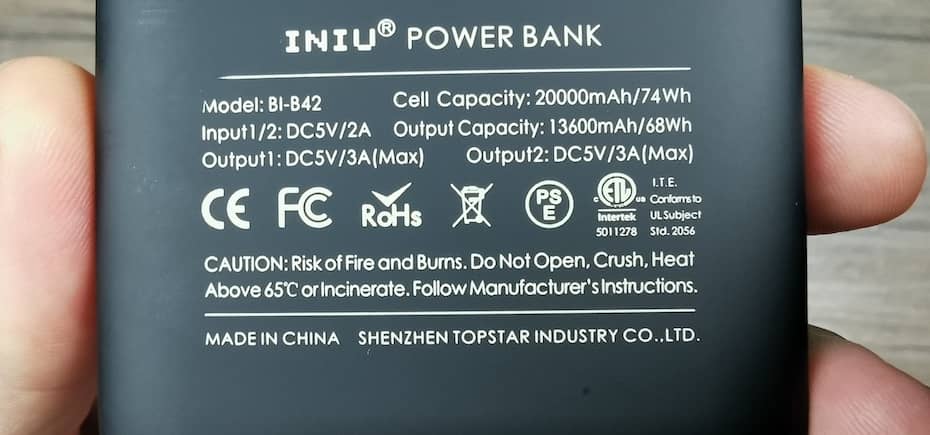 Battery Capacity
The BI-B42 has an 18W battery with a capacity of 20000 mAh. It is enough to charge your iPhone 11 7-8 times, iPad Pro 2 times, and a MacBook one time. If you are surrounded by gadgets all the time, it can be a huge help in productivity. The power bank itself takes 14-15 hours to charge fully, but it can keep your gadgets juiced up throughout the week.
However, it has an animal paw-shaped light on its front indicating the battery level, and we did not find it easy to read. But since its color adds to the aesthetics, it wasn't a complete showstopper for us.
Here's how you can tell the battery level, according to the manual :
If the largest toe is turned ON and the rest are turned OFF, this means your power bank is operating on a 20% battery level

If one of the smaller toes is ON along with the larger one, your power bank has a battery level of 20% – 40%

If two smaller toes are turned ON with the larger one, your power bank has a battery level of 40% – 60%

If three smaller toes are ON with the larger one, your power bank has a battery level of 60% – 80%

If the whole paw is lit up in blue color, the battery level is somewhere between 80% – 100%

If none of the above-mentioned patterns is displayed after switching ON the unit, your power bank needs to be charged.
Additional Features
The INIU BI-B42 also comes with a few neat and handy accessories/additional features. Even though the charging performance is already satisfying, these features do provide small added bonuses.
If you press the power button twice on the BI-B42, you will turn on its built-in flashlight. It can come in handy during power blackouts, night camping, or other scenarios. It's decently bright since a 20000 mAh battery powers it, and you can easily carry it thanks to the compact build of this power bank.
Other than that, you also get a plug-in lamp, which is fairly bright and goes well on a small table as a reading light. The BI-B42 powers the lamp; however, it drains the battery slightly fast, leaving less for your other devices.
INIU also provides a three-year care program with this power bank. If you ever face any quality-related issues during this period, you can get a new BI-B42 without paying any additional charges. Moreover, you get free lifetime technical support and excellent after-sale service as an added layer of protection.
Some Drawbacks
The INIU power bank is an excellent work buddy and provides a major helping hand in maintaining a continuous workflow. However, there are a few minor drawbacks worth discussing.
As we previously brought up, the animal paw-shaped light isn't the most intuitive battery level indicator. Compared to alternatives in the market with a digital display that mentions the battery percentage, the BI-B42 doesn't provide accurate readings. So it can be an inconvenience to keep track of its power level after a busy day.
Other than that, the micro USB to USB Type-C cable felt a little short and restrictive when it came to recharging the power bank. It would have been great to see a sizable cable included in the package.
Pros and Cons
Pros

Latest fast-charge technologies

In-built flashlight and additional reading-lamp

Cons

Hard-to-read battery level indicator
Wrapping Up
By now, we know what separates the INIU BI-B42 from its competitors. So is it worth investing in? In our opinion, we definitely recommend checking out this power bank. It offers a massive battery-life, and fast-charging technologies like QC and PD to keep your devices juiced up at all times.
Besides that, the BI-B42 also offers various accessories, which is rarely seen at its price point. And if taken care of properly, this power bank will last you for a long time, making it a worthy one-time investment.
Or buy on iniushop.com or on ebay.com
Check out these similar power banks:
AUKEY Basix Pro
The AUKEY Basix Pro is a unique power bank that besides the fact that it comes with QC 3.0, PD, and wireless charging, it also doubles as a highly practical phone stand.
Read More
AOHI Magcube 20000mAh
The Magcupe by AOHI is one of the fastest-charging 20000mAh power banks you'll be able to find.
Read More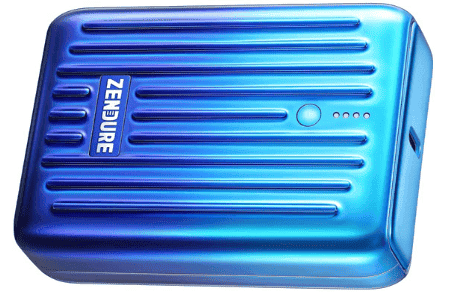 Zendure Supermini 10000mAh USB C Portable Charger
The Zendure Supermini 10000mAh USB C Portable Charger is compact and stylish. But maybe its most important feature is the fast charging USB C port with PD (Power Delivery).
Read More