INIU BI-B5 at a glance

Key specs
Dimensions (LxWxH)
5.3 x 2.8 x 1 in
13.46 x 7.11 x 2.54 cm

Charging technology

PBE metrics
Affordability
500.13 mAh/$
Average
357.43 mAh/$
Portability
55.25 mAh/g
1562.50 mAh/oz

Ports

Output: 4.5V=5A, 5V=4.5A, 9V=2A, 12V=1.5A

Output: 4.5V=5A, 5V=4.5A, 9V=2A, 12V=1.5A

Input: 5V=3A, 9V=2.22A, 12V=1.5A
Output: 5V=3A, 9V=2.22A, 12V=1.5A

Flight status
Status: Safe
The power bank is safe to take on board. It's under the specified TSA limit of 100 Wh. Read more about taking power banks on planes.

Other features
Or buy on iniushop.com or on ebay.com

Charging capacity calculator
Use the search bar below and find out exactly how many times can the INIU BI-B5 charge your smartphone battery

INIU BI-B5 Power Bank Review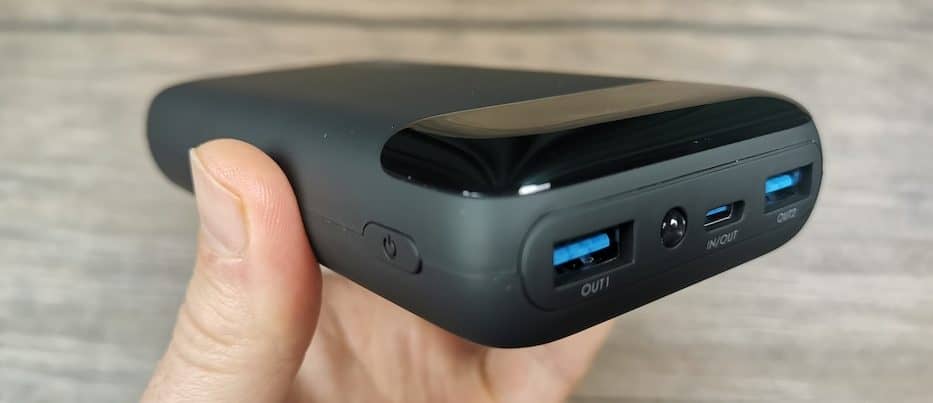 The INIU BI-B5 is an affordable power bank with a 20000mAh capacity and high-speed charging technologies, including Quick Charge 4.0+ and Power Delivery 3.0. Apart from two USB-A ports, this power bank features a single USB-C port that functions as both an input and an output. The fact that this power bank is under the 100Wh limit imposed by airlines makes it ideal for long-distance or international travel. Let's dive into what features this portable charger has.
Unboxing video
Charging technology
INIU's BI-B5 power bank features a 20000mAh Lithium-Polymer battery and a variety of charging technologies such as Fast Charge Protocol (FCP) and Super Charge Protocol (SCP), Power Delivery 3.0, and Quick Charge 4.0+. Quick Charge 4+ (QC 4.0+) is a fast charging technology that allows users to charge devices three times faster than regular 1A USB-A ports. For instance, you can charge the latest iPhones 0 to 52% in just 25 minutes. When charged 100%, this power bank can provide power for up to a week if used casually.

In terms of ports, the INIU BI-B5 power bank features two standard USB-A outputs, each with QC4.0+ and a 22W output. It also features an input/output USB type C port that can deliver up to 20W of power. All in all, you'll be able to charge up to 3 devices simultaneously using this portable charger. More charging information can be seen on the back of the product: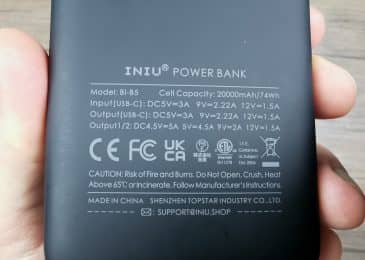 Contrary to other power banks common in the market, INIU BI-B5 comes with a trickle charging mode. Thus, you can recharge many accessories like AirPods, fitness trackers, and Bluetooth headphones that require a low current to charge safely.
The power bank will charge itself in 6 hours if you use an ultra-fast 18W USB-C adapter thanks to its Power Delivery 3.0 fast charging protocol support. PD 3.0 is compatible with Apple, Samsung, and Google devices. However, depending on the power of the adapter, the charging time varies. For example, using a 20W fast-charging adaptor only takes 3 hours to fully recharge your INIU BI-B5.
On the other hand, if you're using a 5V/2A adapter instead of an 18W one, the BI-B5 will charge in 10 hours instead of 6. Furthermore, if you go with just a 5V/1A adapter, then you can expect the charging time to lengthen to 20 hours. This is why choosing a fast charging adapter is key, regardless of the power bank you want to go for.
Portability
This power bank is a bit hefty, weighing nearly one pound (12.8oz) and measuring 5.3x 2.8×1.0 inches. This makes it rather large for carrying it in a pocket although it can be done. Size-wise it's very similar to a smartphone only 3 times as thick. However, if you were to carry it in a bag or backpack, you won't even notice that it's there. Considering the generous capacity, this is a great portable charger to take with you on longer trips, even outdoors.

Since 20000mAh is the equivalent of 74Wh, this means that the BI-B5 is well under the 100Wh limit imposed by the TSA. So you can take this power bank with you on any flight without needing permission from the airline.
Look and feel
There's nothing dowdy about the INIU BI-B5. The rubberized structure helps in grip, so you won't have to worry about it slipping out of your hands. The power bank's screen is glossy, giving it a modern and stylish appearance despite BI-B5's foamy structure elsewhere. The surface is not fingerprint-prone, not even the glossy screen. You can handle it without leaving noticeable marks.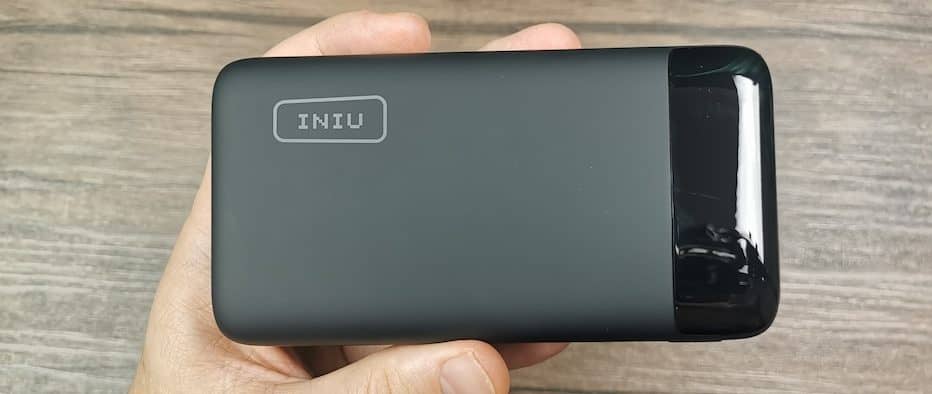 Compared to power banks with LED indicators, the high-resolution screen on BI-B5 shows how much juice is left, making it a better option because it can display the exact amount of charge remaining. When charging a device using one of the compatible fast charging technologies, you'll see a lightning bolt symbol (↯) show up on the screen. This way you'll know that your device is fast charging. If the power drops under 10% you'll notice that the LED digits will start blinking.
Moreover, this model includes a handy LED flashlight that can be activated by double-tapping the right-side button. Even though the light it emits is not extremely powerful, you can use it to read in low-light rooms or late at night. In order to turn on the flashlight, you'll need to press the power button twice.
With a pouch in the box, INIU's power bank can be easily transported because it protects it against accidents. Besides the traveling pouch, this power bank also comes with a USB type C to USB type C charging cable, which is rather short.
Durability & build quality
In terms of durability, INIU BI-B5 has a lot to offer. It has a sturdy build and it's shock-resistant thanks to its rubberized texture. It is also scratch-resistant, however, it does have a weak point which is the display screen. If you'll be carrying it in your backpack alongside other objects, especially metal ones, you may see scratches developing on the screen over time.
Unfortunately, it's not waterproof, so you need to keep it away from liquids. However, it does come with an above-average warranty of 3 years. Considering that most other power banks offer a one or two-year warranty, it is easy to see that INIU stands behind its products.
My experience with the INIU BI-B5
One of the things I like most about the BI-B5 is its velvety feel. The type of plastic they used for the casing is really fine to touch. Once you hold it in your hand, you immediately see the difference between this power bank and others. It's details such as this one that sets INIU apart from most other manufacturers.
In terms of usage, I really like to take advantage of its powerful capacity during long road trips. I know for sure it will top up my phone 2-3 times over easily, while the phone is consuming a lot of power with navigation apps and YouTube videos in the background. I can't charge my phone via the car cigarette port because of the ground loop effect, so I always use power banks instead. And the BI-B5 is one of my top favorites for this job.
I also took it on some longer hiking trips, however, I did feel its weight in my backpack. This is not a light power bank. If I did not end up using most of its charge after a trip, I then wished I'd take something lighter instead.
What Others Say About It
An all-around high performer that also won't break the bank.
David Wise
Pros and Cons

Pros
Generous 20000mAh capacity
Leading-edge fast-charging technology (QC 4.0+ and PD 3.0)
Compatible with all smartphone devices
Supporting low-current charging mode

Cons
Shockproof, but with screen vulnerable to scratching
Final Thoughts
INIU BI-B5 PD3.0 20000mAh is a 3X super-fast-charging power bank that offers dual Quick Charge 4.0+ USB-A outputs and a USB-C, working both as input and output. Its generous capacity refills an average phone battery in less than an hour. Also, the rubberized casing protects it from scuffs and knocks, although the screen is still vulnerable. This power bank is recommended for those searching for a stylish but robust power bank that can keep their devices charged for a few days at a time.
Or buy on iniushop.com or on ebay.com