Renogy 72000mAh Laptop Power Bank at a glance

Key specs
Capacity
72000 mAh
266 Wh
Dimensions (LxWxH)
9 x 4.9 x 1.7 in
22.86 x 12.45 x 4.32 cm

Charging technology

PBE metrics
Affordability
mAh/$
Average
300.48 mAh/$
Portability
48.13 mAh/g
1363.64 mAh/oz

Ports

Output: 5V/4.5A, 4.5V/5A, 9V/2A, 12V/1.5A

Input: DC5V/3A, 9V/3A, 12V/3A, 15V/3A, 20V/3A (60W Max.)
Output: DC5V/3A, 9V/3A, 12V/3A, 15V/3A, 20V/3A , (60W Max.)

Output: DC5V/3A, 9V/2A, 12V/2.25A (PPS: 3.3-11V/3A), (27W Max.)

Input: 18-24V/4A (84W Max.)
Output: 12V/5A, 16.5V/4A, 20V/3.5A, 24V/2A (72W Max.)

Output: 12V/15A

Flight status
Status: Not Allowed
This power bank is over160 Wh and is not allowed on planes. Read more about it here.

Other features
Or buy on DrPrepare.com or on Newegg.com

Charging capacity calculator
Use the search bar below and find out exactly how many times can the Renogy 72000mAh charge your smartphone battery

Renogy 72000mAh Review
Renogy is an intriguing manufacturer in the power supply business. Founded by students at Louisiana State University, they quickly rose to prominence, winning two "Gold" and two "Bronze" awards from Business World magazine in 2016.
They're known primarily for their solar power and deep cycle battery offerings, but they also make everyday power banks. Today, we'll be looking at one of these, the Renogy 72000mAh. This power bank is exceptionally powerful, and in 2021 it just got an upgrade. Let's take a deeper dive, and see what it has to offer.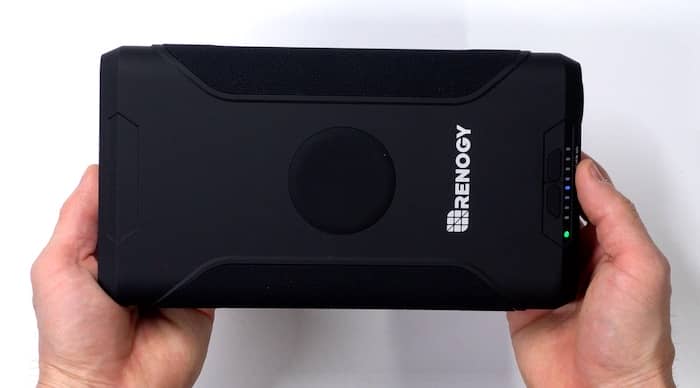 Unboxing video
Charging Technology
The Renogy 72000mAh is designed primarily for laptops. It comes with an array of adaptors that can be used to charge almost any laptop model such as Dell, HP, Lenovo, Samsung, HP, or Acer laptops. There's even a USB Type-C tip that can be used to power most USB Type-C laptops. But you can easily charge other devices too, such as smartphones, tablets, and even CPAP machines.
When it comes to charging technology, maybe the best part of the 2021 upgrade model, is that it comes with PD fast charging. Compared to the previous version which did not have any fast charging at all, this one can provide up to 60W of power from its USB type C port.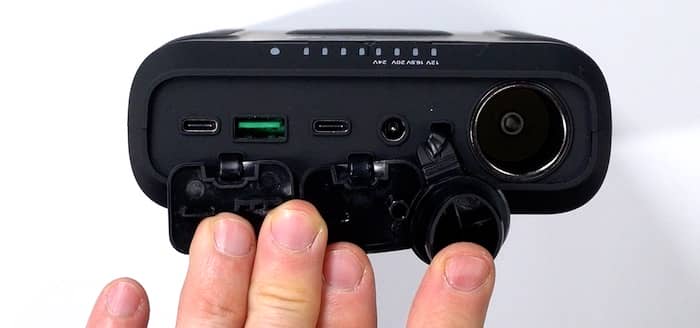 In terms of ports, the main one is the input/output DC port. This is the one that connects to the 19 different adaptors that will charge just about any laptop. Since it's an input port too, you can use it to charge the power bank as well.
Although you can also charge it via the USB type C input/output port as well, the DC port is faster and it takes just 3-4 hours to reach a full charge. Compare that to the 8 hours needed to charge the previous model, and you see one of the several reasons why the 2021 upgrade is miles better than its predecessor.
The other ports you can find on the Renogy 72000mAh are an input-only USB type C, a classic USB type A, and a 12-volt DC cigarette lighter-style plug. This can be used to recharge more powerful devices that most power banks can't handle, including CPAP ventilators.
Because CPAP machines require different barrel sizes and different power levels, there's no adapter included in the kit. You'll need to buy that separately from your CPAP manufacturer. Regardless, it's a great added value, especially if you need to keep your CPAP machine running during an emergency.
Another important thing to mention is that a new feature of the 2021 version is the wireless charging pad. It can supply up to 10W for any compatible device placed on the power bank.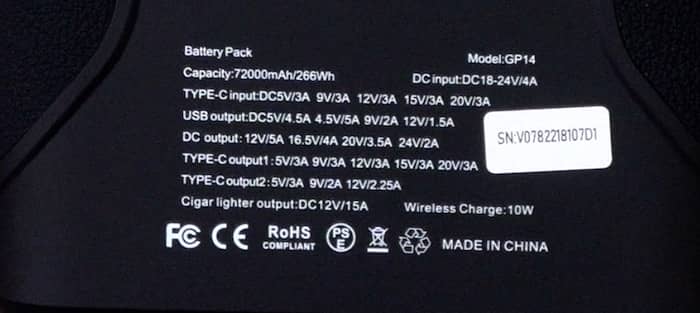 All the charging ports on the power bank can be used simultaneously. This makes it easy to charge all your devices without waiting for each one to finish. The power bank even supports pass-through charging, which means you can charge it while it's being used.
Portability
The Renogy 72000mAh measures 9 inches long, 4.9 inches wide, and 1.7 inches thick. This makes it fairly bulky, but still compact enough to hold in one hand if the situation demands it. That said, it's too big for your pocket. Picture a large bottle of mouthwash, and you'll have a good idea of the overall size.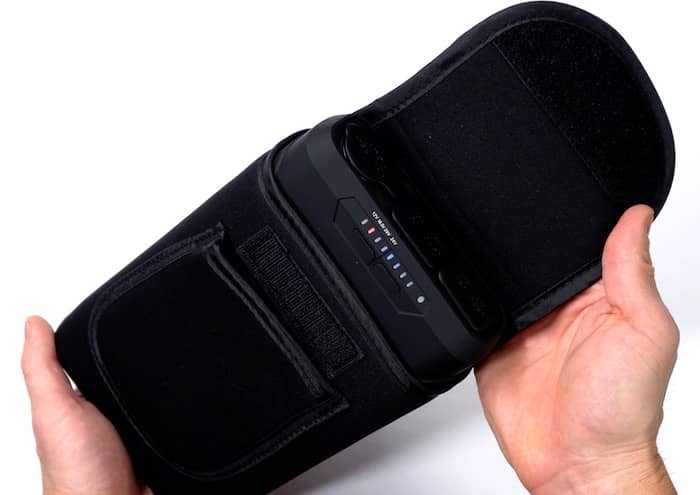 It weighs 3.3 pounds (slightly heavier than the pre-2021 model), which is a bit heavier than most power banks, but not when you consider how powerful the battery is. Regardless, you can still throw it in a backpack or bag without it feeling like a brick.
One place you can't take this power bank is on an airplane. It has a total capacity of 266 watt-hours, almost three times the TSA's limit for a battery to go on a plane.
Look and Feel
The Renogy 72000mAh has a sturdy, rugged design that can take a beating. It's constructed from a combination of ABS plastic oil rubber. The bulk of the design is plastic, but the rubber bumpers on the side make it easy to grip despite the relatively large size.
The finish is a satin black, which is generally easy to clean. However, the grips are a little bit tougher to keep clean, since they have a textured finish. Rubber plugs on the front keep the power ports from getting dirty when they're out of use.

On the top, you'll see a series of LED lights, which indicate the status of each power port. There are four additional LEDs that indicate the overall charge level of the battery. On the back, there's an LED flashlight that's exceptionally bright. It can be used in two modes: solid or flashing. This makes it great for emergencies, whether you need to find your way or signal for help.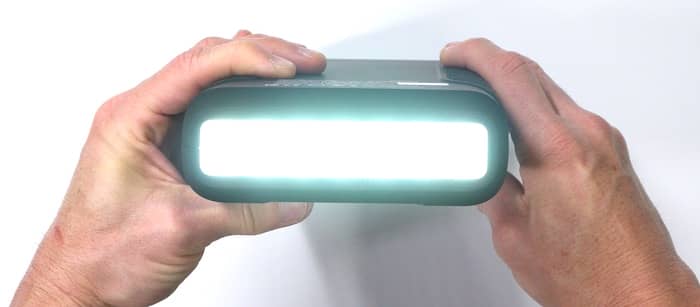 Durability & Build Quality
The Renogy 72000mAh is not technically shock-proof, so you shouldn't use it in scenarios where it's going to get bashed around a lot. That said, it does include a neoprene case that provides some measure of shock protection. It's also sturdily built and feels solid and rugged. So if you do happen to bang it into anything, you're not likely to have any significant problems. It's not waterproof in any way. Make sure to keep it dry to prevent any damage.
This power bank uses all the electronic protections you'd expect from a modern power bank. It protects you from overcharging, over-voltage, over-current, and short circuits. It also features overheat protection to prevent the battery itself from heat damage.
The battery is rated for 500 charge/discharge cycles, so you'll get plenty of life out of it before you see any noticeable drop in capacity. The entire unit is guaranteed by Renogy's 1-year manufacturer's warranty, so you're fully protected from any defects in materials or workmanship. Make sure to register your power bank on Renogy's website, though. If you don't, you're not going to be covered.

Pros
Can be used to power CPAP machines
Multiple output ports and adaptors

Cons
No fast charge USB technology
Not TSA-approved for air travel
The post-2021 vs the Original Model, Side-by-Side
| | | |
| --- | --- | --- |
| | | |
| Capacity | 72000mAh/266Wh | 72000mAh/266Wh |
| Ports | In/Out DC, In/Out USB type C, Output USB C, USB A, Cigar Lighter | In/Out DC, 2 x USB A, Cigar Lighter |
| Charging Technology | PD Fast Charging (60W), Wireless Charging, Passthrough Charging | Passthrough Charging Only |
| Charging time | 3-4h via the DC port | 8 hours |
| Weight | 2.7 lbs | 3.3 lbs |
In the table above you can see the main features of the original Renogy 72000mAh power bank and the 2021 upgrade. It just takes a quick glance to see why the 2021 upgrade is way better than its predecessor:
It features 2 USB type C ports when it used to have none
It has 60W PD fast charging when it used to not have any fast charging at all
It comes with a wireless charging pad
The charging time has been reduced from 8 hours to only 3-4 hours via the DC port
The only disadvantage is that the 2021 version is slightly heavier. But only by 8 ounces, which is definitely acceptable considering the extra changing tech this new version comes with.
My Experience With the Renogy 72000mAh
Every time I pull out the Renogy 72000mAh power bank from my backpack, it feels like I'm unveiling a secret weapon. For someone who's always on the move, juggling between devices, this beast of a power bank has been nothing short of a godsend.
Its mammoth 72000mAh capacity stands out immediately. This isn't just a backup for my phone or tablet – it's for my laptop, camera, and pretty much anything else that can be charged. On busy days, when I find myself away from a power source, this power bank becomes my lifeline, keeping my devices alive and kicking.
Its size and weight might be a bit on the heavier side, but considering its massive capacity, it's a trade-off I expected. And trust me, when you're camping with no power outlet in sight, the last thing you'd worry about is the weight of your power bank.
Having used the Renogy 72000mAh power bank for some time now, I can confidently say it's a worthy companion for any tech enthusiast or frequent traveler (not flyer though!). It's a solid fusion of capacity, design, and reliability.
What Others Say About the Renogy 72000mAh
This is a nice little addition to your camping resources.
Jayco Fever
We got 2 days out of it, running the CPAP at full power like you're running it out of your wall.
DIY KAI
Final Thoughts
The Renogy 72000mAh is an excellent choice for emergency backup power, particularly if you rely on a CPAP machine. It also does very well for laptops. For anything with a barrel-style charger, you're golden. With the 2021 version update that also features USB C fast charging ports and wireless charging, it's a no-brainer if you're looking for a large-capacity power bank that can be your workhorse for years to come.
Or buy on DrPrepare.com or on Newegg.com
If you're looking for a power bank for your laptop, check out our previous article on this topic.