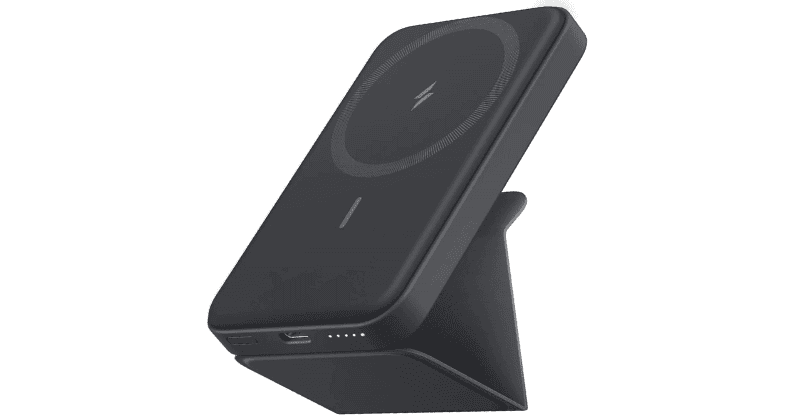 Farhad Pashaei
December 25, 2022
The Anker MagGo can be easily snapped to the back of your smartphone for a power boost on the go.
Read More
No results found
---
Welcome to our main power bank review section!
This is the section of our site in which we list all the previously reviewed power banks. You can browse through the reviews one by one, or you can use our custom filtering feature to narrow the results down according to your specifications. If you're short on time, you can skip to our curated list of what we believe to be the best portable charges.
Going back to the top filter is actually a very powerful tool that's unlike anything you can find on other sites. We put quite a lot of thought and effort behind it for you to easily find the best power bank for your needs.
How to use the product filter
Using our filter is quite intuitive and easy to do. We focused on several key features that most users are interested in.
Power bank capacity
This is arguably the most important feature that people look at. However, capacity can be described using two different attributes: mAh (milliampere-hour) and Wh (Watt-hour). Hence we created a selection slider for each of them:
Capacity as mAh
Basically THE most famous power bank feature. Using our slider you can select any mAh capacity interval starting with the lowest capacity to the highest capacity within our selection of reviewed power banks.
Capacity as Wh
This is a less common way to describe power bank capacity, but it's important mainly because of flight restrictions. As it turns out, you can only bring a maximum of two power banks on a plane, with a maximum capacity of 100Wh each. Or up to 160Wh if you get a special permit. More details on power bank airline regulations are here.
As such, a lot of users might be interested in filtering out all the portable chargers that are over 100Wh or over 160Wh.
Battery Capacity vs. Actual Output
While the power bank's capacity is listed in mAh or Wh, the actual amount of power that can be transferred to a device may be less due to inefficiencies in the power transfer process. This is why, before you purchase a power bank, you should always get a bit more capacity than you think you actually need. For example, if you have a phone with a battery of 4000mAh and you want to charge it twice from a single power bank charge, then aim for a 10000mAh power bank. Read more about this subject here.
Charging time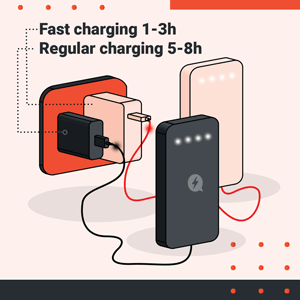 Using the dedicated slider, you can easily filter out power banks that take longer to charge.
Depending on what's the highest acceptable charging time for you, it's easily possible to only see devices that charge fastest.
Charging ports
The charging ports selector is a dropdown menu that allows you to select only the ports you're interested to see in a power bank: USB A, USB C, AC, etc.
Charging technology
This dropdown menu, allows you to select among different charging technologies. Maybe some of the most important options to consider in this menu are Quick Charge, Power Delivery, and Pass-through charging.
Other features
This selector allows you to choose from several other features which generally have secondary importance in the process of choosing a power bank. Depending on your needs you might find some of these features more useful than others such as the flashlight or jump starter.
Our review methodology
Once you click on any power bank listing on this page, you'll be redirected to the individual product page where you can see all the details of that specific device. We start off the review with a comprehensive feature box in which we list all the most important features of each power bank (capacity, size, weight, charging technologies, etc). This is very helpful to instantly get an overview of the portable charger and to decide if you want to read further or if you should better look for a better-suited device.
Next, we have a nifty capacity calculator, which we use to estimate how many times that specific power bank can recharge your exact phone model. Simply search your phone model in the database and then we instantly calculate roughly how many charges you can expect from that portable charger. Of course, you should also consider that the actual battery capacity is smaller. Btw, you can also use this mAh calculator for finding power banks according to your phone's battery capacity.
We then discuss the following important aspects of each power bank:
Charging technology: We go into things like what types of fast charging the device has, the type and number of ports, pass-through charging, low current charging, etc.
Portability: Here we mostly discuss size and weight, two very important features in most power banks. Does it fit in a pocket? Can it easily be carried in a purse or backpack?
Look and feel: Although power banks are functional devices by design, we recognize that if they also have an attractive look, they're more likely to get purchased.
Durability and build quality: In this section, we discuss features such as different protections a power bank can have (overcharge, over-discharge, short-circuit, waterproofing, etc). Other things we point out are the quality of materials used and the warranty.
Pros and cons: We list what we believe to be the best features of the reviewed power bank and also its biggest shortcomings. This comes in very handy, especially for people that don't have time to read all the details.
Final thoughts: The last section is basically our overall impression of that specific portable charger.
At the very end of our review, we showcase several other power banks that are similar to the one we just reviewed so that you can have some quick alternatives to look at and compare.
Overall, we look to review the latest and best power bank models. However, with time these become old as new models are coming up constantly. So we do our best to update the older models with their latest releases if they are from the same brand and product series. However, sometimes, it can happen that some power banks get discontinued altogether, a case in which we clearly label those specific reviews as not being available anymore and we also offer what we believe to be the best alternative.
Finally, you should know that we do our best to present the most accurate information on our site. But since we're humans too, errors might appear in our power bank reviews. If you notice any inaccuracies, please contact us so we can promptly update the information.