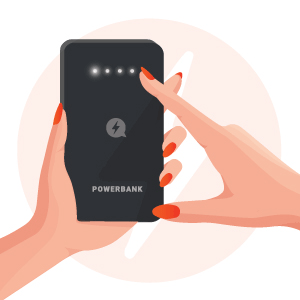 Power Bank Expert is a project born out of the desire to educate the public in regard to power banks and other types of charging solutions. For such important and utilitarian devices, power banks are surprisingly complex. Although small and unassuming, they pack some very advanced charging technologies.
The average person that decides to buy a power bank will quickly discover that it can be a more difficult undertaking than they initially thought. All the details about mAh, watts, volts, charging technologies, etc. can confuse and overwhelm most of us that are not used to working with these terms on a daily basis.
This is why we made it our mission to explain the technology behind power banks in the most simple and easy-to-understand way. We try not to go into deep technical explanations, but instead, we try to keep it as light as possible so that the average, non-technical person, can get a good enough understanding to know what they're getting.
Meet our team
Radu
Senior Editor and Marketing Manager
As a digital nomad, I always travel with a power bank. It's basically one of the few indispensable items I own. Being involved in Power Bank Expert allows me to share my knowledge on this exciting topic with people that might need help deciding which charging option is best for them. Feel free to connect with me on Linkedin.
---
Bryan
Senior Editor
Being an Electrical Engineer and an English as a Second Language teacher, Power Bank Expert is the place where I can combine both of my careers. I've always been interested in learning about technology, particularly smartphones, so now I'm highly committed to informing readers about the best and latest power banks on the market.
---
Farhad
Senior Editor
For the past eight years, I've been tinkering with power banks, smartphones, laptops, printers, and writing reviews about them. When I'm not writing, you can bet I'm devouring information on products that are making their first foray into the market, demonstrating my unquenchable thirst for technology.
---
What's our review approach?
When it comes to reviewing power banks, we're looking to showcase the most important facts and features as objectively as possible. This is why we usually break each review into several different subsections, each dedicated to a specific aspect.
Capacity and charging technology
Arguably the most important feature people look for in a power bank is its capacity. It's usually specified in mAh (milliampere-hour) but sometimes in other units of measure such as Wh (watt hour). Capacity denotes the ability of the power bank to recharge a different battery.
Besides capacity, we also look at other aspects related to charging. For example the amount and types of different charging ports. Or the type of charging technology used (Qualcomm Quick Charge, Power Delivery, PowerIq, etc).
Portability
An extremely important aspect of a decent external battery or power bank is its portability. How compact is it? Will it fit in your pocket? Some power banks are incredibly small but sacrifice size for power. Our favorite power banks are easy to carry and pack a punch with high battery capacity.
Look and feel
How does the Power Bank feel when you hold it in your hand? Does it look outdated and cheap or is it sleek and interesting? Has the manufacturer made smart design choices so it's easy to use? Does it come in a range of colors? These are the kinds of questions we ask ourselves when we rate this category.
Durability and construction
This is all about the quality of components and the general structure of the device. A well-made portable charger should be durable and made to last. We all drop our phones now and then, what would happen if you dropped this power bank? Some power banks can have common defects and we like to sniff 'em out and let you know about them before you make your purchase.
Value
Last but certainly not least, is value. This is a direct comparison with portable chargers competitors and how well they rate in relation to their list price. Some power banks might have the same battery capacity and price, but which one looks better? Which one is more durable and has fewer known problems? Which one is smaller and more practical? All these details affect the value rating given in any particular review.