INIU BI-B6 at a glance

Key specs
Dimensions (LxWxH)
5.3 x 2.8 x 0.58 in
13.46 x 7.11 x 1.47 cm

Charging technology

PBE metrics
Affordability
mAh/$
Average
300.48 mAh/$
Portability
50.24 mAh/g
1418.92 mAh/oz

Ports

Output: 4.5V=5A, 5V=4.5A, 9V=2A, 12V=1.5A

Output: 4.5V=5A, 5V=4.5A, 9V=2A, 12V=1.5A

Input: 5V=3A, 9V=2.22A, 12V=1.5A
Output: 5V=3A, 9V=2.22A, 12V=1.5A

Flight status
Status: Safe
The power bank is safe to take on board. It's under the specified TSA limit of 100 Wh. Read more about taking power banks on planes.

Other features
Or buy on iniushop.com or on ebay.com

Charging capacity calculator
Use the search bar below and find out exactly how many times can the INIU BI-B6 charge your smartphone battery

INIU BI-B6 10500mAh Power Bank Review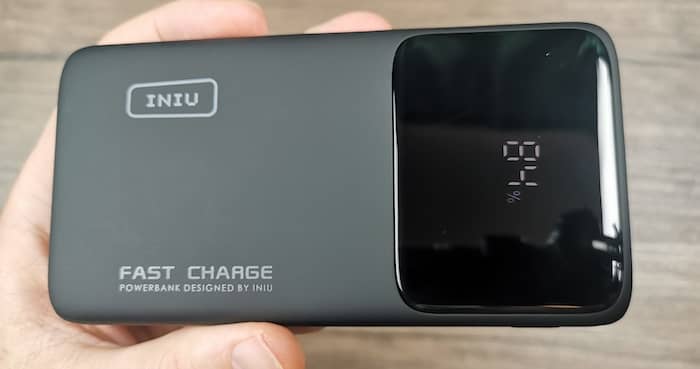 The INIU BI-B6 is a well-designed power bank. This nifty little unit is lauded for its small (but appreciated) details, its pocket-sized design, and its cost-effective price point. The BI-B6 is the perfect unit for tactile aficionados with its velvety feel. This is just one of the little details that INIU paid attention to—and it was worth the extra effort as it feels luxurious to the touch. The price point of this device is excellent—especially considering its charging power, features, feel, warranty, and overall details.
Unboxing video
Charging technology
This power bank offers 10500mAh of portable power via three ports—two USB type A ports and one 22.5W USB type C In/Out port, which works with basically any type of smartphone or USB-powered device. The power bank charges itself in 5-6 hours via a 5V/2A wall charger. However, if you use a fast-charging PD adaptor you could top it up in less than 3 hours.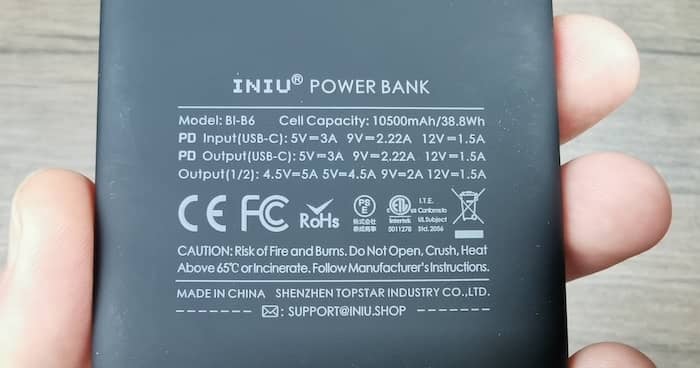 This INIU 10500mAh offers passthrough charging, so you can charge the unit and your devices at the same time—which is handy when charging on the go, like at an airport or cafe where outlets may be limited. Charging will however be slower with multiple devices charging at one time.
You can simultaneously charge up to three devices, however, using a single port at a time will charge faster. It charges phones and tablets in QC (quick/fast) charging (provided that is available and enabled on your phone). Being a small device with not a lot of capacity, it doesn't provide enough power to charge laptops.
It can charge most phones up to a 60% charge in 35 minutes or less, and you generally get anywhere between 2-4 full charges when the device is fully charged, depending on the battery capacity of your phone. Another nifty feature worth mentioning is the fact that it can also charge small devices with trickle charging, like AirPods, smartwatches, FitBits, etc.
This portable charger offers the latest charging technologies: PD 3.0 and QC 4–something very few power banks offer. It also comes with various protection systems such as short current and surge protection.
Portability

The power bank is just 7.4 ounces, making it reasonably lightweight—but for the capacity, it is a fairly light unit. At 5.3×2.8 inches in size and .6 inches thick it fits comfortably in most pockets (it may be a little large for some women's clothing pockets but fits nicely in even a small purse). It fits nicely in a hand as it is slightly smaller than an iPhone 12 for example (although thicker), and the weight is about average for its class of power banks.
This unit can be taken on flights (not all power banks can) as it has a capacity of 38.8Wh, which is well under the 100Wh limit imposed by the FAA.
Look and feel
This INIU power bank has a luxurious feel to it with its matte exterior that feels soft and velvety to the touch. When you first open the box it reveals itself as a well-designed device that looks, high-class. It comes with a mesh carrying pouch, cabling, and welcome guide. The exterior doesn't stain but it can get smudges on it.
The design features make it feel like a well-designed device, like its phone stand, flashlight, and built-in display. The phone stand is accessed via pop-out, which when not in use aligns sleekly into the device and you won't feel the popout or notice it is even there.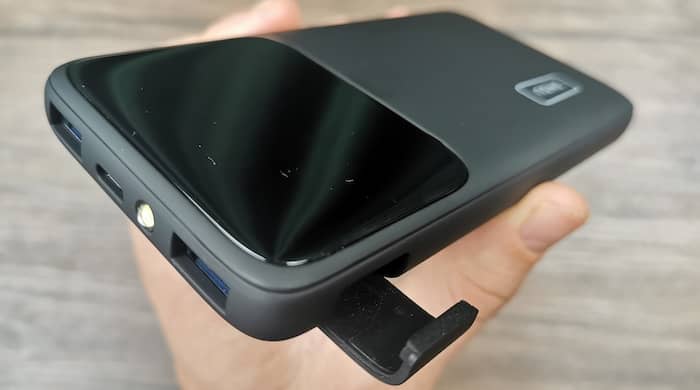 It is available in two colors, black and white (the display has a black background with white font on both devices).
Durability & build quality
This unit is quite sturdy even though it isn't rated as shockproof or waterproof. It offers passthrough charging and surge and other protective charging features, to ensure the safety of all your devices while charging. There are no reports of overheating.
INIU is well-known for its incredible customer service. This unit offers a three-year warranty, which should be registered in the first 14 days of ownership. Online reviews have shown that INIU not only stands behind its devices when contacted with any issues but proactively reaches out to those not satisfied.
My Experience with the INIU BI-B6
Although I wasn't really expecting it, the BI-B6 came to be one of my go-to power banks. That is a lot to say from a person who has tens of these devices lying around the house. What I like the most about it is that it offers a large enough capacity but in a compact size. It's actually smaller than a lot of smartphone models.
Not to mention the velvety feel that I already alluded to before. It's one of those objects that you find yourself reaching for even if you don't need it, just for the sake of holding it in your hand.
I generally take it along on trips that require as little weight as possible. For example long hikes or flights.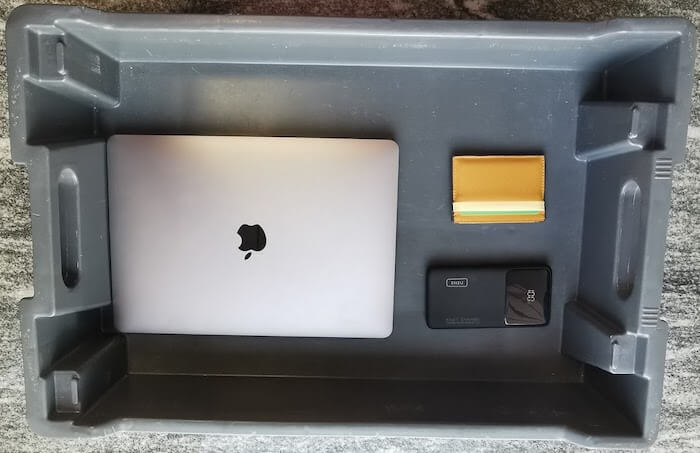 The image above is from one of my latest flights. I was easily able to clear airport security with the INIU BI-B6 and it proved to be a great companion during the flight.
And although I really like the idea of that foldable phone stand, I never got around to using it on a regular basis. Maybe because I have a dedicated stand at home 🙂
What Others Say About It
This unit is an absolute bargain and deserves to be recommended.
Gough Lui
An all-around high performer that also won't break the bank.
David Wise
Pros/Cons
Pros

Nice-to-have features like built-in phone stand, flashlight & clear LCD display

Excellent feel in the hand with its velvety matte coating

Passthrough & tricke-charging

Above-average warranty and customer service

Cons

The matte exterior can leave smudge marks and may attract dust
Final Thoughts
Overall this is a popular device with its users. It feels and runs like a high-end device, and the features like a phone stand, flashlight, carrying pouch, and LCD display make it a great balance of fashion and function. The icing on the digital cake is the customer support that INIU offers—they truly stand behind their product, evident in online reviews and in their 3-year warranty.
The only downside is the small smudges, but this can happen on most matte-finish devices. But from opening the box to long-term use its users seem very happy with it—many are surprised at the attention to detail for such a fairly-priced device.
The INIU BI-B6 is a real deal at its price point. Despite being cost-effective it feels expensive and the quality is excellent, and best of all you can feel secure in your purchase knowing that INIU stands behind its products as strongly as it does.
Or buy on iniushop.com or on ebay.com
Check out these similar power banks: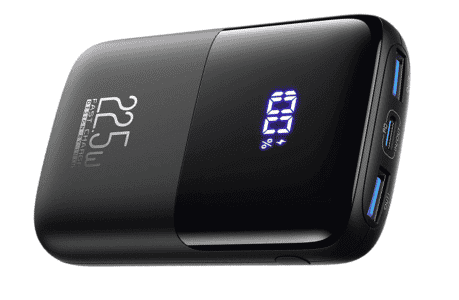 INIU BI-B61 10000mAh
The BI-B61 10000mAh power bank from INIU is a compact charging solution that also comes with a very useful phone stand.
Read More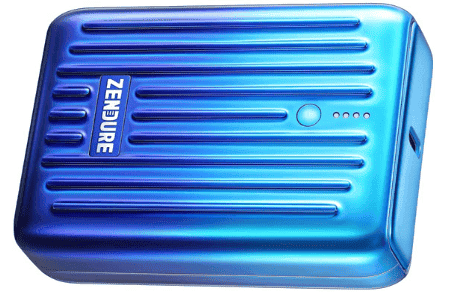 Zendure Supermini 10000mAh USB C Portable Charger
The Zendure Supermini 10000mAh USB C Portable Charger is compact and stylish. But maybe its most important feature is the fast charging USB C port with PD (Power Delivery).
Read More