Anker 622 Magnetic at a glance

Key specs
Dimensions (LxWxH)
4.13 x 2.62 x 0.5 in
10.49 x 6.65 x 1.27 cm

Charging technology

PBE metrics
Affordability
84.76 mAh/$
Average
300.48 mAh/$
Portability
35.46 mAh/g
1000.00 mAh/oz

Ports

Input: 5V/2.4A (12W Max)
Output: 5V/2.4A (12W Max)

Flight status
Status: Safe
The power bank is safe to take on board. It's under the specified TSA limit of 100 Wh. Read more about taking power banks on planes.

Other features
Or find it on Anker.com or on Walmart.com

Charging capacity calculator
Use the search bar below and find out exactly how many times can the Anker 622 charge your smartphone battery

Anker 622 Magnetic 5000mAh Review
Anker has this time taken on Apple by developing a portable charger that is supposedly superior to the original Magsafe battery pack. The MagSafe cases are specifically made for wireless charging. Thus, Anker capitalized on this innovation when it introduced the Anker MagGo 622 Magnetic Battery.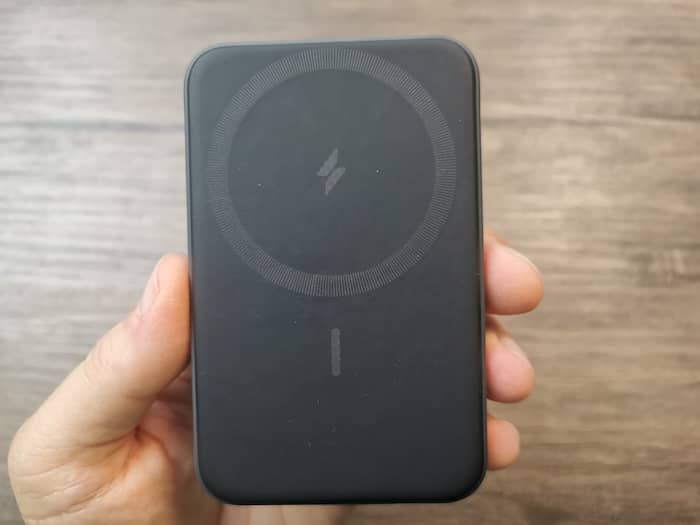 Anker MagGo 622 Magnetic power bank is a 5000mAh battery capable of charging iPhone smartphones wirelessly and other gadgets through a USB-C connection. You may buy this power bank for $50 or less and ensure a recharge cycle for your phone. However, there is more to deciding whether or not this power bank is suitable for you. So, let us get deeper into this review and discuss this product in greater depth.
Unboxing Video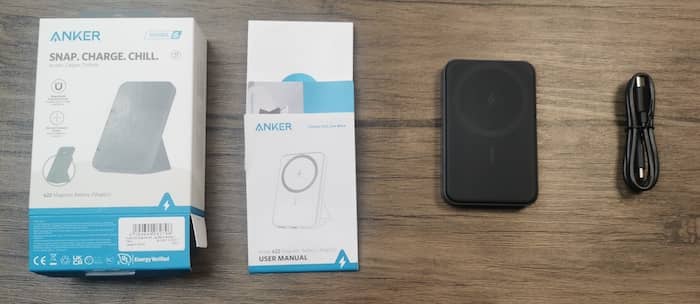 Charging technology
On paper, the 5,000mAh battery in the Anker 622 provides two times full recharge for an iPhone 12 or 1.5 times for an iPhone 13. In practice, these wireless power banks will only come close to a full recharge. However, Anker's 5,000mAh offers a significant advantage over other well-known devices on the market.
On the bottom, a USB-C port serves as an output for wireless charging incompatible devices and an input for charging the power bank. By plugging the Anker MagGo 622 into power while your phone is connected, you can use it as a wireless charging pad. By doing this, you may recharge both your iPhone and the power bank.
The Anker MagGo 622 Magnetic Battery has an acceptable power loss rate because it can fully charge the iPhone 13 ProMax to 85% before running out of juice.
Moreover, the locked-in location feature gives MagSafe power banks an edge over the non-magnetic Q1 charging pad. However, up to 50 percent of power is lost in most models because of wireless charging inefficiency.
The Anker power bank wirelessly charges at 7.5W. This indicates that it will take approximately an hour and a half to recharge your iPhone 12 fully.
This company claims that its MultiProtect technology, which includes safety features like temperature control, overload protection, and more, enables you to charge and use your phone simultaneously without experiencing any problems.
Note that the device can only charge one phone or gadget at a time. Although you can draw power from its charging port to charge your device through a cable, the power bank can only charge a device wirelessly or by cable.
Another disadvantage of the gadget is that it is marketed as an iPhone charger but comes with a USB-C charging cord that is only compatible with most Android smartphones, not iOS devices. As a result, you'd have to charge your iPhone wirelessly or purchase a second cable.
Portability
The Anker 622 magnetic battery is 4.13×2.5×0.51 inch (10.5×6.6×1.3cm) and weighs 0.32lb (146g), making it small enough to fit into the palm of your hand. Not to mention that it easily fits in almost all pockets.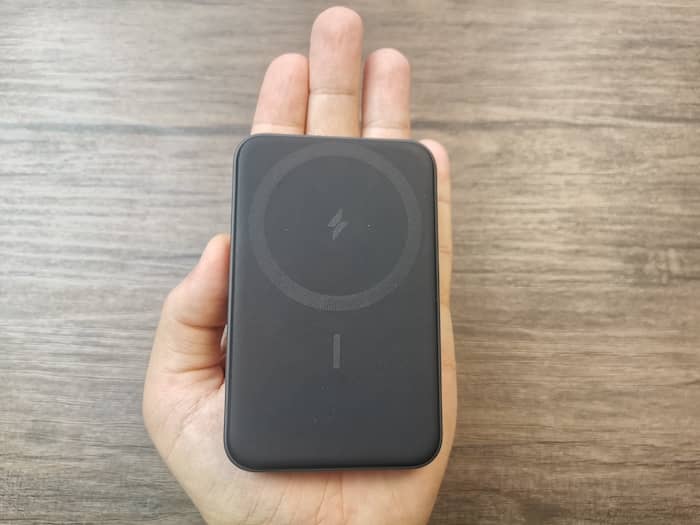 This is a power bank that is so light and compact that you may even forget that you're carrying it. Also, given its small capacity, you can easily carry it on planes, as it's well under the 100Wh limit imposed by the TSA.

Look and feel
Anker 622 Magnetic 5000mAh power bank appears simple and minimalistic, with nothing out of the box in terms of design; however, just by touching it, you will understand that simplicity does not imply poor quality. The exterior is made of plastic, but it has a leathery feel to improve the grip on the charger, keeping it from slipping from your hands.
It comes with a built-in kickstand which is the main feature that distinguishes the MagGo 622 Magnetic Battery from other power banks. When not in use, the stand folds in and rests flat against the battery pack. It folds out when you wish to put your phone upright. This will let you use your phone or view movies on it while charging. It is the perfect device for scrolling through Twitter at your desk.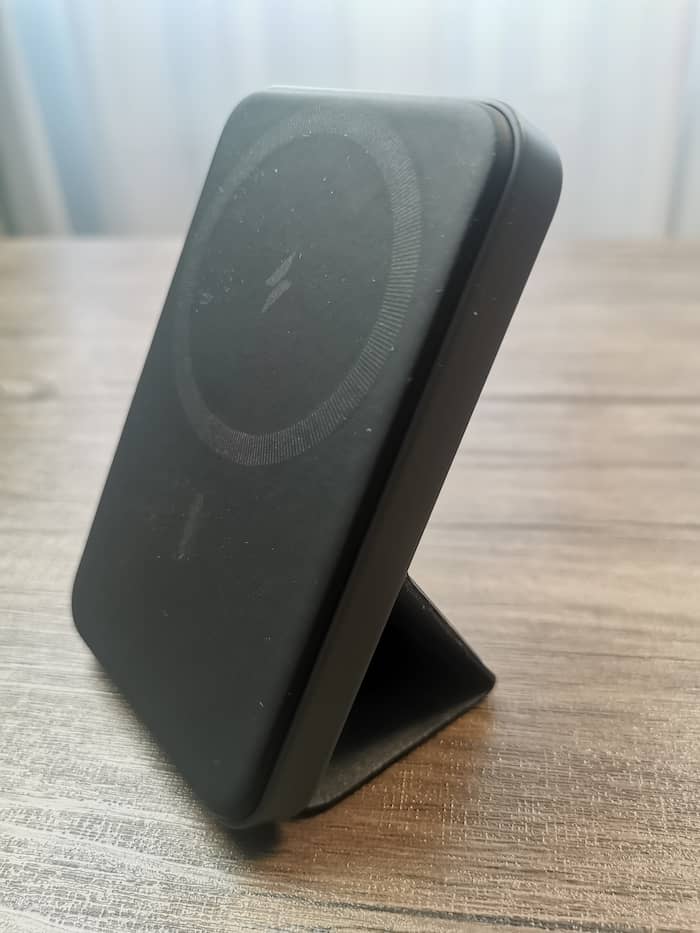 But keep in mind that if you use the kickstand on the Anker 622 Magnetic 5000mAh power bank, the charging port will be obstructed, making it impossible to charge the power bank. As a result, you'll have to lay it on its back to reveal the charging port and properly charge the gadget.
The magnetic attachment is so strong that the power bank can support your phone in portrait and landscape positions. It will also keep the phone in place even when pulled out of tight pockets. Meanwhile, using a protective case could go a long way if you're afraid your phone will slip off.
On the bottom, four light indicators display the charging state and the amount of juice left in the battery. A small button is also integrated on the exterior for turning the device on and off. Buds Green, Dolomite White, Interstellar Gray, Lilac Purple, and Misty Blue are the five colors available for this product.
Durability and build quality
When users encounter the word plastic, they immediately think of all the smudges their fingers would leave on the power bank and the vulnerability to damage. But, the texture ensures no fingerprints are left on the gadget, regardless of how much you run your fingers on it. In addition, the high-quality construction means it can withstand drops.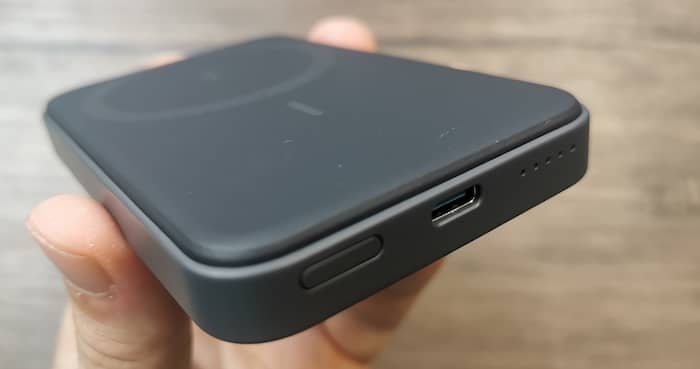 With such a low cost, one would not expect the power bank to include metal in its build for shock resistance, but that is not the case here. This Anker power bank's side is constructed of metal, adding to its premium quality and durability.
Naturally, you can purchase a MagSafe-friendly case for your iPhone 12 or 13 (all models) to safeguard it from potential falls and protect it from any damages. Any case with MagSafe compatibility will allow you to attach the battery pack to the case, keeping your phone safe and ready to charge.
Overall, the device is of higher-than-average build quality, and you will receive more than you bargained for.
Pros & Cons

Pros
Works with iPhone 12 and later models
USB-C port for non-iOS devices
Strong magnetic attachment

Cons
Only one device can be charged at a time
Issues with charging on iPhone mini models
Poor charging port design
Final thoughts
Returning to the most fundamental question for the conclusion, will the Anker 622 Magnetic 5000mAh power bank satisfy your needs?
Anker's MagGo 622 is an excellent option if you want a power bank that is well-made, quick to charge, and compatible with MagSafe. The integrated kickstand distinguishes it from the competition despite being more expensive than many comparable models. The compact size also makes it travel-friendly, so you can carry your power bank and charge your phone anywhere.
Several MagSafe choices are available for as little as half the Anker MagGo 622 if you're seeking an inexpensive wireless power bank and don't need the kickstand.
Or find it on Anker.com or on Walmart.com