RAVPower 20000mAh at a glance

Key specs
Dimensions (LxWxH)
6 x 2.6 x 1 in
15.24 x 6.60 x 2.54 cm

Charging technology

PBE metrics
Affordability
222.25 mAh/$
Average
357.43 mAh/$
Portability
49.02 mAh/g
1388.89 mAh/oz

Ports

Output: 5V=3A, 9V=2A, 12V=1. 5A (QC 18W max)

Input: 5V=3A, 9=3A, 12V=2.5A, 15V=2A, 20V=1.5A, (PD, 30W max)
Output: 5V=3A, 9=3A, 12V=3A 14.5V=2A, 15V=3A, 20V=3A, (PD, 60W max)

Flight status
Status: Safe
The power bank is safe to take on board. It's under the specified TSA limit of 100 Wh. Read more about taking power banks on planes.

Other features

Charging capacity calculator
Use the search bar below and find out exactly how many times can the RAVPower 20000mAh charge your smartphone battery

RAVPower 20000mAh PD 60W Review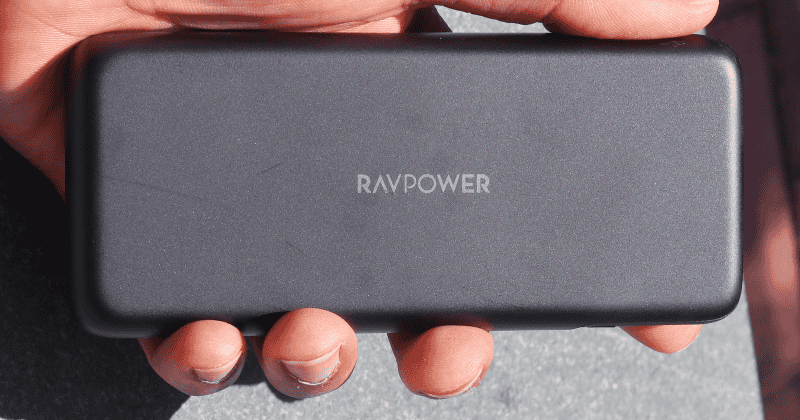 The RAVPower 20000mAh is a compact, stylish, and portable power bank that can provide charges for most of your devices (including laptops!) when you're on the go or just on vacation. It supports various charging capabilities, including the 60W PD output, which is rare for a portable charger. With its wide compatibility features in mind, it also comes packed with safety features to ensure your battery pack doesn't get damaged while charging. The USB-A port can power up any Apple and Android devices, including laptops, which may come in very handy.
Unboxing Video
Charging Technology
RAVPower's power bank contains a massive 20000mAh capacity, storing enough power for multiple charges of average smartphone batteries.
The battery pack is compatible with PD and iSmart fast charging technologies. It can support charging Apple products via the USB-C port connected to a lightning cable (not included). The USB-A port allows any iPhone to power up with the iPhone's OEM lightning cable, which is also not included. Meanwhile, the Quick Charging 18W max output can be used with smartphones that support the QC protocol for extremely fast power-up. This will only work if the QC port is the only one in use.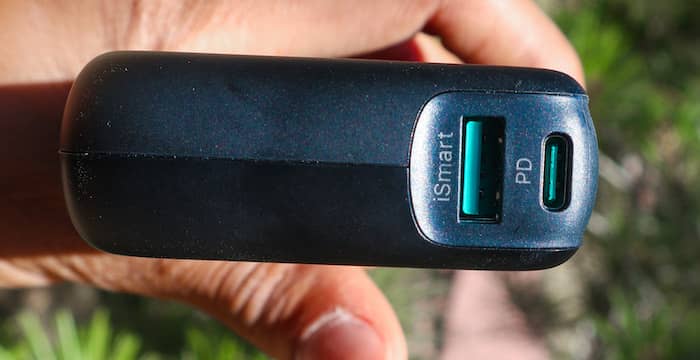 USB-C PD 60W port supports a variety of electronic devices such as laptops, smartphones, tablets, and other gadgets. You can hook the MacBook Pro, Dell XPS, iPad Pro, iPhones, digital cameras, and finally, a Nintendo Switch to the battery pack.
The power bank also supports simultaneous charging with a total output of 60W when powering two devices. When only one device is connected, the PD output can reach up to 60W max. The option to fast-charge your smartphone and laptop simultaneously is readily available, thanks to the PD and QC port working together.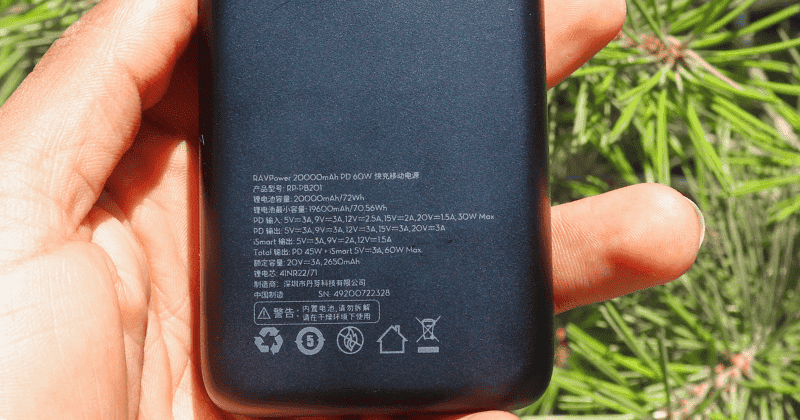 The RAVPower 20000mAh can charge in around 3 hours, which is very quick for its capacity, provided you use a PD wall charger such as the RAVPower 61W GaN technology wall charger. But if you charge the power bank with a regular 5V/2.4A non-high speed wall charger, then the charging time will go up to around 12 hours. So it would be a very good idea to invest in a fast charger if you plan on owning this power bank for a long time.
Pass-through charging is also supported by the device but with limited speed. It's still very handy for situations when you need to charge both your power bank and another device simultaneously.
Portability
The RAVPower 20000mAh is a lightweight, portable device, measuring 6" long, 2.6" wide, and 1" thick, which is small enough to fit into your pocket or your backpack. Similar in size to the S9 Android smartphone, it's easy to carry around whenever you're on the go or planning a vacation because it weighs only 14.6 ounces and it won't take up much room.
It's safe to take on a flight with you since it has 74Wh on the power bank, which is below the 100Wh restriction set by the TSA.

Compared to other battery packs of the same class, the RAVPower 20000mAh is a tad smaller, but also similar in weight to other such devices. It rivals similar power banks manufactured by the same company in terms of power capacity and size.
Look and Feel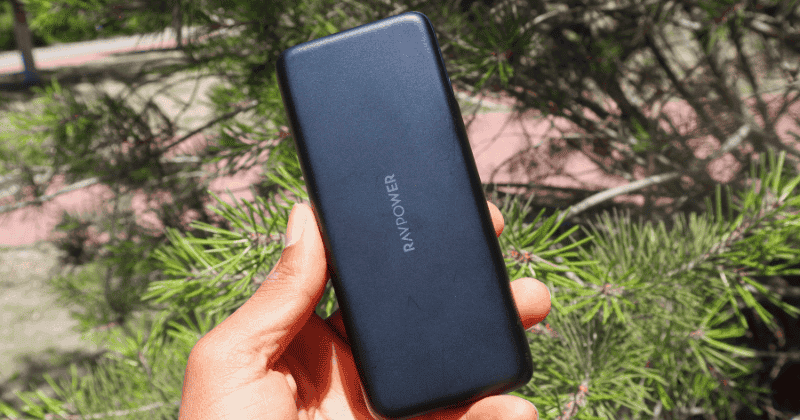 This power bank model is made of slick plastic with ribbing on each side, making it look sleek in design. It can hide scratches quite well. The device only comes in black, so color options are limited.
The covering is well constructed, with a design that fits the eye. RAVPower's logo is centered on the back of the portable charger, in a black finish. The rounded corners allow it to have an easy 'feeling' when it's set on a flat surface or when it's being carried around, ensuring it won't slide off and become damaged.
On the side of the device, you will find four LED lights that indicate how much power is left in the battery, providing ease of access and readability. The two ports, USB-C and USB-A, can be found on the bottom of the case, offering an easier place to insert the cords relevant to each port.
Durability & Build Quality
RAVPower 20000mAh comes bundled with safety in mind, so your device can't get damaged from electrical power. Some features include overcurrent, short-circuit, over-discharge, and high-temperature protection to keep your device completely safe while charging.
The warranty that comes with the device is pretty decent too, providing support if it gets damaged or if it's defective. If it's defective, RAVPower will replace the device with either the same or a comparable product at no cost to you. The 18-month warranty can be extended by 12 months, resulting in a 30-month warranty. The warranty covers the power banks and cables.
My Experience With the RAVPower 20000mAh
Using the RAVPower 20000mAh 60W power bank has been a game-changer for me. Each morning, as I grab my bag, I make sure this compact lifesaver is inside. The design is sleek and it's surprisingly lightweight given its large capacity.
Throughout the day, I find its dual USB-C and USB-A ports incredibly handy. Whether I'm charging my laptop during a long meeting or giving my phone a quick boost on the go, the 60W output ensures that my devices charge up swiftly. I've even been able to power up my laptop and smartphone simultaneously without any noticeable slowdown in charging speed.
While the RAVPower 20000mAh capacity might sound like an overkill for some, for a power user like me, it's perfect. It means I can get through a weekend trip without needing to find an outlet. In fact, it has saved me from countless situations where outlets were either unavailable or inconveniently located.
The only minor gripe I have is its size. It's not the smallest power bank on the market, so if you have smaller pockets or a tiny purse, it can be a bit bulky. But considering the trade-off in capacity and charging speed, it's a sacrifice I'm more than willing to make.
In the months I've been using the RAVPower, it's proven to be durable, reliable, and a genuine asset to my daily life. It's one of those devices that, once you've experienced the convenience, you wonder how you ever managed without it.
What Others Say About It
I feel like it offers a really great combination of features in terms of being a little lighter a smaller than the average large-capacity power bank.
Honest Reviews
My girlfriend has had this power bank for about 3 weeks now and so far she…really likes it since it's very compact.
GH Tech Review
Pros and Cons

Pros
Takes only 3 hours to recharge

Cons
The PD Pioneer Series
This power bank is part of the highly popular PD Pioneer series created by RAVPower. See it compared side-by-side with the other power banks in this series below:
Capacity
10000mAh/37Wh
15000mAh/54.45Wh
20000mAh/74Wh
30000mAh/111Wh
Ports
In/Out USB Type C, USB Type A
In/Out USB Type C, USB Type A
In/Out USB Type C, USB Type A
In/Out USB Type C, USB Type A
Power Output
USB Type A Output: 11W

USB Type C Output: 18W
USB Type A Output: 18W

USB Type C Output: 20W
USB Type A Output: 18W

USB Type C Output: 60W
USB Type A Output: 18W

USB Type C Output: 90W
Charging Technology
Qualcomm Quick Charge, Power Delivery (PD), Passthrough charging
Power Delivery (PD), Passthrough charging
Qualcomm Quick Charge, Power Delivery (PD), Passthrough charging
Power Delivery (PD), Passthrough charging
Charging time
3.5 hours
4 hours
3 hours
2.5 hours
Weight
6.7 oz / 189 g
9.9 oz / 280 g
14.4 oz / 408 g
20.8 oz / 589 g
Final Thoughts
This device is a great fit for you if you're looking for a power bank that can recharge itself quickly, in as little as three hours. The two ports, USB-C/USB-A, provide accessibility for many electronics, including Apple smartphones, tablets, and laptops. It's also supported with quick charging and has 60W max output, so your devices can charge quickly and simultaneously, even if a laptop and smartphone are hooked up to the device.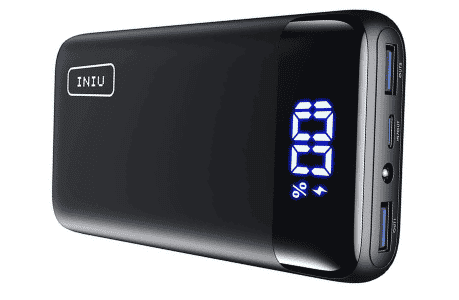 INIU BI-B5 20000mAh
INIU BI-B5 20000mAh is a mid-range portable charger that can keep you powered for a few days at a time.
Read More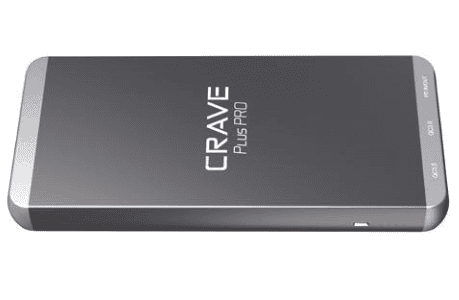 Crave PLUS Pro
The Crave Plus PRO is a sturdy power bank that comes with a generous capacity of 20000mAh. With both QC and PD charging technologies, it can even charge laptops.
Read More