The recharging time is one of the key features to look for in a power bank alongside others such as capacity, size, and ports. In this article, we're exploring some of the fastest charging power banks we could find, listed in order of their recharging time, as well as the different fast charging technology used, as well as the most common fast-charging technologies in the market.
ELECJET PowerPie P20 20000mAh
Recharging time: 2.5 hours (133.33 mAh/minute)
Capacity: 20000mAh
Max output: 45W
Ports: 1 USB type C, 1 USB type A
Fast charging: PD and QC
Weight: 13.8 oz / 391 g
Price: ~$68 (actual price might vary)
The ELECJET PowerPie P20 is by far the fastest charging power bank on the market today. It only takes 2.5 to fully recharge its 20000mAh capacity. This is lightning fast, compared to most other portable chargers in the same category.
It also features Power Delivery and Quick Charge technologies to fast-charge your devices and it's capable of delivering a maximum of 45W of power, enough to charge a laptop. It's a bit pricy given the capacity, but this is a result of the features provided in this power bank.
RAVPower 20000mAh 60W PD 3.0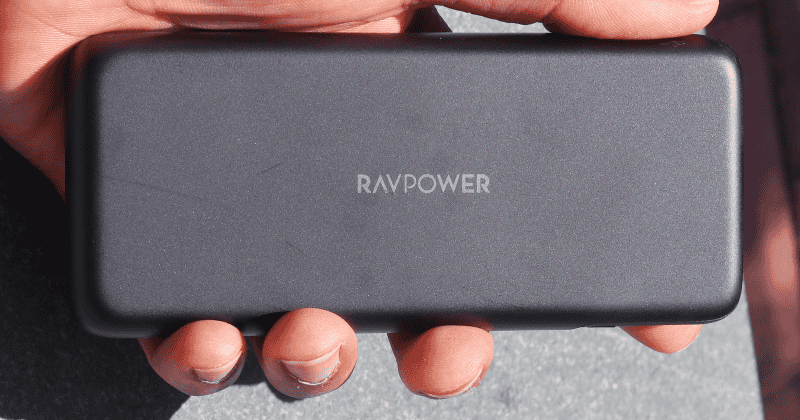 Recharging time: 3 hours (111.11 mAh/min)
Capacity: 20000mAh
Max output: 60W
Ports: 1 USB type C, 1 USB type A
Fast charging: PD 3.0, QC
Weight: 14.4 oz / 408 g
Price: ~$50 (actual price might vary)
The RAVPower 20000mAh is a very good all-around power bank. In terms of recharging speed, it can get fully charged in just about 3 hours. Although it's 1 hour slower than the E EGOWAY 27000mAh, it's still very fast compared to other power banks of similar capacity.
RAVPower is one of the leading brands when it comes to high-quality power banks and it does not disappoint with this model. It's a sturdy build made out of highly resistant plastic for extra durability. As a consequence, it's 7 ounces lighter than the E EGOWAY 27000mAh which comes with a metal case.
MAXOAK 26756mAh
Recharging time: 4 hours (111.48 mAh/minute)
Capacity: 26756mAh
Max output: 100W
Ports: 1 USB type C, 2 USB type A, 1 AC
Fast charging: PD and QC
Weight: 43.2 oz / 1224 g
Price: ~$130 (actual price might vary)
Given its capacity, the MAXOAK 26756mAh charges itself quite fast in just about 4h. So if you're looking to a large capacity and a fast charging time, then this option is the one for you. Another thing you might consider is that at 99Wh, the capacity of this portable charger is just under the 100Wh limit imposed by the FAA and TSA. So it's basically the highest capacity battery you can take with you on a plane.
Moreover, this power bank is perfect for charging laptops given the fact that it can output a max of 100W and also the fact that it has an AC socket in which you can directly plug your laptop.
Common fast charging technologies
Using fast charging technology to charge a device is very beneficial. This is because charging times are significantly reduced compared to traditional chargers. However, not all products use the same technology, and not all support different standards. Read below to learn about the different types.
Qualcomm Quick Charge
Qualcomm Quick Charge is one of the most common fast-charging standards because of how widely the company's chipsets are used. It delivers power faster than traditional chargers. Currently, Qualcomm Quick Charge 2.0 and 3.0 are the common protocols being used in devices.
Quick Charge 2.0 uses higher power levels to rapidly charge devices. Quick Charge 2.0 Class A offers 24W via micro USB, 36W via Type-C, and Class B is capable of reaching 60W or higher.
Quick Charge 3.0 can boost the voltage from 3.2V to 20V. It's capable of delivering up to 18W of power. This allows 3,500mAh to 4,500mAh batteries to charge from 0-80% in just 35 minutes. Qualcomm also introduced Quick Charge 4+, which narrows the voltage range while boosting the amps. It provides 5V/4.7A-5.6A or 9V/3A. Devices that support Quick Charge 4+ use USB-C ports, making them compliant with Power Delivery. There is an additional power management chip that provides 28W without overheating.
The latest version is Quick Charge 5, which provides 100W of power that can charge a device from 0-50% in five minutes. This means that a 4,500mAh battery can be recharged in as little as 15 minutes.
For a selection of the best Qualcomm Quick Charge power banks, head over to our dedicated article.
Power Delivery
USB-C Power Delivery (PD), a fast-charging protocol, supports devices with a USB port, including Android, Apple, and Google. It works by implementing communication between the device and charger, which means the device and charger reach the maximum power delivery.
It provides higher levels of power than standard charging technologies used today, allowing gadgets to rapidly charge over a USB connection. PD can boost charging speeds to up to 100W of power. 7.5W and 15W are ideal for smartphones and 27W is designed for laptops.
In this article, you can see a selection of what we believe to be the best power banks with Power Delivery.
Graphene
Graphene technology will be a game-changer for USB devices that rely on chargers. It's designed to shorten the charging time duration by just minutes instead of the usual hour or two. Other benefits to this technology include increasing battery capacity, safety, and reducing size and weight. There are only a few graphene chargers available on the market today since it's still relatively new, but others are still in development. Check out the best graphene power banks here.
Anker PowerIQ:
PowerIQ is a fast-charging protocol developed by Anker. It comes bundled with identification technology to rapidly charge any connected device, no matter which cable is being used. It works by adjusting the voltage output for the device, allowing it to rapidly charge at the maximum possible rating.
Samsung Adaptive Fast Charging:
Samsung created a fast-charging standard; Samsung Adaptive fast charging, which is used by Samsung devices. It operates similarly to Qualcomm and provides 18W of maximum power. This is also faster than standard chargers because it functions at a higher Amperage and Wattage. Charging speeds are automatically adjusted to make the battery last longer.
How to achieve the fastest charging speeds
Even if your power bank is capable of ultra-fast recharging times, you won't be able to achieve them without two other essential items: a high-quality charging cable and a fast-charging wall adaptor. Whereas almost all power banks come with a good charging cable, they don't also come with a wall adaptor too.
So, our recommendation is to also get a fast charger along with your power bank. One of our favorites is the Anker PowerPowrt III which is capable of delivering up to 45W of power via its USB Type C port. However, there are a bunch of other chargers that can deliver a lot of power, especially ones that are using one of the latest charging technologies such as GAN. You can also consider getting a charger that is based on Qualcomm Quick Charge technology. We made a selection here.