Generally speaking, power banks have progressed a lot when it comes to the time it takes for them to get fully recharged. New fast charging technologies such as Qualcomm Quick Charge, Power Delivery, GaN, or Graphite, have drastically decreased power bank recharging times.
In this article, we've put together a list of some of the best fast-charging power banks by capacity. We tried to cover multiple capacity categories in order to offer more choices.
We also added a brief calculation for each charger on the list so that you can estimate just how much charge per hour you can expect. However, please take note, that batteries in general charge faster initially, and then the charging speed drops as they become closer to 100%. So charging speeds are not linear!
Without further ado, here are our picks for the fastest-charging power banks:
1. Fastest 50000mAh: Zendure SuperMini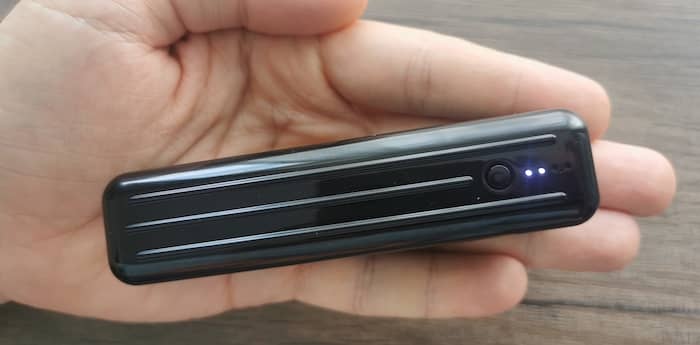 Recharging time: 2 hours (2500 mAh/hour)
Capacity: 5000mAh
Ports: 1 USB type C, 1 USB type A
Fast charging technology: PD and QC
Weight: 3.9 oz / 110 g
Price: ~$36 (actual price might vary)
Or buy on Geekbuying.com or buy on Zendure.com
At 2 hours of recharging time, the Zendure SuperMini is faster than most power banks to reach 100% battery charge. However, being only 5000mAh in total capacity, it's not that much to write home about. In terms of charging technology, it features both Qualcomm Quick Charge and Power Delivery. This is indeed rare for power banks in this category.
What's also rare, is the fact that it comes with two different output ports: USB type A and USB type C. In general. 5000mAh power banks only come with a single output port. This feature comes in handy in case you want to charge two smartphones at the same time.
Unboxing video
What we like about it
Two hours to recharge
Both PD and QC
Small and compact
2. Fastest 20000mAh: AOHI Magcube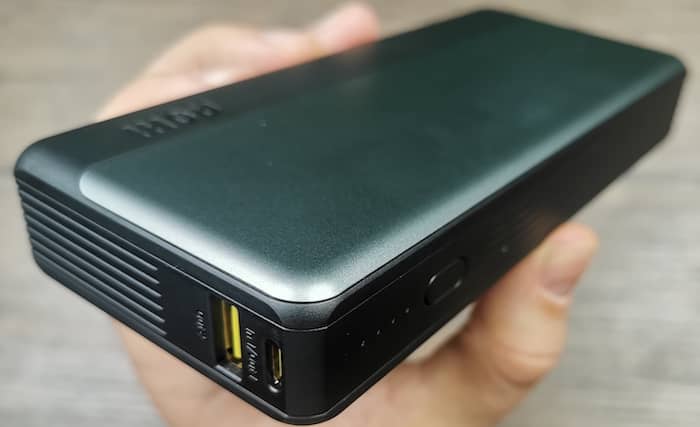 Recharging time: 2 hours (10000 mAh/hour)
Capacity: 20000mAh
Ports: 1 USB type C, 1 USB type A
Fast charging: PD 3.0
Weight: 13.1 oz / 371 g
Price: ~$65 (actual price might vary)
Or get it on iaohi.com or on ebay.com
The AOHI Magcube 20000mAh uses the GaN fast charging technology, which allows it to be fully topped up in just 2 hours. This is quite a feat given its capacity. Provided you're charging the Magcube with a PD charger, you'll be able to reach 50% in just 37 minutes. That should be more than enough to keep you going for one day of casual use.
Since it can output a max of 65W via the USB type C port, you can use the AOHI Magcube 20000mAh to charge laptops. In fact, you can power up a Macbook Pro 13" for 50% in about half an hour. All these stats make this portable charger one of your best options for this capacity.
Unboxing video
What we like about it
Recharges in 2h
Power Delivery 3.0
Can charge laptops
GaN technology
3. Fastest 25000mAh: Goal Zero Sherpa 100PD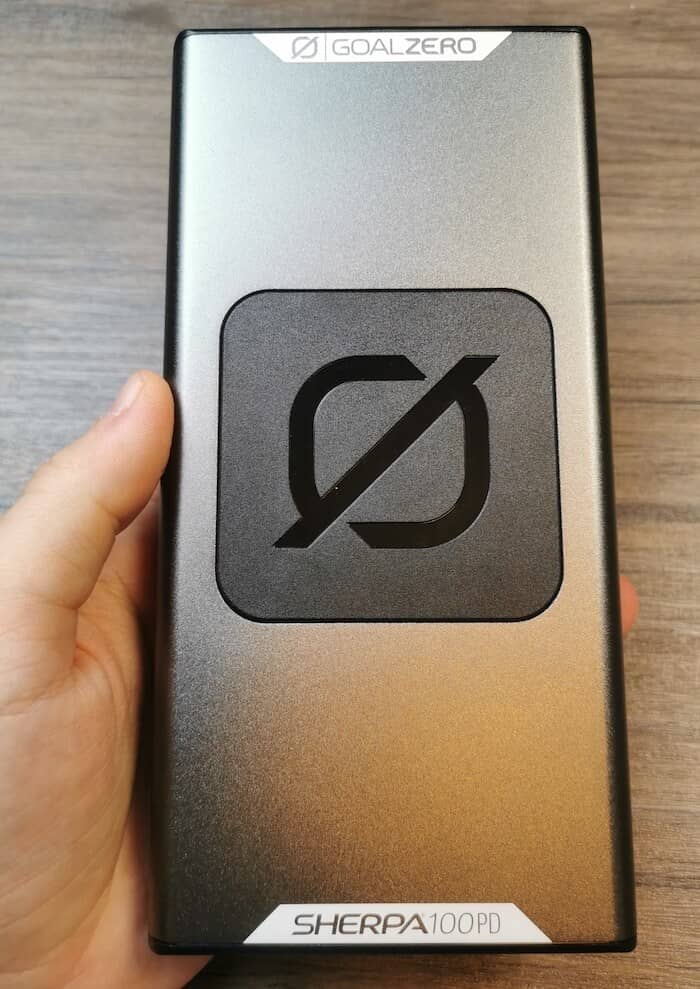 Recharging time: 3 hours (8833 mAh/hour)
Capacity: 25600mAh
Ports: 1 USB type C, 2 USB type A
Fast charging technology: PD
Weight: 22.4 oz / 635 g
Price: ~$150 (actual price might vary)
Or buy on GoalZero.com or on BestBuy.com
The Goal Zero Sherpa is a rugged power bank with a generous capacity of 25600. Power banks in this range, especially ones built for the outdoors such as the Sherpa, usually take 6 to 10 hours to fully charge. But that's not the case with the Sherpa, since it can be charged at speeds of up to 45W.
Another benefit of this portable charger is that, unlike many other power banks, it can be plugged in directly to a solar panel. However, this way, the charging time will drop to about 9 hours. What's also neat about the Goal Zero Sherpa is that it also has a wireless charging pad on its top side. Just place any compatible smartphone on it while active and it will start charging instantly.
Unboxing video
What we like about it
3 hours charging time
3 output ports
Qi wireless charging
Can be charged with solar power
4. Fastest 30000mAh: AOHI Magcube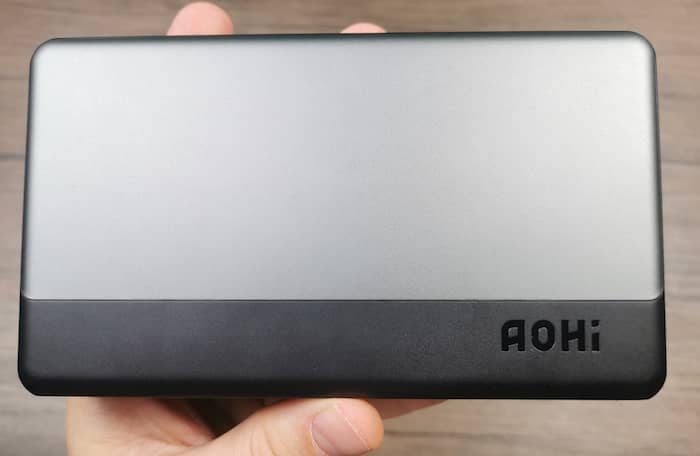 Recharging time: 2 hours (15000 mAh/hour)
Capacity: 30000mAh
Ports: 1 USB type C, 1 USB type A
Fast charging: PD 3.0
Weight: 18.7 oz / 530 g
Price: ~$100 (actual price might vary)
Or get it on iaohi.com or on newegg.com
Similar to its little brother of 20000mAh, the AOHI Magcube 30000mAh charges itself in about 2 hours. This is a great feat given its large capacity and it's achieved with the help of the GaN fast charging technology. Using a PD charger you can achieve a 50% charge in 30 minutes, while with a regular charger, you can achieve a 15% charge in the same amount of time.
At 100W power output, this power bank is a true powerhouse. It will be able to easily charge any type of power-hungry compatible device such as laptops or gaming consoles. In fact, you can use it to charge the Macbook Pro 14′' up to 50% in just half an hour.
Unboxing video
What we like about it
Recharges in just two hours
Power Delivery 3.0
100W max power output
GaN technology
Common fast-charging technologies
Using fast charging technology to charge a device is very beneficial. This is because charging times are significantly reduced compared to traditional chargers. However, not all products use the same technology, and not all support different standards. Read below to learn about the different types.
Qualcomm Quick Charge
Qualcomm Quick Charge is one of the most common fast-charging standards because of how widely the company's chipsets are used. It delivers power faster than traditional chargers. Currently, Qualcomm Quick Charge 2.0 and 3.0 are the common protocols being used in devices.
Quick Charge 2.0 uses higher power levels to rapidly charge devices. Quick Charge 2.0 Class A offers 24W via micro USB, and 36W via Type-C, and Class B is capable of reaching 60W or higher.
Quick Charge 3.0 can boost the voltage from 3.2V to 20V. It's capable of delivering up to 18W of power. This allows 3,500mAh to 4,500mAh batteries to charge from 0-80% in just 35 minutes. Qualcomm also introduced Quick Charge 4+, which narrows the voltage range while boosting the amps. It provides 5V/4.7A-5.6A or 9V/3A. Devices that support Quick Charge 4+ use USB-C ports, making them compliant with Power Delivery. There is an additional power management chip that provides 28W without overheating.
The latest version is Quick Charge 5, which provides 100W of power that can charge a device from 0-50% in five minutes. This means that a 4,500mAh battery can be recharged in as little as 15 minutes.
Power Delivery
USB-C Power Delivery (PD), a fast-charging protocol, supports devices with a USB port, including Android, Apple, and Google. It works by implementing communication between the device and charger, which means the device and charger reach the maximum power delivery.
It provides higher levels of power than standard charging technologies used today, allowing gadgets to rapidly charge over a USB connection. PD can boost charging speeds to up to 100W of power. 7.5W and 15W are ideal for smartphones and 27W is designed for laptops.
In this article, you can see a selection of what we believe to be the best power banks with Power Delivery.
Graphene
Graphene technology will be a game-changer for USB devices that rely on chargers. It's designed to shorten the charging time duration by just minutes instead of the usual hour or two. Other benefits of this technology include increasing battery capacity, safety, and reducing size and weight. There are only a few graphene chargers available on the market today since it's still relatively new, but others are still in development.
Anker PowerIQ:
PowerIQ is a fast-charging protocol developed by Anker. It comes bundled with identification technology to rapidly charge any connected device, no matter which cable is being used. It works by adjusting the voltage output for the device, allowing it to rapidly charge at the maximum possible rating.
Samsung Adaptive Fast Charging:
Samsung created a fast-charging standard; Samsung Adaptive fast charging, which is used by Samsung devices. It operates similarly to Qualcomm and provides 18W of maximum power. This is also faster than standard chargers because it functions at a higher Amperage and Wattage. Charging speeds are automatically adjusted to make the battery last longer.
How to achieve the fastest charging speeds
Even if your power bank is capable of ultra-fast recharging times, you won't be able to achieve them without two other essential items: a high-quality charging cable and a fast-charging wall adaptor. Whereas almost all power banks come with a good charging cable, they don't also come with a wall adaptor too.
So, our recommendation is to also get a fast charger along with your power bank. One of our favorites is the Anker PowerPowrt III which is capable of delivering up to 45W of power via its USB Type C port. However, there are a bunch of other chargers that can deliver a lot of power, especially ones that are using one of the latest charging technologies such as GAN. You can also consider getting a charger that is based on Qualcomm Quick Charge technology.