The recharging time is one of the key features to look for in a power bank alongside others such as capacity, size, and ports. In this article, we're exploring some of the fastest charging power banks we could find, listed in order of their recharging time.
Apollo Traveller 5000mAh graphene power bank
Recharging time: 18 minutes (277.77 mAh/minute)
Capacity: 5000mAh
Max output: 60W
Ports: 1 USB type C, 1 USB type A
Fast charging: PD and QC
Weight: 7 oz / 200 g
Price: ~$88 (actual price might vary)
The Apollo Traveller is by far the fastest charging power bank on the market today. It only takes 18 minutes to fully recharge its 5000mAh capacity. This is lightning fast, compared to most other portable chargers in the same category. The amazing feat is achieved due to the modern Graphene composite technology used in building this battery.
It also features Power Delivery and Quick Charge technologies to fast-charge your devices and it's capable of delivering a maximum of 60W of power, enough to charge a laptop. On the downside, it's capacity is quite small, just enough to charge a smartphone 1-3 times. Also, it's a bit pricy given the small capacity, but this is a result of the high-tech Graphene composite materials.
NusGear 20000mAh 100W
Recharging time: 1 hour (333.33 mAh/minute)
Capacity: 20000mAh
Max output: 100W
Ports: 1 USB type C, 2 USB type A, 1 micro USB
Fast charging: PD and QC
Weight: 20.6 oz / 584 g
Price: ~$57 (actual price might vary)
With just 1 hour charge time, the NusGear 20000mAh is the fastest power bank for its capacity. Generally speaking, similar power banks can take anywhere between 3 and 8 hours to charge, most likely closer to the larger end of the range. With this power bank you get both a generous capacity and a faster than average charging time.
Besides it's ultra-fast charging time, the NusGear 20000mAh also features an outstanding 100W max output, which is enough to charge even the most power-hungry laptops like the MacBook Pro. The metal shell is also a great bonus as it gives it extra strength and durability. But at 20.6 ounces, you'll definitely feel it in your purse or backpack.
RAVPower 20000mAh 60W PD 3.0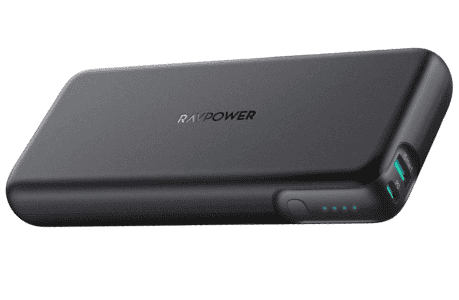 Recharging time: 3 hours (111.11 mAh/min)
Capacity: 20000mAh
Max output: 60W
Ports: 1 USB type C, 1 USB type A
Fast charging: PD 3.0, QC
Weight: 14.4 oz / 408 g
Price: ~$50 (actual price might vary)
The RAVPower 20000mAh is a very good all-around power bank. In terms of recharging speed it can get fully charged in just about 3 hours. Although it's 1 hour slower than the NusGear 20000mAh, it's still very fast compared to other power banks of similar capacity.
RAVPower is one of the leading brands when it comes to high-quality power banks and it does not disappoint with this model. It's a sturdy build made out of highly resistant plastic for extra durability. As a consequence, it's 5 ounces lighter than the NusGear 20000mAh which comes with a metal case.
MAXOAK 26756mAh
Recharging time: 4 hous (111.48 mAh/minute)
Capacity: 26756mAh
Max output: 100W
Ports: 1 USB type C, 2 USB type A, 1 AC
Fast charging: PD and QC
Weight: 43.2 oz / 1224 g
Price: ~$130 (actual price might vary)
Given its capacity, the MAXOAK 26756mAh charges itself quite fast in just about 4h. So if you're looking to a large capacity and a fast charging time, then this option is the one for you. Another thing you might consider is that at 99Wh, the capacity of this portable charger is just under the 100Wh limit imposed by the FAA and TSA. So it's basically the highest capacity battery you can take with you on a plane.
Moreover, this power bank is perfect for charging laptops given the fact that it can output a max of 100W and also the fact that it has an AC socket in which you can directly plug your laptop.
How to achieve the fastest charging speeds
Even if your power bank is capable of ultra-fast recharging times, you won't be able to achieve them without two other essential items: a high-quality charging cable and a fast-charging wall adaptor. Whereas almost all power banks come with a good charging cable, they don't also come with a wall adaptor too.
So, our recommendation is to also get a fast charger along with your power bank. One of our favorites is the Anker PowerPowrt III which is capable of delivering up to 45W of power via its USB Type C port. However, there are a bunch of other chargers that can deliver a lot of power, especially ones that are using one of the latest charging technologies such as GAN. You can also consider getting a charger that is based on Qualcomm Quick Charge technology. We made a selection here.