30000mAh power banks are real workhorses when it comes to providing power for sustained periods of time. They're especially useful for charging laptops several times over. However, since they have a capacity of around 111 Wh, they can't be taken on flights without a special permit (read more). This is why they tend to be less popular than 20000mAh power banks which are under the 100Wh limit imposed by the TSA, FAA, and other flight organizations.
Since we write about power banks on a daily basis we decided to create this curated list of what we believe to be the best 30000mAh power banks. The list is intended to be dynamic so that when we discover a new model that we believe it should be mentioned, we simply amend the list. Thus, if you come back at a later time, you might find different models and/or a different order.
RAVPower 30000mAh Power Bank with AC Outlet
Capacity: 30000mAh
Max output: 100W
Ports: 1 USB type C, 2 USB type A, 1 AC socket
Fast charging: PD, QC
Weight: 2.21 pounds / 1 kg
Recharging time: 3 h
Price: ~$129.99 (actual price might vary)
mAh/$ ratio: 230.76
The RAVPower 30000mAh is a highly powerful device capable of delivering a power output of up to 100W or even 150W if two different ports are used. But maybe one of the most important features that sets it aside from other 30000mAh power banks is it's AC outlet socket. This is a handy feature as you can simply plug in your laptop directly into the portable charger.
Besides the AC outlet, the RAVPower 30000mAh also comes with a bidirectional (input/output) USB type C port that supports Power Delivery and with two USB type A ports that support Quick Charge 3.0. All-in-all, these fast charging technologies behind the RAVPower 30000mAh will power up your devices in a very short amount of time.
This is a great device for keeping you powered for extended amounts of time, for example on camping trips or during emergencies. As reference, it can power the iPone 11 Pro Max up to 4.8 time and the 2018 iPad Pro 2.5 times.
What we like about it
It can deliver 100W
Features an AC socket
It can be charged in around 3h using a fast charger
Compatible with both PD and QC
---
ZeroLemon 30000mAh Power Bank
Capacity: 30000mAh
Max output: 45W
Ports: 1 micro USB, 1 USB type C, 4 USB type A
Fast charging: QC
Weight: 20 oz / 567 g
Recharging time: 3.5 h
Price: ~$69.99 (actual price might vary)
mAh/$ ratio: 428.57
The ZeroLemon 30000mAh power bank is designed to be a highly durable portable charger which can take a punishing. The rugged mate black casing is designed according to a patent pending solution. Thus, it's ideal for activities such as camping, fishing or hiking.
Besides the sturdy build, the ZeroLemon 30000mAh also stands out due to its multitude of output ports, which offer unmatched connection flexibility. It features one USB type C port and 4 (yes, four!) USB type A output ports, one of which is also Quick Charge 3.0 compatible. Furthermore, it can quickly get recharged in just 3.5 hours provided you use a fast USB type C charger.
Another feature worth mentioning is its 45W power output which can easily charge laptops such as the MacBook Pro or gaming consoles like the Nintendo Switch. In terms of charging capacity, it can charge an iPhone 11 Pro Max to 11 times and a Note 10 Plus 7 times.
What we like about it
Outstanding port variation
It can charge laptops
Qucik recharge time if a fast charger is used
Rugged design
What we dislike about it
Only has QC 3.0 on a single output port
Not compatible with Chromebooks
Read our full review on the ZeroLemon 30000mAh power bank.
---
ROMOSS SENSE8+ 30000mAh Power Bank
Capacity: 30000mAh
Max output: 18W
Ports: 1 micro USB, 1 Lingtning, 1 USB type C, 2 USB type A
Fast charging: QC
Weight:23.7 oz / 671 g
Recharging time: 11 h
Price: ~$35.99 (actual price might vary)
mAh/$ ratio: 833.33
The ROMOSS SENSE8+ is one of the most affordable 30000mAh power banks. For a pretty low price, you can get a power bank that not only has a huge capacity, but it also comes with a bidirectional USB type C port, an input Lighning port, and two USB type A ports which are Qucik Charge-compatible.
It can provide up to 12.6 charges to the iPhone 8, 4 charges to the Nintendo Switch, and 4 charges to the iPad Pro. Its maximum power output is 18W, which is enough to quickly charge the average smartphone or tablet.
However, it does have some downsides too. For once, the 18W power output is not enough for charging power-hungry laptops. It also does not feature Power Delivery, which would have come in handy for the USB type C port. But most of all, it has a pretty lengthy recharging time of 11 hours. Compared to its competitors, this is quite slow.
All-in-all, the ROMOSS SENSE8+ is the perfect choice for you if you're looking to get the most capacity for the least investment and if you don't care about things such as being able to charge laptops or the power bank's recharging time.
What we like about it
Very affordable
Multiple input and output port options
Output port with Quick Charge
What we dislike about it
Very slow recharging time (11h)
Cannot charge laptops
Read our full review on the ROMOSS SENSE8+ 30000mAh power bank.
---
POWERADD Pilot Pro 5 30000mAh Power Bank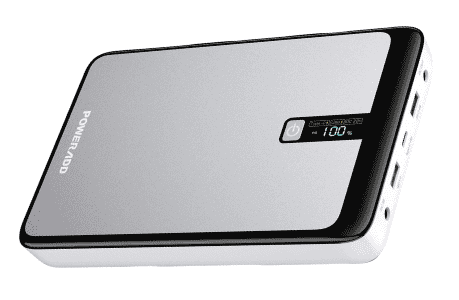 Capacity: 30000mAh
Max output: 60W
Ports: 1 USB type C, 2 USB type A, 2 DC input ports
Fast charging: Power Delivery 3.0
Weight: 2.86 lbs / 1.29 kg
Recharging time: 2.8 h
Price: ~$105.99 (actual price might vary)
mAh/$ ratio: 283
The POWERADD Pilot Pro 5 is a solid unit that offers multiple charging options. For starters, it comes with Power Delivery 3.0 which provides a 60W power output, enough to charge most laptop models including the MacBook Pro. Furthermore, included in the package are a set of 10 different power adaptors for various other laptop models such as Toshiba, Lenovo, Dell, HP, Acer, Asus, Samsung or Sony.
Another very rare feature of the POWERADD Pilot Pro 5 is the fact that id comes with one DC input port and with one DC output port. Furthermore, included in the pancake is a DC to DC cable, which can be of great help especially when used in conjecture with the 10 adaptors previously mentioned.
It's also worth mentioning that it comes with an LED display that showcases important information such as the battery charging level or which ports are currently in use. This can be a very handy feature, especially being able to see the exact amount of power left in the battery, as opposed to having to estimate it as it happens with the classic power banks that only have 4 LED lights to showcase the charging level.
Last but not least, we'd like to mention its ultra-fast charging time of under 3 hours! For a portable charger of this size, being able to charge in under 3 hours using a fast charger, is a great accomplishment and it's a factor to be seriously considered when making a buying decision.
What we like about it
Ultra-fast charging time (2.8h)
It can charge laptops
Wide port variety
10 different laptop adaptors
LED display screen
What we dislike about it
It's a heavy unit (2.86 lbs / 1.29 kg)
How many charges will a 30000mAh power bank provide?
As previously discussed on our site, the real capacity of a power bank is smaller than it's actual capacity. Roughly speaking, you'll get about 75% of the listed capacity. So a 30000mAh power bank will provide an actual charge of around 22500mAh. Listed below are some popular battery capacities which you can find in mobile phones. Check how much capacity your phone's battery has and you can estimate the number of chargers you can expect from a 30000mAh portable charger.
| Phone battery capacity | Number of chargers by 30000mAh power bank |
| --- | --- |
| 1500mAh | 15 |
| 2000mAh | 11.2 |
| 2500mAh | 9 |
| 3000mAh | 7.5 |
| 3500mAh | 6.4 |
| 4000mAh | 5.6 |
| 4500mAh | 5 |
For example, the iPhone 12 has a battery capacity of 2227mAh. This means that you can expect about 10 full chargers from a 30000mAh power bank and not 13.5 as it would seem at first sight from the listed capacity.
How to take a 30000mAh power bank on a flight
Since the max limit for Li-Ion batteries imposed by the FAA is 100Wh, 30000mAh power banks don't make the cut. But they're not completely forbidden also. Batteries between 100Wh and 160Wh can be taken on board, however, they require a special permit.
So in order to fly with your 30000mAh power bank, you'll need to contact your airline beforehand in order for them to help you receive the special permit. It would also be a good idea to contact all the airports you'll be passing through, too. Especially if you're traveling internationally. It's possible that local airports from foreign countries have stricter rules. So to avoid any type of unpleasant situations, it's best to get in touch with the airports as well, not only with the airlines.
Also, remember that you're allowed to have a maximum of two different batteries with you. So if you have another power bank of equal or smaller capacity, you'll be fine. But if you have 3 or more, you'll most likely have to let one or more of them go at the security checkup.