30000mAh power banks are real workhorses when it comes to providing power for sustained periods of time. They're especially useful for charging high-capacity devices such as laptops several times over. However, since they have a capacity of around 111 Wh, they can't be taken on flights without a special permit (read more). This is why they tend to be less popular than 20000mAh power banks which are under the 100Wh limit imposed by the TSA.
Since we write about power banks on a daily basis, we decided to create this curated list of what we believe to be the best 30000mAh power banks. The list is intended to be dynamic so that when we discover a new model that we believe should be mentioned, we simply amend the list. Thus, if you come back at a later time, you might find different models and/or a different order.
1. ROMOSS SENSE8P+ 30000mAh Power Bank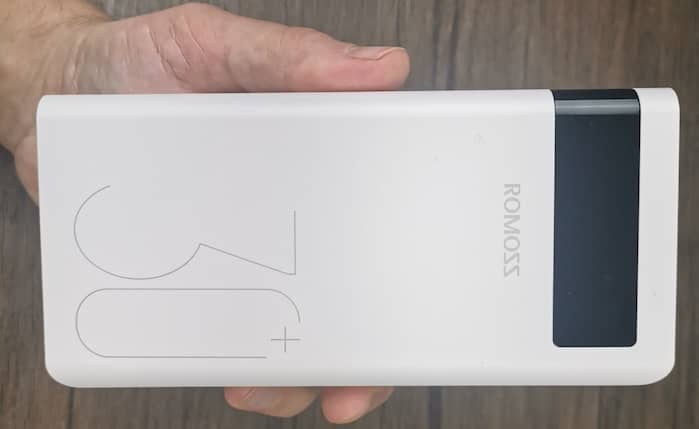 Capacity: 30000mAh
Max output: 18W
Ports: 1 USB type C, 1 Lightning, 1 micro USB, 2 USB type A
Fast charging: Quick Charge
Weight: 23.7 oz / 671 g
Recharging time: 11h
Price: ~$43 (actual price might vary)
mAh/$ ratio: 697
Or buy on Sears.com or on Ebay.com
The ROMOSS SENSE8P+ is not a perfect 30000mAh power by any stretch of the imagination. For starters, it takes about 11 hours to get it fully loaded. That's a lot of time. Then it delivers a max power output of 18W. This is fine if you want to fast charge your phone, but you can't charge power-hungry devices such as laptops. It's also built out of plain, though thick and resistant, plastic.
However, even despite these shortcomings, the ROMOSS SENSE8P+ is a great buy. This is a no-thrill-gets-the-job-done type of power bank. It's built to be a reliable workhorse and it excels at this role. It comes with a multitude of ports that allow you to charge up to 3 different devices simultaneously. But the best thing about it is the price. It features an almost unbeatable mAh/$ ratio.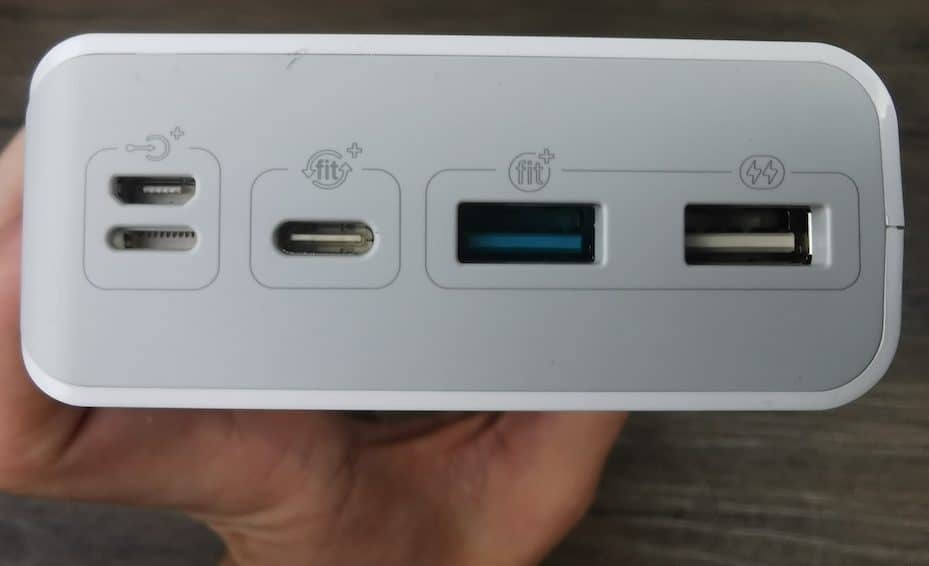 This is a metric that we developed here at Power Bank Expert in order to track which power banks provide the most value for the money you spent. Basically, how much capacity you're getting for the dollars invested. At 697 mAh/$, the ROMOSS SENSE8P+ is one of the best buys you can make. There aren't many companies out there that offer a better deal for one of their products.
Unboxing video
What we like about it
Massive mAh/$ ratio: 697
A lot of different ports
LCD display screen
What we dislike about it
Slow to be recharged
Only 18W max output
Read our full review of the ROMOSS SENSE8P+ 30000mAh Power Bank
---
2. AOHI Magcube 30000mAh Portable Charger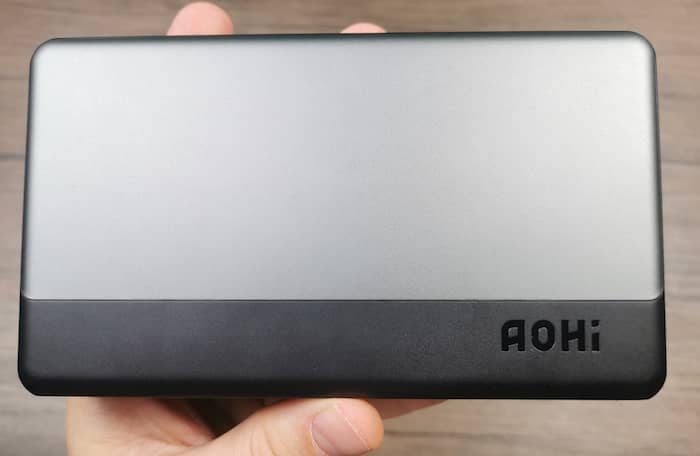 Capacity: 30000mAh
Max output: 100W
Ports: 1 USB type C, 1 USB type A
Fast charging: PD & QC
Weight:18.7 oz / 530 g
Recharging time: 2 h
Price: ~$100 (actual price might vary)
mAh/$ ratio: 300
Or get it on iaohi.com or on newegg.com
Generally speaking, the AOHI 30000mAh is the antithesis of the ROMOSS SENSE8P+. Where the ROMOSS can provide only a maximum output of 18W, the AOHI can provide up to 100W of power. That's a massive difference. This means you can easily charge even the most power-hungry laptops using the Magcube from AOHI. While the ROMOSS takes 11 hours to get to full charge, the AOHI can do so in just 2h. That's less than most power banks 1/3 of its size! This is the magic of GaN technology.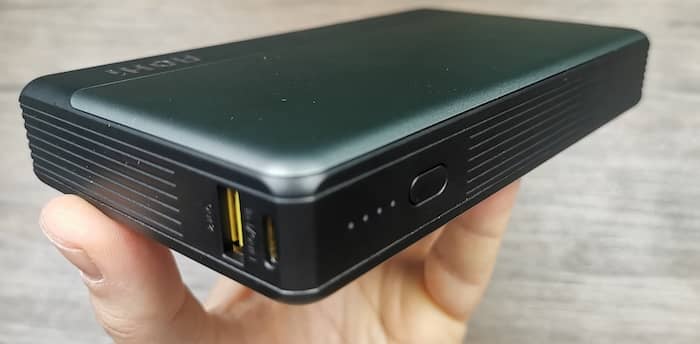 Another big plus of the AOHI over the ROMOSS is that it's made partially of metal and that it has a more elegant design. This is a power bank you'd not shy away from displaying in public places. The looks complement its overall good build quality. Not to mention that it's also smaller and lighter.
But all of these fancy features come at a price. You see, the AOHI costs more than twice the ROMOSS. You'll be able to buy two SENSE8P+ for a total of 60000 mAh in capacity and still be left with a few dollars in your pocket. In our eyes, the extra price is worth it. However, it always depends on the context.
Unboxing video
What we like about it
High power output (1ooW)
Ultra-fast recharging time (2h)
Elegant design
Read our full review of the AOHI 30000mAh power bank.
---
How many charges will a 30000mAh power bank provide?
As previously discussed on our site, the real capacity of a power bank is smaller than its actual capacity. Roughly speaking, you'll get about 75% of the listed capacity. So a 30000mAh power bank will provide an actual charge of around 22500mAh. Listed below are some popular battery capacities which you can find in mobile phones. Check how much capacity your phone's battery has and you can estimate the number of chargers you can expect from a 30000mAh portable charger.
| Phone battery capacity | Number of chargers by 30000mAh power bank |
| --- | --- |
| 1500mAh | 15 |
| 2000mAh | 11.2 |
| 2500mAh | 9 |
| 3000mAh | 7.5 |
| 3500mAh | 6.4 |
| 4000mAh | 5.6 |
| 4500mAh | 5 |
For example, the iPhone 12 has a battery capacity of 2227mAh. This means that you can expect about 10 full chargers from a 30000mAh power bank and not 13.5 as it would seem at first sight from the listed capacity.
How to take a 30000mAh power bank on a flight
Since the max limit for Li-Ion batteries imposed by the FAA is 100Wh, 30000mAh power banks don't make the cut. But they're not completely forbidden also. Batteries between 100Wh and 160Wh can be taken on board, however, they require a special permit.
So in order to fly with your 30000mAh power bank, you'll need to contact your airline beforehand in order for them to help you receive the special permit. It would also be a good idea to contact all the airports you'll be passing through, too. Especially if you're traveling internationally. It's possible that local airports from foreign countries have stricter rules. So to avoid any type of unpleasant situation, it's best to get in touch with the airports as well, not only with the airlines.
Also, remember that you're allowed to have a maximum of two different batteries with you. So if you have another power bank of equal or smaller capacity, you'll be fine. But if you have 3 or more, you'll most likely have to let one or more of them go at the security checkup.