MacBook Pros are some of the most popular laptops in today's market. But unfortunately, you can't use any power bank to charge a MacBook Pro. The power requirements for running a MacBook are substantial, so you can't just plug them into any portable charger and expect them to work. That's because they were not designed to deliver the level of power that the MackBook needs.
Depending on your exact MacBook model, you're looking at different power requirements. For example, the MacBook Pro 13" and MacBook Air require 61 watts of power. The MacBook Pro 15" requires 87 watts, and the new MacBook Pro 16" requires 96 watts of power.
How we made our picks
First of all, you should know that all the power banks listed on this page were used and tested by us personally. We used them in real life and inspected all their features and particularities.
Then, in order to cover the needs of all MacBook models, we focused on listing only power banks that can deliver up to 100W. This way, you'll be sure that they will be able to seamlessly charge your laptop even in the most remote places.
Another thing we took into consideration is the capacity of these power banks. If you're looking to charge a MacBook at least two times, then 10000mAh power banks won't cut it. This is why we focused on power banks that have a rated capacity of at least 20000mAh.
Without further ado, here are the power banks that are the best options for charging a MacBook Pro from our point of view.
1. Omni 20+ 20000mAh Power Bank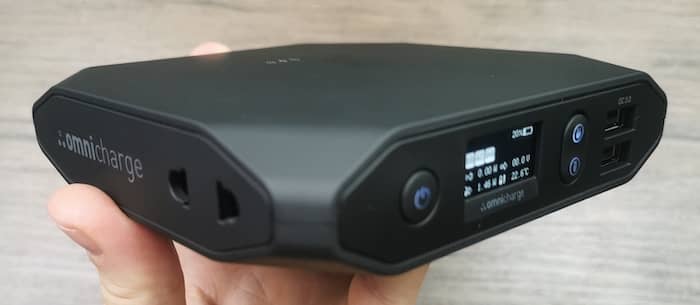 Capacity: 20000mAh
Ports: 1 USB type C, 2 USB type A, 1 AC, 1 DC
Max output: 100W
Weight: 22.4 oz / 635 g
Recharging time: 3 hours
mAh/$: 67
Or buy on Omnicharge.com or on Ebay
The Omni 20+ is to power banks what the MacBook is to laptops. Because of its outstanding build quality, the Omni 20+ is in a class of its own, having few rivals. This is also the reason why we chose it as our top pick on the list.
Even as you pick it up for the first time, you'll immediately notice the remarkable quality. It comes in a sleek all-black casing that gives it a premium look, much as Macs do. The bottom and top sides are made out of a rubbery type of plastic that is not sensitive to smudges even after heavy handling.
The main attraction is the 100W outlet. It's located on one of the side panels and it will allow you to use any model of MacBook while you're charging, even the newer MacBook Pro 16". Besides the AC outlet, it also features a DC barrel port that is also capable of delivering up to 100W of power. This is one of these rare power banks that have two different output ports that are capable of at least 100W output each.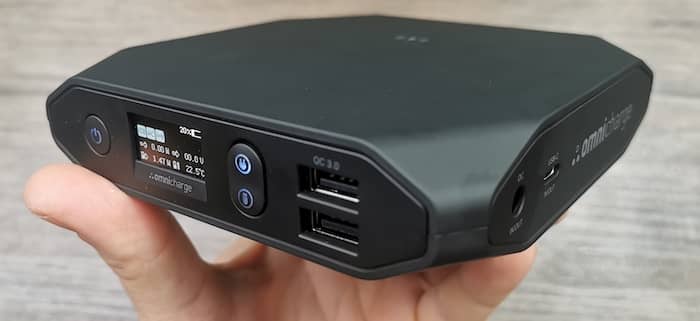 The USB Type-C port is also very powerful, providing up to 60W of current. This isn't quite enough for charging while you use your MacBook, but it allows rapid charging if you'd rather not bring your AC adapter on the road. Moreover, the Omni 20+ supports Qi wireless charging. You can set your smartphone on top and charge it while you're using your MacBook.
If Apple would build a power bank, then the Omni 20+ would be it. This also means that its premium build will also be reflected in the pricing. This is definitely not a budget power bank. But if you do make the investment, then you'll get the best tech available on the market.
Unboxing video
What we like about it
100W AC Port
100W DC port
Premium build quality
LCD display screen
Read our full review of the Omni 20+ Power Bank
2. AOHI Magcube 30000mAh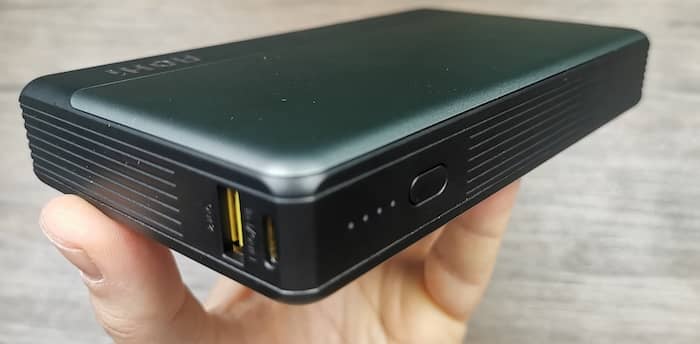 Capacity: 30000mAh
Ports: 1 USB type C, 1 USB type A
Max output: 100W
Weight: 18.7 oz / 530 g
Recharging time: 2 hours
mAh/$: 300
Or get it on iaohi.com or on newegg.com
Much like the Omnicharge Omni 20+, the AOHI Magcube features a minimalistic and modern design. But what's more important is its input/output USB type C port, which can output a maximum of 100W. This is enough to charge all MacBook models. In fact, the manufacturer claims that this power bank can charge a MacBook PRO 14″ to 50% in just 30 minutes. That's a noteworthy achievement, especially useful when you don't have much time on your hands.
It also features a USB type A port which is a bit less powerful than the USB type C. Although you won't be able to use it for charging your laptop, it will come in very handy for fast charging your smartphone.
The AOHI Magcube is built using GaN technology, which allows it to have a more compact size but also to charge itself very fast. In fact, this is one of the fastest charging 30000mAh power banks. It's able to fully replenish itself in just about 2 hours. This would be a good time for a 10000mAh power bank, not to mention a 30000mAh one.
Its large capacity will enable you to charge a MacBook at least 3-4 times. However, this comes with a significant drawback. Because 30000mAh is the equivalent of 111Wh, it's in the 100Wh – 160Wh class when it comes to batteries that can be taken on planes. This means you'll need special approval, prior to the flight in order to be able to fly with it.
Unboxing video
What we like about it
Can charge all MacBook models
100W max power output
Recharges in only 2h
Power Delivery 3.0
GaN technology
What we dislike about it
Needs special approval to be taken on flights
Only two ports
Read the full review of the AOHI 30000mAh
3.CRAVE PowerPack 50000mAh
Capacity: 50000mAh
Ports: 2 USB Type A Ports, 2 USB Type C Ports
Max output: 100W
Weight: 51 oz / 1445 g
Recharging time: 5 hours
mAh/$: 200
Or buy on CraveDirect.com or on Ebay
The Crave PowerPack 50000mAh is a massive power bank. This capacity is enough to charge a MacBook up to 5-6 times, depending on the exact model. This means you'll have enough power for multiple days of using your laptop without access to grid power.
Besides the huge capacity, the Crave PowerPack is highly capable when it comes to the power output too. One of the USB type C ports is able to deliver a max of 100W, while the other, a max of 60W. Both of them will be able to charge MacBook, however, the 60W port will do so in a longer amount of time due to the lower output. There are very few power banks that you'd be able to use for charging two different laptops simultaneously. This is one of them.
Besides the two USB type C ports, you also have two USB type A ports. They can be used for smartphones or other compatible devices. All-in-all, you'd be able to charge up to 4 different devices at the same time on the Crave PowerPack.
Unboxing video
What we like about it
Can charge two laptops simultaneously
100W max power output
Huge 5000mAh capacity
Slim and compact for its capacity
What we dislike about it
Cannot be taken on flights
Read the full review of the CRAVE 50000mAh
MacBook Pro battery capacity
Compared to earlier versions, the MacBook Pro 13" 2020 has a significantly smaller battery capacity:
MacBook Pro 13" 2020 – 4,380mAh
MacBook Pro 16" 2019 – 8,790mAh
MacBook Pro 15" 2019 – 7,336mAh
MacBook Pro 15" 2018 – 7,333mAh
MacBook Pro 15" 2017 – 6,733mAh
MacBook Pro 15" 2016 – 6,690mAh
As you can see, the latest MacBook Pro doesn't have a high battery capacity, which could run out of power rather quickly. That's one of the reasons why a power bank is the best option for you when you're out and about. We provide a variety of recommendations in this article to help you choose an ideal power bank.
How many mAh do you need to charge a MacBook Pro?
Calculations were performed based on the MacBook Pro's capacity and the mAh needed for how many times you wish to charge the device.
| | 1 charge | 2 charges | 3 charges | 4 charges |
| --- | --- | --- | --- | --- |
| MacBook Pro 13" 2020 | 5,842mAh | 11,650mAh | 17,476mAh | 23,301mAh |
| MacBook Pro 16" 2019 | 11,690mAh | 23,381mAh | 35,072mAh | 46,762mAh |
| MacBook Pro 15" 2019 | 9,756mAh | 19,513mAh | 29,270mAh | 39,027mAh |
| MacBook Pro 15" 2018 | 9,752mAh | 19,505mAh | 29,258mAh | 39,011mAh |
The above estimations provide you with an idea as to how much capacity your power bank should have for the number of times you want to charge the MacBook Pro. It would be best to purchase a power bank based on the above estimations.
Conclusion
As you can see, each one of these chargers has a lot to offer. The first two options are designed for rapid AC charging. This requires you to bring your MacBook's AC adapter with you. However, it also allows you to charge other devices. If you want the most powerful USB Type-C option, the Zendure Portable Charger is your best choice. And if you're looking for the most possible portability, either of the last two options will provide what you need.