AOHI 20000mAh PD at a glance

Key specs
Dimensions (LxWxH)
6.02 x 2.64 x 0.98 in
15.29 x 6.71 x 2.49 cm

Charging technology

PBE metrics
Affordability
307.74 mAh/$
Average
308.90 mAh/$
Portability
53.91 mAh/g
1526.72 mAh/oz

Ports

Output: 5V/3A, 9V/2A, 12V/1.5A (18W Max)

Input: 5V/3A, 9V/3A, 12V/3A, 15V/3A, 20V/3.25A (65W max)
Output: 5V/3A, 9V/3A, 12V/3A, 15V/3A, 20V/3.25A (65W max)

Flight status
Status: Safe
The power bank is safe to take on board. It's under the specified TSA limit of 100 Wh. Read more about taking power banks on planes.

Other features
Or get it on iaohi.com or on ebay.com

Charging capacity calculator
Use the search bar below and find out exactly how many times can the AOHI Magcube 20000mAh charge your smartphone battery

Its been a few years now that electronic devices from numerous lesser-known companies have begun to appear on par with those from more well-known manufacturers. These items cost far less than products introduced by popular brands in their niche while maintaining or providing better quality. AOHI is one of these companies.
The company specializes in producing power banks and wall chargers for smartphones. That being said, Magcube 20000mAh portable charger is one of these power banks. The product has received praise for its incredible 20000mAh power capacity (another version of the product even packs a 30000mAh battery) and build quality. Still, today we're here to determine if these claims are genuine or just the company's bold and false statements.
Unboxing video
Charging technology
As the name suggests, this AOHI Magcube power bank is equipped with a 2000mAh battery. The charger is designed to charge both laptops and smartphones at the same time, and it has two ports: a USB-C port with 65W max power output and input to charge the device and a USB-A port with 18W of power output. It is critical to note that when you use both USB-C ports simultaneously, the power output of the USB-C port drops to 45W. However, 45W is sufficient to power most low-power requirement laptops and devices and allows fast charging.
The charger's Power Delivery technology allows for high voltage output and input, allowing you to charge laptops like the MacBook Pro 13″ from 0% to 50% in just 37 minutes or smartphones like the iPhone 12 from 0% to 50% in roughly 16 minutes. Furthermore, this technology allows the power bank to charge in approximately 2 hours, faster than most portable chargers of the same capacity and price range.
For the cherry on top, the power bank includes a Low Current mode for charging AirPods/AirPods Pro, smart watches, fitness trackers, Bluetooth speakers, wireless earbuds, and other small gadgets. This mode offers complete safety for your devices while charging them faster than ever.
The disadvantage of this portable charger is that you will need to purchase a wall charger separately because none is included in the package. However, you should know that any 65W charger will suffice to charge this power bank.
Another point to keep in mind is that if you use two ports at the same time, the capacity of the battery will drop by 40%, making it a 12000mAh power bank. Some may claim that this is not a true 20000mAh charger, even though AOHI advertises it as such, but if you use only one port and do not use the maximum wattage, you will receive 20000mAh of power out of it.
Magcube 20000mAh model is capable of charging your iPhone 13 around 4.3 times, 1.8 charges for the iPad Pro 11″, 3.2 charges for the Switch, and nearly one full charge for the MacBook Pro 13″.
So it's safe to say that if your electronics were fully charged before running out of juice, you wouldn't have to worry about finding an outlet for at least 24 hours while on a business trip. If you don't use your gadgets more often, you may stay charged for days.
The portable charger's battery cells are made of high-quality material. This is done to achieve improved energy density, charge-discharge rate, and longer battery cycle life, greatly prolonging the power bank's battery life.
You'll charge your phone and electronic devices using this power bank for years before it needs replacement. These batteries are designed to last more than 800 cycles, greatly exceeding the 300 cycles of polymer batteries. But let's not forget the best charging habits.
Portability
Portable chargers are designed to be travel-friendly, but this is not true for all power banks, and some of them are so bulky and heavy that they might be difficult to carry. This is different with the Magcube 20000mAh. AOHI Magcube 20000mAh power bank measures 6.02 × 2.64 × 0.98 inches, making it compact enough to slip right into your backpack or pocket. It also weighs 0.82lb, making it lighter than most power banks with the same weight.
With a power output of 72Wh, it has been deemed safe for transport as cabin baggage by the Transportation Security Administration (TSA).
The charger is equipped with the most important protocols to keep you safe from problems during your journey. These protocols include overcharge, overvoltage, over-temperature, short circuit, and others. So, both your expensive electronics and the power bank itself are safe from damage throughout the charging process.
Look and feel
AOHI Magcube 20000mAh power bank design is undeniably simple yet stylish enough to make it appealing. The gray and black exterior gives it a modern appearance, and the yellow LED lights on the side, which are charging state indicators, provide a diversion from the monotony. These four yellow LEDs are noticeable in direct sunlight, making the charging state much more visible during the day.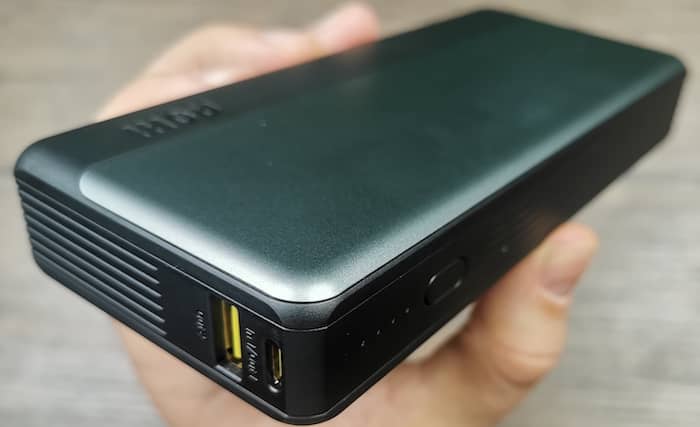 You can simply check how much juice is left with a simple click of the power button. If only one light illuminates, the charger has 0-25% power, two lights indicate 25%-50%, three lights indicate 50%-75%, and four lights indicate 75%-100%.
AOHI Magcube 20000mAh power bank features an aluminum body, giving it a luxury appearance, in contrast to the countless low-quality plastic power banks that are widely available. The material not only makes it durable but a good heat dissipator.
Durability & build quality
You wouldn't want your power bank to break if it were to fall from your grasp onto a hard surface. Of course, accidents like these occur frequently, but the AOHI Magcube 20000mAh power bank is sturdy enough, both inside and out, to withstand some impacts. It is a high-quality device because of the aluminum casing's ability to withstand shocks and falls.
Wrap Up
AOHI Magcube 20000mAh power bank compact size makes it suitable for travelers and individuals who are on the road for a few days. The charger's features scream travel-friendly.
This Magcube Portable charger is ideal for charging smartphones and laptops if you're only connecting the USB-C to the laptop and not using the USB-A. Unless your laptop requires low-power input.
It should be noted that Magcube 20000mAh power is insufficient to power up your laptop while it's running. So, you must either turn your laptop off and get back to your work after it has been fully charged or purchase the bigger brother of this charger, which can store 30000mAh power and deliver 100w of power, making it much more suitable for laptops. However, if you are on a tight budget, this charger variant will serve its purpose just fine.
Or get it on iaohi.com or on ebay.com
Or check out these similar power banks: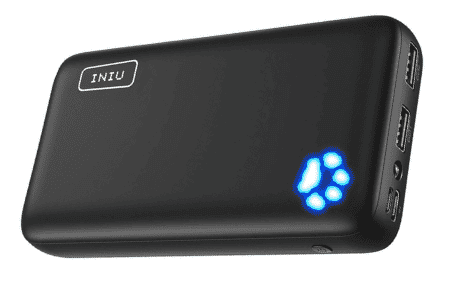 INIU BI-B42 20000mAh
The INIU BI-B42 is a versatile power bank that comes with a signature paw-print battery charger LED indicator
Read More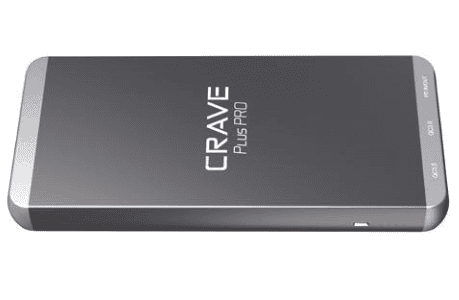 Crave PLUS Pro
The Crave Plus PRO is a sturdy power bank that comes with a generous capacity of 20000mAh. With both QC and PD charging technologies, it can even charge laptops.
Read More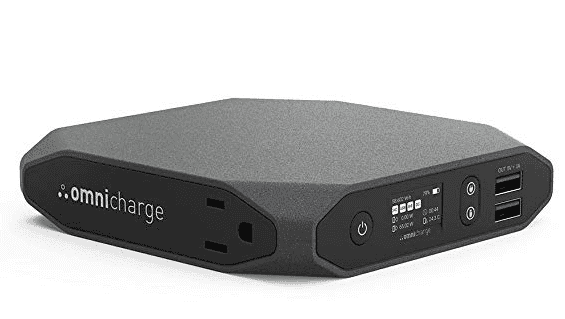 Omni 20+ Power Bank Bundle
The Omni 20+ Bundle AC/DC/USB-C Power Bank is a top-class portable charger. Robust and with a 20000mAh capacity, it charges multiple types of devices in one go.
Read More