AOHI 30000mAh PD at a glance

Key specs
Capacity
30000 mAh
111 Wh
Dimensions (LxWxH)
6.02 x 3.46 x 0.98 in
15.29 x 8.79 x 2.49 cm

Charging technology

PBE metrics
Affordability
214.30 mAh/$
Average
300.48 mAh/$
Portability
56.60 mAh/g
1604.28 mAh/oz

Ports

Output: 5V/3A, 9V/3A, 12V/1.5A (18W Max)

Input: 5V/3A, 9V/3A, 12V/3A, 15V/3A, 20V/5A (100W Max)
Output: 5V/3A, 9V/3A, 12V/3A, 15V/3A, 20V/5A (100W Max)

Flight status
Between 101 Wh and 160 Wh
Status: Special Permit
The power bank is between 101 and 160 Wh. You will need a special airline permit in order to bring it on board. Read more about it here.

Other features
Or get it on iaohi.com or on newegg.com

Charging capacity calculator
Use the search bar below and find out exactly how many times can the AOHI Magcube 30000mAh charge your smartphone battery

Batteries on devices are getting bigger and bigger in this modern technological era to keep up with the necessity for constant use of technology and gadgets in every individual's daily routine. You would think that larger batteries mean longer charging times, but you'd be wrong because it is quite the opposite. Chargers are becoming faster and may now charge mobile phones or computers in an hour or less. But what if you don't have access to an electrical outlet? That's when portable chargers come in handy.
A brief search will provide several well-known brands in the power bank business. Anker, Rapoo, and Xiaomi are just a few examples. However, if you look closely, you'll see that brands offer a robust power bank for far less than the ones mentioned above. But are their products of the same quality?
We are here today to review AOHI Magcube 30000mAh, and as the name implies, it can store 30000mAh of power, which is a lot. Without further ado, let's get into the details.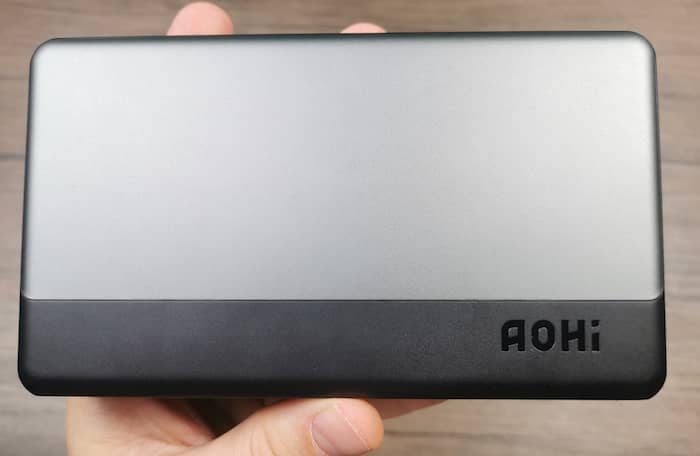 Unboxing video
Charging technology
The AOHI Magcube 30000mAh features a 30000mAh battery, one USB-C, one USB-A, and a max power output of 100W, making it a powerful power bank capable of charging devices with high power input. It is worth noting that if you connect another device through USB-A, the USB-C output will drop to 65W, and the USB-A will output 18W.
Because of its capacity and max 100W power output through USB-C PD, you can charge your gaming laptop, which consumes far more power than a standard laptop, or even play on it as if you plugged it into an outlet. You can game on the Zephyrus G14 for 2.5 hours when it is connected to this power source.
The USB-C port on this power bank is integrated with Power Delivery (PD) technology, allowing it to not only supply but also receive up to 100W of power. Shedding light on this, the AOHI Magcube 30000mAh can be fully charged in around 2 hours, which is fast compared to most power banks in this price range.
Another perk of this protocol is that when a device is plugged into this USB-C PD, the port automatically initiates communication with the connected gadget to determine its ideal charging requirements. Exchanging this data allows AOHI Magcube 30000mAh to provide a safe, rapid charge for any USB-powered gadget. Furthermore, AOHI Magcube 30000mAh includes a safety system that protects against overcharge, overvoltage, over-temperature, and short-circuit.
If you're wondering how many times you can exactly charge your devices with AOHI Magcube 30000mAh, you should note that it depends on what you're charging and a few other factors. You should also keep in mind that not all of the power stored in it will be transferred to your device. Some of it is wasted or converted to heat during the process. We should also remind you that using a higher wattage will cut the battery capacity to 60 percent (30000 mAh to 18000 mAh.)
Laptop batteries typically have capacities ranging from 4,000 to 7,000 mAh. Mobile phones may have substantially smaller batteries, with some iPhones having 1,900 mAh. However, the AOHI Magcube 30000mAh power bank can charge the iPhone 12 approximately six times, the Samsung Galaxy S21 / S20 5 times, the iPad Pro two times, and the Steam deck two times. You can charge your laptop to full 1-3 times.
The disadvantages are that it does not support pass-through charging; however, it's not a big deal since it only has two ports. So, you'd have to wait until the power bank is fully charged before charging your phone.
If you've decided to purchase this power bank, make sure to buy a 100W wall charger as it is not included in the box and must be purchased separately, but there is one 3ft 100W USB-C to USB-C E-Marker cable.
Portability
In terms of size, the AOHI Magcube 30000mAh power bank is 6.02×3.46×0.98 inches (15.2×8.78×2.4 cm). Imagine stacking two mobile phones, one on top of the other, to get a sense of the size of this model.
You can carry it in your backpack; however, a jeans pocket is for sure too tight of a fit. Not to mention that AOHI Magcube weighs 1.17lb (a little over half a kilo) and might be uncomfortable if you're trying to travel light. But let's not overlook the fact that the power bank has a 30000mAh battery, so the size and weight are reasonable.
Unfortunately, if you frequently take flights, you can't bring your AOHI Magcube 30000mAh with you because it has 108Wh (not TSA-approved), and the maximum battery capacity allowed on planes is 100Wh. Some airlines may be permitted passengers to bring a large-capacity power bank on board if they request permission from their airline a few days in advance.
Look and feel
The design is simple, and it doesn't bring innovation to the table. But let us not overlook the fact that elegance often lies in understatement. That being said, the two-tone design, black and gray, make up the AOHI Magcube 30000mAh color scheme, giving the device a stylish, contemporary look
You might think that the smooth surface would attract fingerprints, but because it is matte rather than glossy, you won't have to wipe it clean as often. Unlike the countless low-quality plastic power banks that saturate the market, this one has an aluminum body, giving it a premium look and look.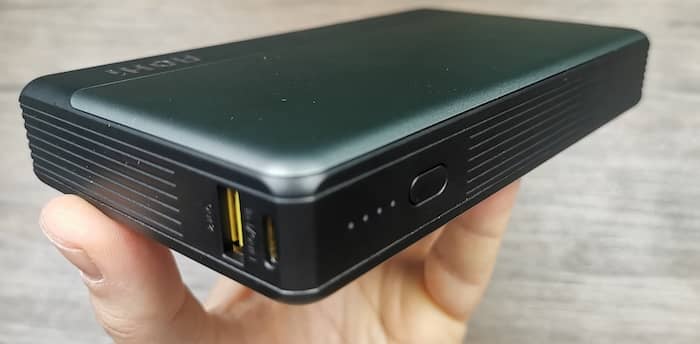 What's more, the company placed ports, LED indicators, and a power button on the power bank's corner to make them easier to access. In other words, while charging your gadgets, you won't have to turn the power bank around to see the battery status of your power bank.
Having said that, the AOHI Magcube 30000mAh power bank incorporates four LED indicators; if all of them are lit, the battery level is between 75% and 100%. Three lit LEDs indicate a charge level of around 50%-75%, two LEDs suggest a charge level of approximately 25%-50%, and a single LED indicates a charge level of approximately 0%-25%.
Durability & build quality
Just like any portable gadget, power banks are also prone to damage. However, to avoid such disasters, AOHI Magcube 30000mAh features a UL 94V-0-rated housing resistant to drops and shock. Not to mention that the aluminum casing provides additional protection against drops and acts as a heat sink.
Pros/Cons

Pros

Cons
Final Thoughts
Finally, let us address an important question: Will the AOHI Magcube 30000mAh power bank meet your requirements? If you're looking for a true 30000 mAh power bank, the answer is no because such a large capacity probably means you'll be drawing a lot of power from it. However, drawing the maximum wattage from it will still provide a decent amount of recharge.
That being said, the AOHI Magcube 30000mAh power bank will come in handy if you need to charge small devices like earbuds or smartphones.
Its small size makes it easy to carry and provides enough power for a long journey. You won't have to worry about accidentally dropping it because the casing and inner housing are durable.
Or get it on iaohi.com or on newegg.com
Or check out these similar power banks: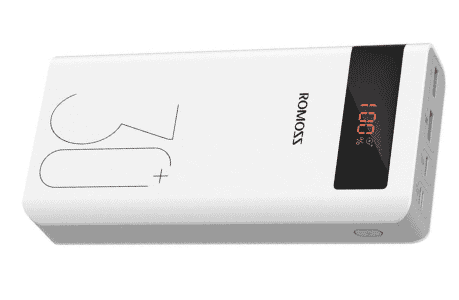 ROMOSS SENSE8P+ Power Bank
The colossal ROMOSS SENSE8P+ Portable Charger comes with a 30000mAh capacity and many ports. It's a great solution for extending the battery life of your devices.
Read More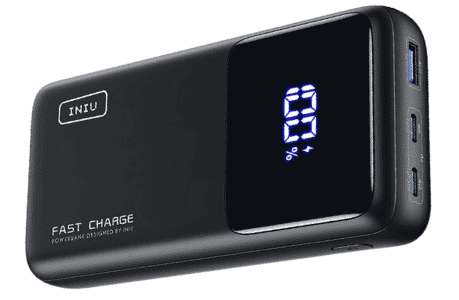 INIU BI-B63 25000mAh
With 25000mAh this is one of the largest power banks from INIU. But besides that, it also comes with 3 ports and 65W high-speed charging.
Read More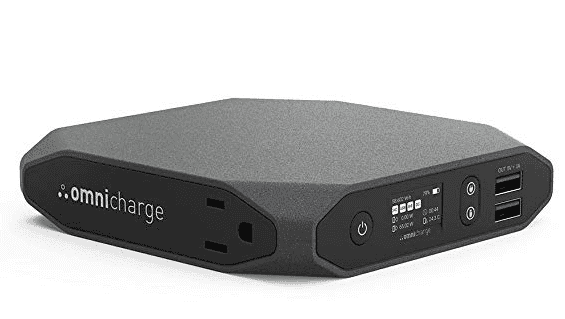 Omnicharge 20+ Power Bank Bundle
The Omni 20+ Bundle AC/DC/USB-C Power Bank is a top-class portable charger. Robust and with a 20000mAh capacity, it charges multiple types of devices in one go.
Read More