USB C technology became quite popular in recent years, with more and more devices using it by default. So if you happen to have a phone, tablet, or laptop with USB-C ports, then you might also want to have a 100% compatible power bank as well. Otherwise, you'll either end up using all sorts of adapters and you'll be giving up on speed and efficiency.
This is why we made an in-depth research on the USB C power banks available on the market and shortlisted the best of them here. The main criteria we took into consideration were:
USB C ports for both output and input
The power banks must use the PD (power delivery) technology
They should have a fast recharging time
So without further ado, here are the best USB C power banks in our opinion:
1. RAVPower 20000mAh PD 60W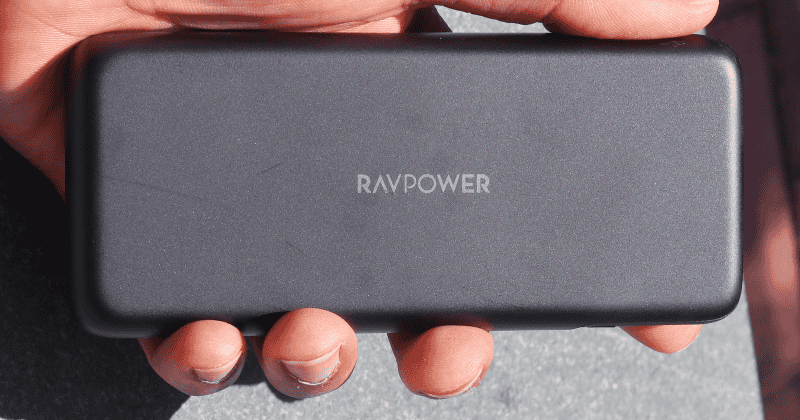 Capacity: 20000 mAh
Max output: 60W
Ports: 1 USB C port with PD, 1 USB A port
Recharging time: 3 hours
Weight: 14.4 oz / 408 g
RAVPower has truly outdone themselves with this 20000mAh power bank from their PD Pioneer series. They managed to create a device that's not only powerful and fast but one that also has a great design. Considering the price point too, we can go on a limb and say that this is one of the best options on the market for someone looking to buy a truly dependable USB C power bank.
Capacity-wise, it's not too small but not too large as well. It holds enough charge to replenish an iPhone 11 Pro Max 2.6 times, an iPad Pro 2018 1. 6 times, or a MacBook Pro 13″ 2018 0.84 times. This makes it perfect for daily use. You can even depend on it for several days at a time if you only need it for your smartphone.
Regarding the power output, it comes with a generous 60W maximum output via its USB C port with Power Delivery. This is enough to charge power-hungry devices such as laptops, gaming consoles, drones, etc. Besides the USB type C port, it also features a USB type A port that comes with a fast-charging technology called iSmart.
It's also worth mentioning that the RAVPower 20000mAh PD power bank has a sturdy built. The casing is made out of thick, scratch-proof plastic with a matte surface which gives it non-slip properties. The only real downside we see to this device is the fact that it could have done with one or two extra ports.
What we like about it
Generous capacity
Can charge laptops
It recharges in just 3h
Sturdy built
What we dislike about it
It could have done with one or two extra ports
Check out our full review of the RAVPower 20000mAh PD.
---
2. Best overall: ELECJET PowerPie 20000mAh
Capacity: 20000 mAh
Max output: 45W
Ports: 1 USB C port with PD, 1 USB A port
Recharging time: 2.5 hours
Weight: 13.8 oz / 390 g
Overall, the ElecJet PowerPie boasts a generous capacity, 20000mAh, ideal for everyday use. It features a 45W PD 3.0 bi-directional USB-C port, which can be used to fast charge phones, but it also works for charging laptops too! Additionally, the USB-A port comes with super-fast charging technology. It can also be paired with two devices, providing simultaneous charging capabilities. At 15W, the Nintendo Switch can easily be charged by this power bank, thus getting an additional ten hours of playtime! Of course, it only takes 2.5 hours to recharge the console via its 45W OEM charger.
This is a perfect charging solution for your needs if you're going camping, hiking, or traveling. That's because the small, compact size allows you to store it away easily in your bag. There is sufficient power to charge the Samsung S20 Ultra 2.6 times, iPhone 12 Pro Max 3.1 times, and MacBook Air 1.1 times.
In terms of charging time, the ElecJet PowerPie can be topped up in just 2.5 hours! This is extremely fast for a portable charger of this capacity. Generally speaking, you can expect to get charging times of upward of 4-5 hours from similar devices created by other brands. In fact, ElectJect is known for creating one of the fastest charging power banks.
The ElecJet PowerPie power bank has a high build quality. Its external shell is comprised of three layers of coating, which helps to ensure that it won't damage or melt under extremely high temperatures. Along with that, the power bank features an LED power indicator.
What we like about it
Generous capacity
It can charge laptops
It recharges in only 2.5h
Compact and lightweight
Excellent build quality
---
3. Best high capacity: Renogy 72000mAh PD 60W
Capacity: 72000mAh
Max output: 60W
Ports:2 USB-C ports with PD, 1 DC port, 1 cigarette lighter port
Recharging time: 3-4 hours
Weight: 2.79 lbs / 1265 grams
This Renogy 72000mAh power bank is impressively powerful! The huge capacity will supply more than enough energy to all your connected devices simultaneously. It boasts one USB-C 60W PD port that is very proficient at charging your laptop and a USB-C 27W PD port ideal for charging your smartphone. Meanwhile, the DC 12V/5A cigarette lighter port is capable of powering CPAP machines, such as Philips Dreamstation, Resmed Airsense/Aircurve 10, and Resmed S9. However, to take advantage of this, you will need a CPAP adapter.
This power bank is suitable for your needs if you're going camping, on a road trip, or hiking. Place it inside the storage bag, and you're good to go! It has a built-in flashlight for your lightning needs when you're in a dark environment Even cooler, you can wirelessly charge your smartphone. Put it on the charging pad and track its charging status via the smart indicator.
The Renogy 72000mAh power bank provides 14.8 charges to a 2815mAh smartphone, 5.8 charges to a 7729mAh tablet, and 5 charges to a 45W laptop. There are three different ways to recharge this power bank. One method, which takes about 3-4 hours, involves using a 100W solar panel with a two-way DC port. You can also fully charge it in 5-6 hours by using the bi-directional USB-C port. Using a wall outlet will take 7-8 hours.
What we like about it
Massive capacity
Wireless charging
Can charge laptop
Built-in flashlight
Universal compatibility
What we dislike about it
Cannot be taken on planes
Heavy (2.79 lbs / 1265 grams)
Check out our full review of the Renogy 72000mAh power bank
---
4. Best for flying: Anker PowerCore+ 26800 PD with 60W PD Charger
Capacity: 26800 mAh
Max output: 45W
Ports: 1 USB C with PD, 2 USB Type A
Recharging time: 3.5 hours
Weight: 1.6 lbs / 725 g
This monster of a power bank from Anker is basically built with the largest capacity that is accepted on flights, just shy of the 100 Wh limit. You can easily take this battery pack with you on vacation and power everything from your camera, to your iPad and even laptop provided it has a USB-C PD port. Furthermore, Anker also delivers a high-speed 60W wall charger which allows the power bank to charge in just 3.5 hours, which is a great time considering its huge capacity.
The Anker PowerCore+ 26800 has enough capacity to charge a MackBook Pro 1.2 times and an iPhone X 6.2 times. You can also use it to simultaneously charge a laptop at 45W output and a smartphone at a 15W output, basically fast-charging both of them at the same time. The metal casing makes the portable charger very sturdy, but at the same time, it adds to its weight, which is maybe one of the main drawbacks of this otherwise great product.
It also features a trickle-down mode for devices that require low current in order to charge. Another bonus is the hard-top travel pouch which snuggly fits all the items: the power bank itself, the fast charger, and the USB C to USB C cable. You can just zip it up, and pack it in your bag before your next flight.
What we like about it
Huge capacity but still within the flight limit
Comes with a fast wall charger
One USB C with PD
Premium metal case
Charges in just 3.5h
What we dislike about it
On the heavy side at 1.6 pounds
---
5. Best for outdoors: myCharge Portable Charger with USB C and PD
Capacity: 20100 mAh
Max output: 18W
Ports: 1 USB C with PD, 1 USB type A
Recharging time: 3 hours
Weight: 1.03 pounds / 435 g
Waterproof standards: IP67
The myCharge Portable Charger is one of the most rugged power banks available. With an IP67 water-resistance rating, it can be submerged for up to 30 minutes, so outdoor use is no issue. But beyond that, the rest of the construction is equally excellent. The entire unit is housed in a protective rubber sleeve, with a carabineer clip that will attach to your belt loop or backpack strap.
The overall capacity is 20100mAh, so it's got enough juice to last you all weekend. You can draw a full 18 watts of power through both the USB Type-A and Type-C ports, which means you can charge two devices at once. A compact form factor and light, 1.03-pound design round out the list of features.
What we like about it
Large capacity
Is waterproof, shockproof and dirtproof
Comes with a handy carabiner
What we dislike about it
It doesn't have a very high power output. Just 18W
---
6. Cheapest: JvGoal 10000mAh USB C Power Bank
Capacity: 10000 mAh
Max output: 18W
Ports: 1 USB C with PD, 1 USB A, 1 Micro USB
Recharging time: 1 hour
Weight: 6.73 oz / 191 g
The JvGoal 10000mAh is one of the best deals when it comes to USB C power banks. Granted, JvGoal is not a famous and well-established brand like the likes of Anker or RAVPower. But this also may be the reason why it's so affordable. Many times, with the most popular brands, you simply pay extra just for the branding, not necessarily for the features. Of course, the downside of buying a product from a lesser-known brand is that you can't be sure of the built quality.
But as it looks, the JvGoal 10000mAh USB C power bank packs quite some value for its price. For such a small price, it comes with both 18W Power Delivery and Quick Charge 3.0, while its 10000mAh capacity can provide up to 2-3 full charges to an average smartphone. Furthermore, it recharges in around one hour, which is better than most of its similar-sized competitors.
We do believe, however, that the Micro USB port is not really needed, as it's an input-only port. Instead, the device could have done better with an additional USB C or USB A port. But overall, the JvGoal 10000mAh USB C power bank offers a very good price/quality ratio and should be considered by anyone looking for a low-priced USB C power bank with Power Delivery.
What we like about it
One of the cheapest USB C power banks with PD
Two output ports (USB C and USB A)
Lightweight
Very fast recharging time (just 1h)
What we dislike about it
Not a reputable brand
The Micro USB port seems redundant
---
7. Anker PowerCore 10000 PD Redux
Capacity: 10000 mAh
Max output: 18W
Ports: 1 USB C with PD, 1 USB Type A
Recharging time: 3 hours
Weight: 6.8 oz / 192 g
Anker is known for its high-quality and high-performance power banks. And the Anker PowerCore 10000 PD Redux only confirms their solid reputation. This is a compact portable charger that packs enough power for most people that seek to have 2-3 extra charges for their phones. With its 18W PD USB, it can charge the average smartphone in about one hour. Furthermore, provided you have a PD wall charger, the PD Redux can be recharged in just about 3.5 hours, otherwise, it would take about 9h using a normal wall charger.
One neat feature of the PowerCore 10000 PD Redux is the fact that it also comes with trickle-down charging. This is very handy if you need to charge devices that require low current input values such as Bluetooth headphones, smartwatches, or fitness bracelets. Furthermore, you can also charge two different devices simultaneously, each on one of the two charging ports.
Overall, the main qualities of the PowerCore 10000 PD Redux are its high portability (light and compact) and premium built quality. The black outer casing is made out of durable plastic that has anti-slip properties. It looks and feels like a superior power bank, which would go well alongside iPhones.
What we like about it
Small and compact
Fast charging technology
One USB-C PD port
Sleek mate case
18 month warranty
Check out our full review of the Anker PowerCore 10000 PD Redux
---
8. Omni 20+ with USB Type C and AC/DC plugs
Capacity: 20000 mAh
Max output: 100W
Ports: 1 USB C with PD, 2 USB Type A
Recharging time: 3 hours
Weight: 1.4 lbs / 635 g
Wireless Charging
In this product bundle, Omnicharge has included the Omni 20 power bank which has a capacity of 20000mAh, but also some very useful accessories such as a UBC-C fast charger, a USB-C to USB-C cable, a USB-A to USB-C cable, and a protective hard case. This is one of the most complete portable charger bundles you can get.
But what sets the Omni 20 aside, is the fact that it has an AC/DC plug which you can use to charge any type of laptop, as the device has a massive output of 100W! And last but not least, it also comes with a wireless charging feature which allows for phones with matching technologies to be charge only by simply placing them on top of the power bank.
What we like about it
A lot of ports, including AC/DC
It can easily power laptops
Wireless charging feature
Fast charging
Comes with useful accessories
What we dislike about it
Quite bulky
Premium price
We have reviewed this product previously on our site. You can read the full review here.
---
USB C technology explained
For a long time, the general standard in device connectivity was the USB Type-A with its micro and mini versions. Regardless of the USB A ports version (1, 2, 3), the rectangle connectors that never fit on the first time, were ubiquitous. And to some extent, they still are.
However, things are about to change with the new USB Type C technology which shapes itself up to be the new standard in terms of connectivity. More and more devices are starting to adopt this new type of port. Even Apple is on the way to replacing its famous Lightning ports with USB-C ports. And this speaks volumes about the new kid on the block, as Apple has been notoriously defensive towards their own patented technologies.
The main benefits of USB C technology are:
it can transmit both power and information simultaneously
information can be transferred at much higher speed rates of up to 10 Gbps
the plugs can be inserted either way, there is no right-way-up as in the case with USB A ports
these ports can be used for both input and output of power and/or information
Things tend to get a bit more complicated when you factor in the fact that USB-C is more of an umbrella term. In fact, these connectors can utilize different types of protocols such as USB 3.1 or PD (power delivery).
Power Delivery (PD)
USB-C output ports with Power Delivery (PD) can supply up to 100 watts of power. This is an important feature, as older generation USB ports could supply just 2.5 watts on average, enough for a phone but definitely not enough for a laptop that requires at least 60 watts. This is why for the list of power banks we only selected ones that have the PD feature.
However, this is not to say that all PD ports supply 100W. There can be different values of power output, but the most common ones are:
18W – this is enough for all types of smartphones and tablets, including devices such as the Nintendo Switch.
30W – 45W – from these levels, you can start charging more power-intensive items such as laptops, just that they will take longer to charge than usual
60W+ – starting with 60W most laptops will charge without an issue, not to mention tablets, cameras, or phones.
Wrap-up
It's pretty clear that the USB-C ports are here to stay and that they are very likely to become the next standard in terms of connectivity. As more and more devices will come with this type of ports, then it makes sense to make sure any power bank you buy also has USB-C compatibility.
But besides plain old compatibility, one of the biggest advantages of USB C power banks is their increased speed, where PD technology plays a key role. The maximum loading speeds of traditional ports, don't even come close to the ones provided by USB-C with PD.
This product recommendation list is dynamic. As newer models of power banks with USB-C ports get launched, we'll update it in order to feature the best models available on the market. If you have a suggestion of a power bank that we did not cover, please let us know in the comments or via our contact page.