USB C technology has become quite popular in recent years, with more and more devices using it by default. So if you happen to have a phone, tablet, or laptop with USB-C ports, then you might also want to have a 100% compatible power bank as well. Otherwise, you'll end up using all sorts of adapters and you'll be giving up on speed and efficiency.
This is why we created this in-depth research on the USB C power banks available on the market and shortlisted the best of them here.
How We Selected The Power Banks
PD (Power Delivery): We prioritized power banks with efficient PD technology, ensuring they deliver fast and reliable charging, especially for devices that support USB-C PD.
Capacity: We considered the actual power capacity of the power banks, ensuring they hold enough charge to meet the needs of users while maintaining portability.
Brand: We looked to feature power banks from brands that are known for their quality and durability.
Charging Ports: The variety and types of ports available were also a major consideration. Models featuring additional USB-A or other ports alongside USB-C were valued for their versatility.
So without further ado, here are the best USB C power banks in our opinion:
1. Best overall: RAVPower 20000mAh PD 60W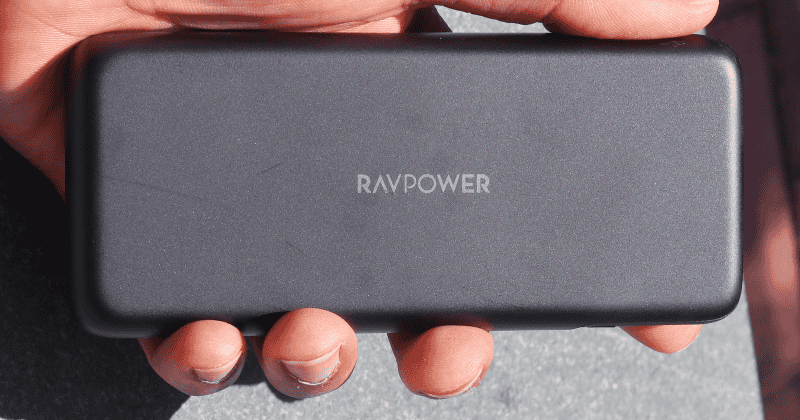 Capacity: 20000 mAh
Max output: 60W
Ports: 1 USB C port with PD, 1 USB A port
Recharging time: 3 hours
Weight: 14.4 oz / 408 g
Or buy at Walmart.com or Ebay.com
RAVPower has truly outdone itself with this 20000mAh power bank from their PD Pioneer series. They managed to create a device that's not only powerful and fast but also has a great design. Considering the price point too, we can go on a limb and say that this is one of the best options on the market for someone looking to buy a truly dependable USB type C power bank.
Capacity-wise, it's not too small but not too large as well. It holds enough charge to replenish an iPhone 11 Pro Max 2.6 times, an iPad Pro 2018 1. 6 times, or a MacBook Pro 13″ 2018 0.84 times. This makes it perfect for daily use. You can even depend on it for several days at a time if you only need it for your smartphone.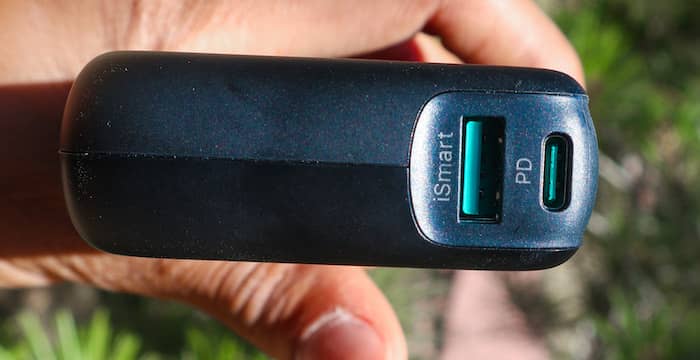 Regarding the power output, it comes with a generous 60W maximum output via its USB C port with Power Delivery. This is enough to charge power-hungry devices such as laptops, gaming consoles, drones, etc. Besides the USB type C port, it also features a USB type A port that comes with a fast-charging technology called iSmart.
It's also worth mentioning that the RAVPower 20000mAh PD power bank has a sturdy build. The casing is made out of thick, scratch-proof plastic with a matte surface which gives it non-slip properties. The only real downside we see to this device is the fact that it could have featured one or two extra ports.
Unboxing video
What we like about it
Generous capacity
Can charge laptops
It recharges in just 3h
Sturdy build
What we dislike about it
It could have done with one or two extra ports
Check out our full review of the RAVPower 20000mAh PD.
---
2. Highest capacity: Renogy 72000mAh PD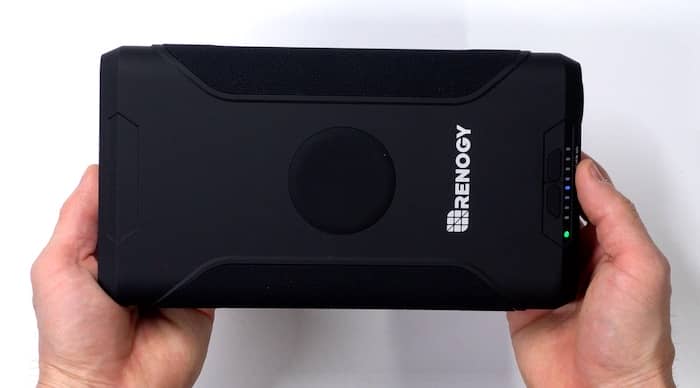 Capacity: 72000mAh
Max output: 60W
Ports:2 USB-C ports with PD, 1 DC port, 1 cigarette lighter port
Recharging time: 3-4 hours
Weight: 2.79 lbs / 1265 grams
Or buy on DrPrepare.com or on Newegg.com
This Renogy 72000mAh power bank is impressively powerful! The huge capacity will supply more than enough energy to all your connected devices simultaneously. It boasts one USB-C 60W PD port that is very proficient at charging your laptop and a USB-C 27W PD port ideal for charging your smartphone. Meanwhile, the DC 12V/5A cigarette lighter port is capable of powering CPAP machines, such as Philips Dreamstation, Resmed Airsense/Aircurve 10, and Resmed S9. However, to take advantage of this, you will need a CPAP adapter.
This power bank is suitable for your needs if you're going camping, on a road trip, or hiking. Place it inside the storage bag, and you're good to go! It has a built-in flashlight for your lightning needs when you're in a dark environment. Even cooler, you can wirelessly charge your smartphone. Put it on the charging pad and track its charging status via the smart indicator.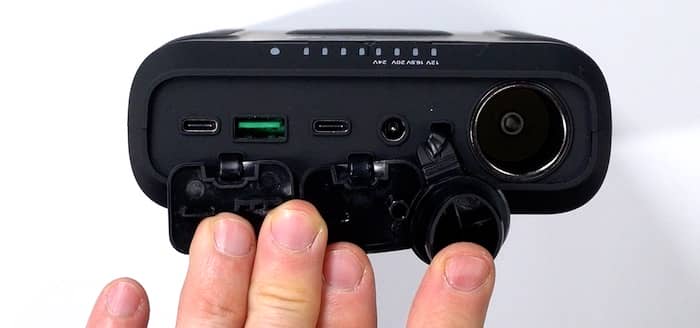 The Renogy 72000mAh power bank provides 14.8 charges to a 2815mAh smartphone, 5.8 charges to a 7729mAh tablet, and 5 charges to a 45W laptop. There are three different ways to recharge this power bank. One method, which takes about 3-4 hours, involves using a 100W solar panel with a two-way DC port. You can also fully charge it in 5-6 hours by using the bi-directional USB-C port. Using a wall outlet will take 7-8 hours.
Unboxing video
What we like about it
Massive capacity
Wireless charging
Can charge laptop
Built-in flashlight
Universal compatibility
What we dislike about it
Cannot be taken on planes
Heavy (2.79 lbs / 1265 grams)
Check out our full review of the Renogy 72000mAh power bank
---
3. Best build quality: Omni 20+ 20000mAh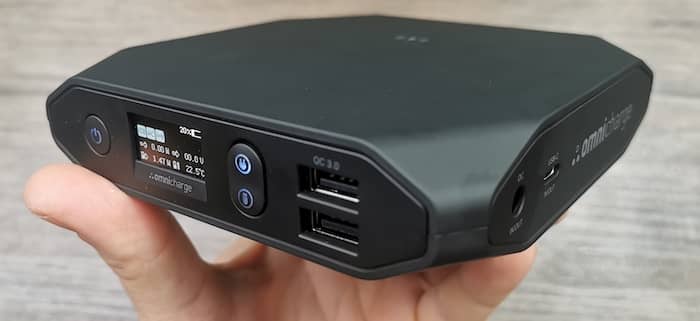 Capacity: 20000 mAh
Max output: 100W
Ports: 1 USB C with PD, 2 USB Type A
Recharging time: 3 hours
Weight: 1.4 lbs / 635 g
Wireless Charging
Or buy on Omnicharge.com or on Ebay.com
The Omnicharge Omni 20+ is one of the highest-quality power banks you can find. Everything about it from the matte outer case to the display screen and charging ports simply conveys attention to detail and an overall high build quality. But all this comes at a cost since this power bank has a premium price, this is maybe the only real downside we can see. If you have the budget, then you simply can't go wrong with the Omni 20+.
In this product bundle, Omnicharge has included the Omni 20 power bank which has a capacity of 20000mAh, but also some very useful accessories such as a UBC-C fast charger, a USB-C to USB-C cable, a USB-A to USB-C cable, and a protective hard case. This is one of the most complete portable charger bundles you can get.

But what sets the Omni 20 aside, is the fact that it has an AC/DC plug which you can use to charge any type of laptop, as the device has a massive output of 100W! And last but not least, it also comes with a wireless charging feature which allows for phones with matching technologies to be charged only by simply placing them on top of the power bank.
Unboxing video
What we like about it
Highest build quality
A lot of ports, including AC/DC
It can easily power laptops
Wireless charging feature
Fast charging
Comes with useful accessories
We have reviewed this product previously on our site. You can read the full review here.
---
USB C technology explained
For a long time, the general standard in device connectivity was the USB Type-A with its micro and mini versions. Regardless of the USB A ports version (1, 2, 3), the rectangle connectors that never fit on the first time, were ubiquitous. And to some extent, they still are.
However, things are about to change with the new USB Type C technology which shapes itself up to be the new standard in terms of connectivity. More and more devices are starting to adopt this new type of port. Even Apple is on the way to replacing its famous Lightning ports with USB-C ports. And this speaks volumes about the new kid on the block, as Apple has been notoriously defensive towards their own patented technologies.
The main benefits of USB C technology are:
it can transmit both power and information simultaneously
information can be transferred at much higher speed rates of up to 10 Gbps
the plugs can be inserted either way, there is no right way up as in the case of USB A ports
these ports can be used for both input and output of power and/or information
Things tend to get a bit more complicated when you factor in the fact that USB-C is more of an umbrella term. In fact, these connectors can utilize different types of protocols such as USB 3.1 or PD (power delivery).
Power Delivery (PD)
USB-C output ports with Power Delivery (PD) can supply up to 100 watts of power. This is an important feature, as older generation USB ports could supply just 2.5 watts on average, enough for a phone but definitely not enough for a laptop that requires at least 60 watts. This is why for the list of power banks we only selected ones that have the PD feature.
However, this is not to say that all PD ports supply 100W. There can be different values of power output, but the most common ones are:
18W – this is enough for all types of smartphones and tablets, including devices such as the Nintendo Switch.
30W – 45W – from these levels, you can start charging more power-intensive items such as laptops, just that they will take longer to charge than usual
60W+ – starting with 60W most laptops will charge without an issue, not to mention tablets, cameras, or phones.
Why Trust Us
At Power Bank Expert, we are committed to providing the most reliable and comprehensive power bank reviews. Here's why you can trust our expertise and recommendations:
Specialized Knowledge: Our team has specialized in power bank knowledge, ensuring that we understand the latest advancements and features in this area, including the USB type C charging technology.
Rigorous Selection Process: We carefully select power banks based on essential criteria such as charging efficiency, actual power capacity, brand reputation for quality and durability, and the variety of charging ports. This thorough approach ensures that we recommend only the best products.
Hands-On Testing: We personally test each power bank to assess its performance, build quality, and overall user experience. This hands-on approach provides us with firsthand insights into each product's capabilities.
Balanced Reviews: Our reviews are comprehensive and balanced, highlighting both the strengths and potential limitations of each power bank. We aim to provide a clear and honest assessment to help you make an informed decision.
Focus on Practicality: We understand the practical needs of our users, from daily charging requirements to specific device compatibility. Our reviews and recommendations are tailored to meet these practical considerations.
Updated Content: Our list of recommended USB C power banks is dynamic and regularly updated to include the latest and most efficient models available on the market.
User-Centric Approach: We value the feedback and experiences of our readers, incorporating their insights into our reviews to ensure they are comprehensive and relevant.
Commitment to Quality: We prioritize power banks that not only meet technical specifications but also offer reliability and durability, ensuring that you get a product that lasts.
By combining our in-depth knowledge of USB C technology and PD power banks with a rigorous testing and review process, we strive to be your trusted source for recommendations in this category. Whether you need a power bank for your smartphone, tablet, or laptop, Power Bank Expert is here to guide you to the best choices.
Wrap-up
It's pretty clear that the USB-C ports are here to stay and that they are very likely to become the next standard in terms of connectivity. As more and more devices will come with this type of port, it makes sense to make sure any power bank you buy also has USB-C compatibility.
But besides plain old compatibility, one of the biggest advantages of USB C power banks is their increased speed, where PD technology plays a key role. The maximum loading speeds of traditional ports, don't even come close to the ones provided by USB-C with PD.
This product recommendation list is dynamic. As newer models of power banks with USB-C ports get launched, we'll update it in order to feature the best models available on the market. If you have a suggestion for a power bank that we did not cover, please let us know in the comments or via our contact page.