In this article, we're exploring how to choose the best Raspberry Pi power bank. Read on and learn: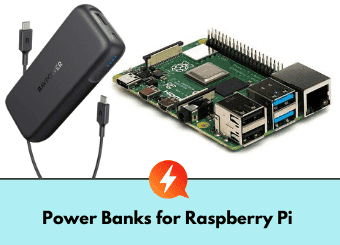 the specific power requirements of the Raspberry Pi
key specs to look for when choosing a portable charger for your Pi
our top 5 power bank recommendations
The Raspberry is a mini-computer, that was first made for students in schools and universities. That's why you can get one for around $40. This mini-computer makes it much easier to take the first step into Linux, Shell Scripting, Coding, and physical computing. Additionally, you can learn some basic functions of a computer using the Raspberry Pi. In this article, we're exploring the power requirements and our recommendations for choosing a Raspberry Pi power bank.
Raspberry Pi Power Requirements
Voltage
The Raspberry Pi needs an input voltage of around 5 Volts, which is supplied through the USB type-C port. In fact, the input voltage should be a little bit higher than 5 Volts. 5.1 – 5.2 Volts would be ideal because power losses occur in the connectors and wires of the circuit's transmission. Furthermore, a higher voltage makes sense for voltage stabilization, because of the copy deviation distribution every part behaves a little bit differently than described on the datasheet.
Amperage
The next important value for power supply is the current consumption in Ampere. The amount of current the Raspberry Pi needs depends on the load that is connected to it. Usually, a power adapter with 2 A (2000 mA) is enough to run a mini-computer in most cases. At least that's enough when you do not use current-hungry USB devices.
Otherwise, you would need an externally fed USB hub or the power adapter should deliver at least 2.5A (2500 mA). You should always keep in mind that most Raspberry Pi models can't accept more current than 2.5 A. Buther other models such as the Raspberry Pi 4B are recommended to use a 5V/3A power source due to its higher performance and greater power demand, particularly when using power-hungry peripherals. If the system needs more current, mostly a fuse is used to limit the current, but that can also lead to instabilities, which we want to avoid.
Power inputs
A Raspberry Pi can be powered in several different ways. Besides the official Raspberry Pi power adapter, there are other possibilities for powering it like regular batteries, USB cables connected to a PC/laptop, and power banks. Of course, there are more options such as solar panels or lithium polymer batteries, but the mentioned ones are the most common.
Power requirements for the Raspberry Pi 4
The Raspberry Pi 4 needs an adapter with 5Volts and 3 Ampere with a USB-type C connection. It's worth mentioning here that the USB Type-C port of the Pi 4 can be faulty. Active USB Type-C cables (with E-mark-chip) recognize the Pi 4 as an audio adapter and don't deliver any current. This problem can be solved with a simple USB Type-C cable without an E-mark chip. Such cables are mostly used for charging a smartphone. The customary cables for notebooks are not suitable for the Pi 4.
However, this problem was addressed in a hardware revision (1.2) released in 2020. Raspberry Pi 4 models produced after this revision do not have this issue.
Power requirements for the Raspberry Pi 3
Particularly for the Raspberry Pi 3, you should know that there is a constructional flaw. Because of a new board design and the resistance of the PCB traces and connectors, there is a voltage drop of 0.6V from the USB socket to the chip. To solve this problem you should use an adapter, delivering a voltage of 5.2 – 5.4Volts.
Key Specs for Portable Chargers That can Power the Raspberry Pi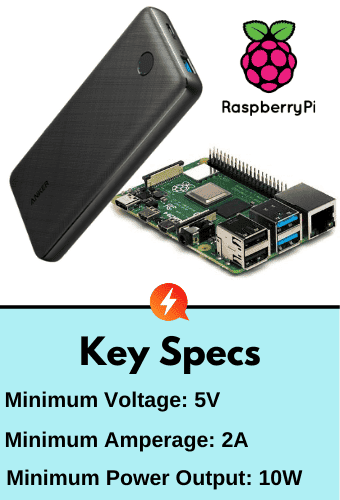 Not all portable chargers are a good fit to power your Raspberry Pi, so you should make sure you're getting one with the right specs. First, the minimum power output should be 5 Volts. The current value depends on the Raspberry Pi model. For example, the Raspberry Pi models A and B need a voltage of 5V, a current of 700mA, and a power of 3.5 watts. So the power bank should at least deliver 2A with a power output of at least 10 watts. Power-intensive projects (especially those involving the Raspberry Pi 4 or numerous peripherals) might require a higher-rated power bank.
You can charge your Raspberry Pi with power banks that are capable of delivering much more than 10W. This will not harm the Pi at all since it will just "take" the power it needs from the portable charger.
A power bank with a capacity of 50000mAh is enough to keep your Raspberry Pi running for a really long time. Depending on the usage case, it may run for up to 30 hours before needing to recharge. If you want to run your Raspberry for just one hour, then a 1800mAh portable charger should be enough.
Other specifications:
The power bank does not have to have special features such as pass-through charging or adaptive charging. Normal charging is enough
The power bank needs a USB Type-C port, as almost all Raspberry Pis use Type-C ports.
It also doesn't need to require a special charging technology like Power Delivery or Quick Charge 3.0
When you want to power a Raspberry Pi keep in mind to keep a stable voltage. If the voltage drops below 4.7V, the microcontroller won't run as intended. The latest models come with a power-detecting circuit that activates when the voltage is too low. A warning icon will pop up on the display. Then you should probably improve your supply to avoid unexpected crashes.
Best Battery Packs for Raspberry Pi
Here are some recommended power banks to power a Raspberry Pi. Both provide enough voltage and current to power the microcontroller. With a capacity of 10000mAh and 20000mAh, both devices can supply a Raspberry Pi for a solid time. It always depends on the devices connected to the minicomputer, of course. But in most cases, it will be enough.
1. CRAVE Plus 10000mAh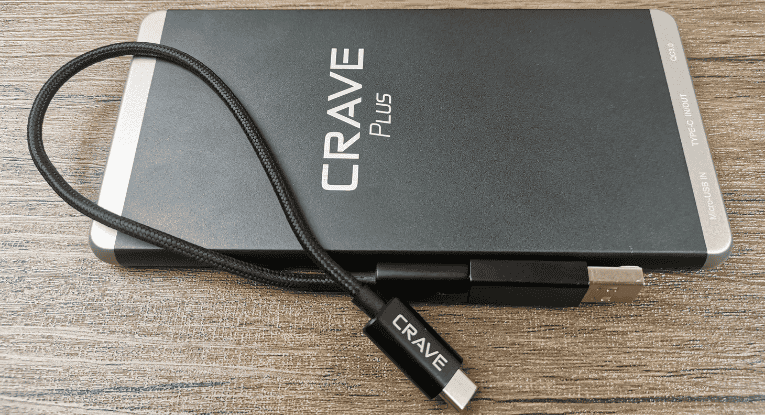 Capacity: 10000mAh
Can power a Raspberry Pi for up to: 6h (at moderate load)
Ports: 1 USB type C, 1 USB type A, 1 Micro USB
USB C output: 5V/3A
Max output: 18W
Fast charging: QC
Weight: 9 oz / 255 g
Recharging time: 7-8 hours
Check price on CraveDirect.com
Or buy on Amazon.com or on Ebay.com
The Crave Plus 10000mAh has a slim profile and is slightly larger than a regular smartphone. This makes it ideal for stacking it on different objects, especially if you have a busy desk (case in which, check out these desk organizing stations). With its aluminum casing, this power bank is sturdy and durable. You can expect it to power your Raspberry Pi for up to 6 hours at a moderate load.
Unboxing video
What we like about it
Can power a Raspberry Pi up to 6h
Slim profile
Metal casing
What we dislike about it
Power Delivery is not supported
Read our full review of the CRAVE Plus 10000mAh
2. RAVPower 20000mAh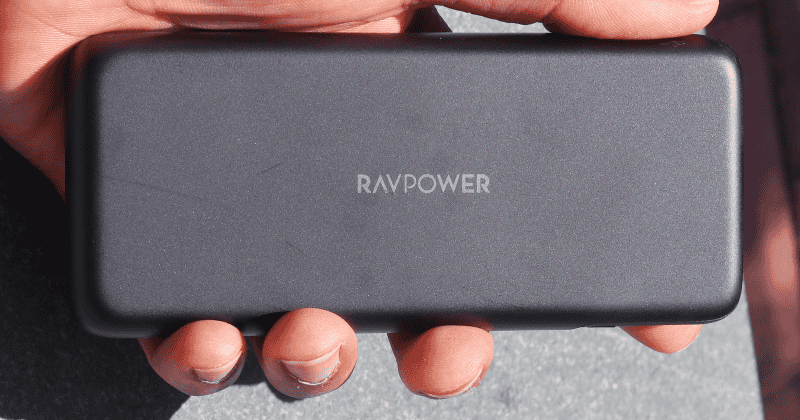 Capacity: 20000mAh
Can power a Raspberry Pi for up to: 12h (at moderate load)
Ports: 1 USB type C, 1 USB type A
USB C output: 5V/3A, 9V/3A, 12V/3A 14.5V/2A, 15V/3A, 20V/3A
Max output: 60W
Fast charging: PD 3.0, QC
Weight: 14.4 oz / 408 g
Recharging time: 3 hours
If you want a reliable power bank with a decent capacity, a workhorse you can depend on, then this RAVPower portable charger is one of your best choices. It has a very good all-around build and it comes with two output ports, one of which is a USB Type-C that can output as much as 60W. This is much more than your Raspberry Pi requires. In fact, you can even use it to charge laptops. You can expect it to power your Pi for about 12 hours on a moderate load. Overall, this is a very solid portable charger for Rasberry Pi.
Unboxing video
What we like about it
Can power a Raspberry Pi for up to 12 hours
It can be recharged in just 3 hours
Elegant & minimalist design
What we dislike about it
It only has two output ports
Read our full review of the RAVPower 20000mAh
---
3. ROMOSS SENSE8P+ 30000mAh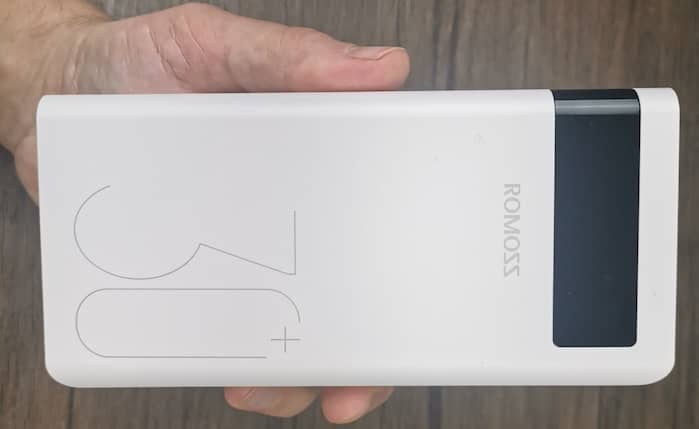 Capacity: 30000mAh
Can power a Raspberry Pi for up to: 18h (at moderate load)
Ports: 1 USB type C, 2 USB type A, 1 Micro USB, 1 Lightning
USB C output: 5V=3A, 9V=2A, 12V=1.5A
Max output: 18W
Fast charging: QC
Weight: 23.7 oz / 671 g
Recharging time: 11 hours
Or buy on Sears.com or on Ebay.com
The ROMOSS SENSE8P+ is a powerful brick capable of powering a Raspberry Pi for an estimated 18h at regular use. It offers a good balance of capacity, power, ports, and price. Although it's not approved for air travel without special approval, this makes a good power bank to use on a daily basis. Its main drawbacks are the long recharging time, and lower power output (18W) compared to the other devices on our list. However, it compensates price-wise, since it's one of the most affordable too.
Unboxing video
What we like about it
Can power a Raspberry Pi for up to 18h
Exceptionally good price/quality ratio
LCD screen
Check out our full review of the ROMOSS SENSE8P+ 30000mAh
Wrap-up
Getting a Raspberry Pi powered via a portable charger is quite simple. You just need to make sure what Raspberry Pi model you have and what its power requirements are. But generally speaking, a classic 5V/2A power bank would be a great fit for most Raspberry Pi models.
However, by charging this device correctly, you will definitely increase the Raspberry Pi's life and the devices attached to the microcontroller will run way smoother.
Now that you know all the magic behind powering a Raspberry Pi, there are no obstacles to a successful project left. So, let's create something!