A dependable backup power supply for your CPAP machine can be a literal lifesaver. Some of the scenarios that require a portable power supply for CPAP machines are:
Power outages or blackouts. Although not very common, these events can last for a few minutes or a few hours, but sometimes even a few days.
Being in transit. Such as having to sleep during a flight, on a bus, or on a train.
Camping. With the right power supply, sleep apnea patients can enjoy the big outdoors too!
This is why we put together a list of some of the best portable power banks that can supply steady power to your CPAP machine until regular power becomes available again.
1. MAXOAK 297Wh CPAP Power Bank
Compatible with 12V/24V CPAP machines
Capacity: 82500mAh/297Wh
Informative display screen
Ergonomic handle for easy carrying
Weight: 4.1 pounds
The MAXOAK CPAP Battery Backup has been specifically designed for powering CPAP Machines, which is why it's compatible with a wide variety of them: Resmed Airsense/Aircurve 10, Resmed S9, Dreamstation, System one, HDM Z1(12V only), Transcend Mini, Airmini.
With a listed capacity of 297Wh, you can expect anywhere between 35 to 50 hours of continuous power or the equivalent of 5-6 nights. Of course, the actual duration can vary according to your actual CPAP machine power consumption.
It can be charged via a regular wall outlet, or even using a DC car plug, but in this case, you'd need a DC to AC converted, which is not included with the product. Furthermore, it should be noted that due to the high capacity this backup battery cannot be taken on planes, as it exceeds the 100Wh limit imposed by the FAA and TSA.
2. Bluetti EB55 537Wh Portable Power Station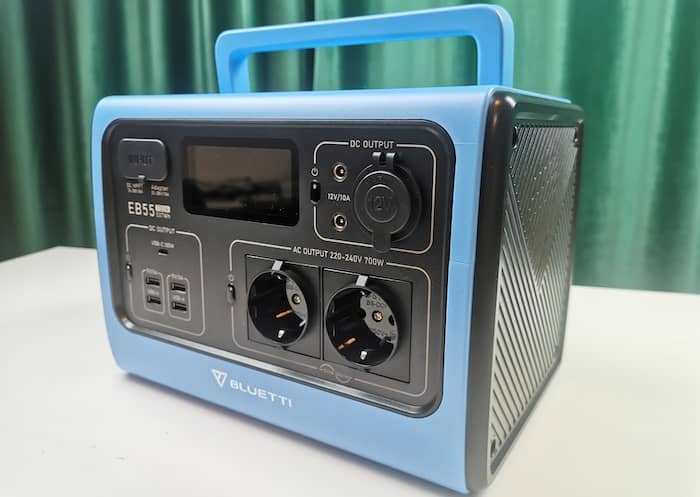 Compatible with most CPAP machines
Capacity: 145135mAh/537Wh
Supports wireless charging
Can power 13 devices simultaneously
Weight: 16.5 pounds
Or
The BLUETTI EB55 portable power station takes the crown for the best camping battery pack for CPAP machines. It is portable, yet it can power multiple devices at the same time. It is compatible with most CPAP machines, especially ResMed AirMini, ResMed Air sense 10, ResMed AirCurve, etc.
This power station comes with a 700W AC inverter and 537Wh capacity. This enables it to power your CPAP machine for at least 4 to 6 nights, depending on its power consumption and usage. So, if you only use the battery to power your CPAP machine and nothing else that takes much power, you are guaranteed to get at least 4 to 6 nights of power out of this power station. Suppose you use this power station to power your personal gadgets simultaneously and use high energy-consuming settings such as the humidifier or heating
on your CPAP unit. Then the power station's battery will only be able to give you 2 to 4 nights at best.
The BLUETTI EB55 can power two standard CPAP machines at the same time. But this depends on the number of hours you need to run your CPAP machine and its wattage. There is also an option for solar charging and It takes about 5 to 6 hours to recharge the battery fully.
The BLUETTI EB55 has a broad port compatibility. It can power 13 devices (your CPAP machine included) simultaneously. There is also a Qi wireless charger for charging phones.
The BLUETTI EB55 is one of the best emergency backup power stations suitable for outdoor and indoor use. It is strong enough to power a standard CPAP machine and multiple gadgets simultaneously.
Read our full review on Bluetti EB55 537Wh.
3. Zopec EXPLORE 5500 Universal Battery Backup For CPAP Machines
Compatible with ALL CPAP machines that have a wall outlet
Capacity: 54000mAh/200Wh
Provides 2-3 nights of autonomy
Charging time: 6 hours
Weight: 3.1 pounds
The Zopec Explore Universal CPAP battery pack is defined by its universal compatibility with all CPAP brands, without the need for any special outlet of adaptors. This battery pack has an ultra-high 54,000 mAh capacity and is outfitted with two 110V outlets and two USB-A ports for charging multiple devices simultaneously. This battery pack can be hooked up as a cutoff battery for your CPAP machine so you get uninterrupted power during outages and can be used to charge regular, everyday devices like smartphones and tablets. It is a good choice for camping trips, road trips, and any other excursion where a power outlet might not be on hand.
This battery pack is capable of powering any 250W electronic devices including laptops, TVs, lights, gaming consoles, projectors, etc. So it is highly versatile and will get a lot of use. You can also use it with virtually any CPAP machine without having to modify anything or use any special adaptors. The battery can provide continuous power for up to 3 full days before needing to be recharged. The device is also compatible with solar panel charging and car charging, though it does not come with these adaptors.
Overall, the Zopec is useful because you can use it with pretty much anything. An onboard processor modulates current and voltage for whatever device you're using so there is no risk of short-circuiting or overcharging. It is also FAA compliant for air travel so you can take it on planes with you.
4. Freedom V2 CPAP Backup Battery Kit
Compatible with the ResMed AirSense 10
Capacity: 26000mAh/99.95Wh
Provides 1-3 nights of autonomy
Airline safe
Digital display screen
Weight: 1.7 pounds
The Freedom V2 CPAP Battery Kit is a single backup power supply battery that is compatible with the ResMed AirSense 10. This battery can provide between 1-3 nights of power to your CPAP machine so you can get uninterrupted relief. This battery pack can also be set up as an uninterrupted battery backup system for unexpected power outages. It is perfect for camping trips, road trips, and other times when you might not be near a continuous power supply.
The Freedom V2 charges using Quick Charge 3.0 USB technology, the same kind that is used to charge modern smartphones, tablets, and laptops. The battery kit comes with a CD9 input to USB-C charge port and also has USB out and DC out ports to attach to your devices. On the side of the battery is a bright LCD screen that displays the current battery life left in percentages. The screen also indicates the current DC and USB voltage.
The Freedom V2 is also highly portable. At just under 2 pounds and less than 8 inches long, you can easily bring it with you on trips without it taking up too much space. The battery pack can also be used to charge other devices aside from a CPAP machine like your phone or tablet. The total power the battery can output is 99 watt-hours and the battery is also TSA approved to take on board airplanes.
5. Pilot-24 Lite CPAP Battery & Car Charger for ResMed Airsense 10, S9 and AirMini
Compatible with the ResMed Airsense 10, S9 and AirMini
Capacity: 19000mAh/70Wh
Provides 1-2 nights of autonomy
Airline safe
Weight: 2.36 pounds
This Pilot-24 CPAP battery pack bundle is a great backup battery to have when you need to power your CPAP machine. This Pilot battery kit is compatible with the ResMed 59 CPAP machine and works as an uninterrupted power supply unit for 24V CPAP devices. This battery is compatible with most CPAP, APAP, and some BPAP devices including the ResMed AisSense 10, ResMed AirMini, 3B Medical Luna, and the Philips Respironics DreamStation. The battery has a full capacity of approximately 19,000 mAh and is capable of providing power to your CPAP machine for 2 nights of continuous usage.
This battery pack can also be used to charge other USB devices, such as a smartphone, tablet, or laptop. The battery is designed to be used on its own or as a seamless backup unit that will kick in if the power goes out. As such, it is a good option for camping, road trips, and any other occasion where there might not be a power outlet available. This battery pack also features a built-in LED flashlight that you can turn on with the power button on the side.
On the side of the battery next to the flashlight button is a series of indicators that tell the level of charge remaining and when the battery is fully charged. This kit also comes with a 9V DC adaptor so you can charge the battery in the car while on the go.
6. Renogy 72000mAh Portable Charger with 12V Socket
Compatible with 12V CPAP machines
Capacity: 72000mAh/266Wh
One DC output port
Two USB-A output ports
One car lighter output
Ergonomic and portable design
Weight: 44.6 ounces
The Renogy 72000mAh Laptop Power Bank with 12V Socket is a small but powerful and reliable back up for CPAP machines, despite not being mainly designed for it.
Thanks to its 12-volt DC cigarette lighter-style plug, it can be used to power devices that are bigger than a power bank, meaning it's compatible with CPAP machines. Besides, its capacity of 72000mAh/266Wh is so powerful that it can work for 35 hours on a single charge with a CPAP pressure of 14 lb, the equivalent of 4 good night's sleep. Sadly, no adapter is included, so you'll need to buy one for the respective CPAP machine.
Recharging this portable charger is done via a DC pin, taking up to 8 hours, but thanks to its pass-through charging technology, there's no need to disconnect it from the CPAP machine and wait until it's full. Unfortunately, you cannot take this portable charger on planes, not even with special permission, as its 266Wh capacity is well above the 100Wh limit imposed by the FAA and TSA.
Read our full review on Renogy 72000mAh Laptop Power Bank with 12V Socket.
7. Expion 360 EXP96PRO Portable Battery
Capacity: 83000mAh/307Wh
Provides 4-6 nights of autonomy
Can be charged in 10h
Weight: 6.61 pounds
The Expion 360 Portable Battery is a high-capacity backup battery pack for CPAP machines and other USB devices. This CPAP battery can hold enough charge for up to 6 continuous nights of power, meaning that you do not have to charge it as often as other batteries. This battery charges to full capacity in just 10 hours and uses a standard 9V DC cable and has 4 ports, a standard DC cable port, 2 USB ports, and one Type-C port. Here's the EXP96PRO compared with similar batteries:
This battery is also very sturdy. It is made from a durably rubberized exterior material that protects it from dropping and weather damage. The battery also has a durable rubber handle for gripping and carrying. It is a little on the heavier side at 6 pounds, but the high battery capacity makes up for the high weight. It is also on the more expensive side; again, reasonable given the quality of the battery pack.
The durability and long charge capacity of the Expion means that it is great for outdoor trips and long trips where a power outlet might not be nearby. It is rated for at least 5,000 charging cycles and has a peak power output of 307 watt-hours, more than enough to charge whatever device you need. It also comes with a generous 2-year warranty, so you can get a replacement if anything goes wrong.
8. Jackery Portable Power Station Explorer 500
Compatible with 12V-30V CPAP machines
Capacity: 14000mAh/518Wh
3 different DC ports
One AC port
Detailed display screen
Can be charged via solar power (solar panels not included)
Weight: 13.2 pounds
The Jackery Portable Power Station Explorer 500 is a monster of a backup battery. With a huge 518Wh capacity, it can power your CPAP machine for anywhere between 23 and 40h. But some users reported it lasting for about a week of daily use without needing a recharge. This makes it an ideal CPAP battery for camping but also a reliable backup for power outages as well.
One important feature of this portable power station is the fact that it comes with 3 different DC output ports. Two regular ones and a car lighter port. This means that you can hook up to 3 different DC machines to it simultaneously. Actually 4 if you also count the AC plug, but this is less efficient than the DC ports, so using it will drain the battery faster.
9. Anker Powerhouse 200
Compatible with 12V CPAP machines
Capacity: 57600mAh/218.8 Wh
It has multiple input and output ports
Advanced safety features (short-circuit, overheating, etc)
Weight: 96 ounces
The Anker Powerhouse 200 is a multi-use portable power generator which among many other things, can power CPAP machines. This device gives you the option to power your CPAP either via the AC outlet or via the DC car outlet plug. If your device cannot connect directly to the car outlet, you can use an adaptor, which you need to purchase separately. Charging your CPAP machine via DC might be less energy-intensive and might prolong the use time of your machine. Read our full review on the Anker Powerhouse 200.
10. Flashfish 166Wh Portable Generator
Capacity: 45000mAh/166Wh
Can power a CPAP machine via the 110V AC plug or the 12V DC plug
The Flashfish 200W CPAP Battery is a powerful backup CPAP battery and general backup battery pack. This lithium-ion battery pack is capable of a peak output of 166 watt-hours and has a 45000mAh battery capacity. This battery pack is especially useful for power as it comes equipped with two built-in 110V outlets for regular power cables, along with 2 2.4A USB ports and a 12v CD outlet with 10A max current. In other words, this battery has ports to charge basically anything that you need or run a device that you need. Despite the power and capacity, it is fairly light at just over 4 pounds and has a convenient handle for carrying and transportation.
This CPAP battery pack also has three distinct charging mechanisms: wall outlet, 12 V car socket, or a solar panel attachment. The solar panel attachment must be purchased separately though, and the battery pack cannot be used while it is being charged, a design flaw in our opinion.
The battery pack is designed for safety too. It is equipped with overheat protection, short-circuit protection, low-voltage protection, over-voltage protection, and more to keep your devices safe. When you want to use the battery pack, press the power button on the front and it will start providing power. The green LED indicator on the screen tells you how much battery charge is left. Overall, the Flashfish is a powerful battery that can be used in a wide range of conditions. We recommend it highly for purchase.
What to look for in a power bank for your CPAP sleep apnea machine
It's highly important that you make sure that the backup battery you want to order is a good fit for your personal CPAP machine. This is why you need to do some due diligence before buying any portable charger, but also after it arrives at you. Here's a quick checklist:
See if the power bank battery is specifically compatible with your CPAP machine model. Some batteries list all compatible sleep apnea machines in their product review
If you can't find your model listed on the battery specifications, then make sure it can supply the exact power you need for your machine. Most CPAP models are powered by either a 12V or 24V supply.
Check if you don't need any other extra equipment. In some cases, you may need to purchase a power inverter or an adapter in order to be able to connect your CPAP machine to the backup battery.
Once you receive your battery, test it right away! Don't wait until you actually need it. Make sure it fits your machine and that everything works accordingly. If for some reason, you cannot make it work, then return the battery and look for a more suitable power bank
Let us know in the comments if you have any questions, suggestions or recommendations for choosing a good power bank battery for your CPAP machine!