Hiluckey 25000mAh Solar Charger at a glance

Key specs
Capacity
25000 mAh
92.5 Wh
Dimensions (LxWxH)
6.1 x 3.4 x 1.4 in
15.49 x 8.64 x 3.56 cm

Charging technology

PBE metrics
Affordability
mAh/$
Average
300.48 mAh/$
Portability
50.20 mAh/g
1420.45 mAh/oz

Ports

Output: 5V/2.1A

Output: 5V/2.1A

Input: 5V/1.8A

Flight status
Status: Safe
The power bank is safe to take on board. It's under the specified TSA limit of 100 Wh. Read more about taking power banks on planes.

Other features
Or buy on Ebay.com or on Hiluckey.com

Charging capacity calculator
Use the search bar below and find out exactly how many times can the Hiluckey 25000mAh Solar Charger charge your smartphone battery

Hiluckey 25000mAh Solar Charger Review
Nowadays, a number of technology brands are jumping on the bandwagon of offering eco-friendly products, including power banks. Although this initiative is indeed an exciting one, not everyone is ready to embrace solar power banks due to their dubious performance. However, Hiluckey is a respectable company that focuses solely on solar energy products, such as the Hiluckey 25000mAh Solar Charger. This power bank has a high capacity, performs well, and is ideal for outdoor enthusiasts. This review will let you know all the great features the Hiluckey 25000mAh Solar Charger has to offer.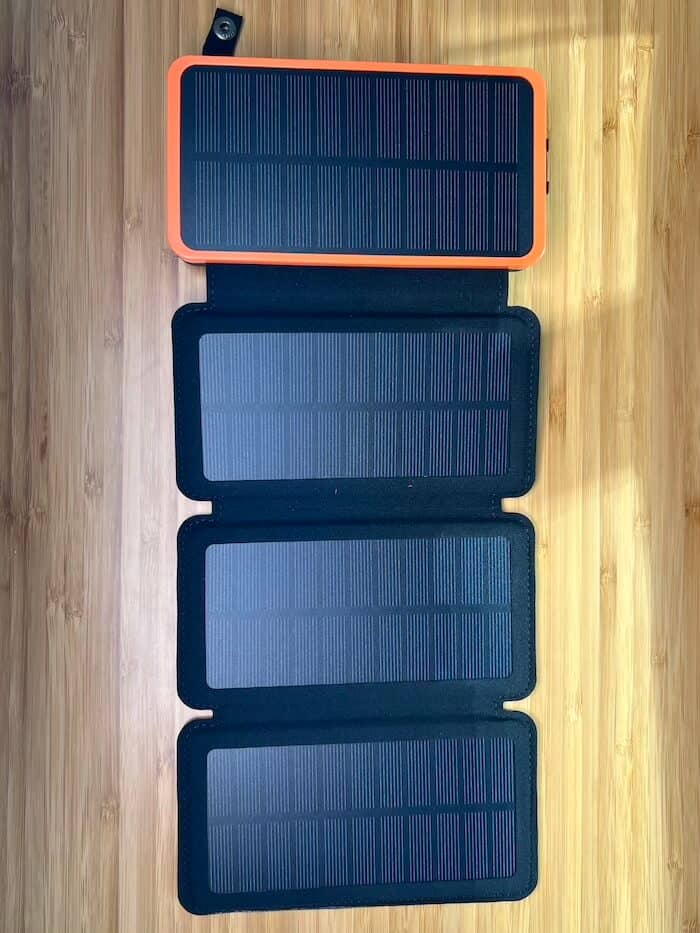 Unboxing video
Capacity & Charging speed
Hiluckey has equipped this solar charger with a colossal capacity of 25000mAh, which is very impressive as it is one of the biggest on the market for a power bank of its type. Its true capacity, however, is a little above 17000mAh, still big enough to recharge an iPhone X more than 6 times and the Samsung Galaxy S10 5.6 times. This means that you can go camping without worrying for days about not having enough power for your devices.
Despite not having Quick Charge or PD charging or any other fast charging protocol, the Hiluckey 25000mAh Solar Charger is highly compatible with a wide variety of 5V tablets, iPads, Bluetooth, GPS, cameras, and smartphones, including iPhones, Samsung, Sony, Huawei, HTC, LG, Nexus and so much more. For such reason, it takes a long time to charge high-capacity devices, so it's recommendable to leave them charging overnight, and in the morning, they'll be fully charged.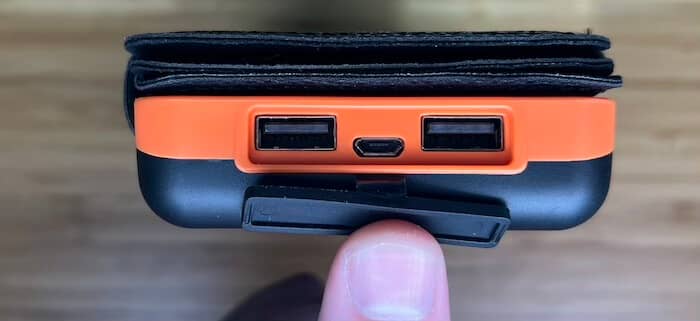 Like many other power banks of high capacity, the Hiluckey 25000mAh Solar Charger comes with dual USB ports so that you can get most of its power and charge two devices at the same time. This model features a maximum output of 5V/2.1 A and is capable of detecting automatically and intelligently the current of the output ports to provide optimal charging output. Nevertheless, when two devices are connected, 2.1A won't be pulled from each port; in fact, you can expect that charging a device will take more time, so it might not be the most time-saving option.
Regarding the input, the Hiluckey 25000mAh Solar Charger offers both a traditional micro USB port of 5V/1.8A to charge it from the wall, as well as 4 foldable solar panels rated at 5W power and 1A input current. Using a 2A wall charger, you can expect the power bank to be fully charged from 12 to 15 hours, whereas with a 1A wall charger, it could take up to 25 hours – not bad for a power bank of this size. However, due to limited strong sunlight, the power bank will take a long time, between 35 and 50 hours, to fully charge, but it still has a big advantage over power banks that come with a single solar panel.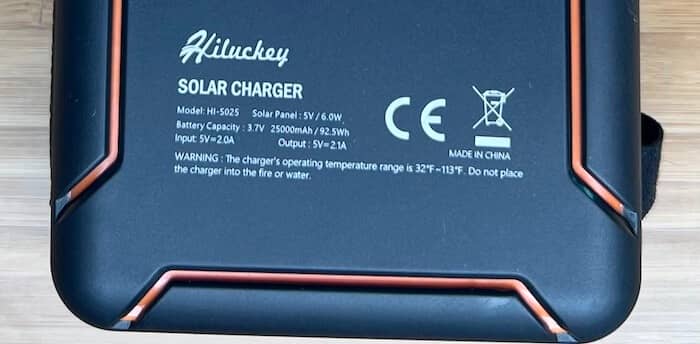 Another good thing about the Hiluckey 25000mAh Solar Charger is that you can power your smartphone while the battery pack is being recharged. Despite this, you need to consider that more mAh are pulled out than the amount entering while recharging it via the micro USB port, and even less so from the sunlight. Overall, the power bank discharges at a faster rate than it recharges. This feature is known as pass-through charging and is not so common due to safety implications.
Look and feel
The Hiluckey 25000mAh Solar Charger features a nice-looking design. The body is rectangular with rounded corners and is made of solid plastic with a black matte texture to prevent smudges and scratches. The sides come in three different colors (black, light blue, and orange) so that you can choose the one of your preference, while the back is decorated with five half-hexagonal grooves in the same color as the sides, and in the center, there's the label with technical specifications.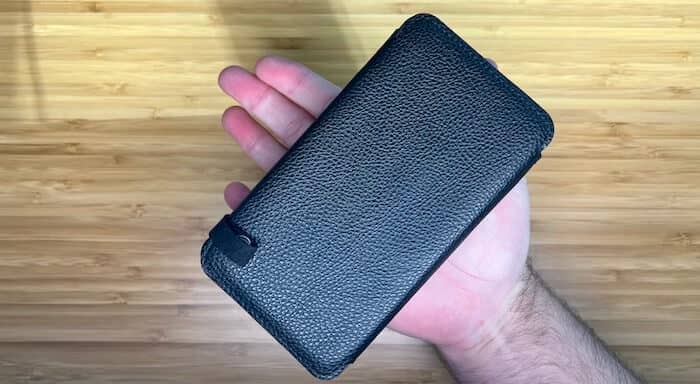 This power bank features basic functional components distributed nicely on the body. The micro USB input and USB outputs are located at the front of the unit, and the 5-LED-light power indicator is on the right side. Four blue lights indicate the percentage of power left in fractions of 25% each, and there's also a green light that is on when the power bank is charging from the sunlight.
Additionally, you can find a solid power button on the back, which has a dual function: to turn on the device and turn on the flashlight when you press it for a few seconds. The big flashlight, it's located on the back of the unit and consists of 9 built-in bright LED lights. This comes very handy in case of an emergency, or when being outdoors, like on a camping trip. However, what makes it so unique is that it can work in three different modes: Normal, SOS, and stroboscopic.
Lastly, the solar panels can be folded and strapped with a button on the side. When folded, you can see the leather-like texture on the back, which looks really cool.
Durability & Construction
The Hiluckey 25000mAh Solar Charger seems sturdy and durable for the relatively low price of $37.59. Its unique texture grants external protection against drops, the sun, smudges, and scratches, which is why it has been proven to be well-built and shock-proof.
Given that it is aimed to be used outdoors, the power bank and solar panels are completely waterproof, so they won't get damaged even if it's dropped in not-so-deep rivers or ponds. The USB ports are also protected from water and dust by a rubber-like cover. Overall, you shouldn't be worried when using it on your next camping or hiking trip.
Besides, it is equipped with a built-in IC chip and a signature technology that detects and adjusts the output current according to the smartphone or device connected. This way, it ensures protection to the unit and other devices against a number of charging problems (over-current, over-voltage, over-heated and short circuit).
Finally, in case of any malfunction, Hiluckey offers a 1-year warranty, 30 days money back, and friendly 24h-online customer service that you can contact for additional information.
Portability
The Hiluckey 25000mAh Solar Charger is approximately the size of a Samsung Galaxy S10+, but almost five times thicker. With dimensions of 6.1 x 3.4 x 1.4 inches and 17.6 ounces of weight, it could be considered heavy and not so easy to either hold in a single hand or fit into your pocket.

However, to solve this issue, Hiluckey has included a strap in its design, offering users the possibility of attaching the power bank to the back of a backpack. This way, it is so much easy for hikers and day-to-day users to carry it around while also taking advantage of the sunlight to recharge its internal battery.
When it comes to its capacity, at 92.5 Wh, it's just under the limit of 100 Wh set by the FAA, which means you have nothing to worry about if you wish to take it aboard a commercial flight. Besides, you can fold up the panels to fit nicely in your backpack or carry-on bag.
Overall, considering that there are power banks of much lower capacity that are both heavier and bigger, the Hiluckey 25000mAh Solar Charger is not that big and is comfortable to transport.

Pros
Allows pass-trhough charging

Cons
Does not feature any Fast-charging technology
Final Thoughts
In summary, despite not being the fastest, the Hiluckey 25000mAh Solar Charger is reliable, durable, and well-designed to be environmentally friendly. With it, you can recharge your smartphone daily for a week, and its flashlight is one of the best on the market, so we believe it's a must for anyone who enjoys outdoor adventures. Do not waste any longer looking for other options; the Hiluckey 25000mAh Solar Charger is the real deal.
Or buy on Ebay.com or on Hiluckey.com
Or check out these similar power banks: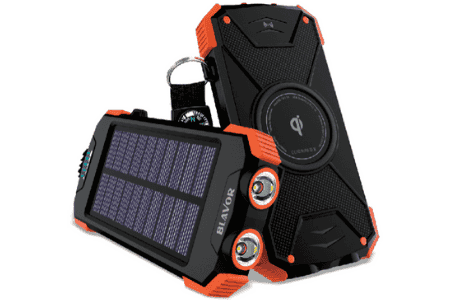 BLAVOR Qi 10000mAh Solar Portable Charger
The BLAVOR Qi solar power bank offers wireless and USB charging, and thanks to its solar panel, it's a great companion for long camping trips.
Read More
Goal Zero Sherpa 100PD With Qi Wireless Charging
The Goal Zero Sherpa 100PD is a rugged power bank that also comes with Qi wireless charging. With a hefty capacity of 25600mAh, it can keep you powered up for days.
Read More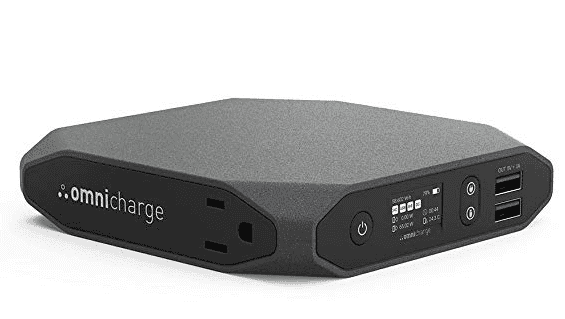 Omnicharge 20+ Power Bank Bundle
The Omni 20+ Bundle AC/DC/USB-C Power Bank is a top-class portable charger. Robust and with a 20000mAh capacity, it charges multiple types of devices in one go.
Read More