Omni 20+ Bundle AC/DC/USB-C Power Bank at a glance

Key specs
Dimensions (LxWxH)
4.98 x 5.05 x 1.12 in
12.65 x 12.83 x 2.84 cm

Charging technology

PBE metrics
Affordability
66.89 mAh/$
Average
357.43 mAh/$
Portability
31.50 mAh/g
892.86 mAh/oz

Ports

Output: 5V/3A, QC 3.0 compatible (18W Max)

Output: 5V/3A, QC 3.0 compatible (18W Max)

Input: 5V, 9V, 12V, 15V, 20V, up to 3A, 40W max
Output: 5V, 9V, 12V, 15V, 20V, up to 3A, 60W max

Output: 120V, 60Hz, 100W

Input: 4.5V – 36V, up to 3A (2W – 45W)
Output: 5V – 25V, up to 5A (100W max)

Flight status
Status: Safe
The power bank is safe to take on board. It's under the specified TSA limit of 100 Wh. Read more about taking power banks on planes.

Other features
Or buy on Omnicharge.com or on Ebay

Charging capacity calculator
Use the search bar below and find out exactly how many times can the Omni 20+ Bundle AC/DC/USB-C Power Bank charge your smartphone battery

Omni 20+ Power Bank Bundle Review
The Omni 20+ is one of the fastest and most versatile power banks out there. It is a must-have power pack for travelers, campers, students, and everybody who needs their devices fully charged all the time while not having access to a wall outlet. In this case, Omni 20+ is a lifesaver.
With this bundle, besides the actual power bank, you also get two charging cables (USB-A to USB-C, and USB-C to USB-C), a protective hardshell case, various charging port adaptors, and best of all, a fast charger with international adapter plugs. Using the provided cables and wall charger, you can fully charge the Omni 20+ in under 3h. This really fast, as regular power banks at a similar capacity need to be left overnight in order to fully charge.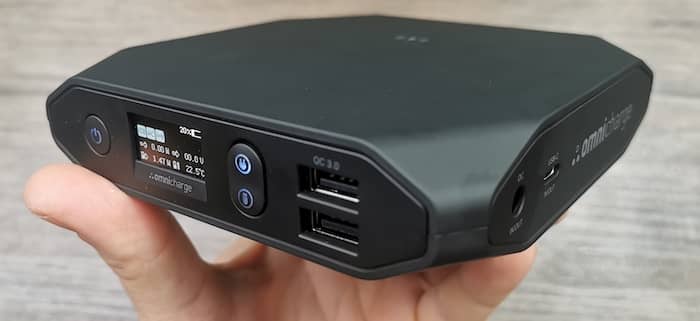 Unboxing video
Capacity & Charging Speed
At 20000mAh, this power bank is versatile and can charge a wide variety of devices. One of its biggest advantages is that it can charge laptops along with other smaller devices such as smartphones, regular cell phones, portable speakers, small appliances, and more. It charges the devices fast and holds power very well.

Charging the power bank itself is also simple, and it's possible with every adapter you get in the set. You can charge it in under 3 hours via the included plug AC wall adapter, barrel plug USB cable, or even a laptop charger using the included adapters. Moreover, it's compatible with solar charges which can also be used to recharge the device.
What is also awesome about the Omni 20+ is that it meets FAA safety guidelines, so it's allowed on an aircraft. In simple terms, it's quite a small and extremely powerful device that can charge almost any device a person can buy and take on a trip.

Charging technology
This Omnicharge power bank is packed with the latest charging technologies:
It has a USB-C port, which can deliver a generous 60W output for fast charging your devices
It comes with wireless charging technology. So if you have for example a smartphone that also supports fast charging, you can simply place it on top of the conveniently flat Omni 20+ and it will start charging automatically, without plugging in any cables
It features an AC/DC plug that can deliver a maximum of 100W output power, which can easily power laptops but also other devices that can be plugged in. It's worth mentioning that very few power banks come with AC/DC plugs and among them, the Omni 20+ is one of the best
It supports passthrough charging, meaning that you can simultaneously charge the power bank and one or more devices from it

Durability & Construction
The construction of this power bank looks solid and high quality. It has a sleek design and a few notably useful features which make Omni 20 easy to use and understand. Even someone who is not very tech-friendly will be able to benefit from this device and not have any problems operating it.
There is a small display on the power bank which provides all the information you may need. It tells you how much power is left, the amount of time the battery will operate for, the temperature of the battery, and even a menu system. The screen is small though, which can be an issue for someone who has sight problems. Other than that, it's very convenient.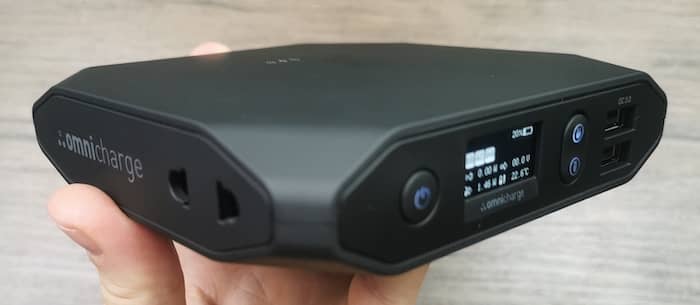 The power bank has a variety of charging options as it has an AC outlet, a DC input and an output, and two USB ports. It also comes with multiple adapters which allow you to charge pretty much everything from headlamps, smartphones, not so smartphones to laptops and cameras. Moreover, it has a wireless charging option at about 7-8W.
There are two on/off buttons that help control the charging and pick to which charging source the power will be transferred. It's a really handy feature since you can decide which output to use, so the energy won't transfer to the unplugged outlet, and the battery won't drain too fast.
The Omni 20 is also equipped with a built-in fan that switches on when the device exceeds a certain temperature. There is also an option to switch it off if necessary, but I wouldn't recommend keeping it off for a long time since the fans are built in the devices for a reason and have to maintain a particular temperature. However, it's a helpful feature if you are in a pretty quiet environment such as a conference room or auditorium. The fan can get a bit louder for places like that, although it's unlikely you will find it too loud in a place such as a coffee shop because it blends in with the overall noise.
Portability
This is a great overall power bank, but you're looking for one that fits snuggly in your pocket, the Omni 20+ is not for you. Although is not that large, this power bank is best carried in a backpack, especially if you also have all the accessories that come with this bundle. Once you place the Omni 20+ in the protective case, you can easily carry it in any bag or throw it in the boot of your car without worrying that it might accidentally turn on.


Pros
Charges devices and recharges itself very fast
Wireless charging capacity
Meets FAA safety guidelines

Cons
Final Thoughts
In conclusion, I can say that this power bank is definitely worth buying if you travel a lot, work outside or have lectures all day. With its capacity and flexibility, one can be sure that any sort of gadget will be fully charged and won't die at an unwanted moment. It will ensure that you stay connected all the time when you need it.
Or buy on Omnicharge.com or on Ebay
Or check out these similar power banks: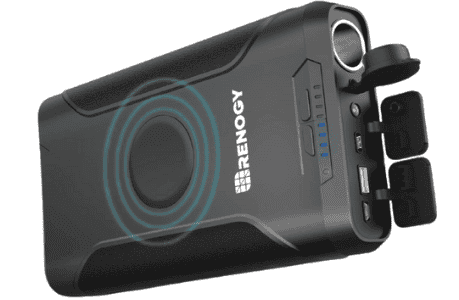 Renogy 72000mAh Laptop Power Bank
The Renogy 72000mAh is a hugely powerful power bank that's specially made for charging laptops. It comes with a multitude of ports and adaptors.
Read More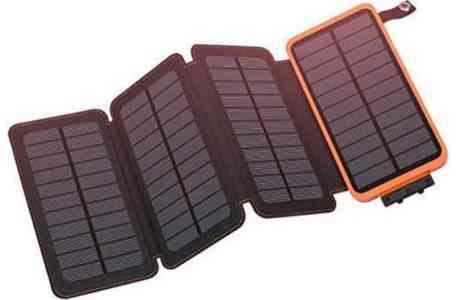 Hiluckey 25000mAh Solar Charger
With 2 USB output ports and 4 solar panels, the Hiluckey 25000mAh Solar Charger is the perfect companion for outdoor enthusiasts who need power backup for days.
Read More