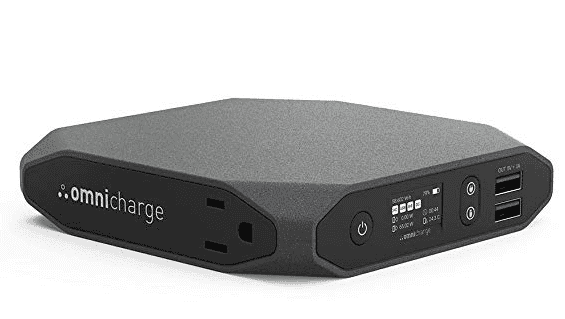 Omnicharge AC/DC Portable Power Bank at a glance
Flight status: risky
73 Wh (the official TSA limit is 100 Wh)
The battery capacity is not clearly listed on the device. This may cause some problems in certain airports.
If you're planing to fly, read more about power bank TSA rules and regulations.
PROS
Meets FAA safety guidelines
High capacity
Charges the devices fast
Compilable with multiple devices
Hold the power for a long time
A variety of adapters
A special case available
1-year warranty and lifetime customer support
CONS
Price
Small display
Can accidentally switch on in the bag
Omni 20 is one of the fastest and the most versatile power banks out there. It is a must-have power pack for travelers, campers, students and everybody who needs their devices fully charged all the time while not having access to a wall outlet. In this case, Omni 20 is a life saver. The price is a little high, but check out all its advantages first, I'm sure it will be worth it.
Capacity & Charging Speed
This power bank is versatile and can charge a wide variety of devices. Its biggest advantage is that it can charge laptops along with other smaller devices such as smartphones, regular cell phones, portable speakers, small appliances and more. It charges the devices fast and holds power very well. For example, during a trip I took which lasted for several days, I never had to charge the device, and it didn't go below 20%.
Charging the power bank itself is also simple, and it's possible with every adapter you get in the set. You can charge it via the included plug AC wall adapter, barrel plug USB cable, or even a laptop charger using the included adapters. Moreover, it's compatible with solar charges which can also be used to recharge the device.
What is also awesome about the Omni 20 is that it meets FAA safety guidelines, so it's allowed on an aircraft. In simple terms, it's quite small and extremely powerful device which can charge almost any device a person can buy and take on a trip.
Look & Construction
The construction of this power bank looks solid and high quality. It has a sleek design and a few notably useful features which make Omni 20 easy to use and understand. Even someone who is not very tech-friendly will be able to benefit from this device and not have any problems to operate it.
There is a small display on the power bank which provides all the information you may need. It tells you how much power is left, the amount of time the battery will operate for, the temperature of the battery and even a menu system. The screen is small though which can be an issue for someone who has sight problems. Other than that it's very convenient.
The power bank has a variety of charging options as it has AC outlet, DC input and output, and two USB ports. It also comes with multiple adapters which allow you to charge pretty much everything from headlamps, smartphones, not so smart phones to laptops and cameras. Moreover, it has a wireless charging option at about 7-8W.
There are two on/off buttons that help control the charging and pick to which charging source the power will be transferred. It's a really handy feature since you can decide which output to use, so the energy won't transfer to the unplugged outlet, and the battery won't drain too fast.
The Omni 20 is also equipped with a built-in fan that switches on when the device exceeds a certain temperature. There is also an option to switch it off if necessary, but I wouldn't recommend keeping it off for a long time since the fans are built in the devices for a reason and have to maintain a particular temperature. However, it's a helpful feature if you are in a pretty quiet environment such as a conference room or auditorium. The fan can get a bit louder for places like that, although unlikely you will find it too loud in a place such as coffee shop because it blends in with the overall noise and isn't too noticeable.
Portability
The Omni 20 is easily portable. If you have a separate compartment in your bag or backpack for it will easily fit in there and not take up a lot of space. On the other hand, it's not recommended to put it in the main compartment as it can come in contact with other pieces in the bag and accidentally switch on. However, there is a specific case available for this power bank that can be purchased separately. It is designed to prevent the power pack from switching on accidentally. Also, it fits conveniently in a bag or backpack and can hold the cables too.
In conclusion, I can say that this power bank is definitely worth buying if you travel a lot, work outside or have lectures all day. With its capacity and flexibility, one can be sure that any sort of gadget will be fully charged and won't die at an unwanted moment. It will ensure that you stay connected all the time when you need it.
Technical Details
| | |
| --- | --- |
| Manufacturer | Omnicharge |
| Size | 5 x 1.1 x 4.8 inches |
| Weight | 1.4 pounds |
| Type | AC/DC Power Bank |
| Charging Capacity | 20400 mAh/73Wh |
| USB ports | 2 USB Ports / 100W AC Outlet / DC Input/Output / Wireless |
| Colors | Black |