BLAVOR Qi Solar Portable Charger at a glance

Key specs
Dimensions (LxWxH)
5.9 x 3.1 x 0.8 in
14.99 x 7.87 x 2.03 cm

Charging technology

PBE metrics
Affordability
mAh/$
Average
300.48 mAh/$
Portability
38.02 mAh/g
1075.27 mAh/oz

Ports

Output: 5V/2.1A

Input: 5V/2.1A

Input: 5V/2.1A

Flight status
Status: Safe
The power bank is safe to take on board. It's under the specified TSA limit of 100 Wh. Read more about taking power banks on planes.

Other features
Or buy on BlavorPowerBank.com or on Ebay.com

Charging capacity calculator
Use the search bar below and find out exactly how many times can the BLAVOR Qi Solar Power Bank charge your smartphone battery

BLAVOR Qi Solar Portable Charger Review
The BLAVOR Qi solar portable charger is a powerful and durable charger made of high-quality materials. With its robust design, the power bank can survive big drops, and water spills, and even keep dust out of its internal structure.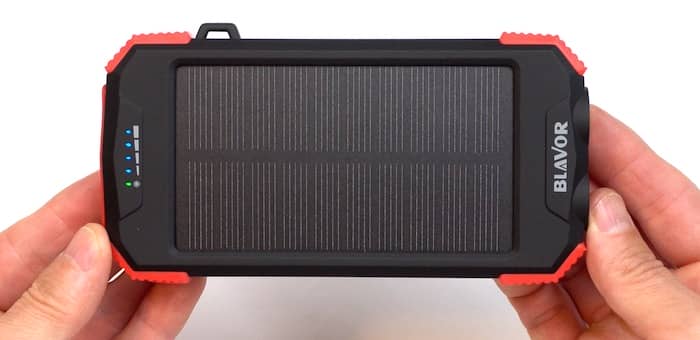 Unboxing Video
Charging Technology
This power bank supports solar charging, but it's recommended you use it for emergency backup only because it will take a very long time to fully charge your device. It can be quite difficult to obtain intensive power via solar energy due to the sun's intensity and the small panels that have a rating of 180mA. The power bank can only charge one device at a time via USB output, but can power up two at once if you use both the wireless feature and USB output. However, it's only suitable for 5V/2A devices.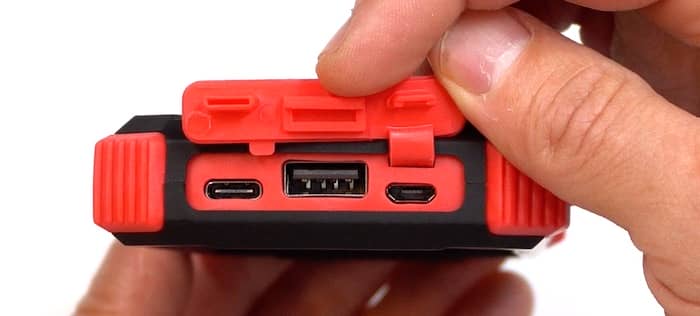 You can also charge the power bank via an outlet, either through the micro-USB or Type-C input port. By using a 5V/2A adapter, you can expect the device to be fully replenished within 6 hours. Both micro-USB input and Type-C input have a rating of 5V/2.1A.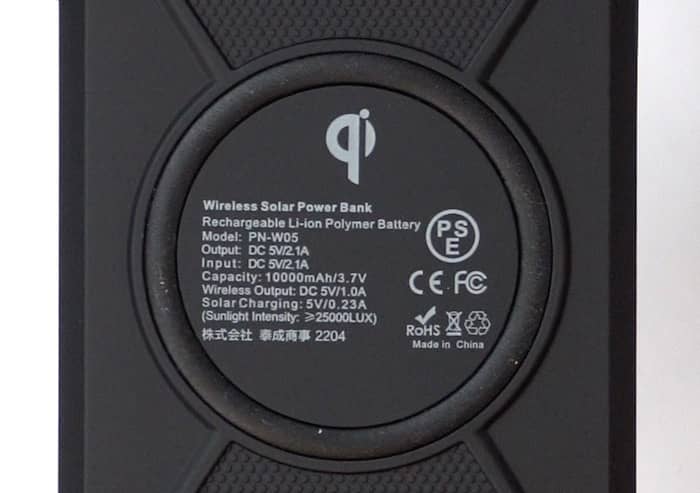 The power bank is compatible with Android and Apple products. If you want to charge any of your gadgets with a cable, you can connect it to the USB output, which has a rating of DC 5V/2.1A.
It's also Qi-certified for wireless charging any Qi-enabled gadget. However, using this feature takes up more power in the charger, even if it quickly refreshes any of your devices. The wireless charging feature has a reading of DC 5V/1.0A.
It supports pass-through charging. You can place your smartphone on the Qi-wireless feature or connect it to the USB output port while the power bank itself is being replenished.
Portability
The BLAVOR Qi solar portable charger measures 5.5" long, 3.1" wide, and 0.84" thick, making it portable enough to fit into your hand or hook onto a bag. It's also light, weighing just 9.3 ounces, allowing it to be easily carried around. The medium-sized unit is also ideal for hiking and camping trips, where it can safely be stored in a convenient space, like your bag or pocket.

You won't have any problems carrying the power bank with you on a flight. It only has 37Wh, which is way below the 100Wh limit stipulated by the TSA.
This device is generally a bit smaller and less heavy than similar products in its group, which is to be expected since they often have higher-capacity batteries.
Look and feel
The power bank is very sturdy and durable. It features a solar charger that contains a premium lithium polymer battery. All four corners are rugged, providing a reinforced build for the entire unit, ensuring protection and durability. The device is encased with a premium anti-slip rubber mat, which will help to keep your device safe by preventing it from falling off any type of surface. It comes in black with orange corners.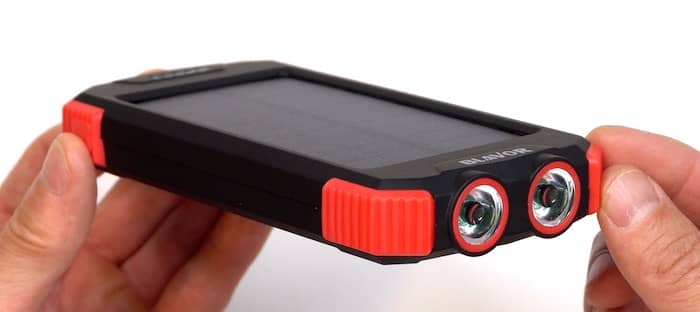 It's also rigged with dual flashlights that you can use in an emergency or if you simply need some light in dark areas. In order to take advantage of this feature, you will need to press and hold the power button for five seconds to turn the flashlights on and off. The device comes with a compass you can attach to a backpack or just simply leave with the power bank.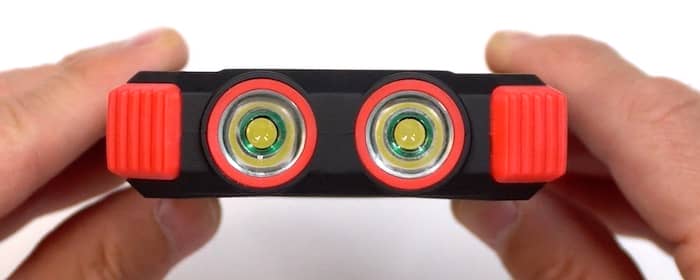 To access the USB ports, pull out the orange dust cover located at the bottom of the device. Just beside the ports, you'll find the power button, which can turn on both the output and wireless charging features.
There are three different types of indicators on the power bank. The wireless charging feature will be turned on whenever a Qi-enabled device is in close proximity to the charging area and when the power button is pressed. Doing so will also illuminate the wireless charging indicators.
The solar charging indicator will illuminate green when the solar panels are in direct sunlight, above 25,000lux. This will also enable the solar charger to replenish the device at 180mA.
There is also a four-LED battery power indicator that glows blue whenever the power button is pressed. From left to right, the lights indicate 25%/50%/75%/100% of power left in the unit. While charging the power bank via the micro-USB port, each of the indicator lights will flash in sequence until the device's battery is completely replenished.
Durability & build quality
This portable charger is constructed with durable and rugged materials to ensure it can survive any impact it may sustain. It's also made of premium ABS fireproof plastic.
Since it's shockproof, dustproof, and has an IPX4 splashproof rating, the device is perfect for any outdoor activity, including hiking and/or camping. The shockproof feature means the device will be able to absorb shock and won't be susceptible to damage if you accidentally drop it.
You can even use it in the rain and the internal circuits won't get damaged. With the dustproof feature, you'll be ensured that your device will be kept safe from dust, which can degrade performance.
When you purchase the unit, it will come with a 12-month warranty and lifetime technical support. If you choose to register it via the manufacturer's website, you'll be able to add an extra 6 months to it, resulting in an 18-month warranty. If you wish to return the device for any reason, you may do so within 30 days of purchase for a refund.
However, you must pay shipping costs if the return isn't related to quality issues. If there's a manufacturing defect in the device, you can exchange it within 12 months of purchase to receive a replacement.
What Others Say About the BLAVOR Power Bank
Very simple, very cool product, very cheap. $28.99, not a a lot of money for a power bank that serves multiple purposes. Hopefully, you never need it. But if you do, it's better to have it.
Digital Slang
You say, hey, it's a power bank…what's so exciting about that? Well, there are a couple of things that you should know and why I think this is currently my favorite 10000mAh power bank on the market.
JDubb
Pros and Cons

Pros
Dustproof, shockproof, and splashproof

Cons
Takes a while to fully charge
You can't fully rely on solar charging
Final Thoughts
Overall, the BLAVOR Qi solar portable charger is powerful, rugged, and perfect for you if you're going camping or hiking. The device is shockproof, dustproof, and splashproof, which makes it resistant to damages it may otherwise sustain.
It's also Qi-enabled, which will allow you to replenish any device with wireless charging capabilities. You can also use solar energy to power it up, so it's ideal if you plan on going on an outdoor expedition and need something to keep your battery up and running.
Or buy on BlavorPowerBank.com or on Ebay.com
Or check out these similar power banks: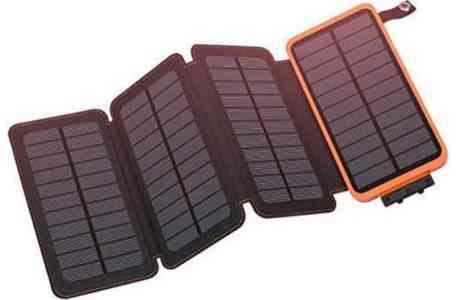 Hiluckey 25000mAh Solar Charger
With 2 USB output ports and 4 solar panels, the Hiluckey 25000mAh Solar Charger is the perfect companion for outdoor enthusiasts who need power backup for days.
Read More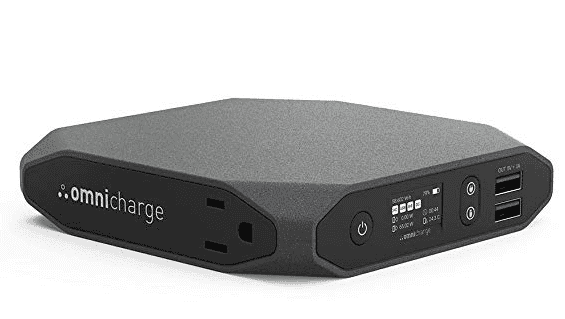 Omnicharge 20+ Power Bank Bundle
The Omni 20+ Bundle AC/DC/USB-C Power Bank is a top-class portable charger. Robust and with a 20000mAh capacity, it charges multiple types of devices in one go.
Read More