Solar power banks are quite sought after since they seem to promise quasi-unlimited energy for charging devices and gadgets. Who would not like to be able to charge their phone any time anywhere, without needing access to a power grid? However, the reality is a bit different than this common fantasy.
Although solar power banks do exist in plentiful amounts, they don't usually perform as well as people expect them to. In the best cases, they take tens of hours of direct sunlight to get charged. This means sharing for 2-3 days at a time. And in the worst cases, you'd need weeks of direct sunlight in order to achieve a full charge, thus making these devices quite impractical.
There are mainly two different types of solar power banks:
Power bank with embedded solar cells. These are the most compact option, but they take the longest to recharge via solar energy.
Power banks with external foldable cells. These devices take up more space but they can charge significantly faster as they have a larger solar panel area.
Let's have a closer look at each type.
Solar Power Banks With Built-in Cells
This type of portable solar power bank is the most portable by far. The reason for this is that they feature a single panel that is built into the power bank case. This makes it lighter and much more compact compared with a power bank with foldable solar panels.
However, the downside is that the size of the solar cells is limited, which means these power banks take quite a while to charge only via solar energy. A mid-sized power bank of this size can take a week or two to fully charge, or even longer if you're not getting direct sunlight.
So all-in-all, charging these devices via the sun only is not really that practical. Instead, the solar panel should be regarded as an added bonus, and it definitely should not be considered the main recharging option.
BLAVOR Qi 10000mAh Solar Portable Charger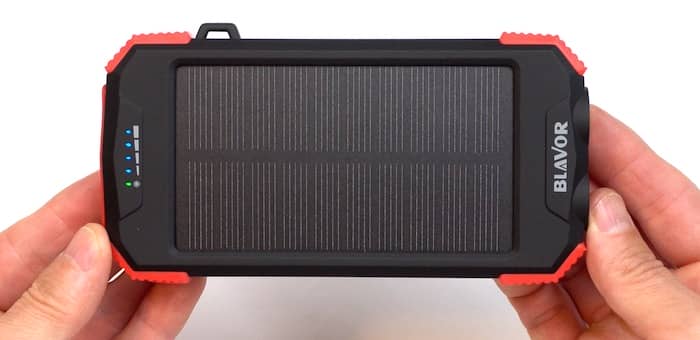 Battery Capacity: 10000mAh capacity
Ports: 1 USB Type C, 1 USB Type A, 1 Micro USB
Size: 5.9 x 3.1 x 0.8 inches
Weight: 9.3 oz / 263 g
Regular recharge time: 6 hours
Solar recharge time: multiple days
Or buy on BlavorPowerBank.com or on Ebay.com
The BLAVOR 10000mAh is one of the most basic types of solar power banks, having the solar panel built-in. This means the power bank is light and not bulky, making it highly portable. But because it's relying on a single solar panel with a reduced area surface, makes it is quite difficult to charge via solar power alone. You'll need to have it face the sun directly during clear skies, for several days in order to see it charged this way. It's possible, but not very likely. So the solar charging option should just be considered as a boost to regular charging.
Perhaps one of the greatest features of the BLAVOR 10000mAh power bank has to do with its wireless charging capabilities. This provides an efficient way to charge your Qi-compatible devices. However, the downside to this is that it consumes a lot of power, so you shouldn't use it for very long. With that in mind, this feature has a rating of DC 5V/1.0A.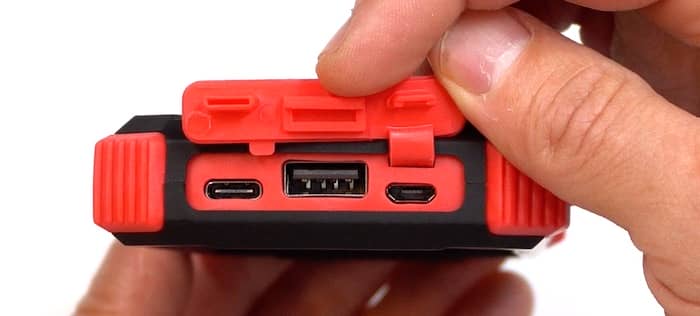 It also comes with a USB-C input port and a Micro USB port to recharge the power bank. Both of these have a rating of 5V/2A, so the power bank will charge in six hours, no matter which port you decide to use. Additionally, the BLAVOR 10000mAh portable charger comes with a USB A port, rated at 5V/2.1A. You can use both the USB A port and Qi-wireless charging feature simultaneously, but it's only suitable for 5V/2A devices. It will take a long time to recharge the power bank with the solar panels since it only has a 180ma rating.
The BLAVOR 10000mAh portable charger is waterproof (IPX5), dustproof, and shockproof, allowing you to take it while you're on a camping trip. Furthermore, this power bank has a built-in flashlight, which lasts for 100 hours.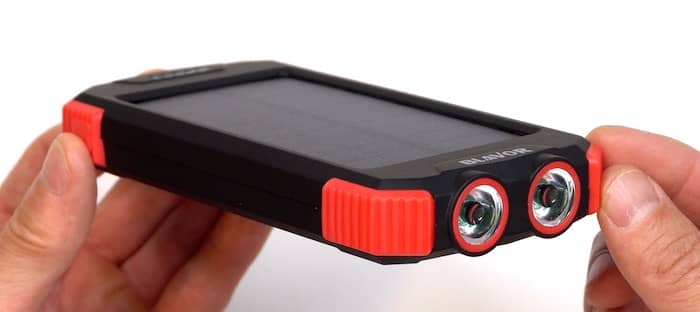 Unboxing video
What we like about it
Built-in solar panel
Light and portable
Powerful flashlight
Rugged, solid build
What we dislike about it
It takes a very long time to charge itself via solar power
Just a single output port
Read our full review of the BLAVOR Qi 10000mAh Solar Portable Charger
Solar Power Banks With External Foldable Solar Cells
Power banks with external foldable solar cells have the best of two worlds:
They can be (realistically) fully charged via solar power
They also work as a classic power bank.
Depending on the amount of sunlight you're getting, they can generally charge in 15-30 hours of direct sunlight exposure. Most of them are even designed to be hung on a tent or backpack. This provides a great deal of versatility. On the other hand, the foldable solar cells require more space than a power bank with built-in cells.
Hiluckey Outdoor Portable Power Bank with 4 Solar Panels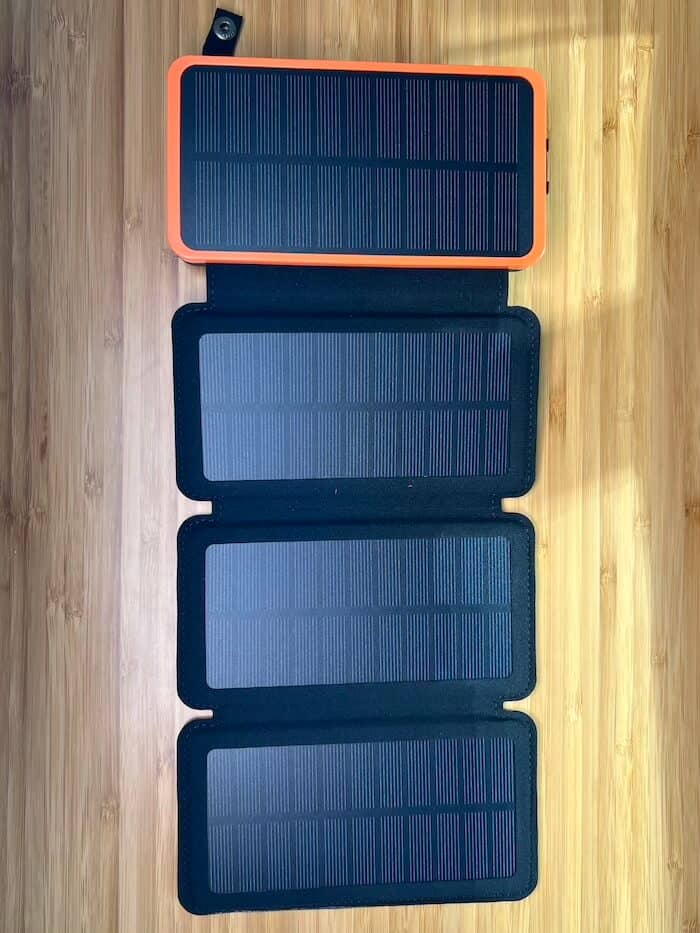 Battery Capacity: 25000mAh
Ports: 2 high-speed USB charging ports
Size: 6.1 x 3.4 x 1.4 inches when collapsed
Weight: 1.3 pounds / 590 g
Regular recharge time: 15 hours
Solar recharge time: 50 hours of direct sunlight
Or buy on Ebay.com or on Hiluckey.com
Compared to the BLAVOR 10000mAh, the Hiluckey HI-S02 is more capable when it comes to its solar charging abilities. This is because it comes with 4 different, foldable solar panels, as opposed to BLAVOR's single, built-in solar panel. This means that the Hiluckey will be able to charge itself in about 50 hours of direct sunlight. And considering that it has more than twice the capacity of the BLAVOR 10000mAh, this is quite a feat.
The 25000mAh capacity offers enough juice to recharge your phone around 8 to 10 times. It's actually very close to the maximum capacity limit allowed on flights, but you can still fly with it without any restrictions.

When collapsed, it becomes a bit bulky due to the solar panels which add to its width. The four solar panels unfold easily for recharging. The actual power bank can be detached from the solar panels, which can be pretty convenient during periods when the solar panels are not in use such as when it's being charged via a power outlet.
This solar power bank is also IPX7 water-resistant, which means it can withstand submersion. Furthermore, it's also shock-proof and dust-proof, making it a great choice for almost any type of outdoor adventure. On the back side, it comes with a powerful 9 LED flashlight which can come in very handy during camping trips or in case of emergency situations.
Unboxing video
What we like about it
4 foldable solar panels
Solar charging is actually feasible
High capacity
Water-resistant
What we dislike about it
No fast charging technology
Large and bulky (due to the extra solar panels)
Read our full review of the Hiluckey HI-S025 solar power bank
---
Key benefits of Solar Power Banks
So, why would you use a portable solar power bank, instead of a standard plug-in power bank? For many people, a plug-in power bank can be good enough. But there are several good reasons to consider a solar-powered option. Here are a few of them.
They're a great choice for camping. If you're spending a week or more in the wilderness, it can be almost impossible to keep your phone charged via a standard power bank. It's feasible if you leave the phone off except for occasional check-ins. But if you're taking pictures or videos, you're going to need to recharge a few times. A solar power bank will extend the power you have available in remote locations, so you can enjoy your camping trip without fretting over batteries.
Ideal for off-grid power. Solar power banks are also a good choice for hunting cabins and wilderness retreats. You won't be able to run a house full of lights, but you'll be able to use your phone for an extended amount of time. You'll also be able to recharge flashlights that have USB charging ports.
Great for emergencies. In the event of an emergency or natural disaster, you might not have access to wall power for charging your devices or your power bank. In this case, a solar power bank gives you a way to keep your phone charged, so you can stay in touch with relatives or for contacting emergency services.
Answers to your questions
Before we wrap up, we thought we'd answer a few common questions about solar power banks. Here are a few things people usually want to know before purchasing a solar power bank:
How does a solar power bank work?
A solar power panel consists of a photovoltaic cell, with silicon layers on either side. One layer of silicon has been infused with negatively-charged phosphorus, while the other has been infused with positively-charged boron. This creates an electric field, with electrons traveling between the two layers.
When sunlight strikes the photovoltaic cells, light particles called photons strike some of these electrons, knocking them out of the circuit like billiard balls. These free electrons are then collected by a conductive plate, which allows the electrons to recharge the attached battery. Generally, the battery itself will be either lithium-ion or lithium-polymer, since lithium allows for easy electron flow and, hence, easy recharging.
How long do solar power banks take to charge?
To understand this, we first need to understand what a milli-amp-hour (mAh) is. As its name implies, a mAh is one one-thousandth of an amp-hour, and an amp-hour is the amount of power drawn by a single amp device over the course of a single hour. So, for example, a 2-amp USB device will draw 2,000mAh of power over the course of an hour.
In order to calculate the charge time, you would do the reverse. You would measure how many amps the solar panel is putting out, and multiply that by the number of hours the power bank is charging for. So, a 1-amp solar panel will charge a 25,000mAh battery pack in 25 hours of direct sunlight.
However, most solar power bank charger manufacturers don't tell you how many amps their solar panel puts out. Even if they do, the number assumes direct sunlight. In practice, you're almost never going to have your solar panel in direct sunlight all day long. There will be periods of shade, clouds, rain, and other conditions that lower the panel's efficiency.
As a result, the best we can do is give you a general rule of thumb. A 25,000mAh solar power bank with a built-in panel will take about a week to two weeks to fully charge the battery. By contrast, a similarly-sized power bank with a foldable panel will charge in 2 or 3 days, and a standalone panel will get the job done in 12 to 13 hours. To get a better estimate, consider your location. If you're using your power bank in Southern California chaparral, your performance will be towards the faster end of the spectrum. If you're in the woods of New England, your performance will be towards the lower end of the spectrum.
This sounds slow. Why not just use a traditional power bank?
Yes, even a foldable solar power bank takes a while to charge. But the reason for using a portable solar power bank is that you have no other electrical source available. If you're hiking for the weekend, or if a natural disaster knocked your local power grid offline, a solar-powered power bank might be your only source of power. Essentially, a solar charger power bank is a high-quality power bank with an emergency backup feature.
What are the different types of waterproofing these devices have?
Solar power banks are waterproofed in the same way as other electronic devices. Look for an IP rating. Normally, these devices will be rated IPX4, IPX5, IPX6, or IPX7. IPX4 indicates that the device is resistant to small amounts of moisture. IPX5 indicates that the device is splash-resistant. IPX6 indicates that it's resistant to streams of water, such as a shower. An IPX7-rated battery pack can withstand total submersion.
How to best use a solar-powered power bank?
In order to get the most out of your solar portable charger, make sure to follow these simple tips and tricks:
As much as possible point them toward the sun throughout the day
Do not charge them behind windows, as this will drastically reduce the efficiency of the solar cells
Don't charge them during cloudy days, or in shadowed places. Solar power is the most efficient in direct sunlight.
Don't place the devices on hot surfaces (sand, tarmac, concrete, etc). This can both reduce charging efficiency and also harm the circuitry due to overheating
Do not submerge the devices, even if they're water-resistant
This wraps up our curated list of the best solar power banks. In our opinion, these are some of the best options in the market today. However, as new products are being released, we will make sure to update the list and include the latest and best possible options. So, if you'll revisit the page at a later time you might find other suggestions. And last but not least, if you believe a certain product is good enough to be included in our list, please get in touch with us and let us know.