ROMOSS SENSE8P+ at a glance

Key specs
Capacity
30000 mAh
111 Wh
Dimensions (LxWxH)
6.6 x 3.1 x 1.3 in
16.76 x 7.87 x 3.30 cm

Charging technology

PBE metrics
Affordability
mAh/$
Average
300.48 mAh/$
Portability
44.71 mAh/g
1265.82 mAh/oz

Ports

Output: 5V/2.1A

Output: 5V=3A, 9V=2A, 12V=1. 5A (QC)

Input: 5V=2A, 9V=2A
Output: 5V=3A, 9V=2A, 12V=1. 5A (QC)

Input: 5V=2A, 9V=2A

Input: 5V/2.1A

Flight status
Between 101 Wh and 160 Wh
Status: Special Permit
The power bank is between 101 and 160 Wh. You will need a special airline permit in order to bring it on board. Read more about it here.

Other features
Or buy on Sears.com or on Ebay.com

Charging capacity calculator
Use the search bar below and find out exactly how many times can the ROMOSS SENSE8P+ charge your smartphone battery

ROMOSS Power Bank SENSE8P+ Review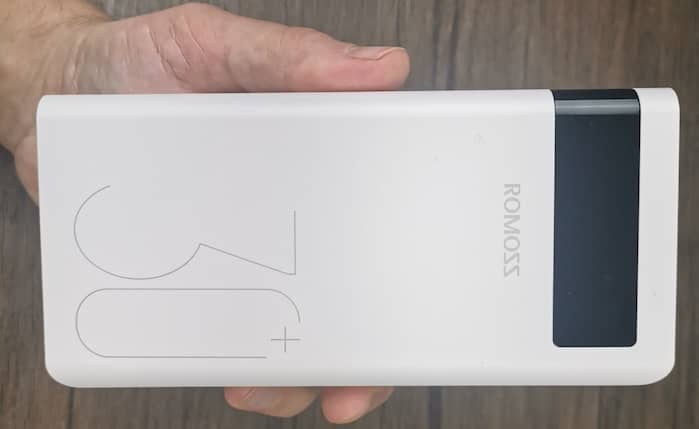 The SENSE8P+ is a powerful, 30000mAh power bank that's produced by ROMOSS, a direct-to-consumer manufacturer whose products aren't available in retail stores. They sell solely through online outlets. This ROMOSS power bank is the largest device in a series of different capacities ranging from 10000mAh to 30000mAh.
Unboxing video
Charging Technology
The ROMOSS SENSE8P+ comes with five different ports. For input, it features a Micro USB port and a USB Type-C port that also can be charged using a Lightning cable. For output, it features two USB 3.0 ports, as well as another Type-C port. The Type-C port and one of the USB 3.0 ports support quick charging, which allows for rapid charging.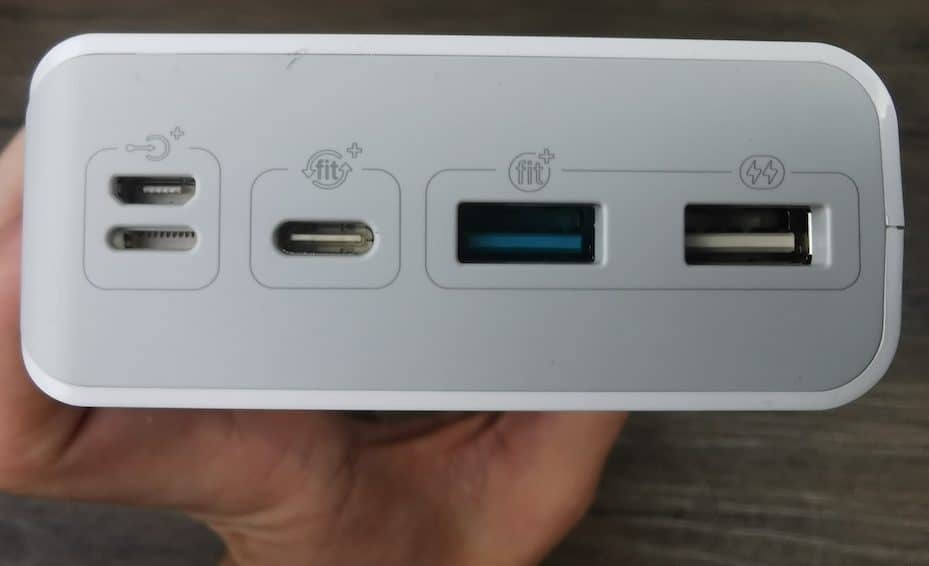 The input ports can accept up to 5V/2A (USB-C), 9V/5A (Micro USB), or 5V/2.1A(Lightning). While the output ports are able to provide between a range of 5V/2.1A to 5V/3A. The 5V/3A value is achievable only using the fast charging option.

If you recharge it via the USB Type-C, the SENSE8P+ will fully charge in about 11 hours. In our opinion, this charging time is rather slow, although the power bank has a massive capacity. It can charge at a maximum speed of 18W, which is lower than what other power banks are capable of doing.
On the other hand, if you charge it via Micro USB or lightning, it will take a whopping 21 hours to charge. As a result, you'll be far better off using the Type-C connection when possible.
The SENSE8P+ can charge up to 3 devices simultaneously. All 3 charging ports will operate at full speed, even with multiple devices connected. It carries enough charge to recharge an iPhone X 7.5 times, or a Samsung Galaxy S10 about 7 times. You can even fully recharge a Nintendo Switch 4 times. With the quick-charge port, you'll even be able to recharge a Nintendo Switch while playing. You can even charge a laptop, such as a MacBook Pro, to which the SENSE8P+ will fully charge up to 5 times.
This power bank also supports pass-through charging. In other words, you can charge a device at the same time as you're charging the SENSE8P+. Keep in mind, though, that if one of your devices takes USB Type-C, you'll have to charge the power bank via Micro USB or lightning. In other words, the power bank will drain during this process, albeit slower than it would if you didn't have it plugged in.
One shortcoming is the fact that it doesn't accept trickle charging. This means that if you were to connect low-power devices to it, such as a fitness bracelet, for example, the power bank would automatically shut down after a short while.
Portability
This ROMOSS power bank measures 6.6 inches in length, 3.1 in width, and 1.3 inches in thickness. As a result, it's fairly beefy, about the size of 3 large smartphones in cases, stacked on top of each other. It weighs 1.48 pounds, which is a bit hefty for its size. Even if you can fit it in your pocket, you'll feel the weight. That said, it's not too big to carry in a laptop bag or backpack. In these scenarios, you can carry it very easily.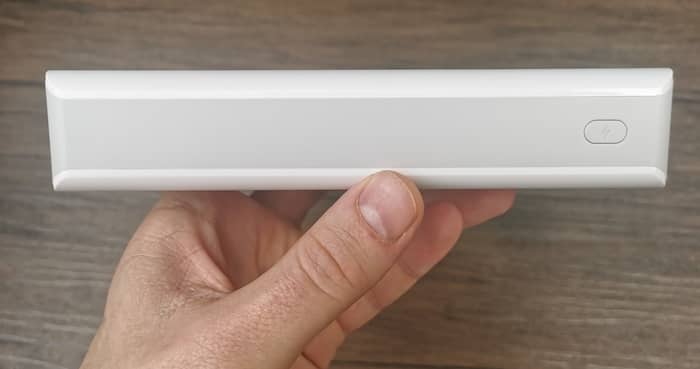 But the biggest limitation it has in terms of portability is the fact that you won't be able to take the SENSE8P+ on an airplane without special approval from the airline. It has a capacity of 111-watt hours, which is 11 more than TSA regulations allow for. All batteries between 100Wh and 160Wh need to get a permit before the flight.
Look and Feel
The SENSE8P+ is constructed from ABS plastic, with white panels on the front, back, and one of the long sides. The short sides are grey, as is the remaining long side. It has an internal aluminum frame, which assures that it won't get easily damaged like some power banks. It has a satin finish, which means it's relatively scuff proof, but it won't shine too much. On the front, there's a grey ROMOSS logo, along with the inscription "30+".
There's also an LCD screen that indicates the overall charge level in percentages. The numbers on the screen are not very bright, but you can still easily tell the charge amount on the battery.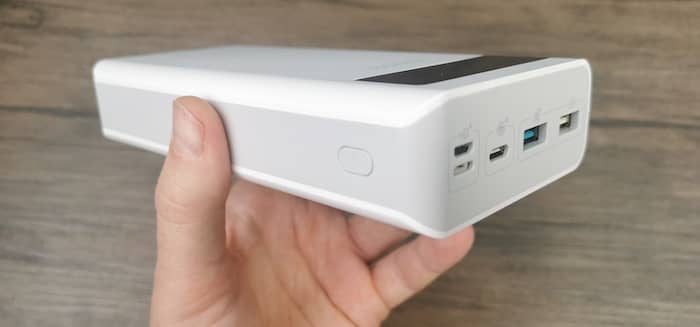 On one side, there's a small teal power button that allows you to turn the power bank on and off. The power ports are all located on the short edge of the unit, so you can easily connect multiple devices without your wires getting tangled. You can even leave it in the side pocket of your laptop bag while you're charging your devices.
Durability and Build Quality
The SENSE8P+ is fairly well-constructed for an ABS plastic power bank. It doesn't carry any type of shock or drop-resistance ratings. However, it seems fairly sturdy, and we haven't seen any reports of one getting damaged by a drop. More concerning is the fact that it's not water-resistant, and carries no IP rating of any kind. As a result, it's not well-suited for camping or backpacking, where it will invariably get wet. That said, it does come with a 12-month manufacturer's warranty, so you should be covered for any serious failures.
ROMOSS has not provided any cycle ratings, which means we can't be certain of how many times you can charge and discharge the SENSE8P+ before it starts to lose power. Once again, though, we haven't seen any reports or complaints about it failing prematurely. And if you do use it very heavily, you're covered by the 12-month warranty.
It runs cool, without any overheating issues. It also carries a full array of protection. These protective ratings include overcharge protection, overcurrent protection, voltage surge protection, power surge protection, and short-circuit protection. It also features temperature protection, so if it does happen to get hot, it will automatically turn off.

Pros
Supports quick-charge technology
Can charge 3 devices at once
Can charge laptops as well as phones and tablets

Cons
Not approved for air travel
Final Thoughts
The ROMOSS SENSE8P+ is an exceptionally powerful power bank, especially for its size. It's a great choice if you need to charge multiple devices at the same time, especially devices with large batteries. You can use the USB 2.0 port to charge your laptop, while continuously keeping the SENSE8P+ topped off via USB Type-C. That said, it's not for everybody. The huge capacity makes it rather bulky and heavy, and the 111 watt-hour rating makes it a non-starter for frequent flyers.
Or buy on Sears.com or on Ebay.com
You might also be interested in these similar power banks:
Crave PowerPack 2 50000mAh
The Crave PowerPack 50000mAh is a massive power bank that can keep you charged for days at a time. It can even charge laptops.
Read More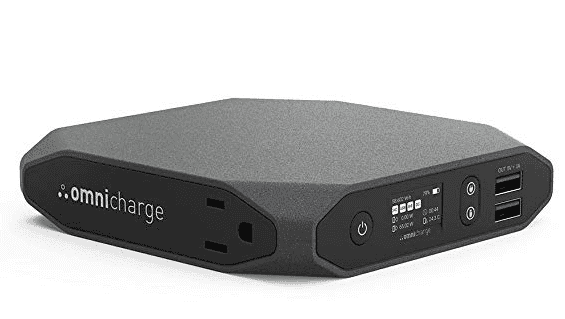 Omnicharge 20+ Power Bank Bundle
The Omni 20+ Bundle AC/DC/USB-C Power Bank is a top-class portable charger. Robust and with a 20000mAh capacity, it charges multiple types of devices in one go.
Read More
Goal Zero Sherpa 100PD With Qi Wireless Charging
The Goal Zero Sherpa 100PD is a rugged power bank that also comes with Qi wireless charging. With a hefty capacity of 25600mAh, it can keep you powered up for days.
Read More