Zendure Supermini at a glance

Key specs
Capacity
10000 mAh
36.4 Wh
Dimensions (LxWxH)
3.1 x 2.2 x 1 in
7.87 x 5.59 x 2.54 cm

Charging technology

PBE metrics
Affordability
mAh/$
Average
300.48 mAh/$
Portability
56.18 mAh/g
1587.30 mAh/oz

Ports

Output: 5V/3A.9V/2A. 12V/1.5A, 18W Max

Input: 5V/3A, 9V/2A, 12V/15A, 18W Max; (PD)
Output: 5V/3A, 9V/2A, 12V/15A, 18W Max; (PD)

Flight status
Status: Safe
The power bank is safe to take on board. It's under the specified TSA limit of 100 Wh. Read more about taking power banks on planes.

Other features
Or buy on GeekBuying.com or on Zendure.com

Charging capacity calculator
Use the search bar below and find out exactly how many times can the Zendure Supermini 10000mAh charge your smartphone battery

The Zendure Supermini USB C Portable Charger Review
The Zendure Supermini 10000mAh USB C portable charger is compatible with a range of devices and has enough power to recharge the average smartphone up to three times with one single charge. Its generous 10000mAh capacity is very practical, but what makes this power bank a must-have, is the USB C port with PD that can charge your devices in no time.
Unboxing video
Charging Technology
The Zendure Supermini 10000mAh uses a USB Type C port to charge many different types of devices and smartphones, including iPhone, Samsung, Sony Xperia, LG, and more. The power bank is also powerful enough to charge a 2018 iPad Pro 11, Surface Go, and Nintendo Switch. Rated at a maximum power of 18 Wh, it's more powerful than other power banks we've reviewed, such as the Clutch 2300mAh. However, we don't recommend charging your MacBook or laptop with it.
The device is designed with one port, which eliminates simultaneous charging. Although this isn't an inconvenience if you only plan on charging your smartphone on the go, rather than sharing it with others on the go. Plus, one port reduces the power bank's size and adds to its simplicity.
Thanks to its 10000mAh capacity, the Zensure Supermini portable charger can charge an iPhone X 2.8 times, a Samsung S9 2.5 times, an iPad Pro 0.8 times, and a Surface Go once. These numbers make it a suitable power bank for times when you don't have access to a wall charger.
When the device runs low on battery, connect it to the cord via the USB-C PD port for rapid three-hour recharge. This is a standout feature of this power bank and massively outperforms other devices.
Equipped with X-Charge Mode, the Zendure Power Bank transitions to a low-power charging mode to support boosting low-power devices, such as smartwatches, wireless earbuds, and more. Simply double-press the device again to return to its full charging capabilities.
Portability
The Zendure Supermini 10000mAh USB C portable charger measures 3.1 x 2.2 x 1 inch, making it around half the length of the Novoo Explorer 10000mAh Waterproof Power Bank. With a weight of 6.32 ounces, it remains lightweight, though not the most lightweight device on the market. Given its small length, you may expect it to be lighter, though it's thickness and durable structure contribute to this weight.
The device is compared to the size of a credit card, though its thickness compares to around four iPhone 8's put together. As such, it might be slightly too inconvenient to store in your pocket. However, with these measurements, you could easily store it in your purse and connect it to your smartphone to charge your device on the go. This feature makes the Zendure ideal for train commutes, festival-goers, or hikers.
Rated 36.4Wh, you'll have no issues transporting this device on a plane. Plus, with its incredible power, it's great for long-haul flights so you can keep your iPhone fully charged in the air.
Look and Feel
The Zendure Supermini 10000mAh USB C portable charger is available in a striking blue ombre color, which is a refreshing change from the dark grey or black portable chargers we're all used to seeing. This might be off-putting to those in a professional setting searching for a discrete charger, though it's an exciting design for creative individuals or youngsters. Plus, you're less likely to lose it!
Although we couldn't locate the exact materials used in its construction, we conjured some positive reviews about its durability and extensive lifespan. Even when dropped from a great height, the power bank seizes to stop working and remains intact.
Its shiny exterior may require some maintenance to prevent it from looking outdated or rustic. For some, this might not be ideal, and we can imagine that dirt and debris will get caught in the textured panels on the front. Plus, with such a striking color, any sign of dirt or fingerprints will show up clearly. You can avoid this by purchasing a case.
We're impressed to see status lights at the front of the power bank, which allows you to activate the X-Charge Mode or switch to a low-power charge. We've seen more advanced status lights that have more than four stages and even present an LED screen with the percentage of charge remaining. Though, after a few uses, you'll grow accustomed to the time limit for each light.
The power button is located on the front and blends into its design for a subtle, which prevents a bulky button from impacting its overall aesthetic. The brand's name is showcased on the lower front in contrasting white.
Durability and Build Quality
When researching this power bank, we were disappointed to not discover any safety features, such as overheating prevention. While we appreciate this high-powered charger is small and vibrant, safety features are critical for peace of mind — especially when smartphones aren't cheap to fix. However, your purchase includes a two-year warranty should the device become broken during use.
When scouring through customer feedback, we were pleased to discover it's durable and many haven't had issues with the battery quickly deteriorating.

Pros

Cons
More expensive than the average 10000mAh power bank
1-Year Review Update
We have been actively using the product for over 1 year. It has proven to be a worthy power bank that is there when you need it and it can be counted upon to charge a smartphone about two times. In terms of performance, there weren't any issues with it and it always performed as expected. The only drawback is that the paint is easily scratchable. This means wear-and-tear marks will easily show up if you don't take good care of it. You could prevent this from happening by using a power bank travel pouch for example. Have a look at the 1-year report video to find out more details:
Final Thoughts
The Zendure Supermini 10000mAh USB C portable charger might lack some of the luxury features of other portable chargers — such as a flashlight, water resistance, etc., — but its exceptional price, vibrant color, small design, and extreme power makes up for it.
It's also user-friendly and attractive. It's also long-lasting and comes with a generous warranty, making it a suitable purchase for phone addicts. Our favorite feature? It's quick recharging technology to avoid waiting around for too long.
Or buy on GeekBuying.com or on Zendure.com
Check out these other USB C portable chargers:
Zendure SuperMini 5000mAh
The ultra-portable and ultra-light Zendure SuperMini 5k will charge your phone up to 1.5 times. Ideal for daily use.
Read More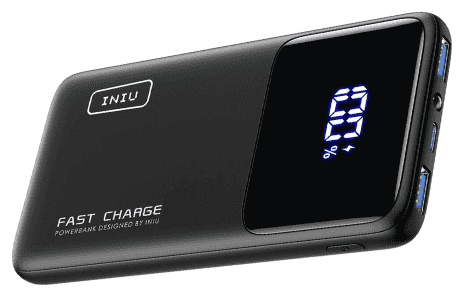 INIU BI-B6 10500mAh
The INIU BI-B6 10500mAh power bank is small, light, and packed-full of the latest charging technologies
Read More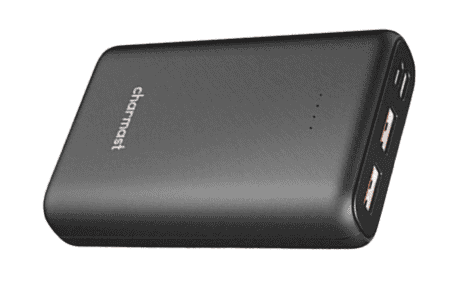 Charmast Power Bank 10400mAh
The Charmast power bank is the size of a credit card, and it features a 10400mAh capacity and 3 output ports, making it extremely powerful and highly compatible.
Read More