Crave PLUS Pro at a glance

Key specs
Dimensions (LxWxH)
7 x 3.24 x 0.72 in
17.78 x 8.23 x 1.83 cm

Charging technology

PBE metrics
Affordability
200.02 mAh/$
Average
300.48 mAh/$
Portability
40.16 mAh/g
1136.36 mAh/oz

Ports

Output: 5V/3.0A, 9V/2A, 12V/1.5A

Output: 5V/3.0A, 9V/2A, 12V/1.5A

Input: 5V/3A, 9V/2A, 12V/2A, 14.5V/1.5A, 20V/1.5A
Output: 5V-14.5V/3.0A, 20V/2.25A

Flight status
Status: Safe
The power bank is safe to take on board. It's under the specified TSA limit of 100 Wh. Read more about taking power banks on planes.

Other features
Check price on CraveDirect.com
or
Buy on Amazon.com or Ebay.com

Charging capacity calculator
Use the search bar below and find out exactly how many times can the Crave PLUS Pro charge your smartphone battery

Crave Plus PRO Portable Charger Review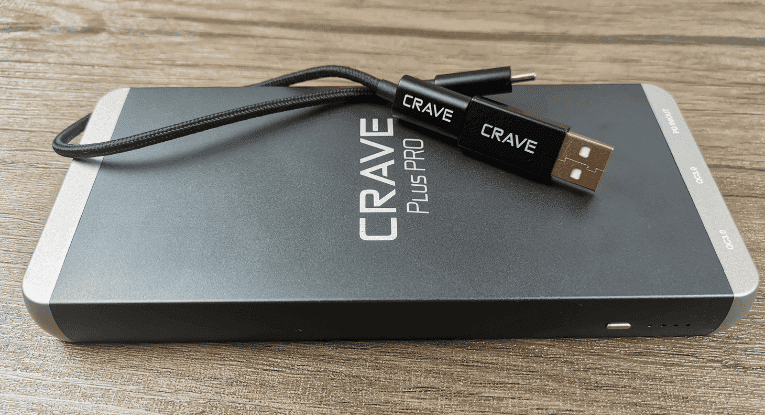 Crave may only be a few years old but in their short time since establishment, they've brought a lot of ground-breaking technology support materials to the table. Their products are American-designed and they offer a variety of things like chargers, cases, cables, and screen protectors. The Plus PRO Portable charger is one of their newest items and today we'll take an in-depth look at it!
Unboxing Video
Charging Technology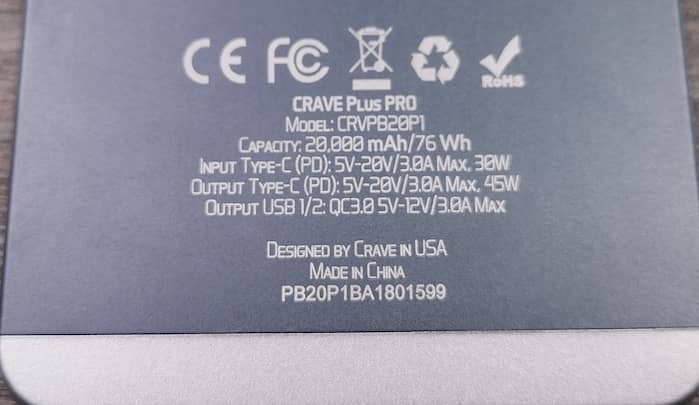 The Crave Plus PRO PD is a professional-grade charger, much like the name suggests. This device can charge up to 3 devices at the same time and charges them at lightning speed as well. The device is universally compatible with smartphones, tablets, and laptops as well. It comes with both Quick charge 3.0 and PD charging technology. It has a maximum power output of up to 60 watts.
For the size of this portable charger, the power and wattage are pretty impressive. The charging block uses flat battery cell technology, which allows it to be thinner, more compact, and yet it provides more power.
In terms of charging ports, it features an input/output USB type C port and two output USB type-A ports. It comes with a USB C to USB C charging cable but it also has a USB A adaptor too.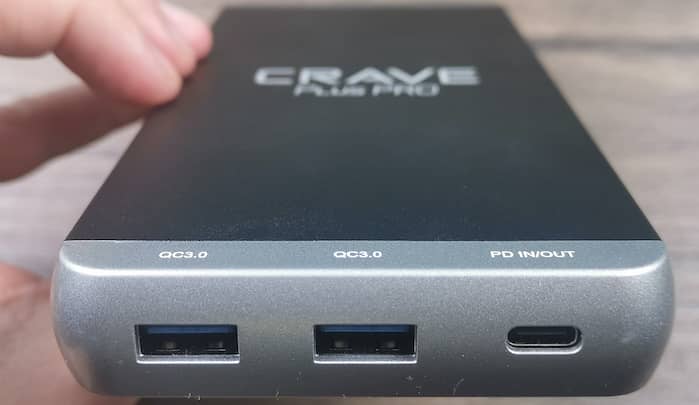 It can be fully recharged within 3-4 hours provided you use a fast-charging adaptor such as a GaN wall charger. The maximum charging speed for any single port is 30 watts.
The Crave Plus PRO has a 20000mAh capacity, which is enough to charge a regular smartphone up to 6-8 times. It's even powerful enough to handle even high-power laptops like the MacBook Pro. At the same time, you can charge devices that don't need as much power as well.
Portability
The Crave Plus PRO PD measures only 7 inches long by 3.24 inches wide, by 0.72 inches thick. These measurements show you just how small and compact the charging device is. It will fit easily into your purse or bag. It might even fit in a larger coat pocket, but definitely not in your jeans pocket. Overall it's slightly larger than the size of an average smartphone.
At 1.1 pounds it's not the lightest power bank, but considering its capacity, this is a good weight. You might not want to carry it around in your hand all day long, but you don't notice it if you take it around in your backpack.
The 76Wh battery capacity does fall within the allowable guidelines for TSA as well so you can take it on flights. It also has the capacity clearly labeled on the backside, which can be helpful in clearing security at some airports.
Look and Feel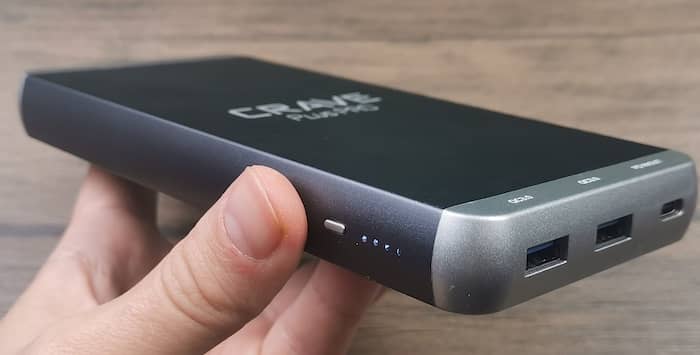 The casing of the Crave Plus PRO is made of aluminum, which gives it extra durability. It is comfortable to hold and move. It has a good grip on a sleek design. This port is classic black and gray colors. They don't stick out as an eyesore. The charging ports securely hold the cords when they are in position as well.
The ports are clearly marked so you know just where you should plugin. The power button is on the side. It's a simple shiny button, with a row of LED light indicators below it. These lights indicate charge levels so you can be aware at all times.
The overall design and the way the device works are pretty similar to most power banks. The charging ports are all on one end and then you have the power button and capacity indicators. The stand-out feature points back to the slim design and the quick charging functionality as well as the ability to charge a laptop.
Durability & Build Quality
When you take a look at the construction of the Crave Plus PRO, you see that it is made with quality materials. The aluminum is lightweight but durable and won't fall apart even if you drop it. It's sturdy enough to stand up to life.
The power bank can get slightly warm if you charge for long periods of time but not more so than similar power banks. Charging multiple devices doesn't seem to have this effect, just extended charging times. This is one of the better-constructed power delivery portals that we have seen. We love the slim factor and overall reliability.
The Crave Plus PRO is covered by a 30-day money-back guarantee so if you aren't satisfied, you get your money back!

Pros
It comes with both PD and QC charging technologies
Versatile and compatible even with high-power laptops
Slim design with aluminium casing
Perfectly portable, even through TSA

Cons
Final Thoughts
Not every power bank allows you to charge a laptop. Although it's on the heavy side it compensates with a fast recharging time and a premium build. Overall, the Crave Plus PRO is exceptional in design and quality. You can't beat the versatility and compatibility that this design offers compared to competitors on the market.
Check price on CraveDirect.com
or
Buy on Amazon.com or Ebay.com
Or check out these similar power banks: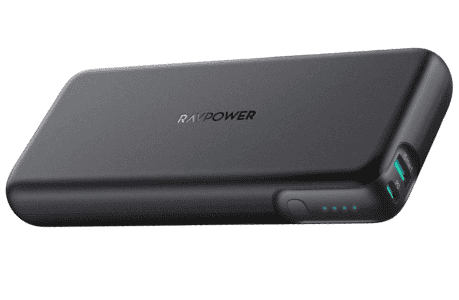 RAVPower 20000mAh PD 60W
Compact, portable, well-built, and equipped with PD and QC, the RAVPower 20000mAh is the perfect companion to charge your devices.
Read More
Goal Zero Sherpa 100PD With Qi Wireless Charging
The Goal Zero Sherpa 100PD is a rugged power bank that also comes with Qi wireless charging. With a hefty capacity of 25600mAh, it can keep you powered up for days.
Read More
AUKEY Basix Pro
The AUKEY Basix Pro is a unique power bank that besides the fact that it comes with QC 3.0, PD, and wireless charging, it also doubles as a highly practical phone stand.
Read More