Although they have their origins in the 60's hippie movement, music festivals have greatly increased in popularity just over the last decade or so. Most of them take between two to five days, usually spanning over a weekend. However, there also are week-long festivals or even longer ones.
There's a great appeal in joining a community of like-minded people for a few days and sharing intense experiences of all kinds. But even so, most people need to stay powered up during the whole festival. Either in order to take pictures and videos of their favorite events, to communicate with friends that are also attending, to use the phone flashlight at night, etc.
In order to satisfy this need, most festivals do offer power outlets either directly or via 3rd party vendors. But the downside is that you sometimes need to pay to get access to power. And if they are free, there's usually a big queue, so charging a phone might take hours. In some cases, these charging facilities might not even work at all! So it's best not to rely on the festival's power supply and bring your own.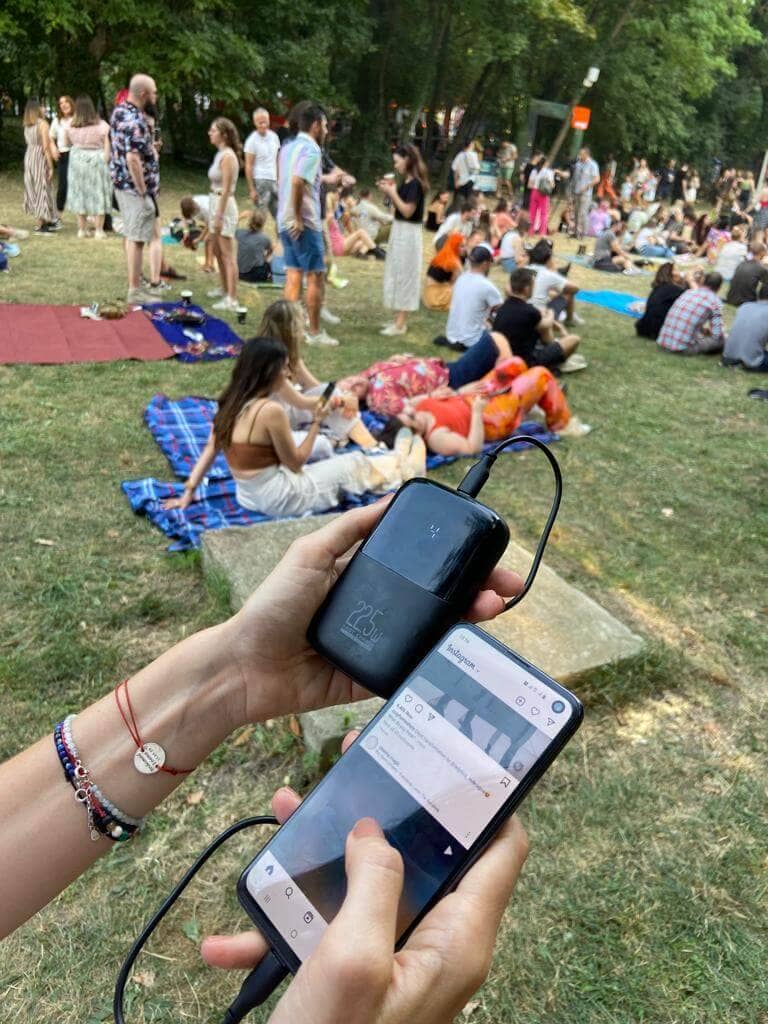 In the end, packing your own power bank will save you a lot of potential headaches and will increase your freedom within the festival grounds. But with so many portable charger options out there, which one to buy?
There are some good all-rounders out there, but depending on your personal needs, you might want to look for specific characteristics. For example, some festivals might get a lot of rain, case in which you'd want a waterproof power bank. While others such as Burning Man can be in the middle of the desert in arid and dusty conditions, where a solar-powered portable charger can come in very handy.
In this article, we made an effort to single out the best options according to the most common festival needs. Most people attend music festivals in groups, so we've also included a selection of phone chargers with multiple devices to charge your friend's phone, too.
Why You Can Trust This Review
Here at Power Bank Expert, we spend most of our time analyzing power banks. That's what we do. We're up to date with all the latest models and we know which brands produce quality stuff and which ones are likely to rip you off.
We've spent countless hours of research and looked into the tiniest details of most of the power banks you'll find on our site. A good chunk of which, we've personally used and tested in our day-to-day life. We even tested them at music festivals as you can see in some of the images within the article.
Based on this experience, we're providing the best advice we can in order for you to make the best possible choice when it comes to choosing a suitable power bank. After all, that's the purpose of our site 🙂
How We Made Our Picks
Music festivals and festival-goers have their own particularities, so not every power bank is suited for such an event. This is why we made sure that all the power banks we picked had some key features. Here they are:
Weight
Nobody in their right mind will want to carry around a heavy brick during a festival. This is why we prioritized power banks that are very light.
Size
The size of the power bank is closely related to its weight. The smaller the size, the better. You'd want to get a power bank that you can easily fit in a pocket or maybe a fanny-pack. Something you don't even want to know it's on you until you actually need it.
Capacity
Although not as important as size and weight, capacity is another vital feature. After all, you want to be powered up for the entire festival if possible. Obviously, the larger the capacity the more times you can charge your phone. For single-day festival stays, charging your phone 1 time over might be enough. But if you plan to stay 2 or 3 days at a festival, then you'll need a larger charger.
Price
What goes on at a festival, stays at that festival. And sometimes, what goes on there might cause you to lose stuff. That's why it's a good idea not to take very expensive things with you. So we only picked non-premium models that don't cost an arm and a leg. You can easily lose one of these power banks without taking a big hit to your budget.
The Best Portable Phone Chargers for Music Festivals
Portable chargers are a great way to continue using your smartphone, tablet, or laptop during a festival. Ideally, you'd have a high-capacity power bank with fast charging, that will allow you to quickly charge your device multiple times. But most likely, you'll need to compromise power for a lightweight design to avoid extra baggage at a festival.
Our top pick: INIU BI-B61 10000mAh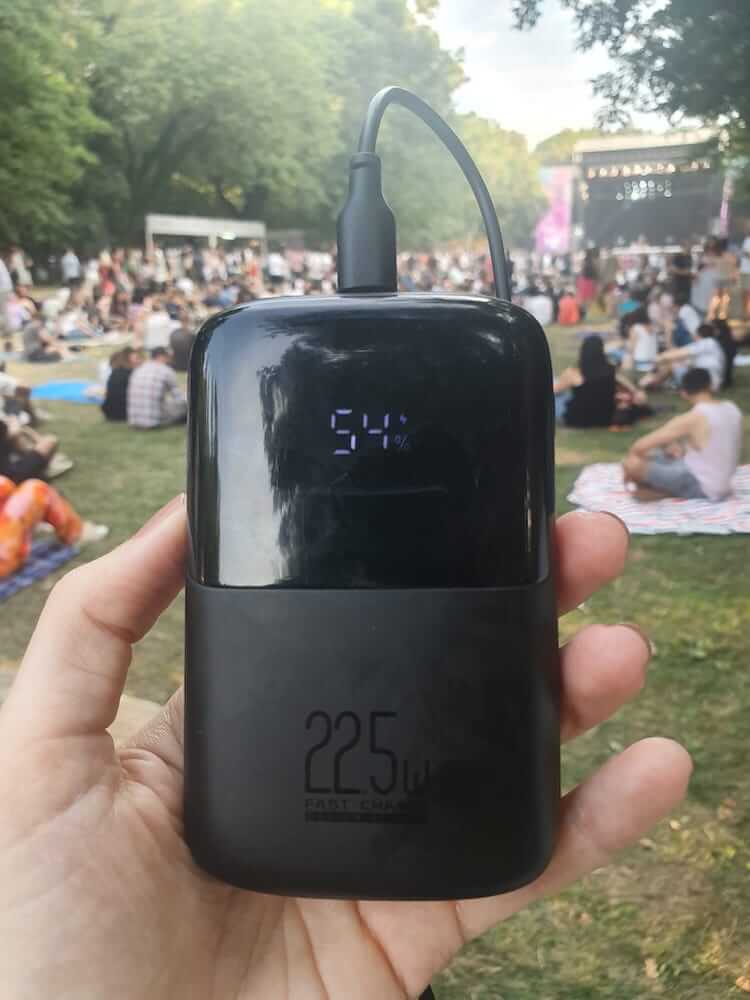 Capacity: 10000mAh
Ports: 1x USB type C; 2x USB type A
Weight: 6.9 oz / 195 g
High-speed charging (PD)
Pass-through charging
Display screen
Or buy on Ebay.com or on Ubuy.fi
We picked the INIU BI-B61 10000mAh as our top choice for power banks to take at a music festival because of two main reasons:
It has a big enough capacity. Not too small to keep you worried if you run out of juice, and not too large so that it becomes a bulky and cumbersome item to carry around with you.
It's one of the lightest and most compact power banks in its class. You'll have a hard time finding a smaller and lighter 10000mAh power bank
The 10000mAh advertised capacity (or about 7-8000mAh real capacity, see here why) is enough for 2-3 charges of an average smartphone. This should be more than enough for a single festival day, but most likely it will help you out for at least 2 days if you're not a heavy smartphone user.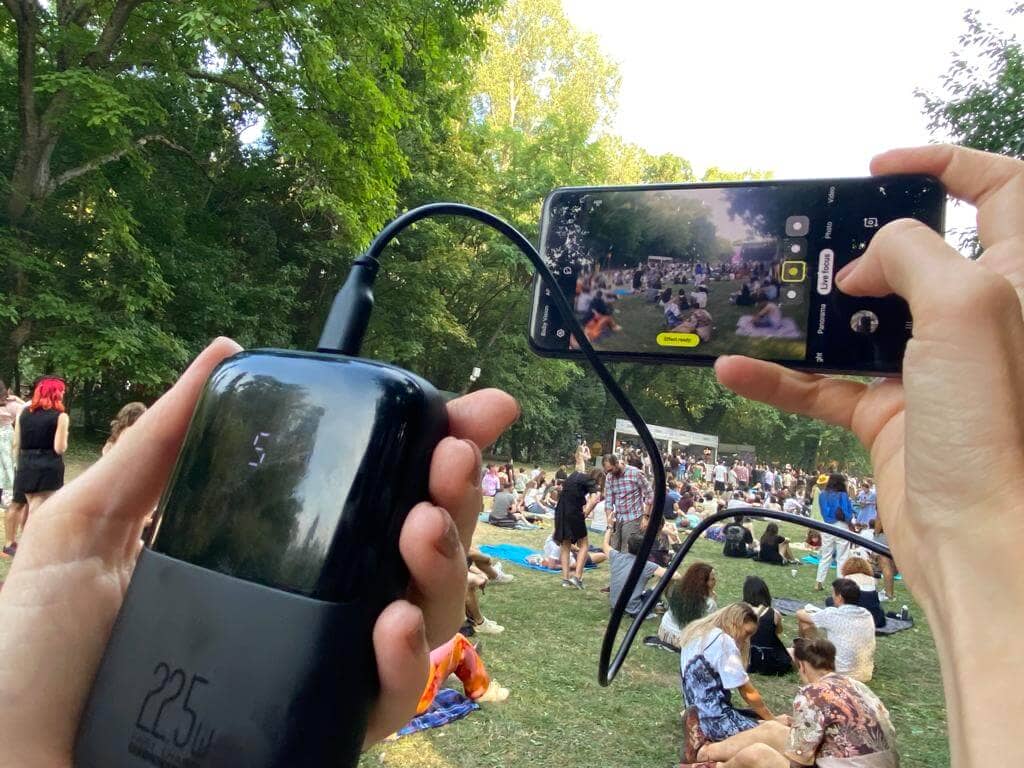 It's small enough to even carry in a pocket, not to mention a fanny pack. It's so light that you'll barely feel you have it with you, so no worries about taking it along for an entire day. And at about $24 on Amazon, you really won't feel the pain if you happen to lose it during a festival adventure.
It comes with 3 different ports, one of which is an in/out USB type C, that's PD compatible. This means that you'll be able to charge your phone quite fast. Moreover, you'll be able to charge the phones of two other friends simultaneously, if you happen to feel generous with your stored power.
Unboxing video
What we like about it
10000mAh capacity
Very light and compact for its capacity
3 charging ports that can be used simultaneously
Fast charging technology (PD)
What we dislike about it
Although 10000mAh is enough for 1-2 festival days, if you plan on staying longer, then you'll need something with more capacity
Read our full review of the INIU BI-B61
Best for Weekend Festivals: INIU BI-B5 20000mAh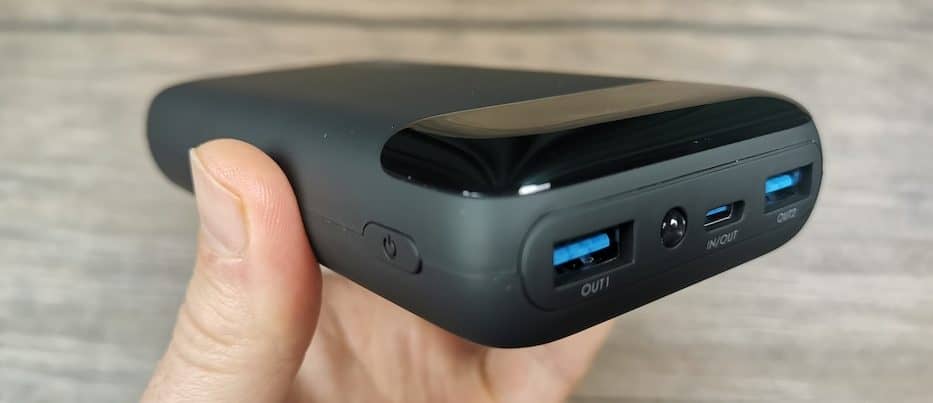 Capacity: 20000mAh
Ports: 1x USB type C; 2x USB type A
Weight: 12.8 oz / 362 g
High-speed charging (PD)
Pass-through charging
Built-in flashlight
Or buy on Iniu.com or on Ebay.com
If you're planning to attend a music festival over the weekend, then a simple 5000mAh or even 10000mAh power bank will most likely not be enough. In order to make sure you won't run out of juice, you need something more capable. This is where the INIU BI-B5 comes in. With its 20000mAh capacity, you will be able to top up your phone up to 4-5 times.
It features 3 different charging ports: one in/out USB type C and two output USB type A ports. The USB type C is also PD-compatible which means that you'll be able to fast charge your phone. What's also cool about it is the fact that you can charge up to 3 different devices simultaneously. Your friends will love you for this, trust us.
Another cool feature that the INIU BI-B5 rocks is the built-in flashlight. It may sound trivial, however, we all know that a flashlight is indispensable during festival nights. Instead of wasting your phone's battery to light up your path, you can do so with this portable charger. Given that the flashlight is LED-based, it will consume much less power than your phone would. If you were to use the INIU BI-B5, just for its flashlight, you'd have enough power to run it for weeks at a time.
It may seem that it's all fun and rainbows, but the INIU BI-B5 does have a drawback: it's rather heavy. Due to its large capacity, this power bank also packs some extra cells that add up to the overall weight and size. This is not the type of power bank you could carry in a pocket as you go from stage to stage. Instead, this is a device you need to carry in a fanny pack, purse, or backpack. Or, if you'll be camping at the festival, you can just leave it in your tent and come back to top up your phone whenever you run out of juice.
Unboxing video
What we like about it
High Capacity
It can last for 2-3 festival days
Built-in flashlight
It can charge 3 phones at once
Fast charging technology (PD)
Read our full review of the INIU BI-B5 20000mAh
Conclusion
Music festivals are all about fun and enjoying your time there. The last thing you want to do is have your mood ruined by a dead phone, not being able to take photos, videos, or to get in touch with your friends. That's why a good power bank can be a much-needed lifeline. In this article, we strove to showcase some of the best power banks that you could have along with you at a festival. If you agree or have some other suggestions, please let us know in the comments.