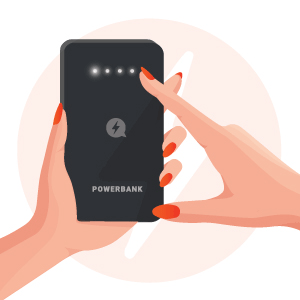 With a multitude of portable charger brands on the market, there is heavy competition between different brands to stand out. This is great news for people like you and me! It means that portable charger companies are constantly striving to outdo each other in price, quality, and quantity.
Sometimes, a few manufacturers rise above the rest. They might not do everything perfectly and certainly, no brand is without its faults, but they are true innovators and market leaders. Below is a list of the best value, best quality, best customer service-focused brands in the power bank market today.
1. Anker
Brand rating: ★★★★★
Brand website: http://www.anker.com

Anker is without a doubt the market leader in portable chargers. They offer a vast array of power banks in many forms including solar chargers and various other power-related products. There are three main things that set them apart.
Firstly, their products are built well and made to last. To keep prices low, it's important to know what sacrifices to make during manufacturing. Anker is particularly careful with the design of their products and the quality of their batteries. They are only using the best equipment to get the job done.
Second, their commitment to their customers. Anker customer service is famously understanding, forgiving, and generous. In the world of portable chargers, loads of things can go wrong. Your battery pack can be defective, wiring can be faulty, and a host of other issues. Anker offers an 18-month warranty on all (or most) of their products and they really do all they can to ensure the quality of their product is up to scratch.
They also price their items accordingly. They have some of the best value portable chargers on the market without a doubt. Buying a piece of electronic equipment in this day and age can be a difficult task. Do I go with the cheaper product and risk device failure? Or do I spend a bit more and hope that the components are of higher quality? Anker is the best of both worlds.
Anker is the Cadillac of power banks. Reliable, fairly priced and they get the job done. They are potentially the most prolific of all power bank brands and certainly one of the biggest dedicated power bank manufacturers worldwide.
Anker is a California-based company, the brainchild of some ex-Google employees. Launched in 2011, it wasn't long before they became the number 1 power bank brand on Amazon.com. Since then, as a testament to the quality of products and innovation, Anker has expanded worldwide and become a global leader in mobile charging.
I get a lot of power bank-related questions sent to powerbankexpert.com. Often when someone is looking for a product to suit a particular need, Anker's name comes up. Anker certainly isn't perfect. Don't be afraid though! For the sheer volume of products sold, Anker does an excellent job of keeping their defective product count low.
What Types of Products Does Anker Sell?
One of Anker's advantages is its research and development team. They are able to design and produce products quickly and effectively to keep up with current tech and demand. They were one of the first companies to take advantage of quick charging and developed some of its own in-house systems which are replicated by competitors today.
Although Anker has their feet firmly on the ground in power banks, they also make a wide range of power-related accessories. The Anker philosophy is to make people as mobile as possible. They do this with a huge range of smart products.
Anker seems to have dipped their toes in just about every mobile power consumer market. You will see that I have reviewed four Anker products, three power banks, and one solar charger. All four products have received an above-average score. One of them entertains one of the highest scores I have given out on the site.
Apart from obvious performance and design considerations, Anker is a big company that actually cares about its customers. Being a company based in America, many of the good business practices inherent in good US companies can be seen in the finished products.
The last thought on Anker's products is that they are always moving forward. Having a look at Anker's current portfolio means that I've already fallen behind and it's time to load up again to see how they've progressed.
Anker is a stalwart in the power bank game. They continue to improve upon and develop their technologies while keeping a close eye on the market and more importantly, their customers.
It can be a danger to diversify too quickly and produce subpar products just to keep up. Anker has avoided this and continues to be one of the most reliable brands in the game. If you want a product that performs well and that you can trust, you know where to go.
Recommended Anker Power Banks
2. RAVPower
Brand rating: ★★★★★
Brand website: https://www.ravpower.com/
RAVPower is Anker's fierce competitor in the portable charger game. Something like the RAVPower 20000mAh shows you just what they can do. Similar to Anker in some respects, RAVPower has some great products that pack a lot of punch for the price. In some cases coming in a little cheaper than comparable products, they certainly love competing on price.
While this is certainly not true for all their models, RAVPower is still finding its feet in the battery power-to-size game and could maybe do a little more to get the size of its units down. They also seem to have a slightly higher detection rate, with the occasional case of an overheating unit or faulty USB ports.
Don't let these issues hold you back, however, RAVPower also offers a lifetime warranty on almost all their products. RAVPower is still seen as one of the best portable charger brands in the market and their range of high-capacity units is capable of sending your phone or tablet some serious juice.
RAVPower's Amazon Brawl
It's not a secret that Amazon is the main marketplace for all these manufacturers and it represents the largest chunk of their overall sales. So it came as a surprise when someday all of a sudden I wasn't able to find any RAVPower product on Amazon anymore. At first, I thought it was a glitch, but it turns out that Amazon basically kicked RAVPower completely off the marketplace.
The reason for their banishment from Amazon was related to the fact that RAVPower added some review requests in the product boxes they were delivering. Reviews are a very big deal to any Amazon brand, but it's against the terms and services to proactively ask for them, especially if you reward users with either products and/or discount codes.
Although RAVPower tried to circumvent this challenge by relisting their products under new brand names, they never fully recovered from the blow. Before being canceled, RAVPower was neck to neck with Anker for the leading position in the power bank market. But right now, Anker is by far the leading company, while RAVPower has fallen from the charts almost completely.
They still make high-quality products that you can find on their brand website, or under some different names on Amazon. But this episode has stuned this company's growth in the long run.
Recommended RAVPower power banks
3. Aukey
Brand rating: ★★★★★
Brand website: http://www.aukey.com
For pure battery power and value, it's hard to go past Aukey. They have a range of slick designs and consistently test well in battery efficiency and delivery speed tests.
Almost all of their devices support at least Qualcomm Quickcharge and pound for pound, they represent some of the best quality-to-price ratio products in the game. Check out the Aukey Basix Pro for an awesome offering from them.
Aukey isn't just about power banks. Their website has an awesome range of camera lenses, outdoor audio equipment, and adapters. Like many of the cheaper options, Aukey does have its fair share of product defects and firmware issues.
Taking this into consideration, Aukey still outdoes many of the brands in the portable charger scene. We look forward to seeing some more of what they have to offer over the coming months.
Another Power Bank Behemoth, Aukey is in a league of its own. Matched in quality, range, and customer service only by some of the industry's best companies.
Aukey not only put out up-to-date, affordable power banks, but they also dabble in a variety of tech subcategories. I've been testing and using Aukey products for a long time and even their older models still hold up.
There's no doubt that Aukey is one of the bigger power bank companies around. They boast distribution in more than 20 countries and their presence on Amazon.com is hard to miss. So just what does Aukey offer in terms of product range?
Aukey certainly doesn't mind getting their feet wet in the electronics market. They have a range of lenses for smartphones, audio accessories, and even gaming keyboards and peripherals.
Where I think they really shine, however, is in their power banks. Aukey power banks always caught my eye as well-designed and generally pretty attractive products. The Aukey 10400mAh that I reviewed in April has since been eclipsed by the newer, slimmer Aukey 10000mAh.
The older 10400 still holds up and in fact, it also now supports QC 3.0. The fact that Aukey retroactively updates the capabilities of its older models as new technologies appear is one of the reasons Aukey sells so well. I loved the 10400 for its awesome value and incredibly quick charging. They certainly keep up to date with the latest technologies.
Aukey runs the full gamut with its power banks, everywhere from the lipstick-shaped USB-C 5000mAh power bank to the huge 20,000mAh which looks it like could be one of the most reliable heavy-duty power banks on the market.
Aukey is now dipping its toes into the solar power bank market and I look forward to trying them.
Certainly one of the most reliable and popular brands on the market, Aukey provides up-to-date, quality power banks. With huge production numbers comes a little bit of uncertainty that your unit is going to work as well as the next one.
Luckily Aukey has a great track record with returns and decent customer communication. Honestly, it's a pretty safe bet to buy an Aukey.
Recommended Aukey power banks
4. Jackery
Brand rating: ★★★★★
Brand website: http://www.jackery.com
What we've seen so far from Jackery, we've loved. With a unique and consistent look and impressive build qualities, Jackery is set to take over other competitors in their price range. We actually think Jackery has the best-looking and nicest-feeling portable chargers on the market.
Again they are pushing for cheaper and better value models which can lead to tactile problems with physical power buttons and such, but we've not seen enough from Jackery yet to make a final decision on this. The power banks they produce certainly fare well in terms of durability compared to their rivals.
Jackery is undoubtedly one of the market leaders in the highly competitive power bank space. Based in Silicon Valley, they have a huge range of high-quality products on offer. I've always found their products to be extremely reliable and well-constructed.
They tend to use high-quality components such as Panasonic battery cells, and circuitry from Texas Instruments. As well as high-quality components, Jackery does not scrimp on the materials they build their products from. Many of their power banks have aluminum casings. Not only is this incredibly strong and durable, but it also keeps their product's weight down.
They carry this high-quality approach through to outstanding design. They make some great-looking products, often using their brand's strong orange color scheme. Although this may not be to everyone's taste, they usually offer multiple color options. Jackery also offers 12-month warranties on all their products which is a really important point to make. Many power bank brands are not so confident in backing up their products with warranties.
Jackery has a wide range of power banks to satisfy all kinds of customers. For users who only need a little bit of power in the smallest package, then the Jackery Premium 3350mAh Portable Charger is well worth a look. Step up slightly in size and they have a number of offerings around the 6000mAh point, none finer than the Jackery Bar Pocket-sized 6000mAh Portable Charger.
The Jackery Air 6 Portable Charger packs 3000mAh into an incredibly thin body (it has to be seen to be believed). Another power bank with a unique design approach is the Jackery Bolt 6000 mAh Power Bank. It has built-in lightning and micro-USB cables (whereas most power banks just have USB output ports). Great news for all of you people with a mix of Apple and Android gadgets!
Then there is the aptly named Jackery Titan S 20100mAh Portable Charger. This bad boy is absurdly powerful and comes with Qualcomm Certified Quick Charge 2.0 Technology. It will also happily charge the new Macbook or a Nintendo Switch.
Whilst they primarily specialize in power banks, they also have a number of other high-quality electronic offerings. For instance, the Jackery Boom – Wireless Bluetooth Speaker looks like an absolute beast. Or if you ever find yourself broken down, then the Jackery 18000mAh Portable Car Jump Starter could rescue you from a tight spot. Or a more practical offering is their Jackery Crew+ 40W 6 Port USB Office Desktop Wall Charger.
An unusual product worth mentioning is the Jackery Jewel Lightning Power Cable with Built-In Compact External Portable Charger. The innovative design incorporates a super-slim battery pack into a lightning cable. They also make a number of phone cases, such as the Jackery Genesis iPhone 6 case.
And for something really cool, how about their Jackery Apollo ESS – an external storage system for storing energy from clean sources such as solar – that will self-power your home or business through peak power periods? The future is here!
Jackery is one of the best in the business. Their products utilize high-quality components and materials and outstanding designs straight from Silicon Valley. With a wide range of products, there should be a power bank to meet most consumers' needs. 12-month warranties across the board provide peace of mind when making your purchase.