AUKEY Basix Pro at a glance

Key specs
Dimensions (LxWxH)
6.26 x 2.95 x 0.79 in
15.90 x 7.49 x 2.01 cm

Charging technology

PBE metrics
Affordability
500.13 mAh/$
Average
300.48 mAh/$
Portability
55.56 mAh/g
1574.80 mAh/oz

Ports

Output: 5V/3A, 9V/2A, 12V/1.5A

Input: 5V/3A, 9V/2A
Output: 5V/3A, 9V/2A, 12V/1.5A

Flight status
Status: Safe
The power bank is safe to take on board. It's under the specified TSA limit of 100 Wh. Read more about taking power banks on planes.

Other features
Or get it on Bestbuy or on Ebay

Charging capacity calculator
Use the search bar below and find out exactly how many times can the AUKEY Basix Pro charge your smartphone battery

AUKEY Basix Pro 20000mAh Review
To any electronics enthusiast, AUKEY should require no introduction. They're not just known for their power banks; they also produce high-quality earbuds and other audio equipment. Today, we'll be reviewing the AUKEY Wireless 20000mAh portable charger with a foldable stand. As its name implies, it has a capacity of 20000mAh, but what else does it offer? Let's have a look!
Unboxing video
Charging Technology
This AUKEY power bank offers three different charging options. First off, you get a USB Type-C port, which supports Power Delivery (PD) technology. It also doubles as an input port for recharging the power bank itself. As a result, you can't charge via USB type-C while also charging the power bank.

The other two charging options are a USB Type-A output port, that supports Quick Charge 3.0 technology, and wireless Qi charging. Both the Type-A Quick Charge port and Type-C PD port will provide up to 18 Watts of power. This is sufficient for charging a new iPhone or Samsung Galaxy in about an hour. You can even charge an iPad in about 2 hours. The Qi charger maxes out at 10 Watts. However, it can also provide 5 watts of power for charging low-voltage devices like wireless earbuds.
If you want, you can use all three charging methods at once, but keep in mind that in this case, the battery might deplete faster than usual. You'll be able to charge it in about 3 ½ hours via the USB Type-C port. Keep in mind that this depends on whether or not you're using a fast wall-charger.
Overall, this is a very versatile device. There aren't many power banks on the market that come with Quick Charge 3.0, Power Delivery, and Qi Wireless Charging. All this charging technology being backed by Aukey's brand makes the Basix Pro 20000mAh a real contender.
Portability
The AUKEY Wireless 20000mAh Portable Charger is relatively compact, only 6.2 inches tall, 2.9 inches wide, and 0.7 inches thick. This is about the size of an average-sized smartphone, which makes it easily portable. You can carry it in your pocket, backpack, laptop bag, or purse without any problems. And at only 12.7 ounces in weight, you'll barely even know you're carrying it.
This power bank carries a maximum charge of 72Wh. This is well under the TSA's limit of 100 watt-hours, so you don't need a waiver to take it on a plane. As a result, it's a great choice for a travel charger.
Look and Feel
The AUKEY Wireless 20000mAh Portable Charger is constructed from a satin black ABS plastic that's easy to clean and won't show fingerprints. It sports a display screen on the side, which will keep you posted on the current battery level. The display screen will offer much more accuracy than the classic LED indicator lights, thus you'll be able to precisely tell how much charge is in the power bank at any given time.
Perhaps this charger's best feature is that it doubles as a smartphone stand. A collapsable clamp can be popped up in order to maintain it upright, and a small, padded hook supports your phone at a comfortable viewing angle. This is particularly useful for wireless charging since your phone will be supported right over the Qi charging pad. Furthermore, the kickstand is made out of strong and flexible plastic so you don't have to worry about accidentally snapping it off.
Although several power banks you can find today, such as the INIU BI-B63, to our knowledge Aukey was the first manufacturer to implement this feature in one of their products. Although quite low-tech, this is another testament to Aukey's position as one of the best innovators in the field.
Durability and Build Quality
This AUKEY charger does not carry any official rating for shock resistance. However, it feels very sturdy and should withstand everyday bumps and bangs just fine. Just don't drop it down the stairs, and you'll be fine. On the other hand, it's most certainly not waterproof. Keep it dry, or you'll run into some issues. Similarly, there's no manufacturer rating for how many cycles it will last. But we haven't seen any complaints of premature failure, and it comes with a 2-year manufacturer's warranty.
In terms of protection, you get the features you'd expect from any well-engineered modern power bank. To begin with, you get overcharge protection, so it will stop charging once your battery is full. You also get overcurrent protection, and it will automatically provide the right amount of charge for your devices. Finally, you get overheating protection. If the power bank gets too hot, internal temperature sensors will automatically shut it down to prevent damage.
The Basix Series
Aukey has produced two different Basix Pro power banks, the 20000mAh version being the larger one. In this series, there's a smaller brother that comes with a capacity of only 10000mAh. Besides the difference in capacity and size, the two power banks are very similar. One key difference is that the 10000mAh version comes with LED indicator lights instead of a capacity display screen. This is a little less accurate overall, but it should not be a deal-breaker.
So if you'd rather go for a smaller and nimbler Basix Pro. Check out the 10000mAh version on Aukey's official website.

Pros
Supports wireless charging
Supports pass-through charging
Supports Quick Charge 3.0 and PD technology
TSA-approved for air travel

Cons
The folding stand might be difficult to operate
Final Thoughts
So, should you consider the AUKEY Wireless 10000mAh Portable Charger with Foldable Stand? Unless you need to charge a laptop, the answer is an unequivocal yes. It's compact, it's portable and supports wireless charging. Not only that, but it doubles as a phone stand. What's not to like?
Or
Or get it on Bestbuy or on Ebay
Check out these similar power banks:
Goal Zero Sherpa 100PD With Qi Wireless Charging
The Goal Zero Sherpa 100PD is a rugged power bank that also comes with Qi wireless charging. With a hefty capacity of 25600mAh, it can keep you powered up for days.
Read More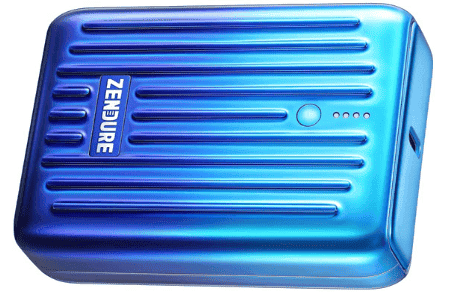 Zendure Supermini 10000mAh USB C Portable Charger
The Zendure Supermini 10000mAh USB C Portable Charger is compact and stylish. But maybe its most important feature is the fast charging USB C port with PD (Power Delivery).
Read More
Samsung Wireless Portable Charger 10000mAh
The Samsung Wireless Charger Portable Battery 10000mAh has an elegant design, and it offers two ways to fast charge your devices: wireless or via its USB port.
Read More