Anker PowerCore 5000mAh at a glance

Key specs
Capacity
5000 mAh
18.5 Wh
Dimensions (LxWxH)
4.2 x 1.3 x 1.3 in
10.67 x 3.30 x 3.30 cm

Charging technology

PBE metrics
Affordability
277.93 mAh/$
Average
357.43 mAh/$
Portability
36.76 mAh/g
1041.67 mAh/oz

Ports

Output: 5V/2A

Input: 5V/2A

Flight status
Status: Safe
The power bank is safe to take on board. It's under the specified TSA limit of 100 Wh. Read more about taking power banks on planes.

Other features
Or buy on Anker.com or on Ebay.com

Charging capacity calculator
Use the search bar below and find out exactly how many times can the Anker PowerCore 5000mAh charge your smartphone battery

Anker PowerCore 5000mAh Portable Charger Review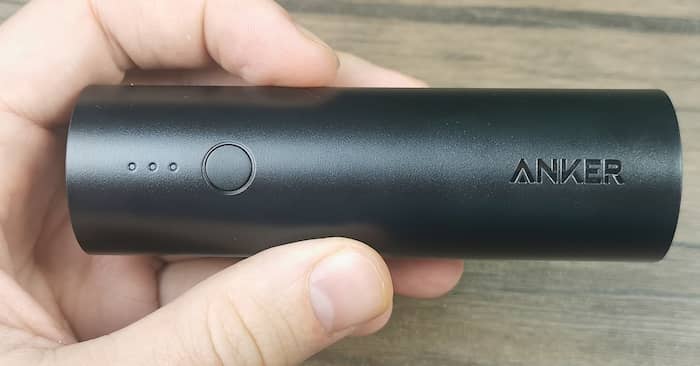 Anker has built a well-earned reputation among buyers partly because they combine portability and quality at a top price. In fact, they never cease to amaze us with every model they release to the market, and the Anker PowerCore 5000mAh is a case in point. The Anker PowerCore 5000mAh is a mini power bank, but that that doesn't mean it's not convenient — it is one of the most compact power banks from the Anker PowerCore series. So let's take a look at what makes this small power bank so special.
Unboxing video
Capacity & charging speed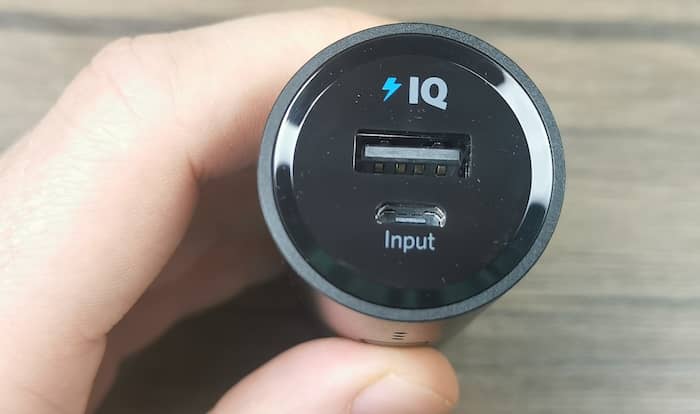 If you're expecting the Anker PowerCore 5000 to have enough power to run your devices for days, you'll feel let down. It has a single output port that can deliver 5V and 2A that charges your cellphone and tablets pretty fast but don't be deceived by its advertised capacity. In reality, it just delivers around 3350 mAh, which is roughly 66%.
However, it does deliver enough power to recharge your cell phone once or twice, depending on its respective capacity. Based on this calculation, there's nothing wrong with Anker's claims about this power bank being able to deliver 1.3 charges to the iPhone X and 1.1 charges to the Samsung Galaxy 9 before depleting.
This power bank integrates Anker's cutting edge technology PowerIQ and Voltage Boost to deliver a fast charge. The PowerIQ recognizes any device that is connected so that it can deliver a top-quality, high-speed charge, while the Voltage Boost increases the voltage to compensate for the resistance opposed by the USB cable.
When it comes to input, the Anker PowerCore 5000 can be recharged in less than 3 hours using a 2A charger, thanks to a micro USB port of 5V / 2A that speeds up the process. When charged with regular chargers of 1A or one of the USB ports of your laptops, the time is almost double, up to 6 hours.
Overall, given that the Anker PowerCore 5000 needs a daily recharge, its use is limited, so we recommend it for fast-charging your devices during a hectic day or a short trip.
Look and feel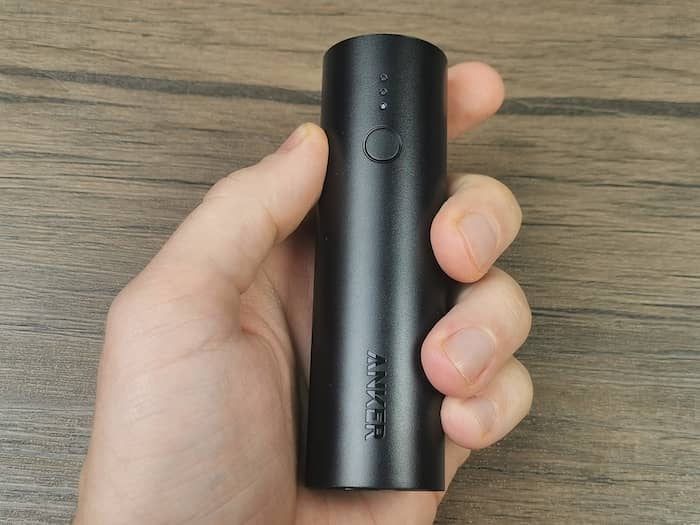 Aren't we tired of seeing how every new power bank release is basically a rehashed version of the same design? Despite not having many exciting features, the cylindrical design of the Anker PowerCore 5000 comes as a breath of fresh air.
Its smooth black matte plastic casing has an anti-slippery texture that looks elegant yet strong. As opposed to many other power banks from Anker, it comes with only 3 LED lights on the side to indicate the remaining charge, while the USB ports are placed on one side. Besides being functional, the lights also add a fashionable touch to what could have been a minimalistic finish. Below the LED lights, there is the power button, which you must press to activate them if you want to know how much charge is left in the power bank.
Durability & construction
The Anker PowerCore 5000 is solid and well-built to protect it against drops. Not that you should worry if this accidentally occurs, given that it has proven to be quite resistant to impacts during quality tests. However, don't push your luck and avoid unnecessary damage — after all, it's a power bank and should be handled carefully.
Besides, it is equipped with Anker's patented MultiSafe Protection System against voltage surges, short circuits and overheating, to guarantee the safety of your devices, and most importantly, yours.
In case of any malfunction, you will be supported by an 18- month warranty. Sadly, such does not cover fall-related damages.
Portability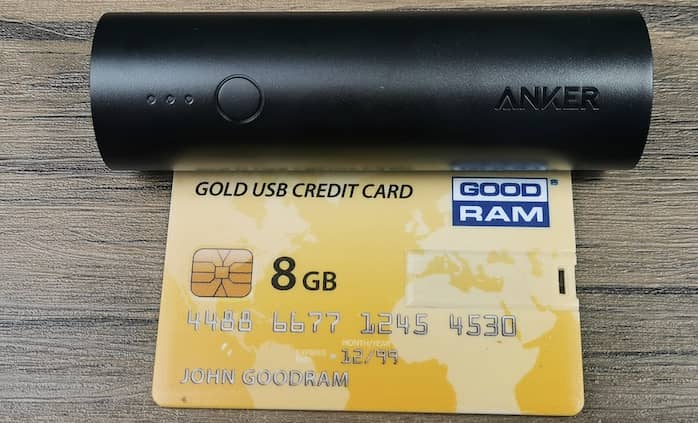 With a size of 4.2 inches long and its diameter 1.3 inches; the Anker PowerCore 5000 has the perfect size to fit in the palm of your hand. At 4.8 ounces, it is one of the lightest power banks in the PowerCore series, only behind the PowerCore+ mini 3350.
The best thing about this charger is that you can carry it anywhere, which means you can charge your cell phone while going for a walk without much trouble. In fact, you can hold your device and the power bank with one hand, just to give you an idea of how easy it is to carry it around.
One of the disadvantages of this model, however, is that despite its small size and being able to fit perfectly into your pockets, it can look bulky and feel a little bit uncomfortable inside of tight jeans and back pockets because of its cylindrical shape. However, considering its power, I highly recommend anyone to sacrifice a little bit of aesthetic over functionality and quality.
So if you're one of those people who are always in a rush and hardly ever have time to wait until their device charges completely from a power outlet, this model could be the one you've been looking for.

Pros
Compact cylindrical design
Power IQ technology for fast charging

Cons