INIU BI-B63 at a glance

Key specs
Dimensions (LxWxH)
5.85 x 2.87 x 1.34 in
14.86 x 7.29 x 3.40 cm

Charging technology

PBE metrics
Affordability
mAh/$
Average
357.43 mAh/$
Portability
52.85 mAh/g
1497.01 mAh/oz

Ports

Output: 5V/4.5A, 4.5V/5A, 9V/2A, 12V/1.5A (22.5W max)

Input: 5V/3A, 9V/3A, 12V/3A, 15V/3A, 20V/2.25A (45W max)
Output: 5V/3A, 9V/3A, 12V/3A, 15V/3A, 20V/3.25A (65W max)

Output: 5V/4.5A, 4.5V/5A, 9V/3A, 12V/2.5A (30W max)

Flight status
Status: Safe
The power bank is safe to take on board. It's under the specified TSA limit of 100 Wh. Read more about taking power banks on planes.

Other features
Or buy on iniushop.com or on ebay.com

Charging capacity calculator
Use the search bar below and find out exactly how many times can the INIU BI-B63 charge your smartphone battery

INIU BI-B63 25000mAh Review
The INIU BI-B63 power bank has a hefty capacity of 25000mAh and it incorporates cutting-edge charging technologies, ensuring that you will not have to wait long times to charge your electronics or the power bank itself. This one one of INIU's largest models in the BI series. Let's see if it has the same overall quality level.
Unboxing Video
Charging Technology
The BI-B63 sports two USB-C and one USB-A output, with one USB-C port serving as both an input and an output. The dual-function USB-C port can deliver up to 65W, while the other can support up to 30W. As a result, the INIU BI-B63 is capable of charging most laptops with medium power consumption.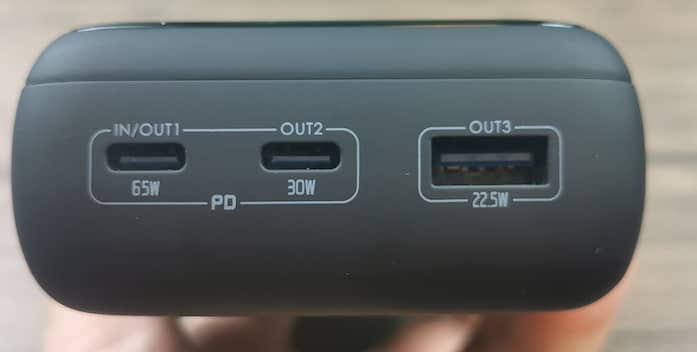 Additionally, both of these connectors support the Power Delivery 3.0 protocol for rapid charging. To elaborate, this technology enables high-speed charging with a variable voltage of up to 20V via intelligent device negotiation at a maximum current of 5A at 100W. You can charge laptops like the Apple MacBook Pro 13″, Pixelbook, and the DELL XPS 9380 in 1.5 hours thanks to the PD 3.0.
On the other hand, the other USB-C port supports a maximum output of 30W, so you won't be able to use it to charge power-hungry devices. The USB-A port is rated at 5V 3A and has a maximum output of 22.5W. Therefore, it can only be used to charge phones and tablets.
It's worth mentioning that, in contrast to most power banks, the INIU BI-B63's USB-A output is capable of charging small gadgets with low power consumption. Thus, if you own Bluetooth earphones, a smartwatch, a fitness band, or a GPS device, you'll be able to charge them with the BI-B63.
This power bank features Qualcomm's Quick Charge 4 technology in addition to PD 3.0. If your phone is compatible with this technology, you can take advantage of its rapid charging.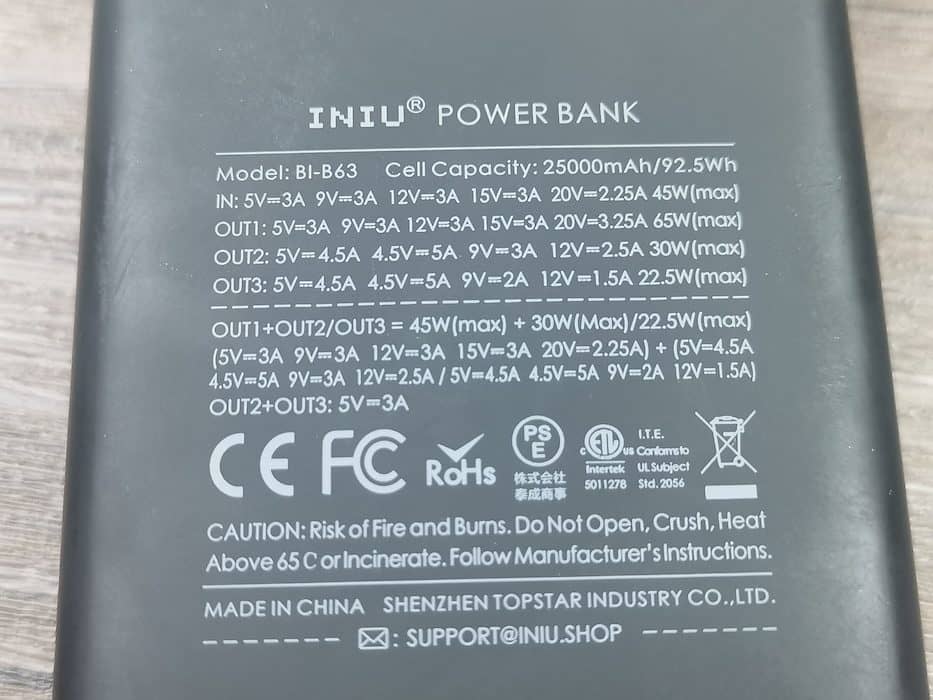 According to INIU, Quick Charge 4.0 allows you to charge the iPhone 12 up to three times faster than a standard 5W charger and the latest Samsung phones at full speed with Super Fast Charging.
This power bank allows you to charge three different devices simultaneously. Furthermore, despite its massive capacity of 25000mAh, it can be charged in three hours, which is really remarkable.
Portability
With such a large capacity, it was expected that BI-B63 would be large in size and hefty in weight. However, this power bank is unexpectedly large and weighty, measuring 5.85×2.87×1.34 inches (149x73x34mm) and weighing 16.7oz (475g).
As a result, it is not something you like carrying around in your pocket. Compared to the area of a $1 bill, the power bank is a little larger, yet it is as thick as four or five phones stacked on top of each other. Therefore, we suggest it to those who value capacity, output power, port count, charging technologies, and safe charging over portability.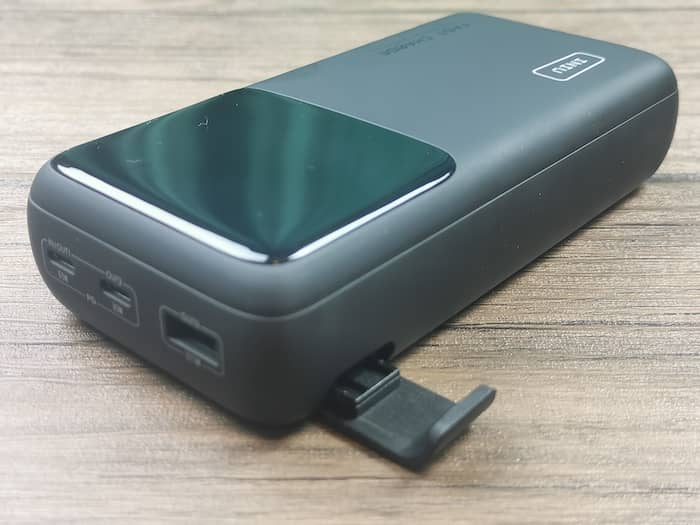 INIU has an integrated phone holder, which comes in handy while watching videos or Facetime on your phone. To use this function, just pull out the holder and place your phone on it. Regrettably, the holder lacks a rubber grip that would aid in firmly holding the phone in place.
Additionally, INIU included a travel pouch for carrying the power bank safely in case you prefer not to carry it in your pockets. Finally, the BI-B63 has a capacity of 96Wh and is TSA-approved. So, you'll be able to carry it on airplanes without restriction because it's under 100Wh.
Look and Feel
The BI-B63 features a soft, rubber-like shell. When you hold the power bank in your hand, you immediately notice its high-quality build. The matte texture on the rubber-like shell prevents fingerprints from sticking to it more frequently unless you have greasy hands. Additionally, it is less prone to scratching than a regular plastic casing.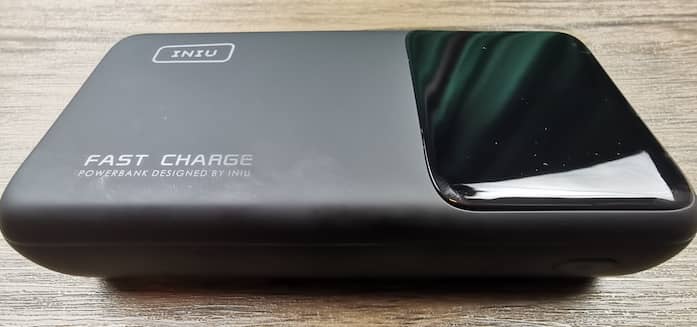 Furthermore, INIU has integrated a display at the top of the BI-B63 that shows the power bank's charge level and charging status. The display is prone to smudges, which is to be expected. Nevertheless, the matte finish and the shiny display offer the BI-B63 an exquisite appearance.
Durability & Build Quality
Due to the rubber-like shell, the BI-B63 is extremely robust and can survive minor impacts. However, you should bear in mind that if the power bank falls on the display side, it may shatter.
INIU has included a 15-layer protection system named SmartProtect to ensure the safety of the power bank and any connected devices. As a result, you won't have to worry about overheating, overcharging, or short-circuiting.
INIU has not specified the charge cycles for the BI-B63; however, in general, Lithium-Polymer power banks can be charged and discharged around 500 times. Bear in mind that you may triple this amount by charging and discharging the power banks appropriately.
Last but not least, INIU ships the BI-B63 power banks with a three-year warranty and lifelong technical support; thus, if you experience a short circuit or overheating, contact the company, and they will gladly assist you.
My Experience With the BI-B63
I use the INIU BI-B63 on and off. I usually count on it when I know I need to charge my Macbook Air. If I plug it into the 60W USB-C port, it will charge my laptop without an issue.
On the other hand, I tend to choose a different power bank if I'm traveling light. The BI-B63 is a rather heavy and bulky power bank for its capacity. I have 30000mAh power banks for example that are lighter and more compact.
One aspect that I noticed as soon as I picked the BI-B63 up, besides its weight, was the velvety feel of its outer casing. The plastic is quite porous and soft to the touch.
Although the BI-B63 can charge up to 3 devices simultaneously, I believe it could easily have had 1-3 extra output ports. Especially given its generous space. For example, its smaller brother, the BI-B6 which has only 10500mAh, also comes with 3 output ports. Not only that, but it also features a flashlight on the much narrower side.
Overall I have had a positive experience with the BI-B63, but its bulky size makes me reach for it less often than I'd like to.
What Others Say About the BI-B63
If you need a large power bank that can follow you on your travels and power everything including a laptop, the Iniu BI-B63 seems hard to fault.
Gough Lui
This would be a very good battery pack for a whole-family situation. Going on a long trip, you want to have power for the whole family. Maybe you're coming for a whole weekend…this power bank will get you through that too.
The Breakdown With Luke
It charged my Macbook Air M1 from dead to 100% in 1 hour and 40 minutes, leaving 42% in the tank.
RJMedia
Pros and Cons

Pros
Fast charging technologies (QC 4.0 and PD 3.0)
65W output (can charge laptops)
Capable of charging low-consumption gadgets

Cons
The phone holder lacks rubber grip
Final Thoughts
With a capacity of 25000mAh, the INIU BI-B63 features three outputs and supports PD 3.0 and QC 4 charging technologies. However, it is far larger and heavier than we expected. As a result, we suggest it to people who aren't concerned with size or weight and are looking for a power bank that can charge many devices simultaneusly and has a large capacity.
In addition, this power bank has a very stylish look. It is constructed of high-quality materials on both the inside and exterior of the housing, providing you with peace of mind while you are without access to wall outlets for a day or two.
Or buy on iniushop.com or on ebay.com
Check out these similar power banks: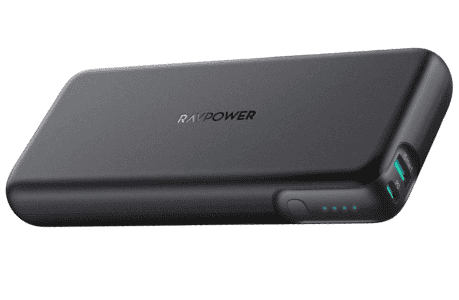 RAVPower 20000mAh PD 60W
Compact, portable, well-built, and equipped with PD and QC, the RAVPower 20000mAh is the perfect companion to charge your devices.
Read More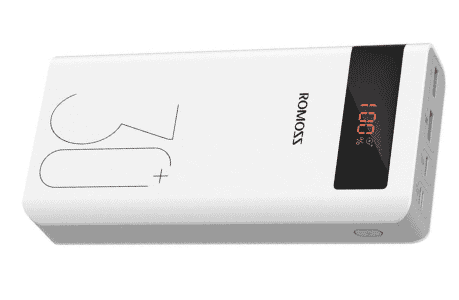 ROMOSS SENSE 8P+ Power Bank
The colossal ROMOSS SENSE8P+ Portable Charger comes with a 30000mAh capacity and many ports. It's a great solution for extending the battery life of your devices.
Read More