INIU BI-B61 at a glance

Key specs
Dimensions (LxWxH)
4.15 x 2.60 x 0.94 in
10.54 x 6.60 x 2.39 cm

Charging technology

PBE metrics
Affordability
mAh/$
Average
357.43 mAh/$
Portability
51.28 mAh/g
1449.28 mAh/oz

Ports

Output: 4.5V/5A, 5V/4.5A, 9V/2A, 12V/1.5A

Output: 4.5V/5A, 5V/4.5A, 9V/2A, 12V/1.5A

Input: 5V/3A, 9V/2.22A, 12V/1.5A
Output: 5V/3A, 9V/2.22A, 12V/1.5A

Flight status
Status: Safe
The power bank is safe to take on board. It's under the specified TSA limit of 100 Wh. Read more about taking power banks on planes.

Other features
Or buy on iniushop.com or on ebay.com

Charging capacity calculator
Use the search bar below and find out exactly how many times can the INIU BI-B61 charge your smartphone battery

INIU BI-B61 10000mAh Power Bank Review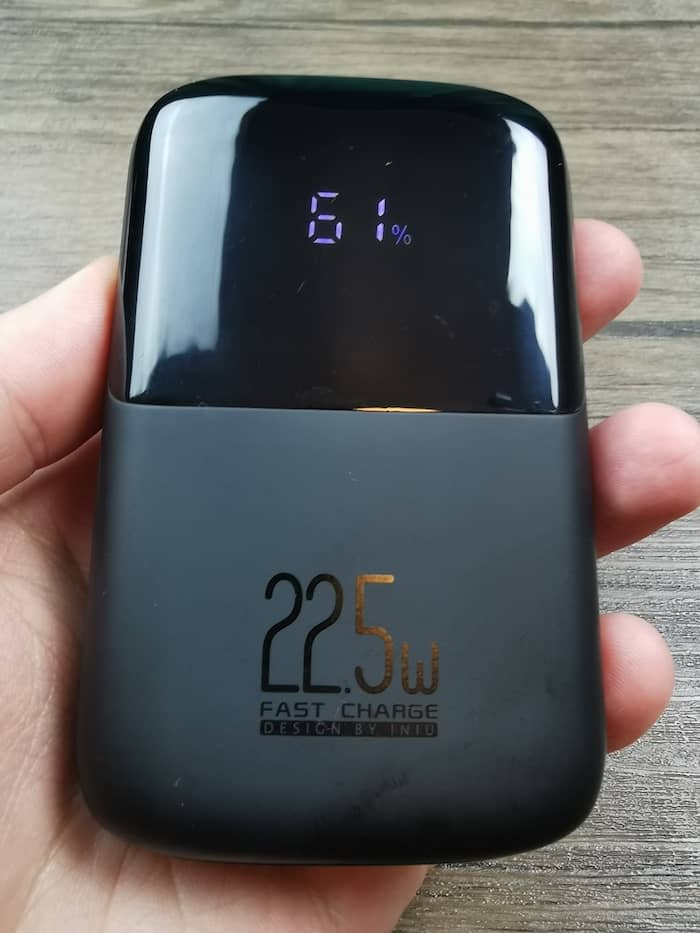 The INIU BI-B61 may have a medium-sized capacity of 10000mAh, but it's a powerful device, especially for its size and portability. That's because it features all the mainline fast charging protocols, including QC 4.0, PD 3.0, etc. That means it can charge any compatible device in the quickest manner possible.
What's even more impressive is that it only takes two hours to fully charge the unit itself, which is quite fast when compared to similar portable chargers. Of course, that depends a lot on your adapter's charging speed. The power bank also has some other very useful features.
Unboxing Video
Charging Technology
The INIU BI-B61 10000mAh power bank has three USB ports. This includes two USB-A ports and one 20W USB-C port. The bi-directional PD 3.0/PD 2.0 USB-C input/output port can charge any USB-C compatible device, including tablets, headphones, AirPods, etc.

Both USB-A ports support all the mainstream fast-charging technologies available today, which include QC 4.0+, QC 4.0, QC 3.0, QC 2.0, etc. This means that you can use just about any USB-A compatible smartphone with the power bank, and it will charge in the fastest possible manner. When you use both output ports, the power bank will deliver 22.5W of combined power.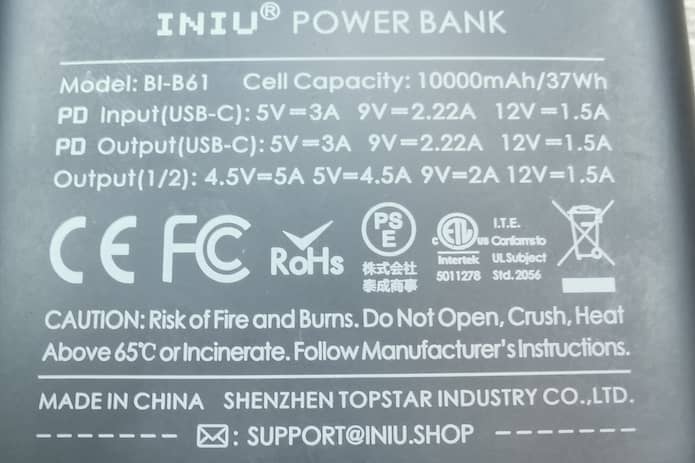 You'll also be able to charge up to three devices simultaneously, which is pretty uncommon for power banks at this capacity.
The power bank's charging time will vary, depending on the wall adapter. For example, it takes 3 hours to charge if you use a 20W fast-charging adapter. Meanwhile, it takes 6 hours through a 5V/2A conventional adapter. Lastly, it takes 10 hours to charge with a 5V/1A adapter. Since charging is automatic, you won't have any issues with the process. However, a fast-charging cable and adapter are required to use the fast-charging feature.
It's also compatible with any USB-C device that consumes very little energy. You won't need to activate a special charging mode to provide power to them either. All you need to do is connect the device, and it will automatically charge.
Portability
INIU has set the standard in terms of portable and lightweight qualities for its mid-range capacity power banks, making them as small and efficient as possible. The device measures 4.15" long, 2.60" wide, and 0.94" thick, which makes it convenient to store anywhere, including your pocket, baggage, purse, or a small compartment space. It weighs only 6.88oz, which makes it very easy to carry around.
This power bank is very safe to take on a flight with you since it only has a rating of 37Wh, far below the 100Wh limit set by the TSA.
Look and Feel
The unit's outer casing is made of a rubberized material with a black matte finish that helps to prevent scuffs or scratches from appearing on its surface. It also has a plastic LED display screen that provides an accurate reading of how much power remains. You will find the "22.5W fast charging design by INIU" text just underneath the LED screen.
Additionally, all three USB ports are located on the top in a convenient setting for easy accessibility. At the same time, each port has its own label to tell them apart from each other. Meanwhile, the power button is on the right-hand side.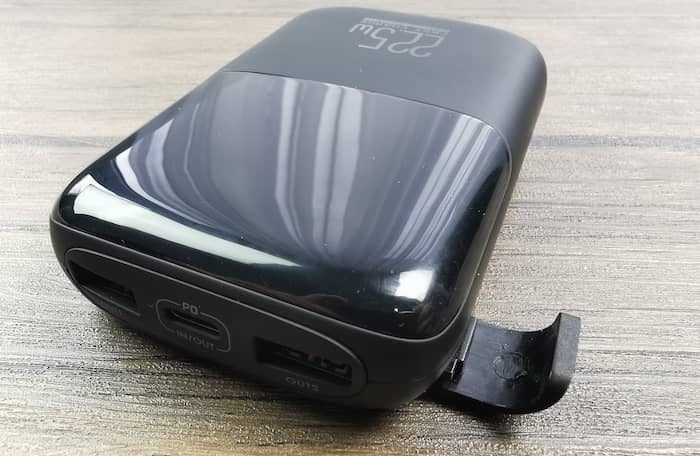 Plus, the device has an attractive design with rounded corners that help to maintain its sturdiness. That way, it can stand on its own while ensuring it doesn't slip off sloth or slippery surfaces.
One of the coolest and handiest features is the pull-out phone holder, which serves as a placeholder for your smartphone while it's charging via the portable charger. You can store your power bank in the nylon pouch that comes packaged with this product, providing protection while it's not in use.
Durability & Build Quality
There aren't any dust-proof or water-resistant ratings for this unit, so you will need to be extra cautious if you plan to use it on vacation or during a camping trip. Otherwise, wet or dusty conditions could affect the internal circuit, effectively causing damage. Other than that, it could survive a drop to the ground due to its sturdy build quality.
Although it could tend to get a bit warm while charging, the INIU BI-B61 was built and designed with safety in mind. It provides protection against over-charging, over-discharging, over-current, overvoltage, and short-circuit. If it detects a short-circuit or an overloaded output, then it will automatically turn off while charging.
Additionally, the power bank comes with a three-year warranty that covers defects or damages. You will receive a replacement or refund if something goes wrong with the portable charger. However, you will only have 30 days to get your money back after purchase.
My Experience With The BI-B61
What I love the most about the INIU BI-B61 is how unexpectedly light it is. When I picked it up for the first time, I was under the impression that I got tricked into buying just the shell. But it turned out that this is indeed a very light 10000mAh power bank.
It's lightweight and compact size, makes it very easy for me to take it along anywhere I go. Even if I don't happen to have a bag or backpack with me. This is one of those power banks you can easily carry in your pocket and not even notice it's there.
Sometimes my girlfriend also borrows the power bank from time to time just because it's so convenient. Here's a picture from a music festival that she attended: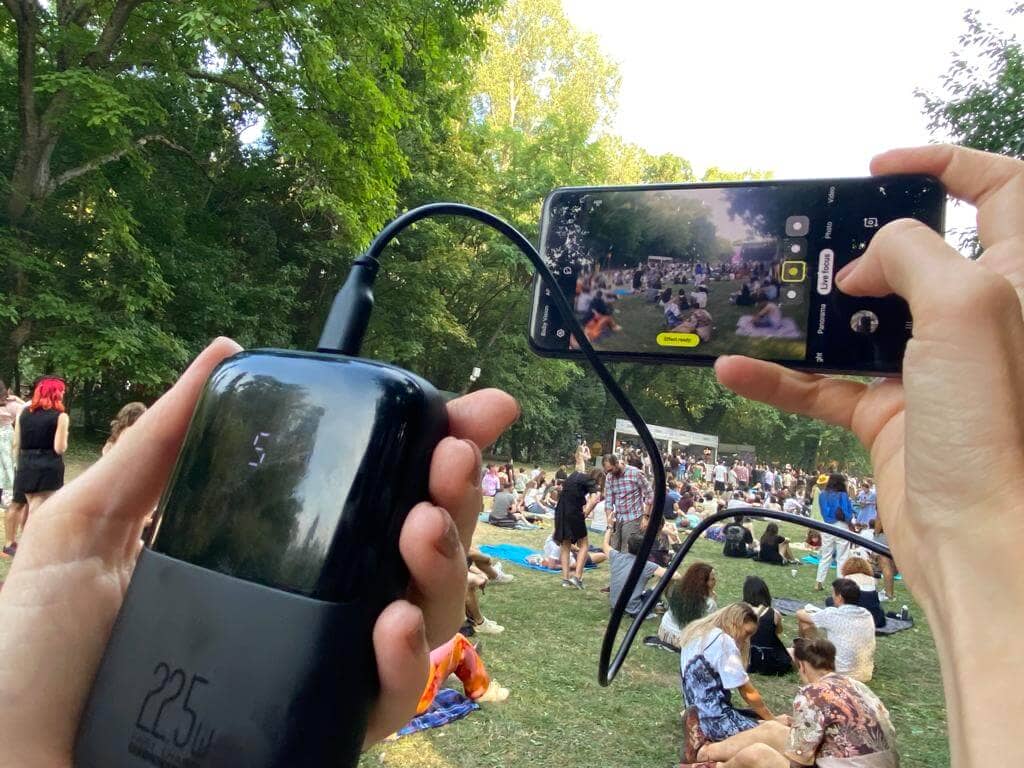 What Others Say About It
I got it for $19. That was totally worth it!
Josh
Pros/Cons

Pros
Supports multiple fast charging technologies
Features a pull-out phone holder

Cons
May warm up after extended use
Final Thoughts
Overall, the INIU BI-B61 10000mAh is incredibly sufficient and powerful for its size and capacity. Not only does it support the main fast charging technologies that we're all familiar with today, but it also has the ability to quickly charge itself, provided you use the right adapter with a high charging speed.
It even features that fancy pull-out phone holder for your convenience, which means you can use it as a placeholder for your smartphone or other devices while they're charging. This product also comes with a USB-C cable and nylon pouch to keep it protected when it's not in use.
Or buy on iniushop.com or on ebay.com
Check out these similar power banks: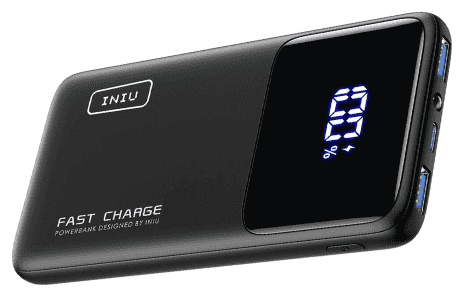 INIU BI-B6 10500mAh
The INIU BI-B6 10500mAh power bank is small, light, and packed-full of the latest charging technologies
Read More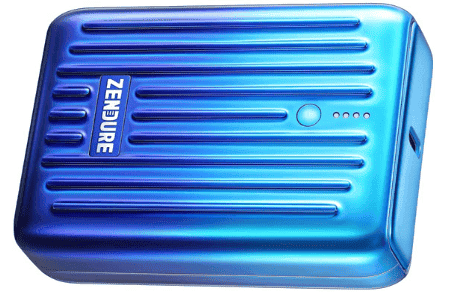 Zendure Supermini 10000mAh USB C Portable Charger
The Zendure Supermini 10000mAh USB C Portable Charger is compact and stylish. But maybe its most important feature is the fast charging USB C port with PD (Power Delivery).
Read More