Xiaomi Mi 10000mAh at a glance

Key specs
Dimensions (LxWxH)
5.1 x 2.9 x 0.5 in
12.95 x 7.37 x 1.27 cm

Charging technology

PBE metrics
Affordability
333.44 mAh/$
Average
324.40 mAh/$
Portability
41.67 mAh/g
1176.47 mAh/oz

Ports

Output: 5V/2,4A | 9V/2.0A | 12V/1.5A

Input:

Flight status
Status: Safe
The power bank is safe to take on board. It's under the specified TSA limit of 100 Wh. Read more about taking power banks on planes.

Other features

Charging capacity calculator
Use the search bar below and find out exactly how many times can the Xiaomi Mi 10000mAh charge your smartphone battery

Xiaomi 10000mAh Power Bank Review
The sleek Xiaomi 10000mAh Power Bank is pretty handy. It's compatible with devices that support both QC 2.0 and QC 3.0 technology, so you're assured it will rapidly charge your gadgets. It also features built-in safeguards to keep your power bank and other connected devices safe.
Unboxing video
Charging technology
The Xiaomi Mi 1000mAh power bank feature one USB type C and one USB type A port. Unfortunately, the USB type C port is only for charging and does not have any output feature, thus it does not support Power Delivery. Fortunately the USB type A port makes up for this, as it's a fast-charging output port that supports Quick Charge 2.0 and 3.0 and which is rated at 5V/2,4A | 9V/2.0A | 12V/1.5A
It will typically take 3.5 hours to recharge this Xiaomi power bank using a 9V/2A or 12V/1.5A adapter, standard cable. Otherwise, with a 5V/2A adapter, standard cable, it will take 5.5 hours.
The 1000mAh holds a generous capacity which is rated at 93% efficiency, which is definitely one of the highest conversion rates. For comparison, the average power bank is at around 80-85% efficiency. As such, this Mi power bank is rated at a real battery capacity of at least 7000mAh.
It can fully charge a 3000mAh Android mobile device 2.5 times, an iPhone 6 four times, an iPad mini 1.5 times, an iPhone 7 four times, an iPhone 7 three times, and a Galaxy S7 up to 2.3 times.
This unit also supports adaptive charging, intelligently adjusting up to 18W of power for connected devices. It's compatible with Qualcomm 2.0 and 3.0 devices, which can replenish standard devices up to 25% faster than the average power bank. You will need to use the correct charging cable in order for it to power your devices at the quickest possible speed. It will provide a full charge to most flagship phones in just two hours. Unfortunately, it doesn't rapid charge Pixel phones since it doesn't support Power Delivery.
Xiaomi 10000mAh power bank is compatible with the following devices:
Smartphones: iPhone 8/8 Plus/X/7/7 Plus/6/6 Plus/6S/6S Plus/5/5C/5S/4/4S, Samsung Galaxy S9/S9+/S8/S8+/S7/S7 edge/S6/S6+/S6 edge/S6 edge+/S5/S4, Google Nexus 5X/6P/Pixel/Pixel XL/Pixel 2/Pixel 2 XL, LG Tribute HD/Stylo2,3/K7/K8/Rebel/X venture/Q8, V30/V20/G6/G5/G4/G3, Sony Xperia XZ/XZ Pemium/XZ1/XZs/XA Ultra
Tablets: iPad 2/3/4/Air/Air 2/2017/Mini/2/3/4, Galaxy Note 8 and earlier, Kindle Fire HD/HDX
Other: FitBit Fitness trackers, DJJ camera drones, Bluetooth earphones, Nintendo Switch, and more.
It also supports pass-through charging, allowing you to replenish your connected device and the power bank at the same time.
Portability
The Xiaomi Mi 10000mAh Power Bank measures just 5.1" long x 2.9" wide x 0.5" thick, which is as compact as a medium-sized smartphone. With its slim design, you can carry it around very easily. It fits perfectly into your pocket and can also be put into your backpack, purse, or messenger bag. This device is also very light, weighing just 8.5 ounces, which is very convenient when you're on the move.
You won't have any issues taking this power bank aboard with you on a flight. It only has 37Wh, which falls far below the 100Wh limit stipulated by the TSA. This makes it perfectly accessible and ideal for you if you spend the majority of your time traveling to your destination by plane.
The Xiaomi Mi Pro 10000mAh Power Bank is a bit bigger and heavier than Anker's PowerCore 10000mAh Portable Charger (3.62" x 2.36" x 0.87", 6.3 ounces). If you're searching for something compact and lightweight, either of these devices could suit you perfectly.
Look and feel
The slim and sleek Xiaomi Mi Power Bank features a minimal design. Its outer casing is made entirely of anodized aluminum with a matte finish, giving it an extremely smooth surface. It also has shiny CNC rounded edges on both sides, providing a high quality and durable feel. On the front face of this unit, you'll find the Mi logo centered perfectly on the lower portion of the case. On the back, you'll see a small anti-counterfeit label with the brand's website address
On the top and bottom of the power bank, you will notice a gray plastic finish. The top panel has the input and output information. From left to right, on the bottom, you'll find the oval-shaped power check button, four LED indicator lights, a USB-C input port, and a USB-A output port.
The power check button is also quite handy. By double-pressing the button while the unit is not charging, it will go into small current discharge mode. This is a useful feature if you need to power up smaller devices, such as Bluetooth headphones and smart bands. Each of the LED lights will illuminate in sequence, which will indicate the Mi Power Bank Pro is in the small current discharge mode. To turn this feature off, all you need to do is press the power check button once.
If there is a charging error while powering up the device, all four LED lights will blink. Otherwise, it'll display the replenishing status. Four solid LED lights will indicate that it's fully charged. Three indicates 75-96%, two indicates 50-75%, one indicates 25-50%, and the first LED light will blink to indicate it's 0-25% charged. If it has no power, then all four LED lights will simply go out.
This power bank also comes packaged with a 1.3 feet white USB-A to micro-USB cable with a micro-USB to Type-C adapter attached to the end of the cord. The adapter can be used to charge a variety of mobile devices, tablets, notebooks, and much more. However, it doesn't come with a Lightning cable for the iPhone.
Durability & build quality
The Xiaomi Mi 10000mAh Power Bank is pretty sturdy and very well-built. The aluminum case is resistant to corrosion and daily wear and tear. It can survive drops and is less prone to damage. Since all the ports, LED lights, and buttons are in one place, those parts would be the safest if it were to drop on the ground.
It also has built-in safeguards to help protect the Mi Power Bank Pro and your connected devices. It helps to provide protection against Input/Output overvoltage, overheating, short-circuit, incorrect insertion, overcharge and over discharge, and output overcurrent. This device also has PTC protective circuits for the battery, which control current and maintains temperature levels. With TI chips built-in as well, you'll have a safe, efficient, and compatible charging experience.
The Mi Power Bank Pro contains a one-year manufacturer's warranty when you purchase the product. If it has a hardware defect, Xiaomi will repair the unit using new or refurbished parts or they will replace it with a new or refurbished device.

Pros
Very fast recharging time

Cons
The USB type C port is for input only
Final Thoughts
You won't be disappointed with Xiaomi's 10000mAh Power Bank. The compact design is ideal for you with its high-quality build. It has one USB-C input port and one USB-A output port that adjusts up to 18W of power for a rapid charge experience. It also comes with a USB-A to micro-USB cable and a micro-USB to Type-C adapter, allowing you to charge just about any compatible device. Overall, this is perfect if you're looking for something that will last throughout the day while you're on the move or on vacation.
Compare it with these similar 10000mAh power banks: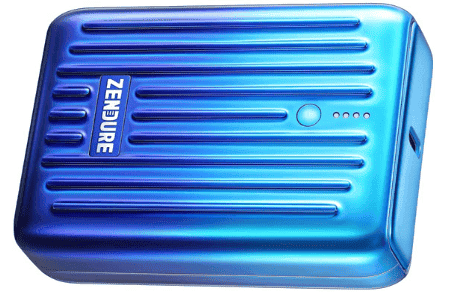 Zendure Supermini 10000mAh USB C Portable Charger
The Zendure Supermini 10000mAh USB C Portable Charger is compact and stylish. But maybe its most important feature is the fast charging USB C port with PD (Power Delivery).
Read More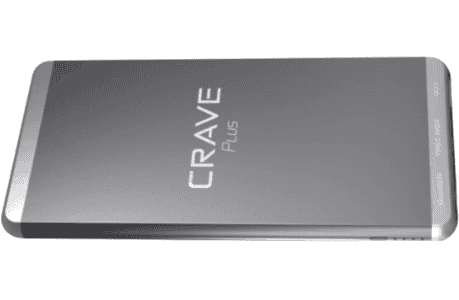 Crave Plus 10000mAh
The Crave Plus 10000mAh is a slim portable charger with QC 3.0 and also comes with an aluminum frame
Read More
Novoo Explorer 10000mAh Waterproof Power Bank
The Novoo Explorer 10000mAh Waterproof Power Bank is the perfect companion for outdoor activities and for traveling in general. It also comes with USB-C PD fast charging, which is rare in a rugged power bank such as this one.
Read More