Xcentz 5000mAh at a glance

Key specs
Dimensions (LxWxH)
4.8 x 1 x 1 in
12.19 x 2.54 x 2.54 cm

Charging technology

PBE metrics
Affordability
mAh/$
Average
324.97 mAh/$
Portability
39.37 mAh/g
1111.11 mAh/oz

Ports

Output: 5V/3A, 9V/1.67A, 12V/1.25A

Input: 5V/2.1A, 9V/1.4A, 12V/1A
Output: 5V/3A, 9V/1.67A, 12V/1.25A

Flight status
Status: Safe
The power bank is safe to take on board. It's under the specified TSA limit of 100 Wh. Read more about taking power banks on planes.

Other features

Charging capacity calculator
Use the search bar below and find out exactly how many times can the Xcentz 5000mAh charge your smartphone battery

Xcentz 5000mAh portable charger with flashlight review
The Xcentz 5000mAh Portable Power Bank can charge an iPhone 11 by 50 percent in 30 minutes. This is impressive for such a lightweight, compact design. It's equipped with dual outputs, enabling you to charge two devices simultaneously, and has all the safety features you need to keep you and your smartphones safe during use.  
Charging Technology
The Xcentz Portable Charger is suitable for a range of devices, including an iPhone, Samsung Galaxy, Google Pixel, and others. Although it's not powerful enough charge laptops. With a capacity of 5000mAh, this tiny portable charger has plenty of power to it and can fully enough an iPhone X and Samsung Galaxy S9, or charge an iPhone 8 twice.
The device is kitted with two fast charging ports: a Type-C with power delivery and a quick-charge 3.0 USB type-A port. This is actually pretty remarkable for a lipstick power bank. Almost all devices in this class, have just one output port instead of two, and they generally don't have any type of quick charging technology. Furthermore, you can also charge two devices at the same time, pretty much unheard of for similar power banks. 
Although we couldn't locate any information regarding charging this portable power bank, a device with the same amount of power, the TNTOR 5000mAh Ultra Slim Power Bank takes 3.5 hours to replenish. We'd expect the Xcentz to take even less time to charge due to the USB type C port with PD, so somewhere around 3 hours.
Portability
The Xcentz 5000mAh Portable Charger is built for portability and its dimensions confirm this. It measures 4.8 x 1 x 1 inches, enabling you to conveniently place the device in your pocket and purse when on the go. These measurements make this power bank slightly shorter than an iPhone 8, while more than double its thickness. 
From looking at the Xcentz charger, you can see its design is very compact, helping it to fit very snugly in your hand and take up minimal room in your purse. It's also lightweight — weighing 4.5 ounces — aiding to the portability and not weighing down your handbag. This is one ounce lighter than the iPhone 8.
These dimensions and weight make this portable charger one of the lightest devices we've reviewed on our website so far. When you're heading out with minimal luggage and need a lightweight, portable charger that's convenient to carry with you, the Xcentz 5000mAh makes a great choice. 
It's also under 100 Wh, making this charger suitable for air travel. 
The Xcentz Portable Charger is a family of three power banks with this version we're reviewing as the second generation. It's much more compact from the first launch, which was bulky and heavier, though the latest version, which has 18W of power as opposed to 10W, is nearly half this charger's size. 
Look and Feel
This power bank is made from premium metal aluminum, making it more luxurious-looking than hard plastic. It's a slim charger that's smooth, enabling you to hold it in your hand while charging your smartphone on the go. 
Its smooth finish also adds an elegant touch to the device. As a result, it can make a great gift for someone. Its aluminum shell makes the power bank look more expensive than it is and makes it more resistant to scratches and marks compared to plastic. 
The shiny finish accentuates its beaming blue color, adding even more luxury to the power bank. There's minimal text on the exterior, apart from the Xcentz's signature 'X' logo at the top of the charger. We love this minimalist style as it makes the charger look sophisticated and not tacky. 
On the opposite end of the charging ports, there's a flashlight that shines from 90 to 120 lumen. Having a flashlight combined with a power bank is a common feature and improves your safety and vision when you're out in the dark. Simply push the button twice to switch it on and off. 
The ergonomic design makes this portable charger easy to navigate in the dark as it's comfortable and convenient to hold. Unfortunately, it doesn't have different modes — such as SOS — which other high-end portable chargers offer. 
Next to the power button, you'll notice the 3 small LED lights that indicate the amount of charge left in the device. Each light represents 33% of actual charge so this is a great way to progress when the portable charger needs replenishing. The lights are also dull to avoid draining the charger's battery. Overall, the Xcentz 5000mAh would be one of the best portable chargers with a flashlight you could get. 
Due to its round shape, you should be cautious of keeping the charger on a table with no objects to prevent it from rolling onto the floor. Fortunately, you can stand the charger up with the flashlight on the table, so you can charge your smartphone on the other side without it rolling around on your desk.
Durability and Build Quality
As this power bank is designed from aluminum, it has increased durability. As such, you'll most likely have it for a very long time before seeing any signs of wear and tear on it. 
Unfortunately, it doesn't have a rubber lid to protect the ports from dust and debris when not in use and it's also not waterproof. 
Fortunately, this charger comes with numerous safety features. It won't overheat during use, thanks to the monitoring temperature system installed inside. The device also features advanced X3 technology to maintain a stable power flow to charge your device quickly and safely. For peace of mind, the Xcentz Charger comes with a 24-month, no-questions-asked warranty.

Pros
High charging technologies (both PD and QC)

Cons
Final Thoughts
The Xcentz 5000mAh portable charger with flashlight is a must-have if you want to get the benefit of fast charging technologies in the smallest available form. Its slender and lightweight design enables you to carry it in your pocket or purse while its aluminum exterior prevents it from scratching or scuffing alongside your essentials. With enough charge to boost the average phone around 1-2 times, it's a budget-friendly choice that you'll be grateful to have in times of need.
Compare it with these other portable chargers with a flashlight:
Yoobao 10000mAh Portable Charger
The Yoobao 10000mAh Portable Charger targets iPhone users mainly. Smart looks, aluminum construction and fast charge times are the promise of the producer.
Read More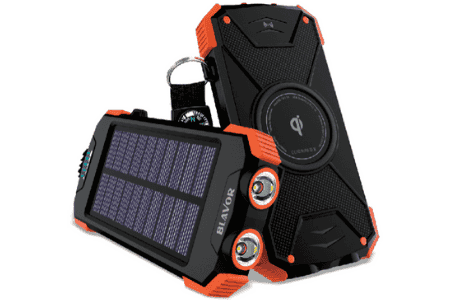 BLAVOR Qi 10000mAh Solar Portable Charger
The BLAVOR Qi solar power bank offers wireless and USB charging, and thanks to its solar panel, it's a great choice for powering devices while being outdoors.
Read More
Novoo Explorer 10000mAh Waterproof Power Bank
The Novoo Explorer 10000mAh Waterproof Power Bank is the perfect companion for outdoor activities and for traveling in general. It also comes with USB-C PD fast charging, which is rare in a rugged power bank such as this one.
Read More