Generally speaking, power banks are not known for being thin. This is because they usually are built using cylindrical batteries, such as the very versatile 18650 batteries. Because of that, they tend to be quite thick. However, some power bank models are built using flat batteries, much like those that are used in smartphones. These tend to be somewhat rare, but they are the thinnest portable chargers you can get.
So how do you find one that is best suited to your needs? To help you out, we have put together a list of some of the best options we were able to find after thorough research.
That said, let's jump to the list right away.
1. TNTOR 5000mAh Ultra Thin Power Bank
Thickness: 0.23 inches
Capacity: 5000mAh
Ports: Micro-USB, Lightning output
Smart IC chips
Recharging time: 3h
Weight: 5.3oz/115g
Or buy on Tntor.com or on Ebay.com
The TNTOR Ultra Thin Power Bank is an excellent high-capacity device that weighs only 4.1 ounces, making it extremely portable. It comes in a glossy black finish that blends in with all smartphone designs and colors.
It is equipped with a massive 5000 mAH battery that can charge your phone multiple times. In terms of connectivity, you get a single USB-A output port and an option to choose between a USB-C or a Micro USB input port for charging.
TNTOR power bank also allows fast charging with a power output of 2A that is compatible with most devices. Apart from charging your smartphone quickly, the power bank itself takes less than four hours to charge to give a full day of uninterrupted power supply.
What we liked most about this power bank is the inclusion of several safety chips that protect your device against overheating and short-circuiting. So you can charge your phone without worrying about any damage.
Pros
Ultra slim portable charger
Option for USB-C or Micro USB
Supports Fast Charging (2A)
Smart IC & short circuit protection
---
2. Crave Plus 10000mAh Slim Power Bank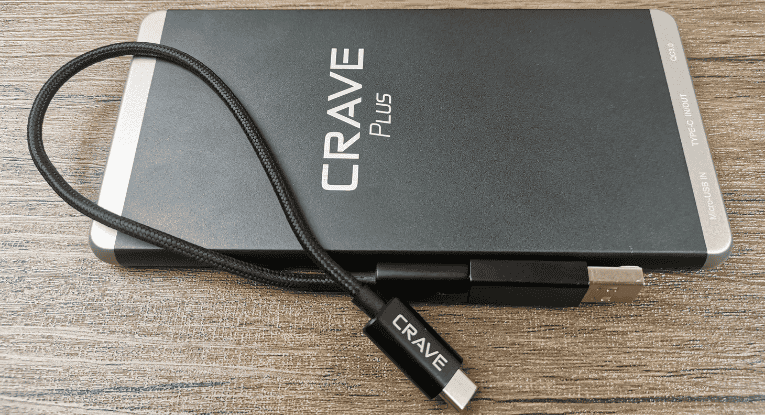 Thickness: 0.4 inches
Capacity: 10000mAh
Ports: 1 USB Type A, 1 USB Type C, 1 Micro USB
Recharging time: 8 hours
Weight: 9 oz / 255 g
mAh/$ ratio: 239.52
Check price on CraveDirect.com
Or buy on Amazon.com or on Ebay.com
At only 0.4 inches thick, the Crave Plus is one of the thinnest 10000mAh power banks. If you want some extra power and still looking for something really thin, then the Crave Plus is the one for you. Unlike the vast majority of power banks that use the classic cylindrical accumulators, this one has flat batteries such as you'd see in regular smartphones. In fact, its overall size is very close to that of a smartphone.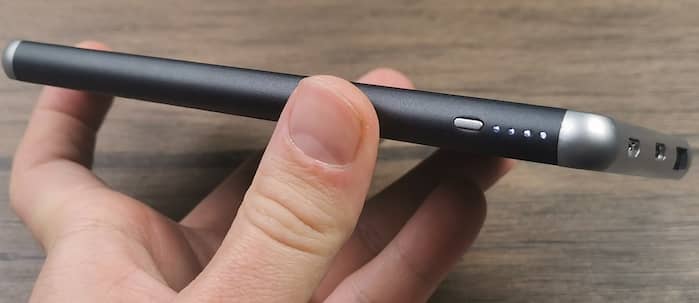 Designed in the US, this power bank features an all-metal case, that gives it extra durability. It also features two output ports: USB type C and USB type A. The USB type C also works as an input port, but the Crave Plus also features a Micro USB port for power input.
The only drawback to the Crave Plus is the fact that it charges itself rather slowly, at about 8 hours.
Unboxing video
Pros
Only 0.4 inches thick
All-metal case
Two output ports
Cons
Takes a long time to charge
---
3. Luxtude PowerEasy 5000mAh
Thickness: 0.5 inches
Capacity: 10000mAh
Built-in lightning cable
Recharging time: 3-4h
Weight: 8 oz/263 g
Or buy on Ebay.com or on Newegg.com
The Luxtude PowerEasy is an ultra-slim power bank specifically designed for Apple products. It comes with a built-in Apple-certified MFi lightning cable that works for all iPhone models ranging from the 12 Pro Max to the SE. This cable also supports 2.1A Apple fast charging.
The PowerEasy power bank has a 5000mAh battery capacity which is enough to charge an iPhone up to 2.5 times, depending on the model you use. That being said, you will need a micro USB cable to charge this device which might be a hassle for some Apple users.
The highlighting feature of this power bank is its innovative bypass technology that allows you to charge your phone and the power bank simultaneously.
Luxtude PowerEasy is built with a premium aluminum alloy case that is sturdy enough to handle light hits and drops. Additionally, it is available in three different color options to fit the style of your smartphone.
Pros
Ultra-slim profile
MFi certified by Apple
Safe UL-certified Li-Polymer battery
Built-in charging cable
Can charge phone and power bank simultaneously
Cons
It can only be used with iPhones
4. Anker 622 Magnetic Power Bank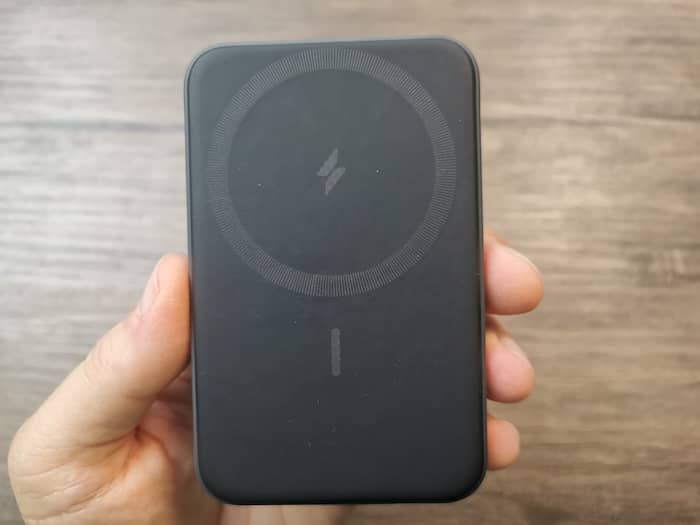 Thickness: 0.5 inches
Capacity: 5000mAh
Ports: 1x USB Type-C
Foldable Kickstand
Weight: 5 oz / 141 g
Or find it on Anker.com or on Walmart.com
The Anker 622 is a magnetic power bank that you can simply attach to the back of any Magsafe-compatible smartphone. Being just 0.5 inches thick means that you can easily slide it into your pocket alongside your phone. The magnetic connection is quite strong, so you don't need to worry it will slip off accidentally.

What's neat about the Anker 622 is the fact that it also comes with a foldable kickstand. This will allow you to prop up your phone at a 45-degree angle whilst charging it. This feature is quite useful in case you want to use the phone for watching YouTube videos or something similar.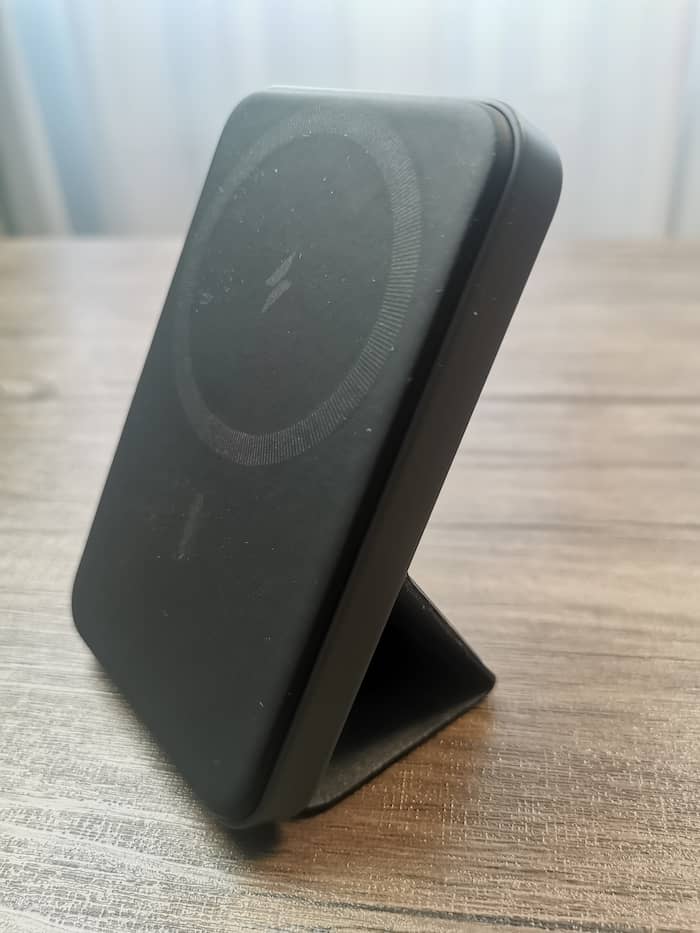 It also features an input/output USB type C port that has a max output of 12W. While 12W is not that much, it's enough to fast-charge your phone. It will also enable the power bank to charge itself within 4 hours.
Unboxing video
What we like about it
Attaches to compatible phones
Just 0.5 inches thick
Foldable kickstand
Wireless charging
USB type C port
What we dislike about it
Just one charging port
Small capacity
5. INIU BI-B6 10500mAh Power Bank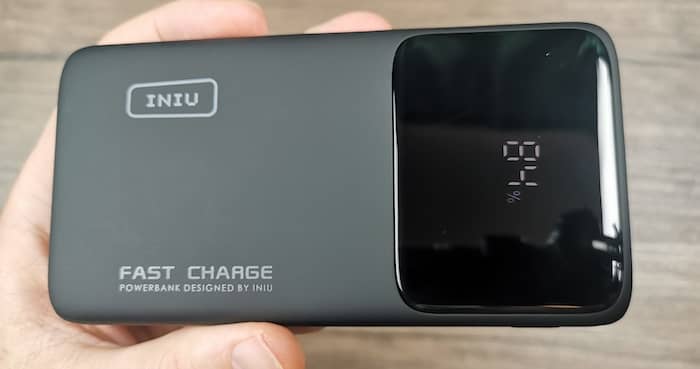 Thickness: 0.58 inches
Capacity: 10500mAh
Ports: 2 USB Type A, 1 USB Type C
Recharging time: 3 hours
Weight: 7.4 oz / 209 g
mAh/$ ratio: 389.03
---
Or buy on iniushop.com or on ebay.com
The INIU BI-B6 is a very slim power bank for its capacity. At 10500mAh, it's only 0.08 inches thicker than the Anker 622 for example, which has half the capacity. In terms of overall size, it's quite similar to a standard smartphone, maybe even slightly smaller.

The matte plastic cover is velvety to the touch. The downside is that it's a bit sensitive to fingerprint marks or other handling smudges, especially the display screen. It also features a pop-out phone stand which you can use to prop up your phone while it's being charged.
In terms of ports, it features 2 USB type A ports and one in/out USB type C. It's compatible with some of the newest fast-charging technologies: PD 3.0 and QC 4. This means your phones and other devices will be charged in no time. But it also translates into a very fast charging speed for the power bank itself. At just 3 hours, it's much faster than the Crave Pro, for example, which has a similar capacity but needs 8 hours to get recharged.
Unboxing video
What we like about it
0.58 inches thick
3 ports, including one USB type C
Large LCD display screen
Built-in phone stand
Built-in flashlight
What we dislike about it
Can be sensitive to smudges and fingerprint marks
---
Pros and Cons of Ultra-Thin Power Banks
Pros
If you're still not sold on the idea of purchasing a slim power bank, here are a few pros that will help you decide.
Ultra-thin power banks such as LifeCard by PlusUs are very portable and you could even fit them in your wallet. They don't take up much space and are ideal partners for people who travel a lot.
They are usually less expensive as compared to their bulky counterparts.
If you're looking to make a style statement, a sleek power bank will definitely make a great addition to your workspace.
Cons
Like all good things in life, ultra-thin power banks have some drawbacks too. Even though they are not something that will hold you back in any way, we believe in covering all the aspects of a product to help you make a well-informed purchase.
Usually, slim power banks have less battery capacity as compared to traditional ones. If you have a high-capacity smartphone, you might only get 2-3 full recharges out of your power bank.
If you want to charge heavy devices such as your laptop with a power bank, you're better off buying a bulky alternative with high-power output. However, slim power banks such as the Charmast Delivery do break this mold with their massive battery life.