As their names imply, ultra-light and ultra-compact power banks are extremely convenient to carry. Although they can be very practical, they tend to have a limited charging capacity. If you enjoy trail running, rock climbing, paragliding, or trekking, these power banks are a must-have if you want to reduce the weight you carry.
How We Selected The Power Banks
Weight and Size: The most critical factor was the physical dimensions and weight of the portable chargers. Our selection prioritizes chargers that are easy to carry in a pocket, purse, or backpack, without adding significant bulk or weight.
Capacity: While keeping the chargers lightweight and compact, we also ensured they have sufficient battery capacity to charge a smartphone at least once. This balance is key to providing convenience without sacrificing utility.
Charging Speed: We considered the output power of the chargers, ensuring they can charge devices reasonably quickly. Chargers with fast-charging capabilities were preferred, as they are more efficient in recharging devices on the go.
Brand Reputation: We also took into account the reputation of the brand and customer reviews. Reliable brands with positive feedback were preferred, as they are more likely to offer quality and dependable products.
1. Top Choice: Anker PowerCore 5000mAh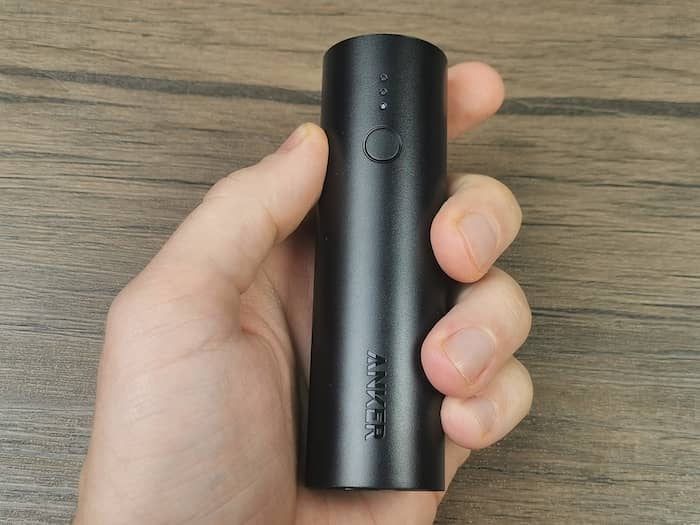 Capacity: 5000mAh
Weight: 4.8 oz / 136 g
Size: 4.2 x 1.3 x 1.3 in
Ports: 1 USB-A, 1 micro USB
Or buy on Anker.com or on Ebay.com
The Anker PowerCore 5000mAh is a good contender for the best ultra-light and ultra-compact portable charger. Overall, it's slightly larger and heavier than the Zendure SuperMini 5000mAh power bank. But not by too much, so you won't really feel the difference.
Maybe one of the biggest shortcomings of the Anker PowerCore 5000mAh is the fact that it features a micro USB charging port. These ports are starting to get outdated and are being replaced with USB type-C ports that are faster and also have dual charging directions. This means the Anker has only the USB type A port for power output, unlike the Zendure SuperMini which has two output ports.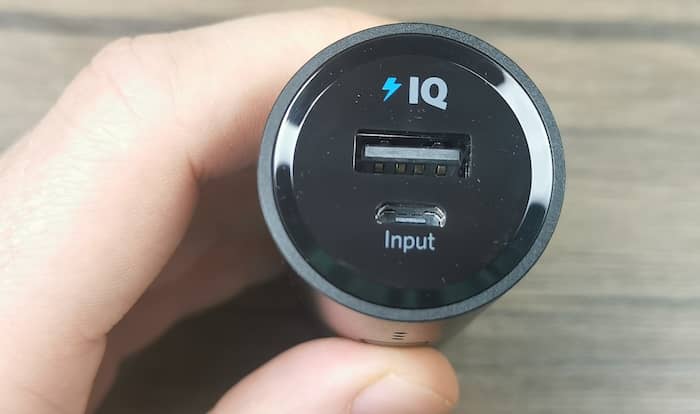 But where the Anker really shines is when it comes down to the price. At just about $18, it's twice as cheap compared to the Zendure SuperMini 5000mAh. So if you're looking for a budget compact power bank, then look no further. It isn't easy to find a different power bank that can beat Anker's offer.
Unboxing video
What we like about it
Very affordable
Small and compact
What we dislike about it
Small capacity
Micro USB port instead of USB type C
2. Slimmest: Anker 622 Magnetic 5000mAh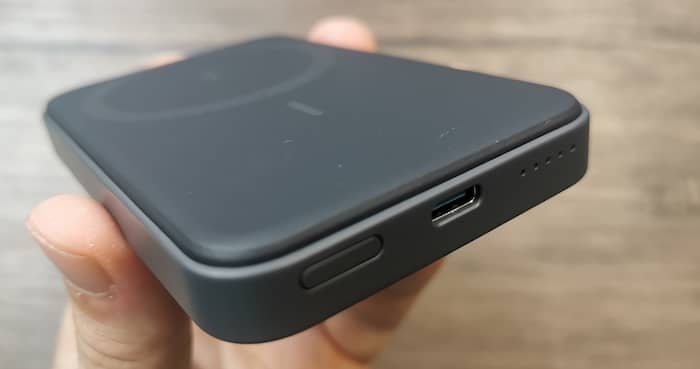 Capacity: 5000mAh
Weight: 5 oz / 141 g
Size: 4.13 x 2.62 x 0.5 in
Recharging time: 4 hours
Ports: 1 USB Type C
Or find it on Anker.com or on Walmart.com
The Anker 622 Magnetic 5000mAh power bank is one of the slimmest options on the market. At only 0.5 inches thick, you can easily slide this portable charger into even the tightest of your pockets. In fact, due to its MagSafe compatibility, this power bank was designed from the get-go to be attached to the back of smartphones. Since it can provide wireless power, your phone will charge seamlessly while the power bank is attached. The magnetic hold is so strong that it won't come off if you slide your phone alongside the Anker 622 into your jeans pocket.
Another interesting feature that sets it aside from other power banks, is its foldable kickstand. You can use it in order to prop up your phone on a flat surface such as a desk or a table. This will enable you to watch a video, for example, while your smartphone is being charged wirelessly. The only disadvantage of the kickstand is that you can't use it while charging the power bank, its only port is facing down, towards the table.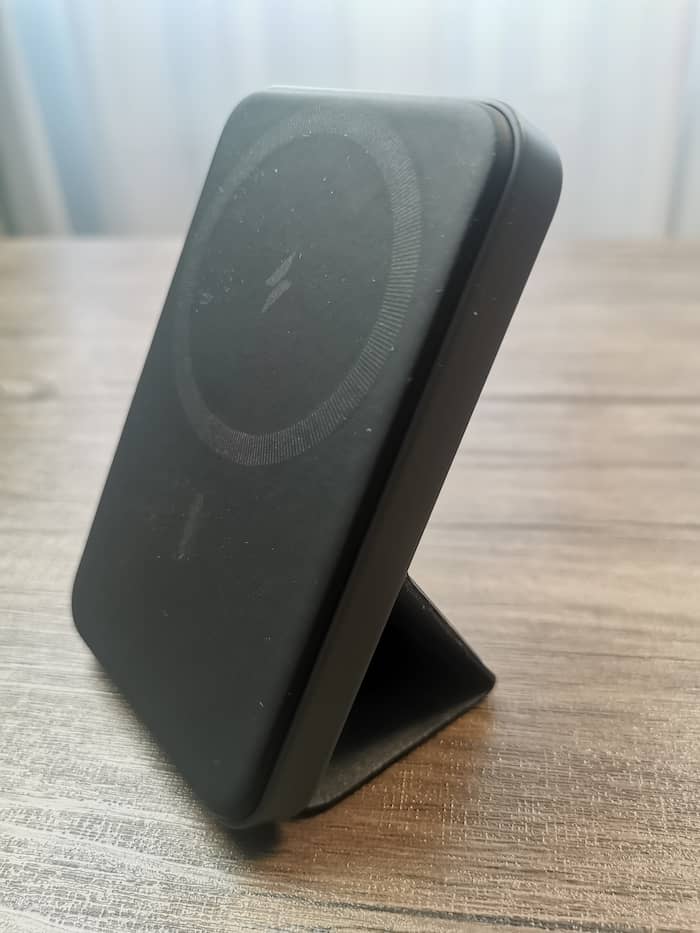 The Anker 622 comes with a USB type C input/output port. This means you can charge your phone either wirelessly or using the classic, wired approach. However, please note that you won't be able to charge two different devices simultaneously. Either one device via wireless charging, or one device via the USB type C port.
Unboxing video
What we like about it
One of the slimmest power banks
Wireless charging
Foldable kickstand
Sturdy build
What we dislike about it
Only a single output port
Small capacity
3. Largest capacity: Zendure SuperMini 10000mAh USB C Portable Charger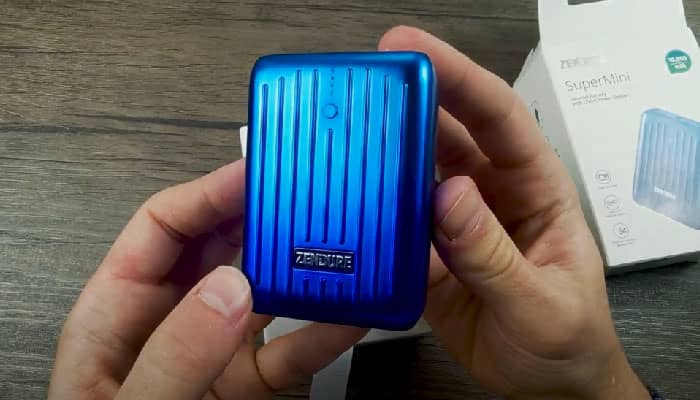 Capacity: 1o000mAh
Weight: 6.3 oz / 178 g
Size: 3.1 x 2.2 x 1 in
Ports: 1 USB-A, 1 USV type C
Or buy on GeekBuying.com or on Zendure.com
The Zendure SuperMini 10000mAh is from the same series as the first pick on our list. This is one of the smallest and most compact 10000mAh power banks. We added it to the list even though it's slightly larger than the other options. But the main reason it's here is due to its larger capacity. Sure, we all love the ultra-compact options, but if you want more than a full phone recharge, they won't do.
In case you're looking for a bit of extra power, then getting a 10000mAh power bank instead of a 5000mAh one will make a lot of difference. It's just 1.5 ounces heavier than the Anker PowerCore 5000mAh, but it packs twice the capacity. That's a real achievement from Zendure right there.
It also comes with two different charging ports: one input/output USB type C and one output USB type A. This means you can use this portable charger to top up two different devices at the same time. It also features Power Delivery, so you can use the fast-charge feature of your smartphone.
Last but not least, the Zendure SuperMini 10000mAh has a sturdy metallic casing that protects it very well from possible shocks. It also looks sleek and elegant. You won't be ashamed to take this baby out in public. On the contrary, it can easily be a conversation piece.
Unboxing video
What we like about it
Large capacity
Two different charging ports
Power Delivery (PD)
Sturdy metal casing
Cool looks
Why Trust Us
This being a passion project, I have physically tested all the power banks that are recommended on the website. I have personally used the power banks in this list to charge my devices during day-to-day use. For example, check out the one-year update on the Zendure Supermini I created on YouTube.
Overall, on PoweBankExpert.com we aim to go beyond mere specifications; we delve into real-world usage, efficiency, and compatibility, offering a holistic view that helps you make informed decisions.
How I Tested the Power Banks
Using power banks on a daily basis, I had ample opportunities to test each of them individually. For the ones on this list, I made sure to take into account their compactness when testing. So I relied on them on various occasions that were most suited for the smallest of power banks.
For example, while going out in the city without a bag I need a power bank that can easily fit in my jeans pocket. All of the power banks in this list meet this requirement, although I must say that the Anker 622 is the most comfortable from this point of view.
Another scenario I often depended on them are city breaks. These short trips are great for small power banks that can provide enough juice for a day or so and that can clear airport security seamlessly. In this regard, the Zendure SuperMini is my favorite. Besides the fact that it's compact and packs a generous 10000mAh capacity, it also looks like a vintage plane's fuselage. Here's a pic of it from the plane: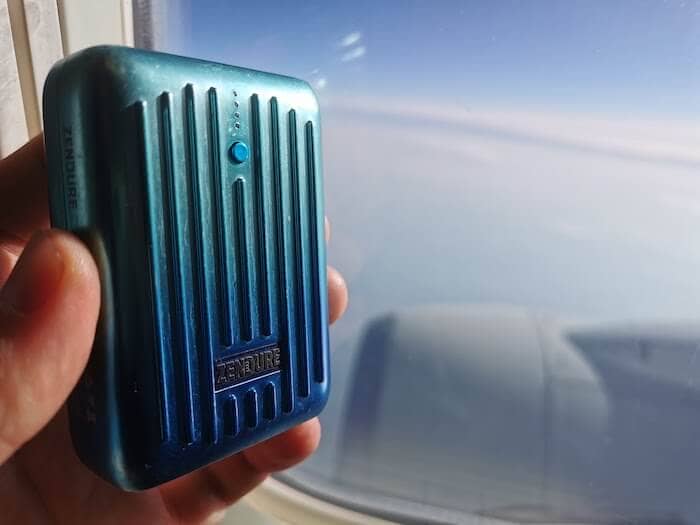 Pros and Cons of Ultra-light and Ultra-compact Power Banks
Pros:
As their names imply, ultra-light and ultra-compact power banks are convenient to carry and take up minimal space.
They are small enough to fit in any pocket or wallet.
Cons:
As previously stated, due to the compact size of these power banks, the battery capacity is also limited.
Ultra-light and ultra-compact power banks cannot be used to charge equipment that requires a lot of power, such as laptops, due to their low power output.
Due to their compact size, they're easy to misplace.
They usually don't come with fast charging technologies.
All-in-all, these power banks are great for activities or situations in which size and weight are paramount. They're a good option for nature lovers who want to travel light, but they also excel as everyday carry items. The obvious setbacks are a lack of charging capacity and a lack of fast charging features. If you can manage to oversee these shortcomings, then these mini power banks are just the thing you need.