UGREEN 10000mAh at a glance

Key specs
Dimensions (LxWxH)
4 x 3.9 x 1.4 in
10.16 x 9.91 x 3.56 cm

Charging technology

PBE metrics
Affordability
mAh/$
Average
324.97 mAh/$
Portability
52.91 mAh/g
1492.54 mAh/oz

Ports

Output: 5V/3A, 9V/2A, 15V/1.2A

Input: 5V/3A, 9V/2A, 15V/1.2A
Output: 5V/3A, 9V/2A, 15V/1.2A

Flight status
Status: Safe
The power bank is safe to take on board. It's under the specified TSA limit of 100 Wh. Read more about taking power banks on planes.

Other features

Charging capacity calculator
Use the search bar below and find out exactly how many times can the UGREEN 10000mAh charge your smartphone battery

UGREEN 10000mAh 18W PD Power Bank Review
The sleek and slim UGREEN 10000mAh Power Bank features two useful rapid charging technologies: Power Delivery (PD) and Quick Charge. Both the bidirectional USB-C input/output port and USB-A output port will quickly recharge your connected devices in no time. It also features a useful LCD screen that tells you how much power is in the unit. With universal compatibility, you can recharge any of your devices. It's perfect for you if you need a quick charge while you're on the move.
Charging technology
UGREEN has created a great package with this power bank. It features two USB ports that have two different fast-charging technologies. The USB-A output port is compatible with Quick Charge 3.0/2.0 devices. On the other hand, the bidirectional USB-C input/output port is compatible with Power Delivery 3.0/2.0 gadgets. It can charge the Samsung S10 Plus from 0-100% in 1.6 hours. The USB-A output port has a rating of 5V/3A, 9V/2A, 15V/1.2A.
Both the PD 3.0/2.0, bidirectional USB-C, and QC 3.0/2.0 USB-A output port can charge two connected devices at the same time. If both ports are in use, then the maximum power output will be 18W.
You can quickly replenish the 10000mAh power bank from 0-100% in just three hours by using the PD 3.0/2.0 USB-C input/output port. However, to rapidly charge the unit, you will need to use a Type-C Power Adapter with a USB-C to USB-C cable. Power Delivery only works via the USB-C input/output port. This means that if you wish to recharge your PD devices, you will need to use this port. It has a rating of 5V/3A, 9V/2A, 12V/1.5A. It's capable of quickly charging your iPhone XS from 0-50% in as little as 30 minutes.
UGREEN's high capacity 10000mAh provides enough power to replenish the iPhone XS 2.7 times, iPhone 8 four times, Huawei P30 two times, or the Samsung Galaxy @10 2.3 times. It also supports 5V charging for the following gadgets: iPhone 7/7 Plus/6/5S, iPad Mini 4, Huawei honor play/mate 20/P9/Nova/honor V9/honor V8/honor magic
The UGREEN 10000mAh Power Bank is compatible with the following Power Delivery and Quick Charge devices:
Smartphones: iPhone 11/11 Pro/11 Pro Max/XR/XS/Max XS/X/8/8 Plus/7 Plus/6S Plus/6, Samsung Galaxy S10/S10 Plus/S10e/S9/S9 Plus/S8/S8 Plus/A50/A20/A10, Google Pixel 3A XL/3A/3/3XL/2XL/2 XL/3 Lite, Sony Xperia L3/10 plus/10/1 XA2/XA1/XZ2/XZ/XZ Premium/XZ1/XZ1 Compact, Moto G6/G7, LG G8 thinq/G7 thinq/G7 one/G7 fit/G6/V50/V40/V30/V20
Tablets: iPad Pro 2018, Samsung Galaxy Note 10/Note 9/Note8, Surface Go
Other: Nintendo Switch, GoPro Hero 7/6/5
This device also supports pass-through charging, so you can replenish your power bank and any connected gadgets at the same time.
Portability
The UGREEN 10000mAh Power Bank is very compact, measuring just 4" long x 3.9" wide x 1.4" thick, which is much smaller than the average-sized smartphone. This also means it can fit perfectly into the palm of your hand. Its small design makes it very easy to store away in your backpack, pocket, messenger bag, or any other area where there's not much space. The palm-sized device is extremely light, weighing only 6.7 ounces, which is perfect and ideal for your travels.
You won't have any issues boarding a flight with this power bank since it only has 37Wh, which is way below the 100Wh limit set by the TSA. This makes it very safe and convenient to charge your devices while you're traveling by plane.
Look and feel
The UGREEN 10000mAh Power Bank is very sleek and slim, making it aesthetically pleasing to the eye. Made entirely of soft-touch premium polycarbonate material, the build has a high-quality superior feel to it. You'll find the white UGREEN logo near the bottom, perfectly aligned in the center on the front face of the charger.
It also has curved edges that are smooth to the touch with seams running from top to bottom on both the left and right sides of the device. There are also two shadowed clear plastic panels on the top and bottom with tiny gaps around the front and back face. This power bank is only available in black with a matte finish.
On one end of the device, you'll find the Power Delivery USB-C input/output port, an LCD readout screen, and a QC 3.0/2.0 USB-A output port. Both ports are solidly built into the power bank, which means they won't wiggle even if you connect the cables in them. There is a power button on the left-hand side of the ports, which can be a bit hard to see since it blends in well with the unit. On the other end, you will find technical specifications relating to each port.
Short pressing the power button will display how much capacity is remaining and the amount charged in the unit. It will show up on the LCD display as a percentage for 30 seconds. This feature makes it a lot easier to indicate when you need to replenish the device before you head out, which is more convenient than three or four dotted LED lights.
On the back of UGREEN's 10000mAh Power Bank, you will find lots of information about the unit's battery capacity as well as certifications. This device also comes packaged with a 25cm USB-A to USB-C charging cable.
Durability & build quality
The UGREEN 18W Power Delivery 10000mAh Power Bank has a solid build with high-quality premium polycarbonate materials. Not only does it have a strong design, but it's also sturdy enough to last throughout its lifetime. Unfortunately, there aren't any water or shock-resistant ratings, so it's not advisable to use it near water or where you can drop it easily.
This device also comes with multiple protection safety systems to ensure your device is safe from overvoltage, short circuit, over current, overcharge, over-discharge, overpower, and high temperatures. If the temperature of the environment is higher than 60C, the over-temperature protection safety feature will kick in, shutting your power bank's output ports off. To turn it on again, you'll need to place the unit in an area where it will fall below 60C, then you will need to press the power button.

Pros
QC 3.0/2.0 and PD 3.0/2.0

Cons
Final Thoughts
This is a great gadget. It's very small in size and lightweight, which means it can fit just about anywhere. With UGREEN's 10000mAh capacity, you can replenish any of your devices multiple times a day. The two fast-charging technologies, PD3.0/2.0 and QC 3.0/2.0, also make it very useful for you if you're looking for a charger that will quickly refresh your devices. You're also assured your gadgets will stay protected throughout its use. The built-in safety features will help keep your connected devices in check. This is an ideal power bank if you're heading out or just need something for everyday use.
Compare it with these similar power banks with pass through charging: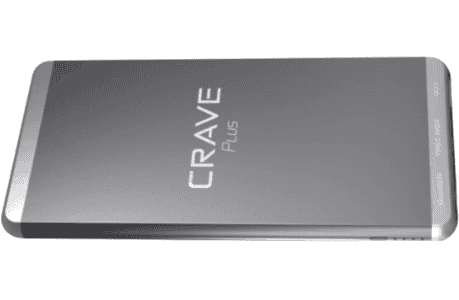 Crave Plus 10000mAh Slim Portable Charger
The Crave Plus 10000mAh is a slim portable charger with QC 3.0. Built with an aluminum frame, this stylish power bank is the size of the iPhone X.
Read More
Xiaomi Mi Power Bank 10000mAh
This Xiaomi Mi Power Bank has a decent 10000mAh capacity which is more than enough for day-to-day use. One of the thinnest devices of its class, it comes with a fast charge USB port that supports both QC 2.0 and 3.0.
Read More
Samsung Portable Charger 25W
The elegant and fast Samsung 25W power bank offers Adaptive charging and Qualcomm Quick Charge to fast charge a wider range of the latest devices on the market
Read More