Ubio Labs 15000mAh at a glance

Key specs
Dimensions (LxWxH)
5.5 x 2.9 x 0.84 in
13.97 x 7.37 x 2.13 cm

Charging technology

PBE metrics
Affordability
mAh/$
Average
349.89 mAh/$
Portability
47.77 mAh/g
1351.35 mAh/oz

Ports

Output: 5V/2.4A

Output: 5V/2.4A

Input: 5V/2.4A

Input: 5V/1.8A

Flight status
Status: Safe
The power bank is safe to take on board. It's under the specified TSA limit of 100 Wh. Read more about taking power banks on planes.

Other features
The Ubio Labs 15000mAh is not available anymore.
Instead, check out the similar Anker PowerCore Essnetial

Charging capacity calculator
Use the search bar below and find out exactly how many times can the Ubio Labs 15000mAh charge your smartphone battery

Ubio Labs 15000mAh review
The Ubio Labs' 15000mAh capacity power bank is a stylish and powerful device that can rapidly charge your Apple and Samsung devices via the USB-C and Lightning inputs. This portable charger might be perfect for you if you're looking for something to power up your mobile devices while you're on the go or simply just vacationing. It's also capable of charging your iPhone 5 times and your S9 up to 4.5 times. It also comes with a USB-A to USB-C cable.
Charging technology
The Ubio Labs power bank is capable of rapidly charging any Apple and Samsung mobile devices. The quick charging speeds are mainly due to the 5V/2.4A USB-A outputs. The dual USB-A outputs have a max output of 4.8A, while the USB-C port has a reading of 5V/2.4A and the Lightning input has 5V/1.8A.
It features both USB-C and Lightning inputs of 5V/2.4A and 5V/1.8A respectively, which allow you to replenish the power bank's battery via the cable you normally use to charge an Android or Apple smartphone. You can also use the same cable to power up your mobile devices when it's connected to the power bank.
This portable charger can charge the iPhone 8 seven times, iPhone X five times, or the Samsung S9 four times.  It will also take around 7 to 10 hours to fully charge the power bank from 0%.
It's also compatible with tablets, Bluetooth speakers, wearables and cameras that have USB charging.
Portability
The Ubio Labs 15000mAh power bank is medium-sized, measuring 5.5 inches long, 2.9 inches wide and 0.84 inches thick, which can easily fit in the palm of your hand. It's also a bit heavy, weighing 11.1 ounces, which can be carried pretty much anywhere with ease. The small, lightweight design makes it incredibly easy for it to fit in a pocket or a bag.
The power bank is very safe to take on any flight with you since it only has 56Wh, which is below the 100 Wh limit set by the TSA.
Compared to similar devices, this Ubio Labs power bank is a bit heavier and bigger than similar devices developed by the company. That's to be expected since this device has a 15000mAh battery capacity.
Look and feel
The sleek and stylish Ubio Labs 15000mAh power bank has a premium feel, with space-gray color complimenting it very well. It also has a soft-touch finish that makes it easy to grip the device while carrying it around. With the rubberized material, it's less likely to fall on the floor as it's resting on a table. The black chrome accent gives it an aesthetically pleasing appearance since it stands out with the device's portable design.
On the left side of the power bank, you will find four battery indicator LED lights that will indicate how much power the charger has left. One white LED light will blink to reveal that there is 25% or less of juice remaining in the device. While it's charging, the lights will blink to indicate how much of the battery has been charged. When it's been replenished, the four lights will stay on until the Lightning or USB-C cable is removed. Meanwhile, when a device is charging, the white lights will display the current capacity. The power button is also located on the side of the device, next to the battery indicator LED lights.
A three-LED-light indicator is located on the front of the device, close to the bottom. The USB-C or Lightning input indicator lights will blink until the power bank has reached a full charge. While a connected device is being powered-up, the USB-A output indicator light will illuminate until the cable is removed.
All USB ports can be found on the bottom of the power bank for an easy-to-connect experience.
Durability & build quality
This portable charger has a solid build. With the soft-touch material covering the device, you can be assured it won't sustain a lot of damage if you accidentally drop it on the ground.
Ubio Labs 15000mAh power bank has safety certificates, including CE, FCC, RoHS, and has a transport safety certification. These certificates boast safety and performance to ensure that this portable charger will work as it should with any Apple mobile device via Lightning connectors.
The device is covered by a limited 12-month warranty, so if it's defective or not working properly, you can start a warranty claim. However, the warranty is void if it was improperly used, lost or stolen, purchased over 12 months ago or if issues are not related to quality.

Pros
Dual USB-A 4.8A max output
Compatible with Apple devices

Cons
Final Thoughts
The Ubio Labs power bank might just be a perfect fit for you if you're looking for something that will mainly charge your Apple or Android smartphone. With its rapid charge technology, you can benefit from using this device, whether you're vacationing or on the move. It also offers compatibility support for other devices that are USB-powered and it's safety-certified, so you'll be assured it will keep you and your devices safe.
The Ubio Labs 15000mAh power bank is not available anymore. Instead, check out these similar portable chargers: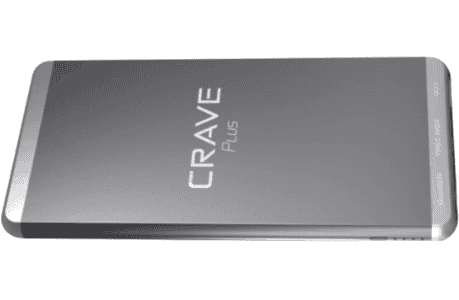 Crave Plus 10000mAh Slim Portable Charger With Quick Charge 3.0
The Crave Plus 10000mAh is a slim portable charger with Quick Charge 3.0. Built with an aluminum frame, this stylish power bank is the size of the iPhone X.
Read More
Xiaomi Mi Power Bank 10000mAh
This Xiaomi Mi Power Bank has a decent 10000mAh capacity which is more than enough for day-to-day use. One of the thinnest devices of its class, it comes with a fast charge USB port that supports both QC 2.0 and 3.0.
Read More
Samsung Portable Charger 25W
The elegant and fast Samsung 25W power bank offers Adaptive charging and Qualcomm Quick Charge to fast charge a wider range of the latest devices on the market
Read More