SOARAISE Solar Charger 25000mAh at a glance

Key specs
Dimensions (LxWxH)
6.1 x 3.35 x 1.37 in
15.49 x 8.51 x 3.48 cm

Charging technology

PBE metrics
Affordability
625.16 mAh/$
Average
324.97 mAh/$
Portability
46.47 mAh/g
1315.79 mAh/oz

Ports

Output: 5V/2.1A

Output: 5V/2.1A

Input: 5V/1.8A

Flight status
Status: Safe
The power bank is safe to take on board. It's under the specified TSA limit of 100 Wh. Read more about taking power banks on planes.

Other features

Charging capacity calculator
Use the search bar below and find out exactly how many times can the SOARAISE Solar Charger 25000mAh charge your smartphone battery

Soaraise 25000mAh Solar Powered Power Bank Review
The Soaraise Portable Power Bank has a capacity of 25000mAh, allowing you to charge your devices during long outdoor trips. Besides the fact that it can be recharged via solar energy, it's also waterproof and shockproof, so you don't need to worry about immersing it in water or dropping it on the floor.
Charging Technology
The Soaraise 25000mAh Solar Powered Power Bank is compatible with all 5V devices, including an iPhone, iPad, Samsung, Sony, Huawei, HTC, LG, Nexus, tablets, cameras, GPS, and more. It has a dual-charging system that allows you to charge multiple devices at the same time. This is a handy feature if you're a busy worker always in need of their smartphone and/or tablet. 
Both ports feature fast-charging capability so you can quickly boost your device. Most smartphones take 1-1.5 hours to charge from a dead battery and a tablet typically takes up to 2.5 hours. This fast-charging technology is controlled by an intelligent IC, which can detect the phone model it's connected to for the quickest charge.
The device has a huge capacity of 25000mAh and uses Li-polymer cells, so you can charge most smartphones over 10 times and tablets up to 4 times. As a result, it's great for long travels or to keep aside for emergency situations.
Once the power bank is empty, you can recharge it via a 2A wall charger in around 12 hours. This might be longer than some power banks we've reviewed, which only require several hours to recharge, but it makes up for this with its other features. 
Alternatively, you can recharge the device by solar power when you're outdoors. Position the power bank in direct sunlight or attach to your backpack when out in the sun to recharge on the go. It takes 35-hours to completely charge in direct sunlight, although you can leave it for a few hours for a slight boost.
Portability
This solar-powered power bank weighs nearly 19 ounces, which is 2 ounces heavier than the Hiluckey 25000mAh Solar Charger we previously reviewed. For some, its heavy weight can be off-putting — after all, it's equivalent to around 3 iPhone 10's.
But, the power bank is still compact enough to place in your handbag or backpack while you're on the go. Its expandable design enables you to unfold the solar sheets to rest on your back while you walk. When opened, it measures 10.4 x 6.1 inches. This unique feature is unlike other power banks we've reviewed before, enabling you to evenly distribute the weight.
When folded, the device measures 6.1 x 3.35 x 1.37 inches. This makes the charger slightly longer than an iPhone 8, and nearly 5 times as thick.
Overall, this is not a power bank that you can carry around in your pocket as you zip by during a busy day in the city. Instead, it's perfect for a backpacking or camping trip, during which you can easily hang it to your backpack as you go along the trails. So, it's important that you make use of the solar-powered charging technology, as its expandable design is what contributes to the overall thickness.
Some users reported concerns over the durability of the strap that holds the solar panels folded when not in use. It's delicate and thin, making it prone to wear and tear with constant folding and unfolding, so remain careful when folding it.
At 93 Wh, you can take this portable power bank a plane as it's less than the 100Wh limit. Plus, with its exceptional battery life and power, you can keep your smartphone and devices charged while up in the air.
Look and Feel
We have to admit that this solar-powered power bank isn't as pretty or stylish as the others we've reviewed — with some sporting a shiny finish or bright patterns. It also lacks color options, which doesn't make it a great purchase for a gift. Instead, the power bank boasts a matte black color with a pale orange detailed stitching on the four solar panels.
In this device's defense, you wouldn't purchase the Soaraise 25000mAh for its appearance, but for the solar-charging technology and high-power capacity. The casing on the additional three solar panels is made out of leather, increasing the device's durability — especially when placing it in direct sunlight. This material requires some maintenance to keep in tip-top condition, but it's a much safer choice than plastic.
On the back of the power bank, there's a super bright LED emergency light, which requires you to press the button to operate. There are 3 modes to choose from, including steady, SOS, and strobe. This is a great practical and safety feature for outdoor use and a common feature in top-quality power banks.
To the side, you'll notice indicator lights that present how much charge remains on the device. A green light indicates the solar charging indicator, while a blue light represents the electricity indicators. 
To protect the ports from dirt, water, and debris, they have a rubber flap that sits over them when not in use.
Durability and Build Quality
Aside from power and design, the power bank's quality is equally as important. Fortunately, this device is waterproof, dust, and shock-resistant, making it the perfect contender for outdoor use. Plus, as it can be charged via solar power, you don't need to worry about it overheating in direct sunlight.
It's a durable and long-lasting device, with one user commenting that they immersed it in 5 feet of water and it continued to work afterward. However, ensure you protect the ports with the rubber flap to prevent water from entering the electrical circuit.
This solar powered power bank comes with an 18-month warranty and a 60-day refund policy if you're not happy with its quality and results. The majority of customers didn't have an issue with the device's capabilities, and the manufacturer estimates it'll last for more than 5 years.

Pros
Solar charging technology
Waterproof, dust, and shock-resistant

Cons
Thick dimensions when folded
Final Thoughts
The Soaraise 25000mAh Solar Powered Power Bank can be a sturdy companion for any outdoor enthusiast. It's designed to be used outside, making it great for a camping trip or an environment with limited used to electricity. Its large capacity enables you to charge your smartphone over 10 times, so you'll never have to experience a dead battery again. It's also a great way to be more environmentally-friendly.
Compare it with these similar solar-powered power banks:
Panergy 26800mAh Solar Power Battery Bank
The Panergy 26800mAh solar power battery bank is designed with the outdoors in mind. Very durable and just under the TSA 100Wh limit, you can take it basically anywhere.
Read More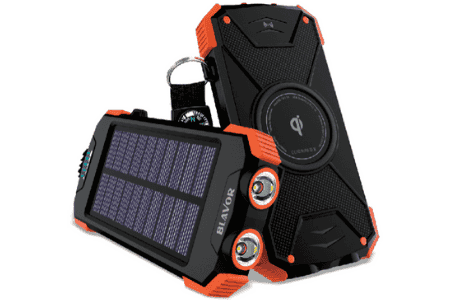 BLAVOR Qi 10000mAh Solar Portable Charger
The BLAVOR Qi solar power bank offers wireless and USB charging, and thanks to its solar panel, it's a great choice for powering devices while being outdoors.
Read More
ZeroLemon SolarJuice 26800mAh
The ZeroLemon SolarJuice 26800mAh is a tough portable battery that packs a powerful charge. With its solar charging ability, it can prove to be a very good choice for remote destinations with no outlet access.
Read More