SMARTCOBY Pro 30W at a glance

Key specs
Dimensions (LxWxH)
3.03 x 2.2 x 1.02 in
7.70 x 5.59 x 2.59 cm

Charging technology

PBE metrics
Affordability
270.27 mAh/$
Average
324.97 mAh/$
Portability
55.25 mAh/g
1562.50 mAh/oz

Ports

Output: 5V/5A, 9V/3A, 12V/2.5A (30W Max)

Input: 5V/3A, 9V/2.2A, 12V/1.5A (20W Max)
Output: 5V/3A, 9V/3A, 12V/2.5A (30W Max)

Flight status
Status: Safe
The power bank is safe to take on board. It's under the specified TSA limit of 100 Wh. Read more about taking power banks on planes.

Other features

Charging capacity calculator
Use the search bar below and find out exactly how many times can the SMARTCOBY Pro 30W charge your smartphone battery

The SMARTCOBY Pro 30W Battery Power Bank is a compact portable power bank battery charger for smartphones, tablets, and other USB devices. It bills itself as the "World's Smallest Portable Charger" and has a 10000mAh power capacity and a max 30W output. The SMARTCOBY also boasts new power cell technology in a more compact form, the evolution of next-gen charging technologies. At first sight, it looks like a good charging pack to have while on the go and has some good charging features for a wide range of devices. It's currently being funded via Indidegogo.
Charging Technology
The SMARTCOBY features two charging ports; one USB-A output and one USB-C input/output. This power bank utilizes high-density power cell technology that is used in Tesla car batteries for a fast and efficient charge. It has a capacity of 10000mAh which is enough to charge a new iPhone 12 up to 2.5 times before needing to be recharged. The SMARTCOBY also features wide compatibility with devices and can be used to charge any device compatible with USB charging, including iPads and Macbooks. Another handy feature is that you can also charge two different devices simultaneously.
The battery pack itself is also highly efficient and charges in approximately 2.2 hours. In order to achieve the fastest loading times, it needs to be charged at an output of 20W. The battery also features pass-through technology so you can charge your phone or tablet while the battery pack is charging.
The SMARTCOBY Pro can output up to 30W, which should be more than enough for fast-charging two smartphones or a smartphone and tablet simultaneously, even when using the devices. However, the SMARTCOBY Pro might have some difficulty charging a laptop while using it. You'll most likely have to charge the laptop while it's powered off.
Portability
The SMARTCOBY Pro claims that it is the smallest portable charger in the world and only measures less than 3 inches long and less than an inch thick. It may not actually be the smallest power bank in the world, but it is pretty tiny and very portable. It weighs under half a pound so you can put it in your jacket or bag pocket without any extra noticeable weight. Overall, it is about the size of a credit card on one of its lateral faces.
The SMARTCOBY is very small but also has a slightly blocky design, so it is not very narrow and slim. You can still fit it in your pocket but it won't be thin and smooth like a modern smartphone. Either way, the block is small enough that you should be able to carry it anywhere with no real trouble. You could even buy and carry around two Pro packs on you without taking up any noticeable space.
Look and Feel
Overall, the SMARTCOBY has a sleek and high-tech look/feel. It is a solid black color and has a nondescript logo with rounded corners. Personally, we like the simple design of the SMARTCOBY as it does not have too many bells and whistles. The casing is made out of a tactile matte material that gives good grip and resists smudges from fingers. The SMARTCOBY Pro also has a digital numeric display that tells you the current battery capacity as a number between 1-100. We like the numerical display as it is more engaging and interesting than just an LED that changes colors.
Durability and Build
The SMARTCOBY is explicitly designed to be sturdy and have more power density than a normal battery pack. The power cells in the SMARTCOBY are up to 30% more densely packed than a standard lithium-ion battery so you get more energy density in a more compact frame. This design choice also makes the cells more redundant and resistant to degradation from recharging. The battery also has some safety features built-in, such as overcharge protection, short circuit prevention, and discharge protection.
The device also feels durable too. It is small but has the feel and heft of a solid, reliable piece of technology. We also noticed that the casing seems very durable and resistant to denting and scratching.
Pros/Cons

Pros
Extremely small and compact size; about as big as a credit card
Fast-charging capabilities
Ultra-dense Tesla-inspired power cells
Digital battery capacity display
Supports PD30W charging for new MacBooks

Cons
May have trouble with charging laptops while using them
Conclusion
So, do we recommend the SMARTCOBY Pro 30W Battery Power Bank? Yes, we highly recommend this power bank. The SMARTCOBY is a new take on the battery power pack design that incorporates new, highly efficient, and compact battery tech. The SMARTCOBY puts out enough wattage to charge pretty much any device and most devices while they are being used. The pass-through charging tech also means you can charge things even when the pack itself is charging. The digital display clearly indicates remaining battery capacity and the sleek design is discreet, space-conscious, and highly portable. We highly recommend the SMARTCOBY battery charging power pack to keep your devices topped off while on the go.
Check out these similar power banks: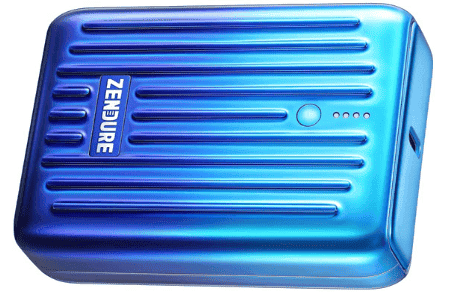 Zendure Supermini 10000mAh USB C Portable Charger
The Zendure Supermini 10000mAh USB C Portable Charger is compact and stylish. But maybe its most important feature is the fast charging USB C port with PD (Power Delivery).
Read More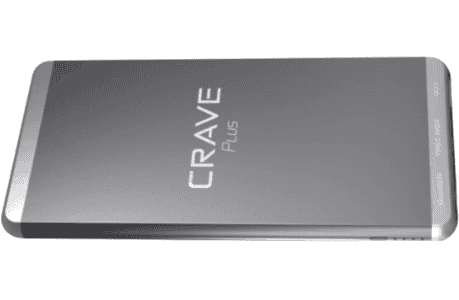 Crave Plus 10000mAh Slim Portable Charger
The Crave Plus 10000mAh is a slim portable charger with QC 3.0. Built with an aluminum frame, this stylish power bank is the size of the iPhone X.
Read More
Anker PowerCore 10000 PD Redux Review
Small, light, powerful, and premium quality. These are the key details of the Anker PowerCore 10000 PD Redux. You simply can't go wrong with it.
Read More