Sdoutech 20000mAh at a glance

Key specs
Dimensions (LxWxH)
6.3 x 3.4 x 0.9 in
16.00 x 8.64 x 2.29 cm

Charging technology

PBE metrics
Affordability
mAh/$
Average
324.97 mAh/$
Portability
40.16 mAh/g
1136.36 mAh/oz

Ports

Output: 5V/4A,4.5V/5A,9V/2A,12V/1.5A

Output: 5V/4A,4.5V/5A,9V/2A,12V/1.5A

Input: 5V/3A,9V/2A,12V/1.5A
Output: 5V/4A,4.5V/5A,9V/2A,12V/1.5A

Input: 5V/3A, 9V/2A,12V/1.5A

Input: 5V/3A, 9V/2A,12V/1.5A

Flight status
Status: Safe
The power bank is safe to take on board. It's under the specified TSA limit of 100 Wh. Read more about taking power banks on planes.

Other features

Charging capacity calculator
Use the search bar below and find out exactly how many times can the Sdoutech 20000mAh charge your smartphone battery

Sdoutech 20000mAh Dash/VOOC Charging Power Bank Review
The Sdoutech 20000mAh Dash Charge/VOOC Power Bank is sleek, slim, and powerful. With the high-capacity premium lithium polymer battery, it can charge your electronics multiple times throughout the day. It also supports 5 different types of fast charging technologies (VOOC charge, Huawei SuperCharge, Dash Charge, Quick Charge 4.0, and Power Delivery), and it's capable of powering up multiple gadgets at the same time. This is perfect for you if you're looking for a power bank to take with you while you're on the move or taking a vacation for a few days or longer.
Charging technology
Since the Sdoutech 20000mAh Power Bank supports 5 different kinds of fast charging technology, no matter what mobile device you plug in, it'll quickly power up. These are supported through the two USB-A output ports, bidirectional USB-C input/output port, micro-USB input port, and Lightning-USB input port. The output ports have a rating of 5V/4A | 4.5V/5A | 9V/2A | 12V/1.5A (Max 22.5W). Meanwhile, the input ports are rated at 5V/3A | 9V/2A | 12V/1.5A (Max 20W).
But the main feature of this power bank is the multitude of compatible charging technologies, which is pretty rare to find:
Dash Charge: 5V/4A 20W Oneplus 3/3T/5/5T/6/6T/7/7 Pro
Huawei SuperCharge: 4.5V/5A 22.5W Huawei P10/P20/P30, V10/V20, MATE 9/MATE 10/MATE 20/MATE 30, SERIES
Power Deliver 18W: iPhone 11 Pro Max/11/11 Pro/XS Max/XS/X/XR/8/8 Plus/iPad Pro 10.5 (2017)
Quick Charge 4.0/3.0/2.0: Android and other devices
OPPO VOOC Charge: OPPO R9/R9s/R9 Plus/R11/R15/R17/Dind X/F11/F9/K3/A3/N3/Reno
This unit has enough power to charge your devices multiple times throughout the day. It can recharge the iPhone XS 6.4 times, Huawei P30 4.0 times, OPPO R17 4.6 times, Xiaomi 9 4.7 times, and Oneplus 6T 4.7 times. The capacity is large enough to charge three devices simultaneously, but the drawback here is that fast charging technology won't work if two devices are connected simultaneously.
Sdoutech's 20000mAh Power Bank supports pass-through charging, so you can easily recharge the power bank and any device simultaneously.
Portability
The Sdoutech 20000mAh Dash Charge/VOOC Power Bank measures 6.3" long x 3.4" wide x 0.9" thick, which is similar to any flagship smartphone on the market. With its compact size in mind, you'll be able to carry it around pretty easily, either in your hand, messenger bag, or backpack. It's a pretty heavy unit though, weighing 1.1 pounds, so it's not recommended to carry it around in your pocket. Otherwise, it's perfect if you're heading out or just going on a vacation for more than a few days.
Additionally, you won't have any problems if you wish to take this power bank with Dash and VOOC charging on a flight with you. It has 74Wh, which is below the 100Wh limit stipulated by the TSA. So you will be able to charge your devices while traveling by plane.
Look and feel
Despite its large capacity, the Sdoutech 20000mAh Power Bank is pretty slim and it has a very sleek design that's easy to look at. The outer shell is made entirely out of aluminum alloy with a shiny matte finish. This provides great comfort when you hold it or carry it around in your hand. The soft-touch curved edges also enhance the overall feel and impact of the device by making it feel more durable and easy to grip.
The LCD digital readout can be found on the front face of the battery pack, aligned neatly in the center just at the top. Sdoutech's logo is vertically embossed in white lettering on the left side of the unit near the bottom.
All five USB ports are located at the top end of the power bank on a panel. You'll find that each USB port has been labeled appropriately to note the different USB ports. Two USB-A output ports are next to each other ant the bidirectional USB-C input/output port can be found next to the USB-A output 2 port. On the right side, you'll find a Lightning-USB input port and under that, a micro-USB input port. This is convenient because it provides very little clutter when you need to hook up your devices to the battery pack. The power button is on the far right-hand side of the USB ports.
Pressing the power button will display how much charge is left in the power bank as a percentage on the LCD display screen. There is also a green light indicator underneath the bidirectional USB-C input/output port that illuminates whenever the power bank is fast charging your connected devices.
This product also comes packaged with a USB-A to USB-C cable, so you won't need to purchase one separately if you don't have one already.
Durability & build quality
Overall, this unit is very well built. The aluminum alloy outer shell is a big advantage mostly because it's corrosion and rust-resistant. With its solid build, the device can sustain impacts from a drop, so it shouldn't get damaged too easily. In addition to that, the power bank shuts off automatically when it's completed a full charge, so it won't constantly drain your battery when it's not in use.
It also has a safe control circuit installed in the unit, providing you and your devices with protection from common hazards. You also won't have to worry about your power bank overheating when it's fast charging your electronic gadgets. The chip management system also provides 93% conversion rate for your devices.

Pros
5 Different Fast Charging Technologies

Cons
Fast charging turns off if two devices are connected
Final Thoughts
The Sdoutech 20000mAh Dash Charge/VOOC Power Bank is a very powerful battery pack. With the different fast-charging technologies, it will refresh your power bank and any of your connected devices in no time. It's even compatible with a wide range of gadgets, including products from Android, Huawei, Oneplus, and Apple. The unit has a solid construction, which helps to ensure that it's durable and can survive impact. The built-in safety features are also a bonus because it will keep you and your devices protected throughout its use. Overall, this is a great device and it's perfect if you need it to last throughout the whole day and will provide multiple charges to your devices.
Compare it with these similar power banks: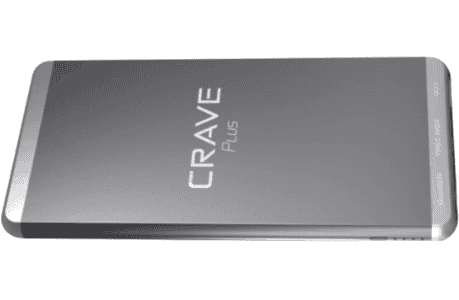 Crave Plus 10000mAh Slim Portable Charger
The Crave Plus 10000mAh is a slim portable charger with QC 3.0. Built with an aluminum frame, this stylish power bank is the size of the iPhone X.
Read More
Xiaomi Mi Power Bank 10000mAh
This Xiaomi Mi Power Bank has a decent 10000mAh capacity which is more than enough for day-to-day use. One of the thinnest devices of its class, it comes with a fast charge USB port that supports both QC 2.0 and 3.0.
Read More
Samsung Portable Charger 25W
The elegant and fast Samsung 25W power bank offers Adaptive charging and Qualcomm Quick Charge to fast charge a wider range of the latest devices on the market
Read More