Samsung Wireless Charger at a glance

Key specs
Dimensions (LxWxH)
5.9 x 2.8 x 0.5 in
14.99 x 7.11 x 1.27 cm

Charging technology

PBE metrics
Affordability
mAh/$
Average
300.48 mAh/$
Portability
31.55 mAh/g
892.86 mAh/oz

Ports

Output: 5V=3A, 9V=1.67A, 12V=1.5A

Input: 5V=2A, 9V=1.67A, 12V=1.5A

Flight status
Status: Safe
The power bank is safe to take on board. It's under the specified TSA limit of 100 Wh. Read more about taking power banks on planes.

Other features
Or find it at Samsung.com or at Ebay.com

Charging capacity calculator
Use the search bar below and find out exactly how many times can the Samsung Wireless Charger Portable Battery 10000mAh charge your smartphone battery

Samsung Wireless Charger Portable Battery 10000mAh Review
The Samsung Wireless Portable Charger 10000mAh is a medium-size capacity manufactured by Samsung, one of the electronic market giants. It is a portable and sleek power bank that offers both on-the-go fast charging and wireless charging, which means it covers multiple charging needs. If you're looking for a fast charger for your Qi-compatible device, then with this review, we'll help you decide if the Samsung Wireless Portable Charger 10000mAh is the perfect match for you.
Unboxing video
Charging technology
The main feature of this device is that it works as a 2-in-1 charger, meaning that it offers two different charging output modes: via USB or wireless charging. That said, it can be used conveniently as a charging pad to charge up your wireless compatible devices or be taken as a portable power bank.
The Samsung Wireless Portable Charger 10000mAh features a USB A port equipped with fast charging protocol and speeds of 5V=3A, 9V=1.67A, 12V=1.5A. At the same time, it boasts Qi certification, which means that it's compatible with both Qi-compliant Samsung and iPhone models, such as the Galaxy S9 and S10, Galaxy Note9, the iPhone 11 (standard, pro, and Pro Max), the iPhone 8 and X, and Google Pixel 3. It's also compatible with tablets, USB-powered devices, such as Bluetooth speakers, cameras, smartwatches, and wearables.
When it comes to its capacity, the Samsung Wireless Portable Charger comes with an advertised capacity of 10000mAh, but its real capacity is around 6300mAh at 5V/2A, 3100mAh at 9V/1.67A, and 2300mAh at 12V/1.25A. So, the faster, the less output capacity, but it's still powerful to charge the iPhone 11 and the Samsung Galaxy S10 almost 2 times.
Another great thing about this charger is that it allows you can charge a device through the USB port while it's also charging another device wirelessly, delivering up to 7.5 Watt wireless fast charging and up to 15 Watts of power through the USB port. This way, it can charge the 3500mAh battery of the Samsung Galaxy S9 Plus in 1.5 hour through the USB port, and from 3 to 3.5 hours via wireless mode. As a result, it takes considerably longer, actually more than double the time, for a smartphone to replenish via wireless charging. Besides, battery efficiency and charging wattage get a significant reduction when charging two devices at once.
The Samsung Wireless Portable Charger can be recharged through its USB Type C port. With fast charging speeds of 5V=2A, 9V=1.67A, 12V=1.5A, it takes no more than 3.5 hours to go from 0 to 100%, which is not a long time considering its capacity. However, since it allows passthrough charging, it will take longer to charge if you're charging a device at the same time.
An important thing to consider is that the power button must also be pressed to turn on/off the wireless charge function. If you're only using the USB port to charge your device, you need to make sure that the wireless function is off as it can deplete the battery much faster.
Portability
The Samsung Wireless Portable Charger 10000mAh is 5.9 inches long, 2.8 inches wide, and 0.5 inches high; almost the same size as the Samsung S9, just a little bit thicker. However, with a weight of 11.2, it can't be considered too bulky or heavy. You can hold both your cellphone and the power bank with a single hand, although it's likely you'd get tired of doing so after some time. If so, you can easily slip it into your pocket, or backpack, and it won't occupy much space.
You can even take it on any flight without facing any inconvenience at the airport security. This is because the power bank is 33Wh so it's allowed by TSA regulations.
Look and feel
The Samsung Wireless Portable Charger 10000mAh has a fancy yet minimal design. Available in two colors, pink gold, or silver, its aluminum casing is rectangular with rounded edges and has a premium feel with a sparkling finish, which helps to prevent smudges, scratches, and fingerprints.
One of the most distinctive features of this power bank is the wireless charging pad found on the top. This pad is made of a softer rubber-like material, which is paler than the rest of the casing, and it comes with a ring in the middle with the phrase "fast charge" written in the middle. On the other hand, the back of the unit features minor details, such as the brand name and the capacity (10000mAh), written in a medium-size font.
The sides are made of solid plastic, with the remaining functional components are aligned on the front side of the power bank, including the USB-A and the USB Type-C, as well as the 4-LED battery status indicator, the on/off LED indicator, and the power button. You can also check the specifications on the backside of the power bank.
Durability & build quality
The Samsung Wireless Portable Charger 10000mAh is solidly built, thanks to the fact that both the aluminum casing and the plastic feel durable. It can hold well against accidental drops The only concern regarding its design is that the wireless charging pad can get dirty and it might not last too long.
On the technical side, the biggest problem we found is that the charger tends to overheat when using the fast wireless charging, which can cause long-term malfunctions. What's more, the product's description does not specify the number of charging cycles it can withstand, and whether or not it comes with protection for a number of charging problems such as short circuit, overheating, and overcurrent.
Being Samsung a manufacturer with a strong reputation, and since the charger is Qi certified, we can only assume that it does feature built-in protection to ensure a reliable and safe wireless charging experience. However, Samsung does inform buyers that the product comes with a 1-year warranty, which is always great to have in the case it becomes defective.

Pros
2-in-1 charger: USB and wireless
Compatible with Samsung Galaxy smartphones and Qi-compliant iPhones
Fast charging and recharging

Cons
Reduced battery efficiency and power output (two devices at once)
Wireless charging can take long
Final thoughts
Overall, the Samsung Wireless Portable Charger 10000mAh is great for those with Qi-compatible devices. What makes this power bank great is its charging duality, which means that you can choose between USB fast charging or wireless charging. Thus, if your smartphone does not support wireless charging, it's better to look through other options; if it does, at Power Bank Expert, we recommend the Samsung Wireless Portable Charger 10000mAh as its' simply one of the best options you can find.
Or find it at Samsung.com or at Ebay.com
Or check out these similar power banks: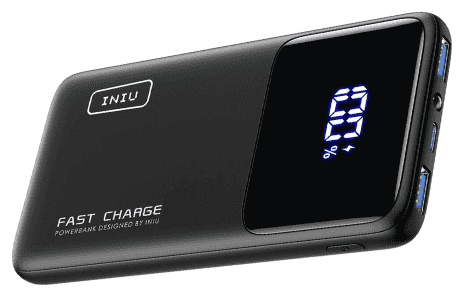 INIU BI-B6 10500mAh
The INIU BI-B6 10500mAh power bank is small, light, and packed-full of the latest charging technologies
Read More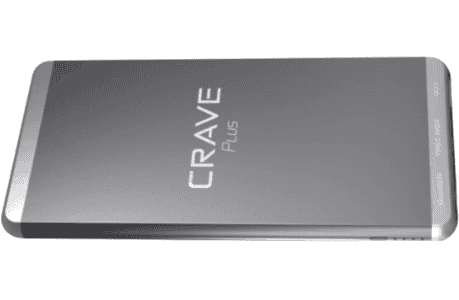 Crave Plus 10000mAh
The Crave Plus 10000mAh is a slim portable charger with QC 3.0 and also comes with an aluminum frame
Read More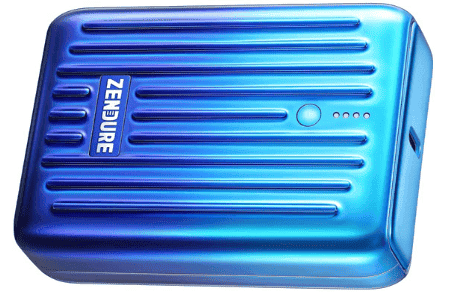 Zendure Supermini 10000mAh USB C Portable Charger
The Zendure Supermini 10000mAh USB C Portable Charger is compact and stylish. But maybe its most important feature is the fast charging USB C port with PD (Power Delivery).
Read More