RLERON 25000mAh at a glance

Key specs
Dimensions (LxWxH)
6.5 x 3.2 x 0.6 in
16.51 x 8.13 x 1.52 cm

Charging technology

PBE metrics
Affordability
695.02 mAh/$
Average
324.97 mAh/$
Portability
70.62 mAh/g
2000.00 mAh/oz

Ports

Output: 5V/2.4A

Output: 5V/2.4A

Output: 5V/2.4A

Input: 5V/2.4A

Input: 5V/2.4A

Flight status
Status: Safe
The power bank is safe to take on board. It's under the specified TSA limit of 100 Wh. Read more about taking power banks on planes.

Other features

Charging capacity calculator
Use the search bar below and find out exactly how many times can the RLERON 25000mAh charge your smartphone battery

RLERON 25000mAh Portable Wireless Charger Review
RLERON is an online merchant that specializes in producing power banks. Today, we'll be reviewing their 25000mAh Portable Wireless Charger, which, as its name implies, has a capacity of 25000mAh. But that just scratches the surface of what it has to offer. Let's take a closer look!
Charging Technology
The RLERON 25000mAh Portable Wireless Charger has three USB ports located on the top end of the device. This allows you to charge three devices simultaneously via a traditional wired connection. There's no fast charge technology, so you'll be limited to 5V/2.4A. For most devices, this just means you'll get the same performance you'll get from your computer or a standard AC adapter. However, it does mean that you won't be able to use it to charge a laptop. There just isn't enough current to do the job effectively.
In addition to wired charging, the RLERON charger also offers Qi wireless charging. You can even use the Qi charger at the same time as the USB ports, allowing you to charge four devices at once. There's an indicator on the front of the device, which lets you know where the coil is. Make sure to position your phone directly over the coil, and you won't have any issues. However, if your phone is offset, you're not going to get a charge. This is true for any wireless charger.
The RLERON charger can be charged either via USB Type-C or Micro USB. No cable is included in the kit. Since you'll need to buy one anyway, make sure to use a USB Type-C cable. This will allow the RLERON to charge in about 4 hours, as opposed to 12 or more hours via Micro USB. There's no support for pass-through charging, which means you won't be able to charge the RLERON while you're charging your devices. That said, with its large capacity, you shouldn't have any issues as long as you've planned ahead.
Portability
The RLERON 25000mAh Portable Wireless Charger measures 6.5 inches long, 3.2 inches wide, and 0.6 inches thick. This is slightly larger than your average smartphone, but not by much. It will still fit in your pocket if you so desire. At 12.5 ounces, it's light enough to throw in your backpack or carry in your pocket. Your iPhone weighs slightly more, so weight shouldn't be an issue. The RLERON can also be taken in carry-on bags, as its total capacity is 93 watt-hours, which is less than the TSA's limit of 100 Wh for air travel.
Look and Feel
This RLERON power bank has a glossy black finish that's difficult to scratch or smudge. At the bottom of the face, you'll see a white RLERON logo. Towards the top, there's an LCD display that reads out the total charge as a percentage. Unfortunately, this LCD display requires a AAA battery. This was a bizarre design choice. Why would RLERON require another battery? It's a power bank. It already has one. Next to the percentage, you'll also see an indicator of whether or not the current charge is going in or out. The LCD display is off by default. However, plugging any cable into the RLERON, or using the wireless charger, will automatically turn it on.
On the back of the RLERON, there are three bright LED lights that illuminate when a device is charging via USB. They won't be visible while the Qi charger is in use. But if you flip the charger over, it's easy to see when it's actively charging one of your devices.
The design is attractive, with a red stripe around the outside. There's also a red accent under the LCD display, which is very easy on the eyes. Around the USB ports, the red band expands into a full-sized top panel. This isn't just nice to look at; it also serves a practical function. It makes it easy to see at a glance which way the RLERON needs to be oriented. If you need glasses, you'll be able to easily find the right orientation even when you're not wearing them.
Durability & Build Quality
When it comes to durability, the RLERON 25000mAh Portable Wireless Charger is better for light-duty use than serious, heavy-duty use. It's neither shock-proof nor water-resistant. While we haven't seen any reports of damage due to dropping, it's best to be careful. Similarly, we haven't seen any issues with overheating. There's no manufacturer cycle rating, but, once again, we haven't seen any complaints about premature failure. For home or office use, it's going to be just fine. If it's not, RLERON provides a 24-month warranty to make things right if there are any issues.
When it comes to protecting your device, the RLERON charger offers plenty of different features. It has overcharge protection to prevent your battery from getting damaged, and overvoltage protection to prevent your phone's circuitry from getting damaged. There's also short-circuit protection, which keeps both your phone and your charger safe from serious damage.
The charger itself is also covered by a couple of forms of protection. First, there's over-discharge protection. This ensures that the battery won't run totally dry and become useless. There's also input overvoltage protection. If you try to charge via an AC adapter that's faulty, you won't ruin your RLERON charger.

Pros
Can charge 4 devices simultaneously
Wireless charging feature
24-month manufacturer's warranty

Cons
No pass-through charging feature
Requires a AAA battery for the screen
Final Thoughts
At the end of the day, the RLERON 25000mAh Portable Wireless Charger is a good value for most people. It allows you to charge an impressive four simultaneous devices, so you can charge the whole family's phones without any issues. It also has a large capacity, enough to charge an iPhone X nine times. It's not suitable for outdoor use, but there are plenty of chargers that are good for outdoors. For everything else, the RLERON 25000mAh Portable Wireless Charger is up to the task.
Compare it with these other portable wireless chargers: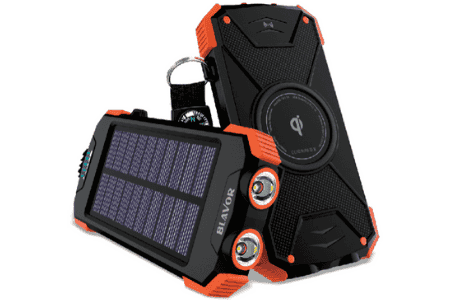 BLAVOR Qi 10000mAh Solar Portable Charger
The BLAVOR Qi solar power bank offers wireless and USB charging, and thanks to its solar panel, it's a great choice for powering devices while being outdoors.
Read More
Samsung Wireless Portable Charger 10000mAh
The Samsung Wireless Charger Portable Battery 10000mAh has an elegant design, and it offers two ways to fast charge your devices: wireless or via its USB port.
Read More
iOttie iON 10000mAh Wireless Portable Charger
The iOttie iON 10000mAh is not your regular wireless portable charger. Besides the Qi, PD and QC 3.0 charging abilities, it's also one of the most stylish power banks you can get.
Read More