RAVPower PD Pioneer 20000mAh at a glance

Key specs
Dimensions (LxWxH)
6.1 x 2.7 x 2.7 in
15.49 x 6.86 x 6.86 cm

Charging technology

PBE metrics
Affordability
mAh/$
Average
327.45 mAh/$
Portability
30.30 mAh/g
858.37 mAh/oz

Ports

Output: 5V/2.4A, 9V/2A, 12V/1.5A

Input: 5V/3A, 9V/3A, 12V/2.5A, 15V/2A, 20V/1.5A
Output: 5V/3A, 9V/3A, 12V/2.5A, 15V/2A, 20V/1.5A

Output: 100W

Flight status
Status: Safe
The power bank is safe to take on board. It's under the specified TSA limit of 100 Wh. Read more about taking power banks on planes.

Other features

Charging capacity calculator
Use the search bar below and find out exactly how many times can the RAVPower PD Pioneer 20000mAh charge your smartphone battery

RAVPower PD Pioneer 20000mAh 80W AC Power Bank Review
The RAVPower PD Pioneer 20000mAh AC Power Bank is a compact and powerful charger that can provide rapid-charging speeds to any compatible device. It features a bidirectional USB-C input/output port, which allows you to quickly replenish any USB-C device. The AC outlet is perfect for laptops and a wide range of gadgets that have a rating of 80W or less.
Unboxing video
Charging technology
With this power bank, you can charge your devices in three different ways:
– either via the bidirectional 30W PD 3.0 USB-C input/output port
– the 18W Quick Charge 3.0 USB-A output port
– or via the AC outlet
The 30W PD 3.0 USB-C port is ideal for smartphones, tablets, laptops, and other compatible USB-C devices. It can charge a 2015 12" MacBook from 0-100% in just two hours. The bidirectional 30W PD 3.0 USB-C input/output port has a rating of 5V/3A, 9V/3A, 12V/2.5A, 15V/2A, 20V/1.5A.
Meanwhile, the 18W USB-A output port supports Quick Charge 3.0, which can power up compatible devices much quicker than the standard USB-A ports. It has a rating of 5V/2.4A, 9V/2A, 12V/1.5A.
The AC output can reach up to 80W for compatible devices, such as the MacBook, a drone, Nintendo Switch, GoPro camera, camera battery, etc. It has a rating of 110-120V/60Hz and 100W (max).
The RAVPower 20000mAh AC power bank can be recharged through the bidirectional 30W Power Delivery 3.0 USB-C input/output port, which will only take 3 hours to replenish, provided you use a high-speed wall charger.
It includes a USB-C to USB-C cable, so you won't have to purchase one separately. However, you will need to purchase a 24V/1A (max) adapter to refresh the ac power bank.
Overall, the unit can provide 4.1 charges to the iPhone 11, 4 charges for the Galaxy S10, 1.5 charges for an iPad Pro and 1.1 charges for a 2015 12" MacBook. You can even power up several devices at the same time.
Portability
Measuring 6.1" long x 2.7" wide and 2.7" thick, the RAVPower 20000mAh AC power bank is small enough to fit into your desk and you can slide it fairly easily into your backpack. It's also not too heavy, weighing just 1.46 pounds, which is easy to carry around with you. The compact design makes it a great choice for you if you're on-the-go, or going on a hiking or camping trip.
You won't have to worry about having any problems taking it with you while you're traveling by flight. It's safe enough for you to take on an airplane. It only has 74Wh, which is below the 100Wh limit set by the TSA.
This device is a bit smaller and lighter than RAVPower's 30000mAh 100W power bank (7" x 5.4" x 1.8", 2.95 pounds). It's also similar to SinKeu's 65-watt power bank size and weight (6.8" x 3.8" x 1.78", 1.1 pounds). Either one of these units is a great option if you're heading out or going for a backpacking or camping trip.
Look and feel
The stylish and powerful RAVPower PD Pioneer 20000mAh 80W is a durable and practical power bank. It has a strong construction build, featuring a premium plastic outer shell made of anti-fingerprint rubber with a smooth finish. The texture is soft and velvety to the touch, which helps to provide a grip, so it won't slip or slide out of your hands very easily. The rectangular-like body has four rounded corners that enhance the durability of the unit. It also comes packaged with a hard shell storage case with a polyester strap and a drawstring mesh bag. You'll also find a 60cm USB-C to USB-C cable with it.
On the front face of the ac power bank you'll find the white RAVPower logo and above it, a rubberized shiny strip containing five LED indicator lights. Just above the LED lights, on the top of the device, you'll find the USB-C/USB-A ports, AC outlet with a cover, and a power button. The USB-A output port is located on the left-hand side, directly above the AC outlet. You'll find the USB-C input/output port next to the USB-A port and just below the USB-C port, you'll see the power button. This setup keeps your cables organized and less cluttered when they're connected. There is also a cooling fan on the bottom of the power bank, helping to keep your device cool throughout its use.
When the device is charging, the five LED indicator lights will display the charging status. While it's being replenished, the lights will flash in sequence, displaying the charging status of the device. Five solid LED lights will indicate the device has been 100% charged. If there is a low battery, the last LED light will flash blue. When devices are connected to the power bank, the indicator lights will display how much power is remaining. Five lights will indicate 100-81%, four indicate 80-61%, three indicate 60-41%, two indicate 40-21%, and one indicates 21-1%. Pressing the power button will also display how much juice is left in the unit.
To turn on the AC output, simply press and hold the power button for three seconds. Pressing the button again will show the amount of power left in the battery. The AC outlet will shut off on its own If a connection isn't made after one minute. Whenever a connected device is fully replenished, the AC outlet will turn off on its own. You will need to turn it on again to charge another device using this method.
Durability & build quality
The RAVPower PD Pioneer 20000mAh AC power bank is a pretty rugged and well-built unit made of premium plastic that offers protection against scratches and drops. The rubberized-soft texture should also help absorb damage upon impact. There is a cooling fan on the bottom, which helps to regulate the temperature if gets too warm while in use over long periods of time.
It even comes with superior protection to ensure the device runs smoothly and reliably. Whenever a faulty connection is detected, the power bank will shut off all the connections and every LED indicator light will flash. You can begin using the charger again either by recharging it or by pressing the power button. It will also shut off the USB output if it detects the power for that output is too low.
When you purchase this device, you'll receive an 18-month limited warranty for parts and labor. If you have any issues with your AC power bank, you can contact the manufacturer to help resolve them.

Pros
Rapid charging via all ports
Very short recharging time

Cons
Final Thoughts
Overall, the RAVPower PD Pioneer 20000mAh AC power bank has a lot of qualitative features that you might want to take advantage of. The AC outlet is powerful on its own, providing power to all kinds of devices and the two USB ports will rapidly charge your gadgets multiple times. It also has advanced security features built-in, so you and your devices will stay protected while it's in use. This is a great choice for you if you're going camping, hiking, or just need a portable charger for everyday use.
Compare it with these other AC power banks:
Halo Bolt 58830mWh 15900mAh
The Halo Bolt 58830 is a powerful device. Besides being able to work as a regular power bank and charge phones and laptops, it also works as a jump-starter.
Read More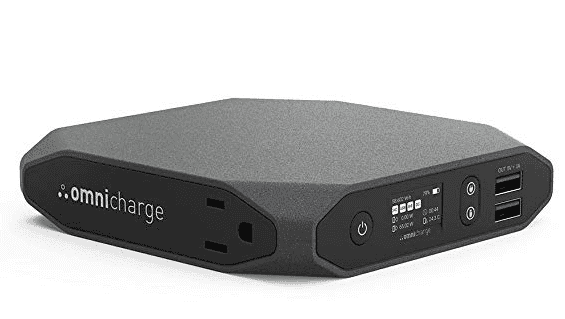 Omni 20+ Power Bank Bundle
The Omni 20+ Bundle AC/DC/USB-C Power Bank is a top-class portable charger. Robust and with a 20000mAh capacity, it charges multiple types of devices in one go.
Read More
Panergy 40000mAh Portable Battery Pack with AC Outlet
The Panergy Portable Power Station offers PD, QC, and AC outputs, and with its 40000mAh capacity, it can keeping your smartphones and laptops charged for hours
Read More