PowerMaster Power Bank 12000mAh at a glance

Key specs
Dimensions (LxWxH)
4 x 3 x 0.9 in
10.16 x 7.62 x 2.29 cm

Charging technology

PBE metrics
Affordability
mAh/$
Average
341.92 mAh/$
Portability
41.96 mAh/g
1188.12 mAh/oz

Ports

Output: 5V/2.1A

Output: 5V/1A

Input: 5V/2A

Flight status
Status: Safe
The power bank is safe to take on board. It's under the specified TSA limit of 100 Wh. Read more about taking power banks on planes.

Other features

Charging capacity calculator
Use the search bar below and find out exactly how many times can the PowerMaster Power Bank 12000mAh charge your smartphone battery

PowerMaster Ultra-Compact External Battery Pack Review
The slim and powerful PowerMaster 12000mAh power bank supports a wide range of devices from the Android and Apple product lines. It has two different USB ports, which are able to output 2.1A respectively 1A of charge. LED indicators will also provide you with an accurate reading of how much juice is left in your battery pack. This PowerMaster power bank also has a very nice design with a built-in flashlight, allowing you to lit up dark areas when you're on-the-go.
Charging technology
The PowerMaster 12000mAh external battery pack is fully compatible with Android and Apple mobile devices and tablets. It can provide 3.5  charges to an iPhone 8, 2.5 charges for an iPhone X, 2 charges for Samsung S9, and one full charge to an iPad Air.
This device is also compatible with the iPhone XS Max/XR/XS/8/8 Plus/X, Samsung S10/ S9/@9 Plus/S8/S8 Plus/S7/S7 Edge, iPad, and Kindle.
It even has two USB ports with 3.1A total output, allowing you to power-up your connected devices at the same time. One USB port has a rating of 5V/2.1A for a fast charging experience and the other has 5V/1A, with a total of 5V/3.1A. You can refresh the PowerMaster power bank via the micro-USB input port with a rating of 5V/2A.
Portability
The PowerMaster power bank is an average-sized external battery pack, measuring 4" long x 3" wide x 0.9" thick, which can fit perfectly into the palm of your hand. It's also very light, weighing just 10.1 ounces, allowing you to carry it around without any issues while you're on-the-go. The wallet-like size makes it easy to store right into your pocket, bag, or just about any small space you can find.  It's convenient for you to take while you're traveling or using it as part of your daily routine.
You won't have any issues whatsoever taking the external battery pack with you on a flight. Since it only has 44Wh, it's extremely safe and falls below the 100Wh restriction set by the TSA.
The PowerMaster 12000mAh portable charger is a bit similar in size and weight to BENANNA's 10000mAh device (5.5" x 2.9" x 0.5", 9.1 ounces). If you're looking for something compact and lightweight, either one of these devices would be great for you.
Look and feel
The slim and stylish PowerMaster 12000mAh power bank features an outer shell with soft, curved edges that provide a comfortable grip for the user. You'll find that the power bank contains a power button, two micro-USB ports, and one USB port on the bottom silver panel. This setup makes it easy to connect your USB cables to the device while keeping it from getting tangled up.
Meanwhile, the middle of the front face contains a black stripe that extends across the charger. On the bottom of the stripe, you'll find the four blue LED indicator lights and on the opposite end, PowerMaster's white logo.  The LED lights display how much power is left in the power bank. One light indicates 25% of power is remaining, two indicates 50%, three indicates 75% and finally, four indicates 100%.
Durability & build quality
There aren't any shock-resistant and/or water-resistant ratings for the PowerMaster power bank, but it still has some built-in safety features that will give you peace of mind. Multi-layer protection helps to ensure your devices are completely safe while charging. It contains advanced circuitry and built-in safeguards to keep devices protected from overheating, overcharging, overload, short-circuit, over-voltage, over-power, and high temperatures.
It can also automatically identify and deliver the best charging current for the connected device while delivering the quickest charge in the safest way possible. The PowerMaster power bank also runs on a premium lithium-ion battery cell, ensuring a safe and reliable charge for the battery pack.
Unfortunately, this power bank doesn't have any details on the manufacturer's warranty.

Pros
Compatible with Apple/Android devices

Cons
One port only has an output rating of 1A
Final Thoughts
Basically, this PowerMaster 12000mAh is a classic power bank with a flashlight. It's compatible with devices from Apple and Android with a powerful output rating totaling 3.1A. The micro-USB ports will charge your smartphones and tablets rather quickly. The soft grip is a nice touch too. You can carry it around with ease while you're traveling. Built-in safety features also give you peace of mind so it will keep your devices completely safe with a reliable charging experience. Overall, this PowerMaster power bank is perfect if you're looking for something compact, powerful and lightweight.
Compare it with these similar power banks:
Anker PowerCore 13400 Nintendo Switch Power Bank
The Anker PowerCore 13400 Nintendo Switch Power Bank is a dedicated device for charging the Nintendo Switch gaming console. Created especially for on-the-go gamers that want some extra play time.
Read More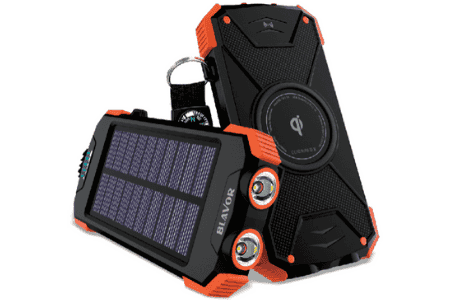 BLAVOR Qi 10000mAh Solar Portable Charger
The BLAVOR Qi solar power bank offers wireless and USB charging, and thanks to its solar panel, it's a great choice for powering devices while being outdoors.
Read More
Samsung Wireless Portable Charger 10000mAh
The Samsung Wireless Charger Portable Battery 10000mAh has an elegant design, and it offers two ways to fast charge your devices: wireless or via its USB port.
Read More