Poweradd Slim 2 5000mAh at a glance

Key specs
Capacity
5000 mAh
18.5 Wh
Dimensions (LxWxH)
3.93 x 1.26 x 1.18 in
9.98 x 3.20 x 3.00 cm

Charging technology

PBE metrics
Affordability
417.01 mAh/$
Average
324.40 mAh/$
Portability
40.32 mAh/g
1136.36 mAh/oz

Ports

Output: 5V/2.1A

Input: 5V/2A

Flight status
Status: Safe
The power bank is safe to take on board. It's under the specified TSA limit of 100 Wh. Read more about taking power banks on planes.

Other features

Charging capacity calculator
Use the search bar below and find out exactly how many times can the Poweradd Slim 2 charge your smartphone battery

Poweradd Slim 2 5000mAh Portable Charger Review
We're pleased to say that the Poweradd 5000mAh Portable Charger represents outstanding value for money in its category. Most manufacturers have got a 'lipstick-sized' portable charger or power bank in their range of products. However, for similar money, you'd only be getting about 3250mAh from Jackery, RAVpower, or Anker. It's a great budget offering for someone looking for a small, portable power bank.
Unboxing video
Capacity & Charging speed
For the size and price, the Poweradd 5000mAh Portable Charger is packing a very impressive amount of power. To find an equivalent at this type of small size you'll definitely need to be prepared to part with more cash.
The good news is it's fast as well. Its single USB output port is rated at 2.1A so you'll be recharging your devices very quickly indeed. This once again is a point of difference with some of its competitors.
Recharge times are also speedy thanks to its 2A input port. To take advantage of the fast recharge times it's a good idea to get a wall charger that can deliver the necessary current. Check out our selection of fast charging adaptors.
Finally, the Poweradd 5000mAh Portable Charger uses smart charging technology. Basically, this auto detects your device and then delivers the highest/safest charge possible.
Look and feel
Look and feel is one area where the Poweradd 5000mAh Portable Charger is perhaps a little bit disappointing. There's not anything wrong with the way it looks per se, it just feels a little plain. Having said that it does come in a range of candy-hued colors (other than plain old black). The bright color palette goes some way to mitigating its somewhat plain looks.
The long, narrow body has a rounded hexagonal shape – which makes it easy to pick up. The plastic casing is broken up by a metallic strip that wraps right around the body. On the leading edge, you will find a prominent Poweradd logo, as well as the power button. At the business end, the USB output and micro-USB input ports are located.
Durability & Construction
The Poweradd 5000mAh Portable Charger feels solid and well put together. However, to offer the unit at the price they are, they have obviously had to skimp somewhat on materials. The body is plastic, and as mentioned above it doesn't look quite as sexy as some of the other products in this category.
We've also read some reports of manufacturing issues. Things like it not holding a full charge after a period of time, or even units completely dying not long after purchase. We should stress that these reports are isolated, and the vast majority of customers give it an excellent rating. Not to mention the fact Poweradd back this power bank up with a 24-month warranty. We don't think these reports are reason enough to not buy it.
Portability
It's hard to fault the Poweradd 5000mAh Portable Charger when it comes to grading it for portability. As you can see from the product photos, it will easily fit into the palm of your hand. It will also sit comfortably in your pocket, not to mention a purse, backpack, or shoulder bag.
But if you consider some of its competitors in this 'lipstick-sized' power bank category, we should point out there are lighter units available. At 4.2 ounces, the Poweradd is a little heavier than the offerings from Anker, Jackery, and RAVpower. This is due to the Poweradd having a chunkier profile. They all measure about 4 inches in length, but the Poweradd 5000mAh Portable Charger is close to twice the width of its competitors.
But it is still a very compact, portable power bank.

Pros
Fantastic value for money
Super compact and portable
Fast charging / recharging

Cons
Some reports of manufacturing issues
Heavier than competitor's models in this category
Final Thoughts
This power bank performs well considering its price and small size, which is certainly its best feature. So, if you're looking to rely on an extra charge before getting home or while going for a run, then the Poweradd Slim 2 5000mAh is just the right fit for you.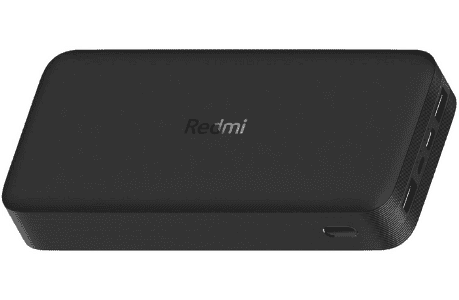 Xiaomi Power Bank 20000mAh
The Xiaomi Power Bank 20000mAh is the flagship charger of the Xiaomi brand. Excellently priced for the quality – power offered, it also gains points for style.
Read More
iMuto 20000mAh Portable Charger
The iMuto 20000mAh Portable Charger sits bravely in its 20.000mAh category. Although looks are not its strong point, it's leading the way at the price chapter.
Read More