Power banks with flashlights are quite handy, as they provide you with a convenient source of light as well as a charging source for your phone or device. But selecting the best power bank with a flashlight is not as straightforward as you might think, due to the many models available on the market.
In this article, we have put together a selection of what we consider to be the best portable chargers that come with embedded flashlights. Each of our picks is the most outstanding in its category, with a particular standout feature and superb execution overall.
1. Most Powerful: BLAVOR Qi Wireless Charger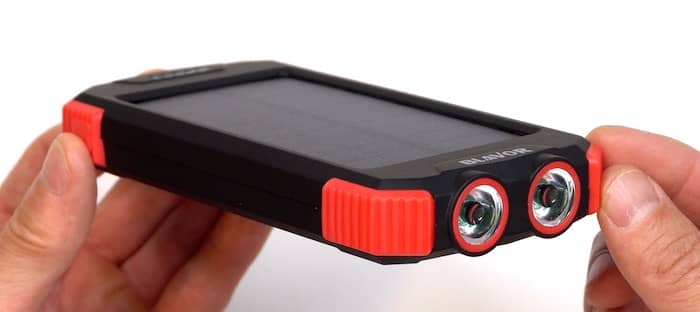 Capacity: 10000mAh
Ports: 1 USB type A, 1 USB Type C, 1 Micro USB
Max output: 10.5W
Weight: 9.3 oz / 263 g
Recharging time: 6 hours
mAh/$: 357
Or buy on BlavorPowerBank.com or on Ebay.com
The BLAVOR 10000mAh solar power bank has one of the most powerful flashlights you can get on a power bank. Even as you look at the device, this is one of the features that stands out the most as the dual flashlights stare directly at you like a pair of googly eyes. The fact that it comes with two different LED lights instead of just one makes its illumination effect even more powerful.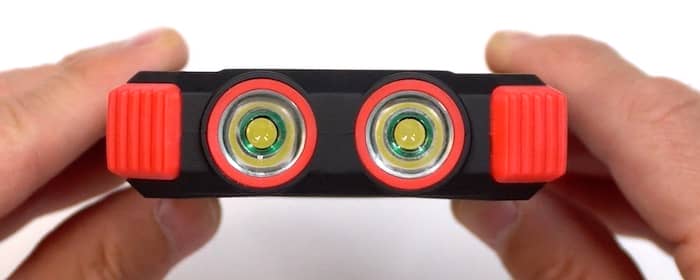 This is a power bank built specifically for the outdoors. Thus the flashlights really need to shine and help you find your way through pitch-black darkness. The fact that it's been designed to be an outdoor power bank is even more evident when you take into consideration the in-built solar panel. Granted, you'll need a good amount of sunlight in order to fully charge the power bank exclusively via the solar panel. But it can still be useful, especially if you're relying on the flashlight more since it doesn't consume as much power as a charging phone would.
In fact, on a full charge, the flashlight can illuminate for up to 100 hours. And it has an illumination depth of 164 feet. Very few other power banks feature flashlights that are this potent. In order to activate it, you'll need to hold the power button for 3 seconds. The same applies to turning it off.
The BLAVOR 10000mAh has an anti-slippery design, making it difficult to slip out of your pocket or backpack. It is also built to withstand a certain degree of impact. There are four protectors attached to every four edges of the power bank; these make it easy to grab and allow for a stronger grip. All these design features work really well for hikers or any other adventurer.
This power bank has a micro-USB port for charging it. It also features USB type C and micro USB output ports. Two devices can be charged at the same time. It comes with a portable compass and a powerful dual flashlight.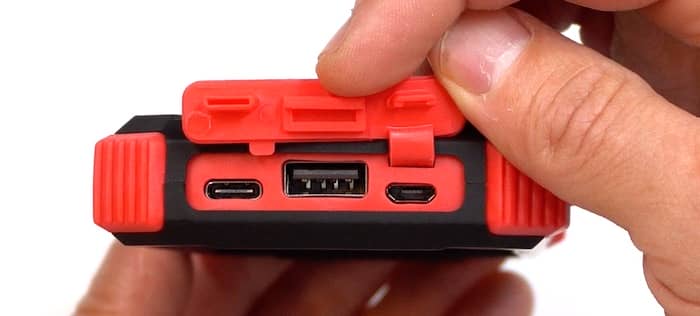 The battery capacity of 10000mAh allows you to fully charge your phone 2 – 4 times, depending on your phone model. You can also charge your phone wirelessly by placing it on the power bank. So, you do not have to worry about ruining your cables, losing them, or carrying excess items on your trip.
The one big drawback this power bank has is the fact that it features just a single power output port: the USB type A. Even if it features both a micro USB and a USB type C, both of them are input ports, although at least the USB type C could have also been an output port.
Unboxing video
What we like about it
Powerful dual LED flashlight
Built-in solar panel
Rugged design
What we dislike about it
Takes a long time to recharge via solar power
Just one output port
Read our full review of the BLAVOR Qi 10000mAh Solar Power Bank
2. Best style: INIU Portable Charger 10500mAh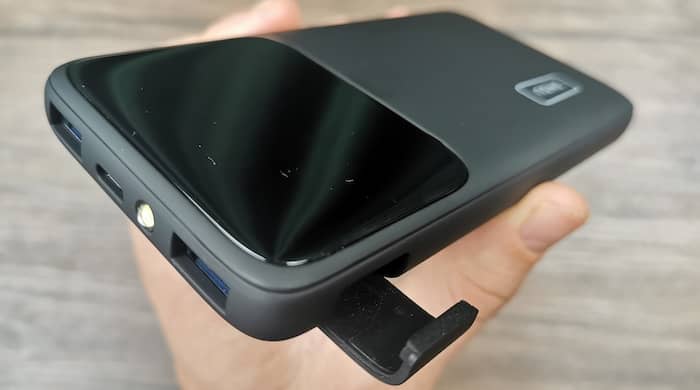 Capacity: 10500mAh
Ports: 2 USB type A, 1 USB Type C
Max output: 25W
Weight: 7.4 oz / 209 g
Recharging time: 3 hours
mAh/$: 389
Or buy on iniushop.com or on ebay.com
This INIU BI-B6 portable charger is another excellent power bank with a flashlight – fast charging, powerful, and incredibly portable. The look of the product is entirely professional. For the image-conscious, it's great for work because of its slick black design. It's almost as slim as an iPhone X and just as tall. It can easily fit into your palm, purse, and even pocket.
The flashlight on this device is located between the USB type C port and the USB type A port. It's a powerful LED flashlight that can be activated by pressing the power button twice in quick succession. It produces a white and cold light powerful enough to help find your way in a dark room or to guide you on a footpath during the night.
In terms of visual design, the display is a bonus. On the power bank's surface is a crystal-clear LCD digital display screen. This shows useful information such as the power bank battery percentage and charging status of connected devices.
Apart from the refreshing aesthetic, another thoughtful feature of this power bank is the built-in phone holder at the bottom right corner. You can push it out and place your phone comfortably while you charge. This provides a safe stand for your phone, so it doesn't slip and fall off. It allows you to conveniently catch up on your favorite shows or video call with friends and family hand free.
The INIU 22.5W 10500mAh portable charger comes with a battery capacity of 10500mAh. It is able to charge an average smartphone (iPhone and Samsung Galaxy) 3-4 times. You can also charge your other devices, such as air pods, watches, and even iPad.
This power bank charges faster than the others in its category. It also comes with the latest 22.5W PD and QC4+ (fast charging technologies). The power bank can charge the typical smartphone battery to 54 percent in 25 minutes, thanks to these technologies. So, if you happen to be working late or staying out longer than expected, this is the perfect charger to power up any of your devices.
Of course, the built-in flashlight on this power bank is without fault due to the battery capacity.
The connector type is USB type C, and the power supply goes both ways. You can recharge the power bank and charge your devices through the same port. It also comes with a dual USB port, allowing you to charge two devices simultaneously.
If you need a fast-charging power bank with a flashlight and you value good visual design, consider getting this one.
Unboxing video
What we like about it
Powerful flashlight
Light and compact
Pop-out phone support
What we dislike about it
The display screen is smudge-sensitive
Read our full review of the INIU BI-B6 Power Bank
3. Largest capacity: Renogy 72000mAh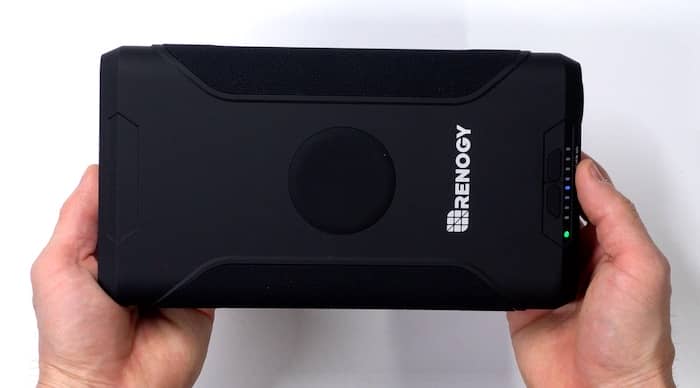 Capacity: 72000mAh
Ports: 1 USB Type-A, 2 USB Type C, 1 DC, 1 cigar lighter
Max output: 100W
Weight: 52.8 oz/1496 g
Recharging time: 4 hours
mAh/$: 361
Or buy on DrPrepare.com or on Newegg.com
This Renogy power bank has a massive capacity of 72000mAh. This is basically the largest power bank on the market. But the reason we included it in this list is that it also features a powerful flashlight. It is located on the opposite side of its charging ports and can be turned on by pressing the power button twice.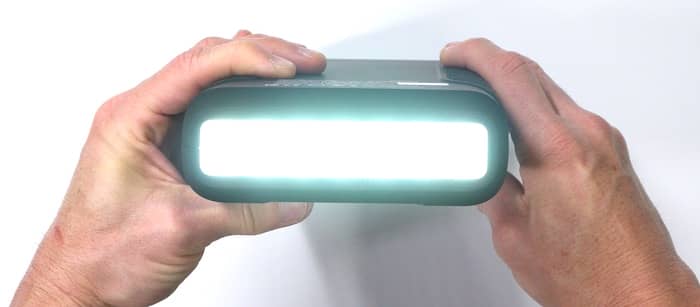 As you can see, it's a rather large flashlight. It can illuminate an entire room if need be. Not to mention the interior of camper vans, caravans, or large tents. Because it's quite a large and heavy device, this is not the type of device that you'd take on a casual hike. Instead, this is aimed at more long-term trips or as a backup in case of blackouts.
It's important to note that the flashlight has several operating modes. The white light has two different power intensities. There's also an option to activate a red light by doing a long press on the power button. This can be useful for signaling during emergency situations.
But besides this very handy flashlight, the Renogy 72000mAh comes with a bunch of extra features. In total, it has 6 different charging options: 2 USB Type C ports, 1 USV type A, 1 barrel DC, 1 cigarette lighter socket, and a Qi Wireless charging pad. This way you'll be able to charge up to 6 different devices at the same time.
One of the minuses of this power bank is that because of its large capacity, it can't be taken on flights. At 266Wh, it's well over the maximum 160Wh limit imposed by the TSA. So you'll only be able to travel with it using more traditional transportation means.
Unboxing video
What we like about it
Multi-mode flashlight
Massive capacity
6 different charging ports
Rugged build
What we dislike about it
Large and heavy
Can't be taken on flights
Read our full review of the Renogy 72000mAh
FAQs
Why do some power banks have a flashlight?
There's no general rule as to which power banks have or don't have a flashlight. However, it's a feature that has come naturally to battery manufacturers that wanted their portable chargers to stand out from the crowd. The main reason for their existence on power banks is that they are quite useful. Furthermore with the latest LED technologies, they're also quite cheap to implement and they don't consume a lot of power to operate.
How do you turn on the flashlight on a portable charger?
The vast majority of flashlights on power banks are turned on by pressing twice on the power button. However, there are some power bank models that have other activating mechanisms such as a long press (3-5 seconds) on the power button. In, all cases, it's best to consult the user manual in order to see the exact way to turn your portable charger's flashlight on.
Conclusion
In our estimation, the models in this article are the very best power banks with flashlights available today. The market is saturated with many more models, but we have done our best to select and share with you the flashlight-equipped power banks which set themselves apart from the rest. We hope we have simplified the process of selecting a portable charger with flashlight that suits your personal needs. If you believe there is another that should be on this list, please contact us and let us know.