Power banks are available in a variety of sizes and forms to accommodate a wide range of needs. A power bank's power output, capacity, ports, and TSA approval all contribute to its suitability for a particular application. However, the essential characteristic to consider when shopping for laptop power banks is the output power.
Because each laptop model requires a different amount of power output, it is critical to check the power input specifications of your laptop prior to purchase. For example, MacBooks consume anywhere between 29W and 96W of power, depending on the model. Moreover, laptops with faster processing speeds and bigger screens often use more input power than ultraportable laptops, which in turn use less input power.
If you choose a power bank that is insufficient for the power requirements of your laptop, charging will be prolonged or will not occur at all. Bear in mind, that just because the power bank can deliver a high amount of power does not guarantee that the laptop will charge quickly.
When deciding how to charge a laptop, it's important to consider the ports available on the device. To charge a laptop optimally, your port must be capable of transferring the necessary amount of power. When compared to USB-A, USB-C is more capable of accomplishing the job required. If your laptop does not have a USB-C port, you should opt for a power bank that includes both a DC cable and a port.
If you are traveling by airplane, keep in mind that your power bank should have a capacity of lower than 100Wh (about 27000mAh) and a clear label/imprint indicating the charger's capacity (mAh and Wh).
1. Omnicharge Omni20+ 20000mAh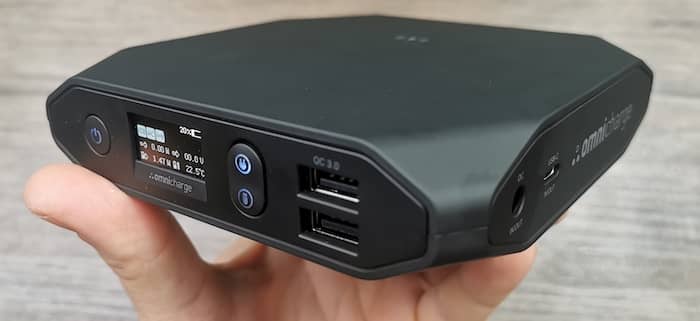 Capacity: 20000mAh
Max Output: 100W
Ports: 1 DC, 1 AC, 2 USB Type A, 1 USB Type C
Charging Time: 3 Hours
Weight: 21 oz / 611 g
mAh/$: 67
Or buy on Omnicharge.com or on Ebay
Are you a power user in search of a versatile power bank? In that case, we recommend Omni20+. This power bank is armored to the teeth in terms of ports and power output and is considered a holy grain by some. Omnicharge has a capacity of 20000mAh and 71Wh, ensuring that you will have enough power to charge anything from smartphones to GoPros, drones, and laptops.
Apart from physical ports, the Omnicharge Omni20+ features a +10W wireless charger that is compatible with any device that supports wireless charging. While the majority of compact laptop power banks only include USB-C ports for laptops, the Omni20+ encompasses AC and DC inputs for added convenience.
The USB-C port offers a maximum power output of 60W, which is typically found on 13-inch and some 15-inch laptops. With a capacity of 20000mAh, you can charge a smartphone five times, an action camera ten times, a DSLR five times, and a 15-inch laptop once.
It is worth noting that USB-C supports Power Delivery technology, resulting in rapid charging. Furthermore, the Omni20+ is outfitted with pass-through charging to keep itself, and the devices connected to it charged at all times.
The matte finish gives this power bank a classy appearance, and the build quality is what we would expect from a well-known brand. Furthermore, with a weight of 1.35 lbs (611g), it is very portable.
One of the best features of this product is its display. You don't have to guess how much power your devices consume or how much power your Omnicharge provides. The OLED display allows you to monitor the power levels of your device better and know what you need to keep fueled throughout the day.

The company paid close attention to detail, assigning a dedicated button to each USB-A button, which is very practical. As previously stated, the Omnicharge Omni20+ has a 71Wh capacity and is TSA-approved so you can bring it into the flight without prior permission.
Unboxing video
PROS
Can charge laptops
Various port types
Power Delivery & Quick Charge
Wireless charging
Smart display to monitor
TSA approved
CONS
Premium price
DC cables not included
---
2.

Renogy 72000mAh Laptop Power Bank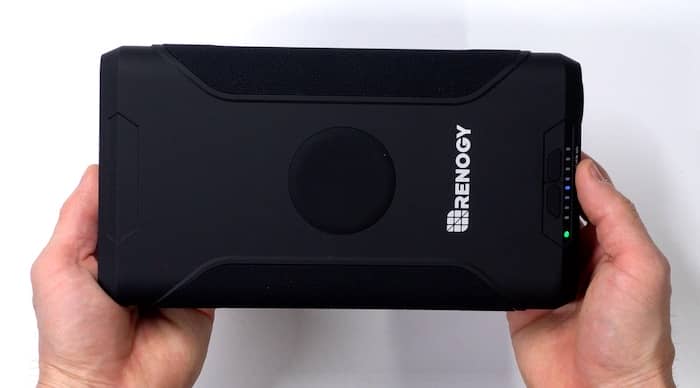 Capacity: 72000mAh
Max Output: 150W
Ports: 2 DC, 1 USB Type A, 2 USB Type C
Charging Time: 3-4 Hours
Weight: 53 oz / 1496 g
mAh/$: 361
Or buy on DrPrepare.com or on Newegg.com
Although not as famous as other brands in this list, Renogy, delivered a sound product in the Renogy 72000mAh. It's one of the few power banks that's been made primarily for laptops. With its high-end capacity, it can power almost all laptop models, with the exception of those that operate with a DC current of over 62.7W.
One of the most appealing features of the Renogy 72000mAh is the fact that it comes with two DC outlets; a Laptop output port, and a cigarette lighter port. So if you're into activities that require the use of two laptops at the same time, through a car inverter to laptop adapter, this is could be one of the best alternatives. Besides the 2 DC outlets, it also features one USB-A port, two USB Type C ports (one of these supports PD), and one 12V/15A cigarette lighter port for small medical equipment or devices with an extra car power inverter.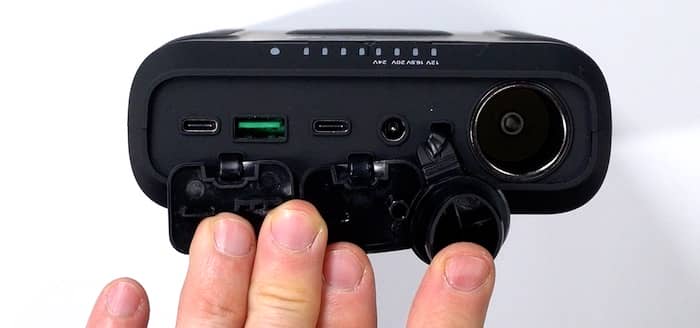 In terms of size, it comes in at 9 x 4.9 x 1.7 in (22.86cm x 12.45cm x 4.32cm), and it weighs 52.8 oz (1496 g). Despite not being the lightest and most compact on the list, it is highly portable considering its huge capacity.
Unboxing video
PROS
Huge capacity
2 DC outlets
2 USB Type C ports
LED flashlight
Versatile and highly compatible
CONS
Cannot be taken on planes
Does not support the latest MacBook and iPad models
Does not support laptops with DC current over 62.7W
Read our full review of the Renogy 72000mAh.
---
3.

Goal Zero Sherpa 100PD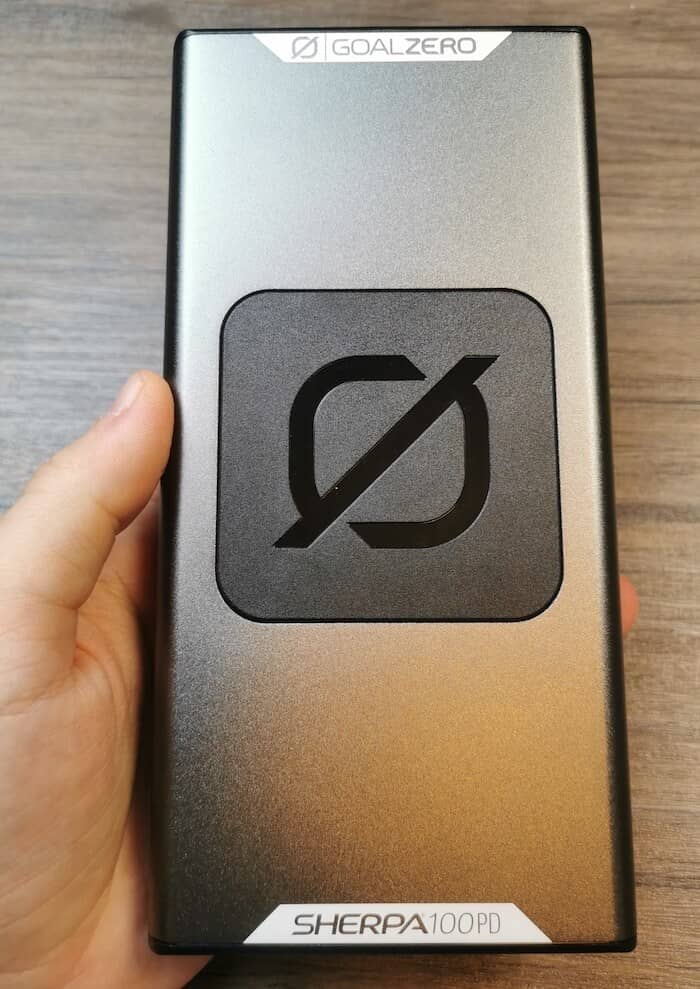 Capacity: 25600mAh
Max Output: 60W
Ports: 2 USB Type A, 1 USB Type C
Charging Time: 3 Hours
Weight: 22 oz / 635 g
mAh/$: 166
Or buy on GoalZero.com or on BestBuy.com
If you're looking for a high-quality, compact power bank with an adequate number of ports, the Goal Zero Sherpa 100PD is a decent choice.
This lithium-ion power bank features a capacity of 25600mAh and a power output of 94.7Wh. This amount of energy is enough to charge a smartphone seven times, a tablet three times, and a laptop 1.5 times. Moreover, if you're wondering whether you're allowed to bring the 100PD on a flight, the answer is yes, as it's under the TSA's limit of 100Wh.
This power bank has three ports: two USB-A (12W) ports and one USB-C (60W) port.
Two USB-A ports allow you to charge two devices simultaneously, such as fitness trackers, GPS devices, and micro/lightning phones. If your laptop is equipped with a USB-C port, you can charge it by connecting it to the USB-C port on the power bank.

It's critical to keep in mind that this port delivers a maximum of 60W, which means that charging the laptop should be done when it's not in use. However, if you have an ultraportable laptop, such as a 13-inch MacBook, with a low power requirement, you can charge and run the laptop concurrently.
The Sherpa 100PD features Power Delivery technology for quick charging via the USB-C port. In summary, Power Delivery technology enables the power bank and the device it charges for communicating with one another and determining the maximum amount of power that can be drawn from the charger to the device in order to speed up the charging process.
Another fascinating aspect of Power Delivery is that it enables power to flow in both directions without regard for circuit or connection orientation. So, for instance, if you use a USB-C charging cable to connect two smartphones that support Power Delivery, one can charge the other and vice versa.
To ensure safety, Goal Zero has regulated all three ports on this power bank to ensure constant flow without overheating, short-circuiting, or overcurrent.
Furthermore, if your devices support wireless charging, you can enjoy the convenience of this feature with Sherpa 100PD without the need for cables.
The gleaming and elegant Sherpa 100PD is a surefire way to win your heart when it comes to appearance. The body of this power bank is plastic, but it would seem to be aluminum, and it weighs 1.4 pounds.
This material has a number of advantages and disadvantages, and the customer must decide whether it is beneficial or detrimental. While a plastic power bank is lighter than an aluminum one, the aluminum body is more impact-resistant and has the potential to survive in harsh environments.
Unlike some power banks, which display the remaining charge via green and red LED lights, this power bank features an LCD display that shows the exact amount of juice remaining in the battery, which is an added benefit of this product.
Unboxing video
PROS
Power Delivery
Simultaneous charging
Wireless charging
TSA approved
---
4. Crave PowerPack 50000mAh
Capacity: 50000mAh
Max Output: 100W
Ports: 2 USB Type A, 2 USB Type C
Charging Time: 4-5 Hours
Weight: 32 oz / 907 g
mAh/$: 200
Or buy on CraveDirect.com or on Ebay
This is a highly versatile external laptop battery that will charge almost all laptop models. It can deliver up to 100W via its main USB type C port, which is more than enough even for power-hungry MacBook PROs.
In terms of port variety the Crave PowerPack features the following:
one 60W PD USB type C port
one 100W PD USB type C port
two QC 3.0 USB type A ports
You can use it to charge 4 different devices at the same time. When all ports are active, it can supply a maximum of 123W in total. So the maximum amount per each individual port will drop slightly as compared to that port being used just by itself.
This portable charger also comes with a wall charger, which is quite rare for a power bank. Generally, you'll need to have your own charger for the power bank you're buying. Using the included charger, you can top up the Crave PowerPack in 5 to 6 hours, which is a very good time given its large capacity.
Given the fact that it has a total capacity of 185Wh, which is way over the maximum admitted capacity of 160Wh, this power bank cannot be taken on planes. You'll need to limit yourself to other means of travel if you're planning on taking it with you on trips.
Unboxing video
PROS
Charges almost all laptop models
4 output ports
Charger included in the box
CONS
Cannot be taken on flights
---
This concludes our list. Now, depending on your specific requirements, some of them might be better than others.
Before purchasing any of these it's wise to make sure that your laptop is fully compatible with the external battery you're interested in. So check details such as laptop model and power input specifications. Most of the time you'll be able to figure it out by reading the product page details. But sometimes you'd need to get in touch with the supplier. This short research can save you loads of time and nerves in the unfortunate event that you'll order an incompatible charger. It pays to do your homework!
How to charge a laptop with a power bank
If you want to power up your laptop while using it, you'll need a minimum power output from the charger. This value varies according to each laptop model. For example, a 15-inch MacBook Pro needs 87W, a 13-inch needs 61W, and a 12-inch model needs 29W. For the best results, consult the user manual of your laptop in order to find out the optimal wattage required to power it.
You should also know, that it's possible to power your laptop with lower power outputs too. But in this case, the laptop might consume more power than the portable charge is able to supply, thus continuing to draw power from the laptop's battery even if it's connected to the charger. Or in more extreme cases, you won't be able to power your laptop unless it's turned off. Either way, the lower the wattage of the power bank, the longer it will take for your laptop to charge. Using a regular 5V/2A USB output port and charging your laptop while it's not running, might take as much as 12h hours.
Port compatibility
Many new laptop models can be charged via a USB-C. Similarly, almost all new power bank models come with USB type C output ports. This makes both devices compatible with the high-power transfer.
But if you happen to have an older laptop model, the charging port might be pretty unique to that model or brand. For example, Apple, Lenovo, Dell, Samsung, Acer, or Toshiba laptops could each have their own type of charging port.
One of the most popular alternatives for charging a laptop using a power bank is to apply an adaptor to the power ban charging cable. Some power bank manufacturers even include a series of adaptors with their devices, such as the case of the MaxOak 50000mAh power bank.
The other alternative would be to get a power bank with an AC outlet and simply plug your laptop directly into the power bank. For this option, you might want to look at the Panergy 40000mAh or at the MaxOak 26756mAh. However, since the power supplied via the AC port is at a higher voltage, you can expect your laptop's battery to be charged proportionally less.
Power bank capacity
Before deciding on a power bank for charging your laptop, think about how many times would you like it to fully charge your laptop's battery. A good goal would be for 1-2 charges. More than that and the power bank will need to be quite bulky. But again, it depends on your actual needs.
The first thing would be to find out the capacity of your laptop's battery, ideally in mAh. But Wh is also good as a unit of measure (btw. you can easily convert Wh to mAh). For example, the battery of a 2019 13-inch MacBook Pro has a total rated capacity of 4475mAh.
So if you're looking to get two chargers out of the power bank, you should aim to get one that's at least 15000mAh. As discussed in a previous article, the real capacity of a power bank is smaller than advertised.
Other things to take into consideration
Besides capacity, power, and adaptors, you should also be mindful of the following aspects when choosing the right power bank to charge your laptop:
The more intensively you use your laptop, the more powerful should the power bank be in order to supply an adequate amount of power. So if you're a heavy user of resource-demanding software such as video editing programs, aim to get a power bank with generous power output.
Keep in mind that if you plan to fly with your power bank, its capacity must not exceed 100Wh or about 26000mAh, as per the TSA and FAA regulations.
Charging cables can affect the charging process. Even if both your portable charger and your laptop are fully compatible with each other, using a low-quality charging cable can result in much longer charging times. Ideally, use a cable that comes with either your power bank or your laptop.
If you have any other questions on how to charge a laptop with a power bank do let us know in the comments or get in touch with us via the contact us page!