Panergy Portable Power Station 40000mAh/148Wh at a glance

Key specs
Capacity
40000 mAh
148 Wh
Dimensions (LxWxH)
7.5 x 4.9 x 1.8 in
19.05 x 12.45 x 4.57 cm

Charging technology

PBE metrics
Affordability
mAh/$
Average
324.97 mAh/$
Portability
40.12 mAh/g
1136.36 mAh/oz

Ports

Output: 5V/3.1A

Output: 5V/3.1A

Output: 5V=3A, 9V=2A, 12V=1.5A (QC3.0 18W)

Input: 5V=3A, 9V=3A, 12V=3A, 15V=3A, 20V=2.25A (PD 45W)
Output: 5V=3A, 9V=3A, 12V=3A, 15V=3A, 20V=2.25A (PD 45W)

Output: 110V/100W, 60Hz (Peak Power Output: 150W)

Input: 15V/2.4A

Flight status
Between 101 Wh and 160 Wh
Status: Special Permit
The power bank is between 101 and 160 Wh. You will need a special airline permit in order to bring it on board. Read more about it here.

Other features

Charging capacity calculator
Use the search bar below and find out exactly how many times can the Panergy 40000mAh Portable Battery Pack with AC Outlet charge your smartphone battery

Panergy 40000mAh Portable Battery Pack with AC Outlet Review
The Panergy Portable Battery Pack is an all-in-1 portable battery with fast charging technology that can replenish smartphones and laptops. It also comes as a great backup if you're thinking of going camping or in case you get caught in the middle of a power outage. Next, we will review all the benefits the Panergy Portable Battery Pack has to offer, which will help you decide if it's a good deal for you.
Charging Technology
The Panergy Portable Battery Pack with AC Outlet guarantees to keep your devices charged for hours so that you can free yourself from the grid. Its gigantic capacity of 40000mAh is enough to charge smartphones, tablets, cameras, laptops, lamps, mini-fridges, fans, and other AC-powered appliances.
The best thing is that it's capable of charging devices through its 5 outputs at once, meaning that you can kill more than two birds with one stone, and also share power with others.
Regarding the 5 outputs, it comes with a Quick Charge 3.0 USB-A port, two 5V/3.1A USB-A ports, a USB Type-C PD port, and a 110V/100W(Max) AC Outlet. The USB PD port can provide as much as 45W to USB-C devices at full speed, including compatible laptops, the Quick Charge 3.0 USB-A port is perfect for QC compatible smartphones, while non-compatible PD or QC devices can still charge faster than with a traditional charger.
The following are some of the smartphone models that benefit tremendously from the PD and QC3.0 ports:
iPhone 11/11 Pro/11 Pro Max/iPhone XS/XS Max/XR/X/8 Plus/8/7/7 Plus/6.
Samsung Galaxy S10/S10e/S10+ /S9/S9+/S8/S8+/Note 9/Note 8/Note 7.
Google Pixel/Pixel 3a/XL/3/2XL/2/Nexus 5X/6P.
Huawei P10/Mate 9/Mate 20X/Mate 20 Pro, Sony XZ2 Premium/XZ3, LG G6/G5/G7/V30+
It can also charge tablets such as the iPad Pro 12.9'', iPad Pro 10.5'', iPad Pro 11'', and even portable game consoles like the Nintendo Switch.
On the other hand, with the AC Outlet, the Panergy Battery Pack can power laptops, lamps, mini-fridges, fans, and other AC-powered appliances. In order to activate this function, you must press the power button that's on top of the AC outlet for a few seconds.
What's more, the Panergy Battery Pack is compatible with the majority of the most renowned laptops, thanks to the USB Type-C port, which is a feature that the MAXOAK 50000mAh Power Bank for Laptops does not have. Some of these laptop models include:
MacBook Pro 13"/15", MacBook Air 12"/13"(2018), MacBook 12".
HP Spectre X360/13/15//360/X2/Spectre Folio 13-ak0000tu/Elite X2/EliteBook X360/Elite BOOK 830 G5.
Dell XPS 13"/XPS 15/Inspiron 13/Inspiron 7000.
Lenovo X1/YOGA730/E490/ideapad 720s-13/ThinkPad X1/X390.
Huawei MateBook X/X Pro/13 WRT-W29/E/D.
Samsung Notebook9(950XBE).
Xiaomi Air.
It's extremely powerful to charge MacBook Pro 13 over 5 times, and charge the iPhone 11 over 9 times,
It's difficult to determine how long it can extend laptop life as it varies from one model to another, but the good thing is that you can know both the wattage output and an estimated time until the battery drains through its LCD display.
Besides, the Panergy Portable Battery Pack is not only versatile due to the charging technology it offers; it also has different charging modes so that you can choose the one that's most convenient to you at any given time. It can be charged through the Type-C port with a car charger or from a wall outlet, and through the DC input if you plug it into a wall outlet or through a solar charger using an MC4 cable. It will take up to 7 hours to charge through an AC power outlet, 7 hours using a car charger, and from 10 to 15 hours with a solar charger.
One of the biggest design flaws in the Panergy Portable Battery Pack is the lack of pass-through charging function. This is a big disadvantage as you can't replenish its internal battery while it's powering other devices, and as a result, you need to stop using if you wish to recharge it.
Portability
Overall, in terms of size and weight, the Panergy 40000mAh/148Wh Portable Battery Pack with AC Outlet seems acceptable considering how much power you can obtain from it. Its dimensions are 7.5 inches long, 4.9 inches wide, and 1.8 tall, considerably bigger than power banks for smartphones, which is why it can be uncomfortable to hold it in your hands.
However, it's the perfect size to take it on a road or camping trip, and with a total weight of 35.2 ounces (2.2  pounds), surely it's quite bulky, but it's not the heaviest portable laptop charger on the market. You just simply have to place it on a protective pouch, backpack or briefcase, so that you can take it out wherever you wish and start powering all your devices.
If you wish to travel by plane with it, you need to take into account some considerations. Given that it's rated at 148Wh, its capacity surpasses the 100Wh limit set by the TSA  by a wide margin. The good thing, though, is that since it's under the 160Wh mark, you can request a special permit, so you'll need to contact your airline before the flight.
Look and Feel
Unlike other power banks of similar size and capacity, the design of the Panergy Portable Battery Pack is unique and nicely done. This is because it has a hexagonal-shaped aluminum body with a black matte finish, which feels smooth and doesn't attract fingerprints or smudges easily. It also has the perfect amount of details to create an edgy look, with the back featuring several horizontal grooves, while the front has a glossier plastic surface. Besides, the edges of both the frontal and back faces are accentuated by the silver of the aluminum casing.
All functional components are located in the front of the Panergy 40000mAh Battery Pack so that it's easier and tidier to connect multiple devices. Just at the center, there's the power button, the QC3.0 USB port, which is easily distinguishable because of its electric blue inside, and the PD IN/OUT Type C port just below. On the left of these ports, there are two 5V/3.1A USB ports arranged vertically, while on the right, there's the DC input and the AC output with its on/off button on the corner.
Lastly, the Panergy Battery Pack comes with a convenient real-time LCD digital display. This one not only shows the battery level in an icon with four blocks but also other important information in such as available time, overload alarm and high/low temperature indicator.
Durability and Build Quality
The Panergy 40000mAh/148Wh Portable Battery Pack with AC Outlet feels sturdily built thanks to the use of premium materials. The texture of its metal casing not only prevents smudges and fingerprints but also gives users a good grip to avoid dropping it. Although its metal casing feels really protective against impacts, don't push your luck as its relatively heavy weight can lead to damage if it falls from a high place.
Boasting UL certification and a built-in lithium battery, this power bank also meets the standards to ensure high quality, safety, reliability, and great performance. Its built-in smart IC intelligently identifies devices and charges them with optimized current, while ensuring surge protection, over-voltage, over-current, overheating, and short circuit protection. Despite the fact that the AC Adapter might get hot when it's charging, there's no need to be worried about potential risks to your gadgets and yourself.
However, the manufacturer does not disclose many important details, such as the charging cycles, warranty, or if it's able to withstand outdoor factors.

Pros
Quick Charge 3.0 and PD ports for fast charging
AC outlet for charging laptops
Compatible with Apple devices and MacBooks

Cons
Can't be taken on flights
Slight risk of overheating on the AC outlet
Final Thoughts
It all comes down to your specific needs. If you are a freelancer or a university student, who has a laptop and other devices and need to have them powered up for a long time, with its 5 output, including PD, QC3.0, and AC outlet, the Panergy 40000mAh/148Wh Portable Battery Pack will certainly do that. Therefore, if you truly need so much power or simply want to enjoy a weekend trip without worrying about constant recharges, and you happen to have many devices with different charging protocols, then the Panergy 40000mAh/148Wh Portable Battery Pack is a smart choice.
Here are some other battery packs with AC outlets you might be interested in:
Halo Bolt 58830mWh 15900mAh
The Halo Bolt 58830 is a powerful device. Besides being able to work as a regular power bank and charge phones and laptops, it also works as a jump-starter.
Read More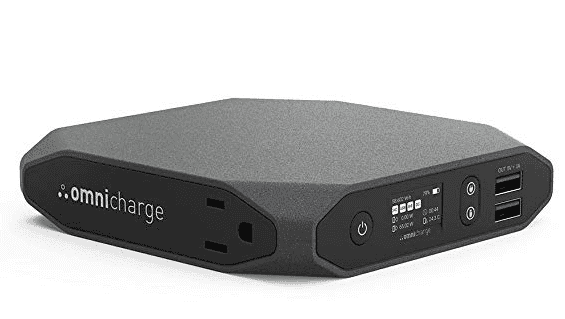 Omni 20+ Power Bank Bundle
The Omni 20+ Bundle AC/DC/USB-C Power Bank is a top-class portable charger. Robust and with a 20000mAh capacity, it charges multiple types of devices in one go.
Read More
Anker Powerhouse 200
As a rechargeable, all-purpose power generator, the Anker Powerhouse 200 is a great solution for long trips or emergency situations. With its huge 57600mAh/218.8Wh capacity it can charge just about any device.
Read More