Panergy 26800mAh at a glance

Key specs
Dimensions (LxWxH)
8.5 x 5.2 x 2.2 in
21.59 x 13.21 x 5.59 cm

Charging technology

PBE metrics
Affordability
641.30 mAh/$
Average
324.97 mAh/$
Portability
44.82 mAh/g
1270.14 mAh/oz

Ports

Output: 5V/3A, 9V/2A, 12V/1.5A

Output: 5V/2A

Input: 5V/3A
Output: 9V/2A, 12V/1.5A

Flight status
Status: Safe
The power bank is safe to take on board. It's under the specified TSA limit of 100 Wh. Read more about taking power banks on planes.

Other features

Charging capacity calculator
Use the search bar below and find out exactly how many times can the Panergy 26800mAh charge your smartphone battery

Panergy 26800mAh Solar Power Battery Bank Review
The Panergy Solar Power Battery Bank is a pretty powerful device that's both compact and portable, offering compatibility for a wide range of devices. The bidirectional 18W USB-C input/output port can be very useful if you're looking for a third output port option for your electronic gadgets. It supports Power Delivery 3.0, which provides a rapid charging experience. You can power up multiple devices at once and the build quality of this unit is top-notch. Perfect for hiking and camping expeditions.
Charging technology
The solar power battery bank features four solar panels that you can pull out and use it to charge the device whenever you're hiking or camping. The drawback to using this charging method is that the conversion from sunlight to electricity is slow and the charging speed relies on sunlight intensity and panel conversion rate. This makes it ideal for emergency back-up power only. It has a rating of 5V/6W/1.2A/20%. It's recommended you fully replenish the unit before charging it via the solar panels.
You can also power-up the device through the bidirectional 18W PD 3.0 USB-C input/output port, which is recommended. It will take about 8 hours to fully replenish it from 0-100%. You can even use it to power your other electronic devices like your smartphones, tablets, GoPro camera, GPS, and many more. The solar power battery bank comes bundled with an extra micro USB cable, which is convenient to power-up using this method. USB-C input/output port has a rating of 5V/3A(max) | 9V/2A(max), 12V/1.5A(max).
Both of the 18W USB-A output ports have Quick Charge 3.0 technology, which will refresh an iPhone 11 Pro from 0-50% in just 30 minutes. The solar power battery bank supports universal compatibility, allowing you to refresh your Android, Apple, Windows smartphones and other devices, such as GoPro cameras, GPS, tablets, etc. It can provide 4.7 charges to the iPhone 11, 1.8 charges to the iPad Air 3, and 3.5 charges to the Samsung Galaxy Note 10+. The USB-A output ports on the 26800mAh power bank can charge multiple devices at the same time. The first USB-A port has a rating of 5V/2A, while the second one has a rating of 5V/3A(max), 9V/2A(max), 12V/1.5A(max).
The solar power battery bank allows pass-through charging, so you can easily charge the lithium-polymer battery while charging your devices at the same time.
Portability
The Panergy 26800mAh solar power battery bank is pretty impressive in size, measuring 8.5" long, 5.2" wide and 2.2" thick, and it's slightly hefty too, weighing 1.32 pounds. This gives the unit a completely compact design that can be stored in your backpack while you're out traveling, camping, or just spending a day out hiking. It seems to be too big to fit into your pocket or carry around in the palm of your hand, so something with more space is ideal.
You won't have any issues taking the solar power battery bank along with you aboard a flight. It has 99Wh, which falls just short of the 100Wh limit stipulated by the TSA.
This device is a lot smaller but weighs similarly in comparison to KINGSOLAR's 21W Solar Charger (13.2" x 6.7" x 1.4", 1.38 pounds). Jackery's SolarSage 60W Solar Charger is definitely bigger and heavier (17.4" x 12.4" x 2", 5.44 pounds). Either one of these devices could be ideal for you if you're going for something that will be useful while you're outdoors, camping or just hiking.
Look and feel
The stylish solar power battery bank has a solid build, made entirely out of ABS-premium plastic and polycarbonate material to enhance durability. It also comes equipped with four fold-out solar panels enveloped in leather, which isn't very strong in terms of quality. If/when you power up the product using the solar panels, the LED indicator light will illuminate green, which informs you of the charging status. You will also find a mosquito repellent lamp built-in for hiking and camping, with an effective range of 1.5 meters.
On the bottom of the device, you will find three USB ports, two USB-A and one USB-C. They're all protected by a rubber cover to keep dirt, water and dust out when they're not in use. The Panergy 26800mAh solar power bank also comes bundled with a micro-USB cable in case you forget to bring one along on your trips. A lanyard is also attached to the product to allow you to hook it up somewhere or carry it around easily.
There is also an LED flashlight panel built-in with two different modes, dim and strong. To turn the flashlight on, simply long press the LED button located on the bottom right-hand side of the device. To turn on the mosquito repellent lamp, which illuminates orange, simply press the button again. Long press the button to dim the mosquito lamp light. In order to turn off the LED light, all you have to do is press the button again. The bright LED flashlight will come in handy if you're in a dark area while on your camping adventures, or you can use it as a back-up if there's a power outage.
Durability & build quality
The solar power battery bank is completely rugged, which gives it a strong and superior build thanks to the premium ABS materials it's made of. The leather material that encases the four solar panels cane somewhat take away from the quality of the product. It also has a waterproof rating of IPX1, so it can withstand rain and droplets of water. However, it's not water-resistant, so it won't survive if you put it into a large body of water.
You can even use the product at varying temperatures, from -25℃ to 60℃, so it will last in extreme temperatures when it's very hot or cold. It won't affect the battery either since it's built to last. However, it's strongly advised not to leave it in a hot car or directly expose it in sunlight for too long. This is mainly because temperatures can rapidly increase to above 60℃, which may damage it.
When you purchase the solar power battery bank, you will be given access to friendly customer support if there are any problems or you need in-general help with the device. They will usually respond within 24 hours. Unfortunately, there is no information regarding the warranty for this unit.

Pros
USB-C with Power Delivery

Cons
Final Thoughts
If you're planning on going for a hiking expedition or just camping out, this solar power battery bank is a smart choice for you. It features four solar panels that can provide power to your device while it's in the sunlight. It's also equipped with a bright LED flashlight and a mosquito repellent lamp, which is useful while you're out camping. With the two USB-A output ports, you're guaranteed a fast charge for your mobile devices that support Quick Charge 3.0. Overall, the device is rugged and durable, so it will last a long time too.
Here are some other solar power battery banks that we reviewed: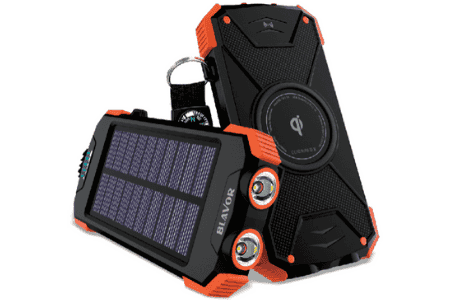 BLAVOR Qi 10000mAh Solar Portable Charger
The BLAVOR Qi solar power bank offers wireless and USB charging, and thanks to its solar panel, it's a great choice for powering devices while being outdoors.
Read More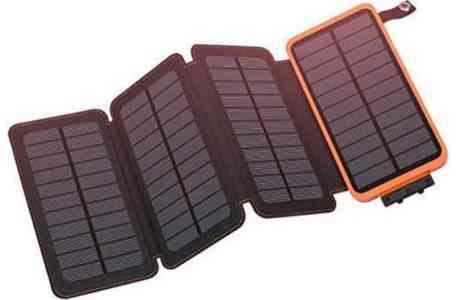 Hiluckey 25000mAh Solar Charger
With 2 USB output ports and 4 solar panels, the Hiluckey 25000mAh Solar Charger is the perfect companion for outdoor enthusiasts who need power backup for days.
Read More
Dizaul 5000 mAh Portable Solar Charger
The Dizaul Solar Charger, 5000mAh Portable Solar Power Bank is Waterproof/Shockproof/Dustproof and has Dual USB ports, which makes it perfect for outdoor life
Read More
ZeroLemon SolarJuice 26800mAh
The ZeroLemon SolarJuice 26800mAh is a tough portable battery that packs a powerful charge. With its solar charging ability, it can prove to be a very good choice for remote destinations with no outlet access.
Read More