Novoo Explorer Waterproof Power Bank at a glance

Key specs
Dimensions (LxWxH)
5.5 x 2.8 x 0.67 in
13.97 x 7.11 x 1.70 cm

Charging technology

PBE metrics
Affordability
mAh/$
Average
324.40 mAh/$
Portability
45.87 mAh/g
1298.70 mAh/oz

Ports

Output: 5V/3A, 9V/2A, 12V/1.5A

Input: 5V/3A, 9V/2A
Output: 5V/2.4A, 9V/2A, 12V/1.5A

Flight status
Status: Safe
The power bank is safe to take on board. It's under the specified TSA limit of 100 Wh. Read more about taking power banks on planes.

Other features

Charging capacity calculator
Use the search bar below and find out exactly how many times can the Novoo Explorer Waterproof Power Bank charge your smartphone battery

Novoo Explorer 10000mAh Waterproof Power Bank Review
Novoo is a manufacturer that specializes in producing a variety of electronics. Their products are only available online. They include USB networking hubs, power banks, and larger portable power stations. Today, we'll be reviewing the Novoo Explorer 10000mAh waterproof power bank. This 10,000mAh power bank has a lot to offer. But is it worth your money? Let's find out.
Unboxing video
Charging Technology
The Novoo Explorer 10000mAh waterproof power bank features a pair of power outputs: a USB Type-A port, and a USB Type-C port. The Type-A port provides standard USB power, while the Type-C port is capable of 18W quick charging. Keep in mind, though, that this will require a PD cable, which isn't included in the kit. You can charge two devices simultaneously. However, the total power delivery is limited to 18 watts. As a result, you won't get the full benefit of a PD cable if you're simultaneously charging another device on the Type-A port.
The Explorer is capable of charging any device that accepts either USB Type-A or Type-C power. It supplies enough juice to recharge an iPhone X 4.8 times, or a Samsung Galaxy S9 4.4 times. You can even recharge an iPad Pro 1.5 times. In theory, a PD cable is even sufficient to charge most laptops while they're running. However, due to the relatively small Lithium polymer battery, you'll want a larger power bank for charging a laptop.
There's no support for pass-through charging, which means you can't recharge the Explorer while you're using it. That said, it charges in about 4 hours, so this shouldn't be an issue provided you plan well. It charges through the same USB Type-C port that's used for output, and a USB Type-A to Type-C cable is included with the kit. However, there's no AC adapter, so you'll need to provide your own. Keep in mind that if you plug the Explorer into a USB port on an older computer, it can take considerably longer to charge, up to 12 hours. Therefore, buying your own AC adapter, such as the Anker 60W charger, is to your advantage.
Portability
The Explorer measures 5.5 inches long, 2.8 inches wide, and 0.67 inches thick. This is about the size of a mid-sized smartphone with a light plastic case. As a result, it's easy to slip into your pocket or carry around in a laptop bag or carry-on bag. It weighs only 7.7 ounces, which is relatively lightweight. This is thanks to the Lithium polymer battery, which is lighter than a comparably Lithium-ion battery. The Explorer has a power rating of 37 Watt-hours. This is less than half of the maximum allowed on airplanes. In other words, you won't have any issues flying with this power bank.
Look and Feel
The Novoo Explorer 10000mAh waterproof power bank is constructed from a rugged plastic shell that's sturdier than your typical ABS plastic. It has a glossy black outer edge, with a gloss silver front and back. Near the bottom of the front, there's a stylish orange Novoo logo. Near the top, there's a row of four LED lights, which indicate the charge level of the battery. By default, these lights are off in order to save battery life. Just tap the button on the side, and they'll light up for a few seconds, long enough for you to read them.
On the top of the device, you'll find both of the USB ports. They're covered by an orange rubber plug that's permanently attached to the Explorer. Next to the plug, there's also a built-in flashlight. The flashlight is quite bright and is operated by the same button that activates the battery indicator lights. Simply hold it down instead of tapping it. The flashlight can be operated for up to 45 hours on a single charge. Keep in mind, though, that this will reduce the amount of juice available for charging your phone or other device. So it's more of an emergency backup flashlight than a go-to option.
Finally, you'll see a rubber carrying loop attached to the top left corner. This loop is linked with a stainless steel carabineer, which makes it easy to carry. Just hook it on your belt loop or outside your backpack, and you're ready to enjoy hiking or other outdoor activities.
Durability & Build Quality
The Explorer's shell might be plastic, but it's anything but fragile. It's flame-retardant, which protects the battery from damage in extreme conditions. Not that this should be a concern. We haven't seen any complaints about the Explorer overheating. In addition to being heat resistant, the Explorer is also dustproof and shock-proof. It can be dropped several feet without any damage. And if by chance you should have any issues, you're protected by Novoo's 12-month manufacturer's warranty.
The Novoo Explorer is IP67 water-resistant. This means it can be submerged at a depth of 1 meter for up to 30 minutes. If you want a power bank you can use in the great outdoors, the Explorer will certainly live up to its name. Not only is it water-resistant, but it also features surge protection and short-circuit protection. This ensures that your devices won't get damaged due to a faulty wire or a faulty power bank battery. The battery itself doesn't come with a manufacturer's cycle rating, so we can't say for sure how long it lasts. However, we haven't seen any reports of premature failure.
Final Thoughts
The Novoo Explorer 10000mAh waterproof power bank is a well-engineered power bank that can go anywhere you want to take it. It's waterproof and shock-proof, which makes it ideal for outdoor use. Drop it on the ground or in a puddle, and it will be just fine. It's also no slouch when it comes to charging. While the power is limited to 10,000mAh, you can charge newer smartphones in less than an hour using a PD cable. And yes, you can take it on an airplane without getting a waiver. For most people, the Explorer is a solid investment.
Check out some other water-resistant power banks: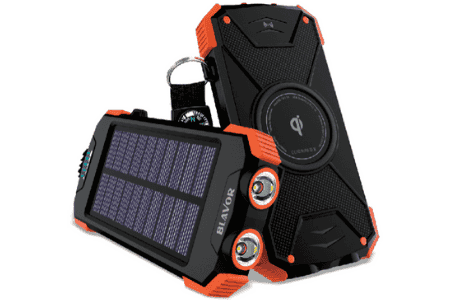 BLAVOR Qi 10000mAh Solar Portable Charger
The BLAVOR Qi solar power bank offers wireless and USB charging, and thanks to its solar panel, it's a great choice for powering devices while being outdoors.
Read More
FosPower 10050mAh Rugged Power Bank
With 10200mAh, a USB output port, and a shockproof, waterproof, dustproof case, the FosPower PowerActive is the perfect companion for your outdoor adventures!
Read More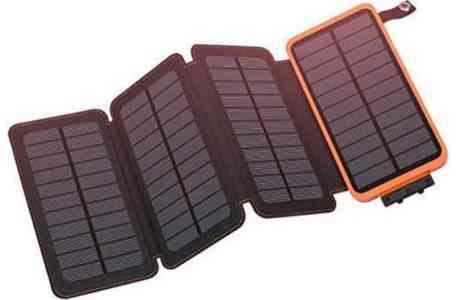 Hiluckey 25000mAh Solar Charger
With 2 USB output ports and 4 solar panels, the Hiluckey 25000mAh Solar Charger is the perfect companion for outdoor enthusiasts who need power backup for days.
Read More