MAXOAK 26756mAh at a glance

Key specs
Dimensions (LxWxH)
7.1 x 3.9 x 2.3 in
18.03 x 9.91 x 5.84 cm

Charging technology

PBE metrics
Affordability
270.26 mAh/$
Average
327.45 mAh/$
Portability
21.86 mAh/g
619.35 mAh/oz

Ports

Output: 5V/3A

Output: 5V/3A

Input: 5V/3.0A, 9V/3.0A, 12V/3A, 15V/3A, 20V/2.25A
Output: 5V/3.0A, 9V/3.0A, 12V/3A, 15V/3A, 20V/2.25A

Output: 100W

Flight status
Status: Safe
The power bank is safe to take on board. It's under the specified TSA limit of 100 Wh. Read more about taking power banks on planes.

Other features

Charging capacity calculator
Use the search bar below and find out exactly how many times can the MAXOAK 26756mAh charge your smartphone battery

MAXOAK 26756mAh Power Bank With AC outlet Review
The MAXOAK AC10 26756mAh is an incredibly powerful power bank with AC outlet that supports a wide range of devices. You can simultaneously charge all your electronic gadgets via the 45W PD 3.0 USB-C bidirectional input/output port, USB-A port, and AC outlet. It also provides a variety of safety features while you're replenishing your smartphone, laptop, tablets, etc. Built with high-quality materials, this unit is perfect to take with you whenever you're on the go or just looking for an outdoor experience.
Charging technology
The MAXOAK AC10 26756mAh power bank can be recharged in three different ways. Either from the AC outlet, USB-C bidirectional input/output port, or the car recharge. In order to replenish the power bank through the car charger, you'll need to purchase a DC12v to AC Power Inverter or USB-C PD car charger. The unit comes bundled with a 30W PD Quick Charge AC adapter, allowing you to recharge through the wall outlet, which will take approximately four to five hours to replenish.
There are two USB-A ports and one PD 3.0 45W USB-C port on the power bank that can provide a charge for your devices, even while you're on the go. You can use the AC 120V output to power devices, such as laptops (max 100W), cameras, video game consoles, lights, a TV screen, and other AC-powered gadgets as long as they're under 100W. The AC outlet is best to be used with a laptop charger since most of them have a rating of over 45W, which isn't suitable for the PD 45W port. The Power Delivery 3.0 45W bidirectional USB-C input/output port can replenish the MacBook, MacBook Air, MacBook Pro, and 5V/3A devices, such as smartphones, tablets, and other USB-C devices. The bidirectional feature means you can use the port to charge the power bank and any USB-C device.
The two USB-A ports that feature Quick Charge have a voltage rating of 5V/3A. This is higher than most chargers that have the standard 2.4A output for USB-A ports. The 45W PD 3.0 USB-C port has a rating of 5V/3.0A | 9V/3.0A | 12V/3A | 15V/3A | 20V/2.25A. This provides a faster charge than other power banks with a lower-rated PD USB-C port.
You can connect a 3-prong connector to the AC 120V outlet, rated at 100W of continuous power with a 140W peak power output. It also has an overload at 105W≤load<[email protected]; 140W≤[email protected] The frequency rating of the AC outlet is 50/60Hz, which can be adjusted between the two. The AC outlet can provide 1.86-2 full charges to the MacBook 12", 1.5-2 charges to the MacBook Pro 13.3", and 1 charge to the MacBook Pro 15". Refreshing times vary, depending on whether or not you're using the laptop while it's being replenished.
This power bank with AC outlet has universal compatibility. It can power up any Android, Apple, and many other devices via PD 3.0 USB-C input/output port. It will provide a full charge to the Samsung Galaxy Note 10+, Galaxy S10, iPhone XS Max, OnePlus 7 Pro, etc. up to five times since they have a 4,000mAh battery capacity or higher.
It can replenish an iPhone X and a drone 9 times. Tablets and laptops, on the other hand, have very large batteries. You can expect it to provide 2 full charges to a 45W Dell laptop, 1.5 charges to a MacBook Pro 2018, and 3.5 charges to an iPad mini.
The MAXOAK AC10 26756mAh also supports pass-through charging, allowing you to charge your devices while the power bank with AC outlet is being replenished.
Portability
The MAXOAK AC10 26756mAh power bank is larger than traditional portable chargers, measuring 7.1" long, 3.9" wide, and 2.3" thick. It's also a bit heavy, weighing 2.75 pounds, which isn't surprising to see since it has a high power capacity with an AC outlet. Considering its rather large size and weight for a power bank, you won't be able to fit it into your front or back pocket. Instead, it's more ideal to carry it around in your hand or store it away in your backpack or messenger bag while you're on the go, or even on an outdoor expedition, like hiking, or a camping trip.
Despite its large capacity, this power bank is safe to take on an airplane all over the world. It has 99Wh, which falls just shy of the 100Wh limit stipulated by the TSA. You can store it away in your carry bag while on the flight.
Look and feel
The sleek and stylish MAXOAK AC10 26756mAh power bank has a decent build featuring an aluminum alloy casing with a shiny finish that covers most of the unit, available only in black. It has a rectangular-like shape with rounded corners that complement the charger pretty well. This gives it a durable and smooth design that's perfectly suitable for camping, hiking, or general outdoor use.
It also comes packaged with a carry bag, a USB-Type C cable, and a PD 30W AC adapter. The carry bag provides enough room for the power bank to be stored away while you're moving around. Everything else, including the buttons and ports, feels solid and well-built for the unit.
On the front face of the power bank, you'll find two USB-A ports and a PD 3.0 45W USB-C port near the bottom of the device, just below the white panel LED flashlight. On the left and right-hand sides, you'll see two USB-A output ports and in the middle, a bidirectional PD 3.0 45W USB-C input/output port. The LED light button is located on the left-hand side of the white panel with the DC/AC power button on the right-hand side. Just above the three USB ports, below the white panel, you'll find a strip of five LED battery indicator lights.
On the back of the MAXOAK AC10 26756mAh power bank, you'll find the AC outlet along with the AC indicator light.
Pressing the DC/AC power button for one second will turn on the DC output and LED battery indicator lights. While the power bank is charging, the LED battery lights will flash in sequence to indicate how much of the device has been charged. When it's been replenished, the lights will turn solid. In order to begin charging via the USB-C/USB-A ports, you can just connect your devices with the cable and it will charge automatically.
Pressing the DC/AC power button again will turn on the power for the AC outlet. The AC indicator LED light will glow green, letting you know the outlet has been turned on. If you press and hold down the DC/AC power button for three seconds, it will turn off the power bank. To turn on the flashlight, which has three modes, you will need to press and hold the LED light button. To switch through the different settings, simply press the button once for half-bright, again for full-bright, again for SOS, and one final time to turn it off.
Durability & build quality
Even though it has a decent build quality, the entire unit isn't rugged. Not only that, but it doesn't have any shockproof or water-resistant ratings, so it's not safe from drops or wet conditions. However, the upside to the aluminum alloy shell is that it dissipates heat much better than a fan does. This helps it keep silent while charging your devices.
The MAXOAK AC10 26756mAh power bank is still pretty reliable with the Battery Management System (BMS). It provides protection for the charger by keeping the device safe from overcharge, overvoltage, overcurrent, short circuit, and overheating. It also contains a QC certificate, so you're ensured the device is built with the highest quality. It's also CE, FCC, RoHS, and PSE certified, meaning this power bank is built with the highest safety standards.
When you purchase the unit, you'll also receive a 12-months warranty card. If your device is damaged or defective, you can return it to the manufacturer for an exchange or refund.

Pros
Multiple charging options
USB-A ports have high voltage rating and Quick Charge
45W PD 3.0 USB-C serves as a bidirectional input/output port

Cons
Not waterproof or shock proof
Final Thoughts
Overall, the MAXOAK AC10 26756mAh power bank is a handy device that will allow you to charge your smartphone, tablets, laptops and many other devices. Thanks to the 45W PD 3.0 USB-C port, USB-A ports and AC outlet, it can provide multiple chargers to your electronic gadgets. The size and powerful capacity make it ideal for use as an emergency back-up. It also has an LED flashlight built-in, so you can use it when you need it the most. The sturdy build will ensure it lasts through its life and provides protection, so you can be assured it will deliver power to your devices with a safe, reliable and efficient charge.
Compare it with these other power banks with AC outlet:
Halo Bolt 58830mWh 15900mAh
The Halo Bolt 58830 is a powerful device. Besides being able to work as a regular power bank and charge phones and laptops, it also works as a jump-starter.
Read More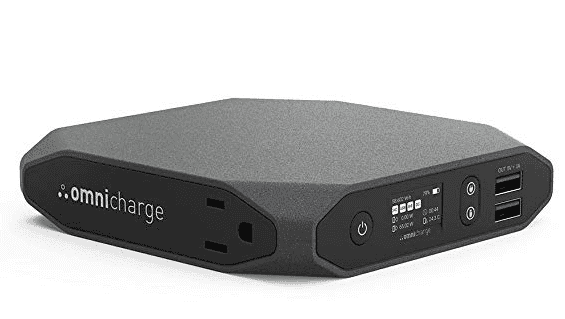 Omni 20+ Power Bank Bundle
The Omni 20+ Bundle AC/DC/USB-C Power Bank is a top-class portable charger. Robust and with a 20000mAh capacity, it charges multiple types of devices in one go.
Read More
Panergy 40000mAh Portable Battery Pack with AC Outlet
The Panergy Portable Power Station offers PD, QC, and AC outputs, and with its 40000mAh capacity, it can keeping your smartphones and laptops charged for hours
Read More